Renting an RV
Last updated on September 12th, 2023. Originally published on September 13th, 2020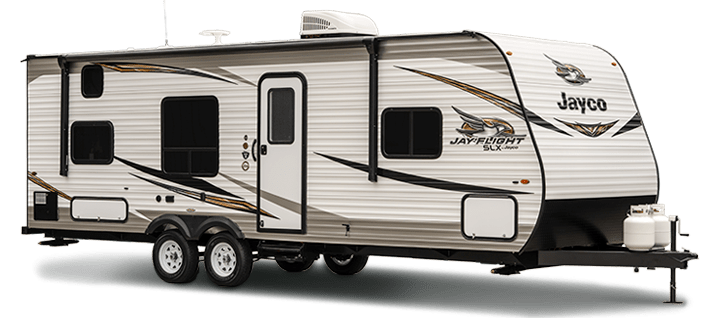 You've been talking about going on a life-changing adventure for months now. You've finally stopped putting it off and you're ready to take the family out for some real fun. Well, not much can compete with the thrill of renting an RV and setting off on the type of expedition that brings you closer together as a family, while at the same time bringing you closer to nature. So, you are here wondering.. what RV would best fit my family of four?
After all, you're going to need enough sleeping space for everyone, and activities such as eating indoors (if the weather is bad) must also be taken into consideration. Of course, you'll also need a way to store everything needed to take care of your family on vacation.
If you're a family of four who are new to the world of RVs and you want to know about the different kinds of units out there and which ones are ideal for the size of your tribe, this article is for you. For those of you who are RVing veterans and are looking for some actionable advice for finding amazing rates for your next getaway, this is for you, too. We're going to cover which RVs are best for accommodating four travelers comfortably and discover how you can find the best rates possible on a rental.
So what RV should you be looking for? Well, we can immediately rule out campervans and truck campers. While those can work in some situations, they aren't usually comfortable for families with kids, especially not those with young campers. However, there are versions of nearly every other type of RV that will work quite well for a family of four (or more).
Let's check out some of our favorite RVs for families of four or five below.
The Hybrid Trailer
Hybrid trailers are a fantastic RV type. These combine the light weight and portability of a pop-up camper with the structure and comfort of a traditional travel trailer. The result is a hard-sided trailer with beds that pop out from the sides and are housed in canvas enclosures. This creates more floor space and sleeping capacity without adding to the weight and length of the trailer.
Hybrid trailers are the best option for families who want a trailer but can't tow very much weight. They are a great entry-level RV, and because of all the sleeping spaces provided, we love this option for people with kids.
Think a hybrid would be perfect for you and your family? If so, we recommend looking into the K-Z Escape E180RBT. This is one of the best trailers for a family of four because it folds up very small, doesn't weigh much at all, and has enough sleeping space for ten people.
It also provides plenty of room for cooking and playing in the middle of the trailer and even has a full bathroom on board—a must for those with small children.
Rent this RV here!!
Travel Trailer: The Classic RV
If you're able to tow a bit more, you might be looking for something with hard sides all around—canvas trailers need not apply! This is where the traditional bumper-pull travel trailer comes into play.
We like traditional trailers because they provide an added layer of security. And because of their completely hard sides, it's also easier to control the climate in a traditional trailer versus a hybrid.
As far as the best travel trailer for a family of four goes, we have to recommend the Jayco Jay Flight SLX 8 264BH. Various forms of this floor plan have been on the market for years, and for good reason: It's simple and incredibly functional. This model provides families with everything they need to be comfortable in a relatively small and easy-to-tow package.
Price of the Jayco Jayflight SLX 8 264BH: $25,552
Fifth Wheel: The Roomy RV Trailer
Fifth wheels are large units that latch onto a tow vehicle. This type of trailer attaches to the bed of your truck rather than the bumper. They make great rental options for four people because they are massive in space and provide many of the comforts of a real home. They're known for being quite luxurious and less expensive than traditional motorhomes. Fifth wheels are the best options for families who want to save money and already have a heavy-duty tow vehicle, like a truck. They are typically much roomier than travel trailers. They tend to have higher ceilings and be longer overall, making them feel more like a true home-on-wheels. They often attract people who plan to hit the road full-time.
Wondering which fifth wheel is best for a family of four? We really like the Keystone Cougar 368MBI. This is a mid-bunk fifth wheel with private sleeping spaces for both parents and kids. Besides the private bunk room, there is also a loft area, providing a third sleeping area for older children.
Price of the Keystone Cougar 368MBI: $45,995
Class C: The Road Trip RV
In terms of a Class C RV for a family of four, we'd have to point you to the Jayco Greyhawk 31F. This RV features a private bunk area, meaning the kids will each have their own bed. On top of that, there's a cab-over bunk, a sofa bed, and a table that changes into a bed, providing plenty of additional sleeping space.
Price of the Jayco Greyhawk 31F: $135,731
Class A: The Big One
Until recently, there weren't very many Class As that would work well for families as they're often designed with retirees in mind. However, that is no longer the case. Models such as the Winnebago Vista 31BE have small bunk areas as well as an optional loft bed over the cab. They can easily sleep four and often more, making them well-suited for families.
Price of the Winnebago Vista 31BE: $146,512
Can a Family of 4 Live in an RV?
All of the RVs listed above are great for vacationing, but what about living? These days more and more people are hitting the road full-time. This is something that has traditionally been reserved for retired folks, meaning the full-time RV community was once composed almost exclusively of older people. However, that's all changing.
Thanks to WiFi, working on the road is easier than ever before, and that means more young people can live this amazing lifestyle. Many people assume this younger full-time RVing crowd is mostly single people and couples without kids. But while there certainly are plenty of young people without kids traveling full-time, there are also an enormous number of families with kids who travel full-time as well, and that number is growing.
So, can a family of four live in an RV? Absolutely! There are people doing it all over the country.
The key is to find the right floor plan for your family. Make sure you're happy with the size of your rig, ensure everyone has a sleeping space they're happy with, and determine whether a motorhome or a trailer will be better for your travel style.
You can try this lifestyle out before committing by renting an RV first! You'll find thousands of RV rentals for as low as $50 a night or as high as $1000 a night depending on the luxuries you want.
Looking for more tips and information for your next RV trip or purchase? Check out these articles: