RV Owners
Last updated on April 21st, 2023. Originally published on June 11th, 2020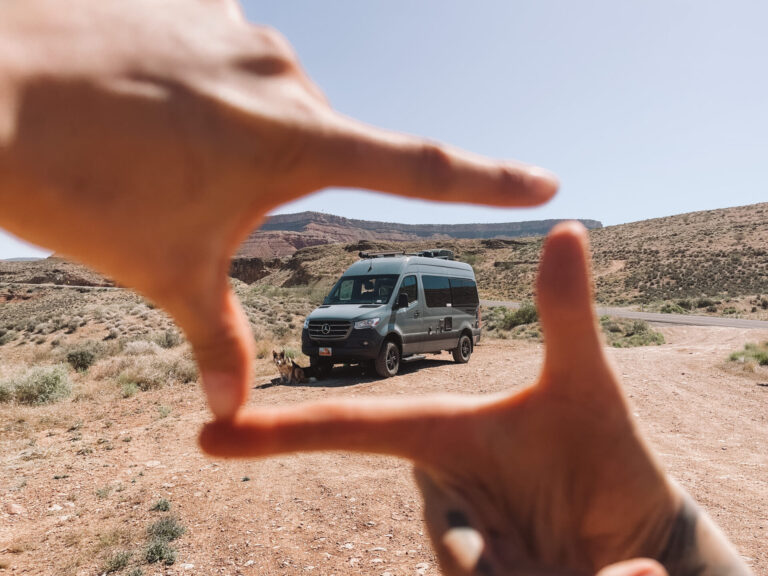 While many people dream of leaving suburbia or the big city behind and heading out to live life on the open road, actually taking the leap to full-time living in an RV can be daunting. Along with the many considerations that come with planning for life in an RV is this important one – which RV do you actually choose for your adventure?
Best Class B RV 2022
A Class B RV may be the best option for you. Class B RVs are smaller motorhomes, sometimes called sleeper vans or camper vans. Although they don't offer as much room as the larger Class A and Class C motorhomes, that smaller footprint could be an advantage.
Benefits of moving to a Class B RV
Because Class B RVs are built on a standard van chassis, they're much easier to maneuver than their larger counterparts. If you don't have experience driving large vehicles, you may feel more comfortable starting out with a Class B camper van. They can also fit just about any camping spot, can go through drive-thrus, and other areas where height clearance could be a concern and can be more eco-friendly than a larger gas-guzzler. You may also be surprised at how much you can fit into such a small space!
Best Class B RV for full time living
Let's take a look at some of the best Class B RVs. There are some great options out there!
Winnebago is synonymous with RVing, and the reason is clear. They make a consistently reliable, well-built RV. The Revel gets consistently high Class B RV reviews and customers like the full-size power lift bed that gives travelers a dedicated sleeping space. The Revel can fit up to three sleepers.
The Coachmen Galleria tops several lists, and people especially like its clean-running turbo-diesel engine with great gas mileage. There's room to sleep two, but the interior has a lot of space and a generous kitchen. If you opt for the Polar Package, you can camp year-round in any kind of weather.
The Tofino is one of the less expensive Class B RVs. It has a manual pop-top that allows for more room in the galley and living area and also gives you a second sleeping area. The stainless steel sink and induction stove make this camper van feel luxurious, even though the price is not. You should know that this Class B RV does not come with a wet bath, but if you're going to be staying at campgrounds or other accommodations with showers, you may not need that anyway and could appreciate the extra space.
4.) Hymer Activ Dodge Promaster
Although Hymer stopped manufacturing its vans in February 2019, you can still find used Hymer Activ vans for sale or rent. This Class B RV can sleep up to four people (ideally two adults and two small children) between the queen bed and the dinette that converts into a bed. It has a full kitchen, bathroom, plenty of storage, and a shower.
This little camper van won't be for everyone – you can travel solo or with someone you like very, very much but 19-feet doesn't allow for too much privacy. However, it's small enough to fit a standard parking spot and still manages to fit in a kitchen, a bathroom, a sleeping area, and lounging space.
Why is a Class B RV considered the best for full time living?
As you can see from the above descriptions, the best Class B motorhome won't necessarily suit everyone. But if you can travel light, and are going solo or as a couple, this could be the perfect little solution for you.
Pros & Cons of Class B RVs
If you like your space or enjoy traveling with lots of amenities, a Class B RV may not be for you. But if you like to pack up in a cinch and be on your way, definitely give some consideration to a Class B campervan. Here are some of the pros and cons of going with this type of motorhome.
Pros:
Easy Handling: The size of a Class B RV makes it easy to maneuver, and you can park just about anywhere and access any campsite a minivan could. Newer vans drive smoothly, and if you don't have experience handling a large vehicle, this could be the perfect introduction to the RV life.
Easy Storage: Since many Class Bs are similar in size to vans, they are easier to store as well. You can pull your motorhome into most garages and parking spots, saving a lot of headaches that owners of bigger rigs face.
Space For Toys: Tie a kayak to the roof, add a bike rack on the back, or even tow something behind your campervan – the smaller size means it's easier to add extras on top of or behind your Class B camper.
New Stuff: Class Bs are the fastest growing class of RVs out there, which means there are new features and innovations coming out constantly.
Cons:
Space: This one is probably obvious, but space is at a premium in these little vans. If you're used to a large house or if you're traveling with a large family, a Class B camper may feel limiting.
Getting Around: Although the van is easy to drive on your way to your destination if you want to make quick trips after you've set up camp, you either have to drive your camper or tow a vehicle behind.
Small Tanks: Class B RVs have small water and waste tanks, requiring both filling and emptying them frequently. If you want to do a lot of dry camping, this can be a problem.
You Lose Your Bed Each Day: Because space is at a premium, many features of a Class B involve multitasking. Your dining table may become your bed, and many appliances and spaces serve two or three purposes. If you like to have your bed permanently in place, this could be a challenge.
It's always a good idea to try out a vehicle before purchasing, especially if you're considering living in one full-time. Fortunately, RVshare offers plenty of rental options and can filter them to show those closest to your location. If you want to see if the best Class B motorhome is the best vehicle for you personally, try renting and taking it on a trip to see how you like it.
Minimalist living is having a moment right now, and a Class B RV is the ultimate tiny home! If you've always dreamed of casting off a lot of possessions and being free to roam about the country, a Class B could be the perfect choice for you.
Curious for more RV buying tips? Check out these posts: