Travel Inspiration
Last updated on January 16th, 2023. Originally published on March 18th, 2019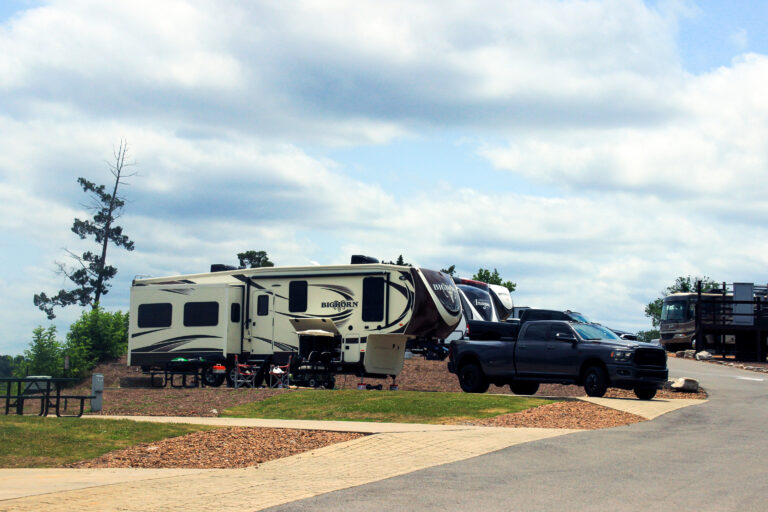 You already know you're going camping this year. The only question is: where to?
If you've never traveled by motorhome or trailer before, you may be wondering how to go about finding camping spots — or how to narrow down the best places to camp from the huge number of options on your destination bucket list. The good news is, the U.S. is chock-a-block full of amazing places to explore in your RV. The only problem is trying to see them all in just one lifetime!
Which means, of course, that you've got some narrowing down to do. After all, most of us can't quite afford to be on permanent vacation. (Full-time RV living is a thing though, and quite a popular one. Curious what the lifestyle's like? Check out this RVshare post to learn more about it.)
But whether you're a weekend warrior looking for a quick getaway spot or planning your next epic cross-country road trip, we've put together some of the very best campgrounds and camping locations in the U.S.A — and some surefire tips to help you find great spots no matter where you're headed.
Where Can I Go Camping?
First things first: what kinds of camping options are available to RV campers, and what are the differences between public and private campgrounds?
RV parks generally fall into one of two categories: public or private. (There's also the super-wild, off-the-grid option, otherwise known as boondocking.)
Public campgrounds are those on public lands, such as state parks. They may or may not have hookups and amenities, but even if they do have power and water, they tend not to be too fancy — though that's reflected in their pricing. Public campgrounds might cost as little as $10 per night, especially for "dry camping" (i.e., camping without hookups), and can go up to about $30-$50 depending on where and when you're camping.
Private campgrounds, on the other hand, are usually well-developed spots that usually have full hookups and often feature resort-style extras, like swimming pools and clubhouses with a calendar of pre-organized social events. Private campgrounds range in price, but it's not unusual to see them going for $75 per night in highly sought-after camping destinations, especially during peak travel times.
If your travel budget is tight, though, there is one surefire way to save on your campsite accommodation fees: purchasing a Passport America membership. Yes, the word "purchase" means that you have to spend money up front, which might seem counterintuitive… but hear us out! This is pretty much the most straightforward camping discount club out there, and it easily pays for itself in no time. Here's how it works.
Passport America members get 50% off their campsite accommodation fees at almost 1900 participating campgrounds across the country, including some locations in Canada and Mexico. A full year's membership costs less than $50… which is as much as some of those well-developed private campgrounds cost for a single evening. It's easy to see that your Passport America membership could pay for itself in a single travel weekend, and it may just introduce you to some of the best U.S. campgrounds that weren't on your radar yet.
For more information on the difference between public and private campsites, check out this RVshare post. In the next section, we'll go over some specific destinations that are great for camping, most of which have both types of campgrounds on offer.
The Top Camping Spots in the U.S.
In no particular order, here are some of the best places to go camping in the U.S., including national parks which have some of the top campgrounds in the nation.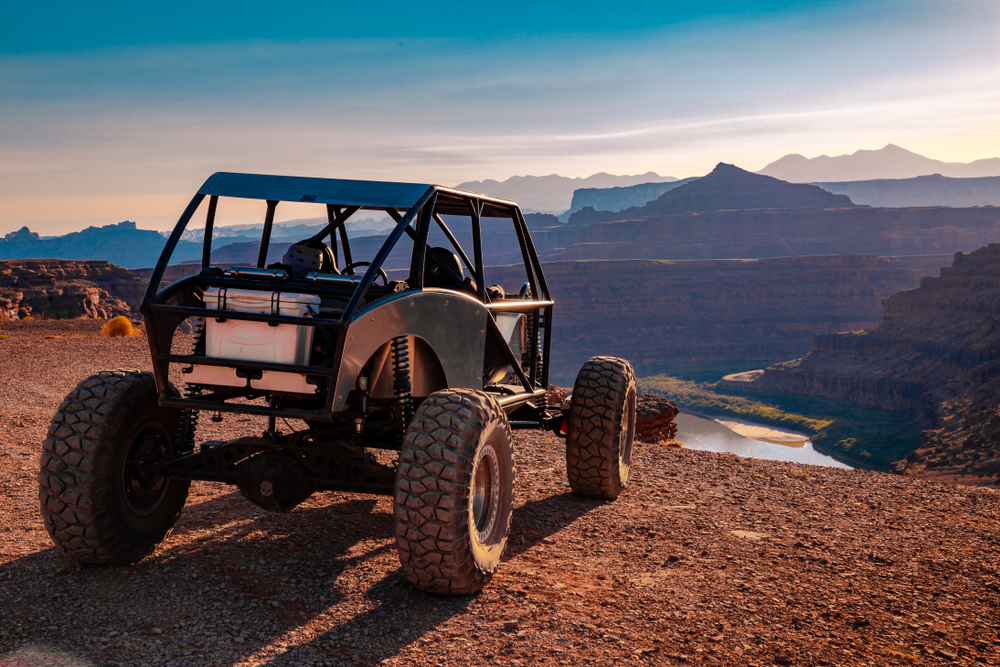 1. Moab, Utah
Nestled right between two of the most popular national parks in the system — Arches and Canyonlands — Moab is the perfect place to plant yourself if you're looking to explore southeastern Utah's surreal desert landscape. See the stunning, delicate expanses of sandstone arches and glowing red mesas carved by centuries of geological activity, or take a thrilling whitewater ride down the ancient Colorado River.
Plus, once you've had your fill of outdoor fun (if that's possible), Moab itself has a whole lot to offer in the way of slightly-citified excitement. Enjoy a bite at one of its many well-loved local eateries, or meander through its gift shops and informational centers. The town is also home to a variety of museums with tons of local historical artifacts and educational opportunities. The Museum of Moab has a world-class collection of dinosaur bones on display, too — so it's a can't-miss if you have an aspiring paleontologist along for the ride!
Click here to see RVshare rentals near Moab, Utah.
2. Glacier National Park and Whitefish, Montana
If your camping bucket list includes Glacier National Park — and whose doesn't? — don't miss the chance to enjoy this quaint northern Montana town while you're in the area. Along with a plethora of shops from which to source your (absolutely mandatory) bear spray, Whitefish also offers a vibrant art scene, as well as an array of culinary delights you might not have expected to find at such an extreme latitude. Meander through the many galleries that line the small, walkable downtown, and then dip into one of its breweries or fine restaurants to take the edge off. A personal recommendation: visit Montana Coffee Traders, which combines a restful atmosphere with great java and a slam-dunk menu of freshly-cooked breakfast options. (No, they're not paying us to say this.)
Click here to see RVshare rentals near Glacier National Park and Whitefish, Montana.
3. Saint Augustine, Florida
Not only is Saint Augustine one of the best places to go camping on the east coast — it's also one of the oldest. Actually, it's the oldest city in America, not just on the east coast but overall. Settled all the way back in 1565 by Spanish explorers, the city's been constantly inhabited by one population or another for more than 450 years. (And yes, that makes it older than both Plymouth Rock and Jamestown.)
This beachside gem is the perfect spot to set up camp along the dunes, perhaps at Anastasia State Park. The sites are affordable, but the sights are downright priceless, and you're just a few minutes' drive from the town's historic center, with all manner of food, drink, shopping, and — of course — ghost tour options to choose from. Experiences you are absolutely not allowed to miss: cannon firings at the Castillo de San Marcos, a horse-drawn carriage ride through the city streets, shopping on St. George Street, and cocktails at the Ice Plant to round it all out. Oh, and an ice cream-topped waffle at Cousteau's. (Thank us later.)
Click here to see RVshare rentals near Saint Augustine, Florida.
4. Great Smoky Mountains National Park and Gatlinburg, Tennessee
Great Smoky Mountains stands out from its US national parks peer group in a variety of ways. For one thing, it's the most popular. For another, few of the national parks have such a vibrant gateway city — and fewer still are free to enter.
With hundreds of miles of hiking trails along some of the most lushly green mountain paths you'll ever see, Great Smoky Mountains is a can't-miss destination, especially for native east coasters. Covering more than 522,427 acres, the park is a reasonable drive from a huge number of eastern metropoles, and offers much-needed natural respite to those city dwellers. And even if Gatlinburg is a little bit out of your way, it's worth the extra miles to stay there. You can round out your days of outdoorsy exploration with all sorts of mountain town fun, from tastings at moonshine distilleries to ski lifts that operate even in the summer. (Oh, and Pigeon Forge is just half an hour up the road, home to a downright disproportionate number of dinner shows and live entertainment options. No wonder Dolly Parton loves it here so much!)
Click here to see RVshare rentals near Great Smoky Mountains National Park and Gatlinburg, Tennessee.
5. Joshua Tree National Park and Twentynine Palms, California
If you've yet to go to this alien desert landscape, where the trees twist into the sky like reaching arms, you won't regret setting your RV GPS to Joshua Tree — or its unique neighboring town, Twentynine Palms. (Fun fact: there's actually an old song about the city, or at least one of its citizens, and if you're anything like the author of this post, you'll find it ridiculously catchy.)
This weird little desert city is just that: weird. Be sure to take the time out of your Joshua Tree experience to visit and take notice of such attractions as its collection of love signs or grab a cooling brew at the Joshua Tree Saloon. Temperatures can easily top 100 degrees in the summertime, so you'll need the breather.
Click here to see RVshare rentals near Joshua Tree National Park and Twentynine Palms, California.
6. Monterey Bay, California
Yes, we've definitely touted this place before on our destination lists… but it's easily one of the best places to go camping on the west coast. Nestled between the urban insanity (which we mean in a good way!) of California's bay area and the serene beauty of Big Sur, Monterey Bay is a great place to camp no matter which side of the landscape you're exploring.
Along with its variety of driveable day-trip options, Monterey itself is home to some not-to-be-missed attractions, including the famous Monterey Bay Aquarium and the scenic Fisherman's Wharf. Pebble Beach, which hosts a renowned annual food and wine festival, is just minutes away, as is Carmel-by-the-Sea — and just a few minutes there will quickly make you understand why Clint Eastwood chose it over Hollywood.
Click here to see RVshare rentals near Monterey Bay, California.
7. Grand Canyon National Park and Flagstaff, Arizona
It's one of the most famous, if not the most famous, national parks for a reason. But the city that lies just an hour south of it is not to be missed, either. Home to Northern Arizona University, Flagstaff has way more than its fair share of arts and culture to explore for a town of its size, not to mention the abject beauty of the surroundings.
You could camp in town and drive up to the rim for the day, or camp inside the national park and make a day trip down to Flagstaff. But either way, don't do yourself the disservice of missing either of these epic Arizonan travel destinations.
Click here to see RVshare rentals near Grand Canyon National Park and Flagstaff, Arizona.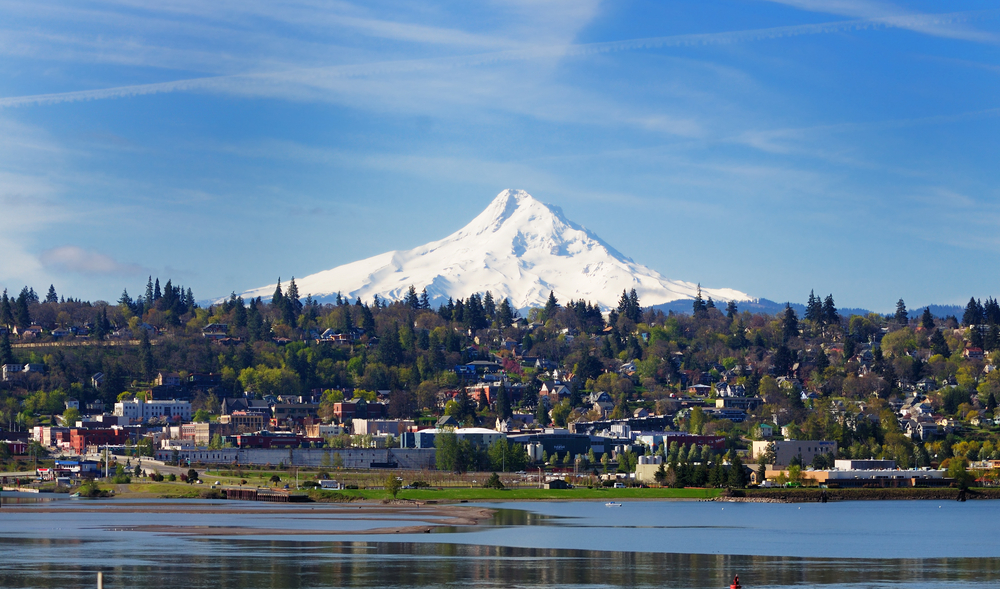 8. Hood River, Oregon
Set along the banks of the Columbia River Gorge, Hood River is the perfect camping alternative to Portland. After all, you can still get to town in a day — but you'll be closer to what you likely really came for: that inimitable Pacific northwest landscape and its endless array of outdoor activity opportunities.
Oh, and did we mention the insane view of the mountain it's named after?
The town itself is small, but big enough to have all the resources you need to round out an epic Oregon vacation. enjoy one of the craft brews the state's known for, or, if you'd rather, take in some world-class wine tasting. If all else fails, you can always spend the afternoon watching the windsurfers on the Columbia… or better yet, joining their ranks yourself!
Click here to see RVshare rentals near Hood River, Oregon.
9. Yachats, Oregon
Yes, Oregon's so nice we're listing it twice — and the coast is a whole different thing from exploring the interior.
Although you wouldn't be remiss to camp nearly anywhere along this stretch of boulder-strewn, tidepool-punctuated coastline, Yachats (pronounced "ya-HOTS") easily numbers among the most beautiful places in the world, let alone the country. Enjoy the quaint town's quiet offerings of fresh local seafood and handcrafted beers, and keep your eyes peeled on the ocean: you may just see gray whales breaching. Hike Cape Perpetua for a view you won't soon forget, and then meander along the coast itself to see the strange effects of an eon of the water crashing against the continent: with names like Thor's Well and Devils Churn, how can you resist?
Click here to see RVshare rentals near Yachats, Oregon.
10. Asheville, North Carolina
The perfect combination of mountain wilderness and downtown wildness, Asheville stands out among all U.S. cities as a camping contender. Whether it's manmade or natural, you can't walk ten feet in Asheville without finding something breathtaking to look at.
And it's inarguably fun, too. For one thing, the locals contend they have the highest number of breweries per capita (though Portlanders would argue), which makes it easy to kick back after the long day you'll doubtlessly spend hiking, biking, or waterfall-sliding in the lush surrounding landscapes. Oh, and don't forget about the amazing local art community, which has proliferated from the River Arts district into the town at large. (If you've got a white, grab a quick cup of joe at Summit Coffee, where you might just catch some amazing local talent at the mic.)
Click here to see RVshare rentals near Asheville, North Carolina.
11. Taos, New Mexico
Unless you're a ski bunny, you may not have heard the name of this northern New Mexico charmer before. (And if you are a skier or snowboarder, we're here to tell you that this locale is a worthy destination in summer or winter.)
For one thing, the view of Mt. Wheeler — the tallest in the state — and its surrounding chain of southern Rockies will absolutely floor you, especially at sunset. And that's before you head to dinner at one of the many local eateries serving up some of the best Mexican cuisine you've ever had. It's no wonder such a scenic town is a haven for artists, and you'll have ample opportunities to peruse their productions as you walk around the town's square. And just an hour and a half south, you can double down on the arts-and-outdoors experience in the state's capital city of Santa Fe. Oh, did we mention there are two world-class hikable hot springs within easy driving distance, not to mention the Rio Grande Gorge Bridge? There's a reason they call this place the "Land of Enchantment." (Speaking of which, don't miss your chance to drive the famous Enchanted Circle!
Click here to see RVshare rentals near Taos, New Mexico.
12. Acadia National Park and Bar Harbor, Maine
Epic granite peaks collide with crashing ocean waves in this gem of the northeastern coast. No matter how you slice it, Acadia is easily one of the most scenic places on earth — and its gateway town of Bar Harbor could easily have its picture beside either "quaint" or "charming" in the dictionary. (Or both.)
Along with the bounty of beautiful sweeping views, visitors to the Maine coastline can find their way into historic lighthouses and all manner of world-class restaurants — you won't go hungry, especially if you like seafood. Shops, galleries, and museums also abound, drawing visitors in and beckoning them to extend their stays longer and longer.
Click here to see RVshare rentals near Acadia National Park and Bar Harbor, Maine.
13. Sandpoint, Idaho
Lake shores, mountain slopes, and a vibrant city — all tucked away in the often-overlooked Idaho panhandle. Sun Valley might get all the glory, but a visit to Sandpoint will prove that great things come in small packages, whether you're looking to hike, climb, waterski, or just kick back and enjoy the scenery.
Northern Idaho is also home to some of the best remote hot springs in America… although finding them might be a bit of a challenge. Locals like to keep these best-kept-secrets just that: kept. So try and make some friends while you're in town — you might just get taken along on a soak if you're not considered a stranger!
Click here to see RVshare rentals near Sandpoint, Idaho.
14. Rocky Mountain National Park and Boulder, Colorado
Anyone who's been to the Front Range can tell you that the Rocky Mountain high is real. And hip, bustling Boulder is the perfect place to serve as home base while you enjoy all that Colorful Colorado has to offer.
With its upscale outdoor mall at Pearl Street and its array of artisan coffees and brews, Boulder has just about everything an urbanite could want… all under the closeby gaze of those epic, challenging, unendingly beautiful mountains. Even if you don't go into the national park proper, there's tons of stuff to do, with the Arapaho and Roosevelt National Forests right there, ready to be explored.
The surrounding cities are worth checking out, too; everyone knows about Denver, of course, but Fort Collins should show up on more travel lists. If you do end up there, make sure you make time to take in a film at The Lyric, one of the weirdest, most awesome little indie theaters this author's ever been to.
Click here to see RVshare rentals near Great Smoky National Park and Boulder, Colorado
15. Custer, South Dakota
Herds of wild bison, Needles Highway, Mount Rushmore, and just the plain-old wonder of the Black Hills themselves — no wonder this corner of South Dakota is considered one of the best places to go camping in the midwest. Try your hand — er, foot? feet? lungs? — at summiting Black Elk Peak, and keep your eyes peeled for mountain goats while you're at it. And yes, the buffalo do roam here, often right by the roadside, but you'll want to be sure to keep your distance.
As it grows in popularity, the Black Hills region has also become a somewhat surprising oasis of cuisine and culture, tucked away in an otherwise rural area. Learn more about western history at one of the may museums or interpretive centers, and finish it off with a meal fit for a king. It's all waiting for you in Custer!
Click here to see RVshare rentals near Custer, South Dakota.
How to Find The Best Campsites
Once you've got your destination picked out, you've only gotten through half the battle. Now it's time to search for specific campsites!
Fortunately, most of the places listed in our "best places to go camping" section above have lots of different campgrounds to choose from. They're uber-popular destinations amongst RVers, tent campers, and hotel dwellers alike, so you should have no problem finding accommodations that suit your needs.
But finding nice places to go camping doesn't have to be a chore, especially with all of the technology available at our fingertips today. In many cases, the perfect spot is just a few clicks away — in the next section, we'll go into exactly how to discover it!
One thing to keep in mind, however, is that oftentimes, the "perfect camping spot" really has more to do with your setup than the site itself. Do you have all the equipment you need to enjoy your home away from home effectively? Is your RV properly leveled?
We've written some helpful posts that'll help you make the most of any campsite, whether you're a first timer or a veteran. Here are some RVshare blog posts to check out as you're planning your next adventure:
It's also important to recognize how much your RV's interior, and in particular your storage strategy, can affect your comfort. Check out these clever storage solutions to help declutter your interior, and consider some of these accessories, which can help you save space in your RV's kitchen — one spot that's usually quick to collect extra stuff!
How Do I Find Places to Camp Near Me?
Even if none of the destinations above are in the cards for your vacation planning this year, there are plenty of amazing camping places to discover in just about every corner of the country. We're lucky to live in a land with such a plethora of camping vacation spots for every type of traveler, whether you fancy a weekend on the beach or a month alone in the mountains.
"But where are the best places and locations to go camping near me," you wonder?
Have no fear: finding the perfect spot for your next getaway is simple.
Just open a web browser and perform a Google search for RV parks in your area, or in whichever destination is next on your list. If you're interested in giving boondocking a try, you can also run a search on freecampsites.net, which even has filters to make things easier for RVers. (For instance, you can select for places that have paved or gravel access roads if you're driving a big rig.)
No matter which camping city or campsite you select, however, know that we here at RVshare will be with you every step of the way, providing advice — and also drooling at our keyboards, eager to see your adventures! Feel free to share pictures and story trips with us directly in the blog comments, or tag us in your social media posts. We can't wait to see what you discover!
This post may contain affiliate links.