Can you Afford to RV Full Time? Consider This
Travel Inspiration
Last updated on July 28th, 2022. Originally published on January 6th, 2018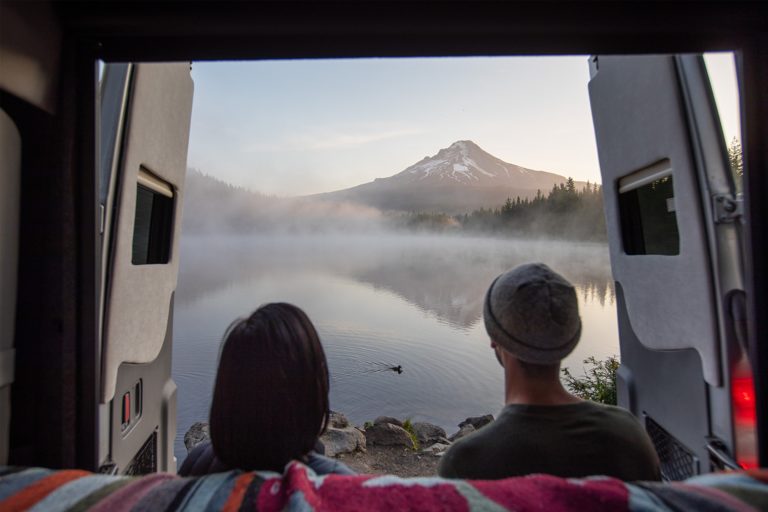 Living on the road in an RV or motorhome is a dream many campers and travelers share. I mean, just imagine the freedom of waking up every morning and seeing a different beautiful vista through your windshield, just waiting to be explored. The next place you call "home" limited only by your imagination and the contents of your trusty road atlas. This is full time RV living!
But along with limitless liberation, there's another incentive behind the dream of full-time RV living: affordability. Globetrotters imagine selling their house, ditching their mortgage and taking on a debt-free lifestyle, doing with less by learning how to live in a camper's small footprint full time.
To be sure, cost control is one of the best advantages of RV living. With discount clubs like Passport America and other savings hacks we've written about here on the RVshare blog, it's totally possible to use your footloose and fancy-free camping lifestyle to save a heap of cash, especially if you find ways to make money on the road. Some full-timers even retire early after downsizing from large, expensive-to-manage homes.
But it's a mistake to think that transferring from a sticks-and-bricks house to a camper will automatically fix your finances. So before you take the plunge, read up: we're going to discuss the real cost of RV ownership and full time RV living, as well as showing you how you can save money by living in an RV.
Average Cost of Full Time RV Living
So, let's get down to brass tacks: how expensive is RV living, anyway?
Here's the thing: there's no easy answer to that question. Every single aspect of RVing has a wide price spectrum, from the vehicle itself to where and how you choose to go camping. You could just as easily spend half a million dollars on a new rig as a few thousand on a modest pre-owned vehicle; you can find campgrounds where a site will cost you as much a city rent for a month, or make do by boondocking in a variety of cheap or free BLM lands.
And if you're wondering how to afford RV living or to create a low-cost RV living situation, that's a great thing — because you have total control over your RV's economics. No matter what kind of budget you have or how much money you're hoping to save up, you can find an RV lifestyle that will fit your financial needs! All it takes is a little planning.
Affordable RV Living
Whether you're looking to spend your golden retirement years exploring or getting a head start on the process, living in an RV combines the freedom of the road with a minimalistic lifestyle. And that makes it ideal for cheap, frugal living… if you play your cards right. It's also totally possible to blow through your savings account while camping. Especially if you only stay in the fanciest, resort-style campgrounds in the hottest destinations.
In fact, aside from the initial cost of RV ownership itself — that is, the money you invest in the vehicle — your two biggest RV-specific expenses are likely to be fuel and campsite accommodation fees. But the good news is, all of these costs are customizable depending on your budget needs!
Start by figuring out which RV is right for you. Choose the most affordable model that'll satisfy your needs. Camping shows are a great way to explore multiple models at the same time. You can also benefit from competitive, special show pricing.
Once you've got your dream rig on your hands, the next step is to figure out your first destination. This is also a great opportunity to customize your decisions to your full-time RV monthly budget!
Obviously, the closer your destination, the less you'll need to spend on fuel, so that cost is entirely scalable. Then you have another question to consider: Parking.
So, how much does it cost to live in an RV park?
The answer depends and varies wildly. But it's also why RVing can be a perfect way to save money for those who are careful.
Budget for Full Time RV Living
Here's the thing: you can easily shell out $500 or more on a fancy RV park for a monthly space rental. But you can also spend as little as $25 for two weeks in a public campground, or even find ways to camp for free! For instance, maybe a friend or family member has some land they'd allow you to park on. Or you find a great spot for boondocking owned by the BLM.
Either way, full time RV living is crazy affordable if you're not paying for hookups, but it does require a little bit of preparatory footwork. Obviously, you'll need to fill your potable and drain your waste water holding tanks. And stock up on easy-to-prepare food items that don't necessitate a lot of clean up. Conserving water is key when you're boondocking! It's also a good idea to keep extra drinking water on board. Collapsible water jugs like this one can help, and they're easy to fold up for storage later.
You might also want to consider setting your rig up for solar power so you won't have to spend money on fueling your generator. Not to mention inhaling its fumes and listening to its drone. Solar panels are available in many locations nowadays. Although they're not cheap, they're a great lifetime investment that'll save you money in the long run.
If you do want to spend time in a luxurious, resort-style developed campground, you can still find ways to save money on the experience. For example, a Passport America membership will get you access to almost 1900 well-rated campgrounds across the US, Mexico, and Canada at half price. So you can kick back and enjoy running water, electricity, and swimming pool access without feeling guilty. (Don't forget your swimsuit, beach towel, and sunglasses!)
No matter what your preference, the best way to prepare for making the switch to full-time RV camping is to create a budget worksheet. This way you'll know exactly how much you'll spend in each category.
RV Living Year Round
When you play it smart and focus on simple, affordable lifestyle choices, full time RVing can be a great way to live well on a budget. All while exploring more of what the world has to offer.
Happy camping!