Top RVs Nearby
RV With Bunk Beds For Rent - RV Bunk Bed Rental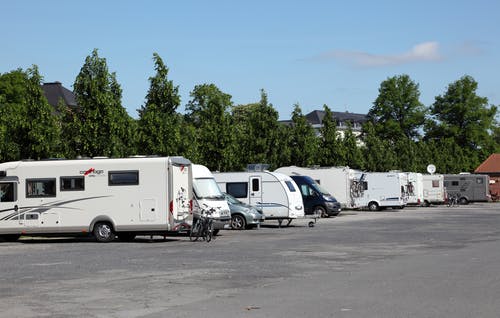 RVing is a great way to see the entire country without sacrificing the comfort and conveniences you have at home. With all of the features and amenities new RVs come equipped with, it's no wonder so many travelers are choosing camping over staying at a hotel.
RVs come in all shapes and sizes because different families do too. If you've got a large family and require a little extra space, you may want to consider renting an RV with bunk beds for your next adventure.
In this post, we're going to learn about large RVs, where you can rent an RV that comes with bunk beds, and how to go about doing so.
Class C RV with Bunk Beds
Most people stick with the basics when they travel. Others, however, need a little more space. Instead of traveling in a glorified van, many families enjoy the benefits of camping with a bit more luxury. In the case of Recreational Vehicles, luxury and wiggle room tend to go hand in hand. A motorhome or camper with bunk beds is a good example.
Which are classes of RV large and luxurious enough to come with such convenient accommodations? Here are some of the main ones:
Class A: Built from the chassis of buses, these RVs are one of the biggest and most luxurious. Class A RVs come with everything you need to be comfortable when traveling with a substantial group, such as a bathroom, shower, kitchen, living area, and plenty of storage space. Class A units are motorhomes that can sleep 10 or more. Consider these RVs when traveling with a large party.
Class C: These rigs are considered mid-size, but a class C RV still sleeps at least 8 if you rent one that comes with bunk beds. Like class A RVs, these come loaded with all of the essentials to get the most out of your trip, except they're a lot cheaper to rent.
Fifth Wheel: What makes fifth wheel units unique from the others on the list is that they're non-motorized. You'll need a hefty tow vehicle if you want to get these rigs anywhere. Their advantage is that they're just as luxurious as class A RVs, but with a little-added room since they don't have cabins. If you need an 8 to 15 passenger RV rental, a fifth wheel is your best friend.
RV with Bunk Beds for Rent Online
Instead of wasting hours driving around to different brick and mortar locations, get an RV with bunk beds for rent right in your own zip code. You can do so by renting an RV online. RVshare is the perfect place to start.
RVshare is the largest peer-to-peer RV rental marketplace in the world. The sharing economy has done wonders in many markets including the RV rental industry. It's never been easier to find exactly what you're looking for right from the comfort of your own home.
The sharing economy cuts out the middleman, so you're dealing directly with RV owners and enthusiasts, instead of pushy salespeople. Who better to work with than folks just like you who've created a lifetime of memories behind the wheel of their own rigs?
Less staff means more savings. The sharing economy creates an opportunity for customers to get the lowest prices. With our rates starting as low as $10 per night, it's safe to say we've got the lowest rates in the industry.
Having an online platform allows us to offer the most options of high-quality RVs. Brick and mortar dealers tend to have a finite selection since they're limited to the space they have to keep the RVs in. When you do find one with more choices, you'll most likely end up paying premium prices.
RV with Bunk Beds for Rent by Owner
If you love what the sharing economy has done and you want to get started today, you can. It only takes a couple of minutes to create a profile and then you'll be well on your way to finding a high-quality RV.
The steps to renting are straightforward:
Enter your location and your travel dates
You'll be taken to a results page containing dozens of listings in your specific area available exactly when you need them.
Search through them until you find one that suits your needs
You can customize your results using our detailed filter. Choose to see rigs based on year, the number of travelers, class, length, and even nightly rate. Select an RV you like and view information like the bunkhouse RV floor plans.
Send the owner a quick message, ask any questions, and come to an agreement on terms.
Set up a meeting where you'll be given a quick tutorial, then grab the keys and you're off!
Every rental booked through our platform comes with a $10,000 peace of mind guarantee. On top of that, they all come with free 24/7 roadside assistance and 5% cash back rewards that you can use on your next trip.
Depending on the size, year, and features of your rental, prices vary. On average, rates for a large RV with bunk beds that sleep more than 8 people are about $175 to $225 per night.
Besides nightly rates, you'll need to pay for taxes, a refundable security or cleaning deposit, and fees for pets if the unit doesn't already include that in the price.
RV with Bunk Beds for Rent USA
Traveling by RV isn't always easy when you've got a group of 10 or more. Luckily, the sharing economy can save the day. RVshare streamlines the process of finding and renting by providing hundreds of qualified RVs all in one platform. Get an RV with bunk beds for rent today. Find quotes and book a unit in as little as a few minutes flat. Safe Travels!