Covers
September 5th, 2019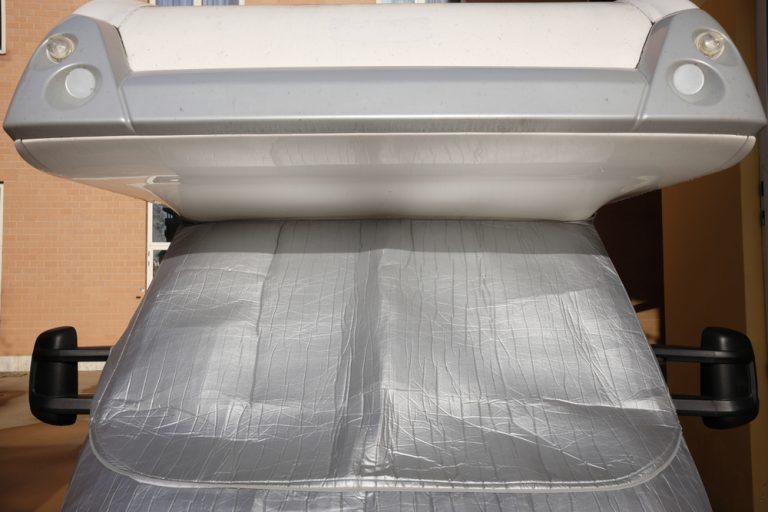 Every RVer can likely agree that their RV was an expensive purchase that they want to last the test of time, so they can enjoy it for many years to come. Of course, proper care and maintenance can go a long way, but so can a simple RV accessory: an RV cover! Even if you store your RV inside a garage when not in use, a cover can help protect against damage.
RV covers are used to keep bugs, rodents, dirt and debris out from your RV. It can also help protect your motorhome from damage from harmful UV rays, which can fade the paint on your rig and then damage the metal, plastic and fiberglass underneath. Simply put, RV covers can help your RV retain their value and last longer!
One of the popular brands of covers are ADCO RV covers, which are available for a wide variety of types of RVs, including Class A, C, Travel Trailer, 5th Wheel and Toy Hauler. The brand offers roof top covers as well as universal and custom ADCO RV covers.
An ADCO RV cover typically offers all climate and superior UV protection, plus an internal strap system that cinches at the top and bottom of the cover for a perfectly snug fit that also minimizes impact from the wind. Having a snug fit from your RV cover is important so that rodents and bugs cannot squeeze under the cover and still damage your RV. ADCO RV covers typically offer a zipper entry door, though, so even if your RV is covered, you can still access inside.
ADCO RV covers are available in several variations and models, including:
·   SFS Aquashed – a cover made of a three-layer fabric, intended for storage use in moderate climates
·   Sunbrella Fabric – a custom RV cover only option, this type of fabric is made from a woven acrylic and is resistant to cold cracking, which is ideal for colder temperatures
ADCO is also known for their ADCO Tyvek RV cover, which offers a three-layer cover system and is designed as an all climate system. The Tyvek RV fabrics were created to block up to 99.8%% of the sun's rays and 98% of dust particles, while also being resistant to solvents and acids found in bird droppings. The Tyvek RV top panel that reflects sunlight, protecting your rig from harmful UV rays while also keeping it cooler inside, water-resistant and breathable fabric that fights against mold and mildew, a weighted buckle toss-under that ensures quick and easy installation and zipper side panels.
ADCO Tyvek RV covers range from $180 – $380, depending on the size of the RV and the cover. They are typically universal fit covers, so they can fit a variety of sizes and styles of RVs. When shopping for a universal fit RV cover, measure your RV from end to end at the longest point, making sure to include the spare tire, bumpers and ladder. Don't include propane tanks, hitches or rooftop accessories like air conditioners. If your RV size is falling between sizes available, choose the larger size.
Without the Tyvek fabric, an ADCO RV cover can range from $150 – $250, and all of their covers can be purchased online, through an authorized dealer or in many camping stores. ADCO RV covers are also available as custom RV covers, made specifically for your motorhome. Prices can vary and an authorized dealer is required. You can find one here.
Whether you're purchasing an ADCO RV cover or another brand, there are a few things to keep in mind when shopping for RV covers. First, think about the type – you'll want to ensure you're purchasing one for the right type or class of RV. The size is another important feature to triple check before purchasing so you have a cover that actually fits your rig snugly. As mentioned above, make sure to measure your RV from end to end before shopping for a cover. 
The final feature to keep in mind is the material of RV cover. They are generally made of polypropylene or polyester, but some RV covers are best for dust while others are ideal for protecting against severe weather elements. Think about where you'll be storing your RV while not in use, what kind of weather it will stand up against and then purchase an RV cover that has the best material for your particular use and climate.
An RV cover is a must-have accessory for when you're not traveling the country in your motorhome. It can help it last longer and even help you save money on maintenance over time. If you want to step into your RV after a long winter in storage and have it be in pristine condition, you can't overlook purchasing an RV cover! 
This post may contain affiliate links.