Top RVs Nearby
RV Van Rental in the USA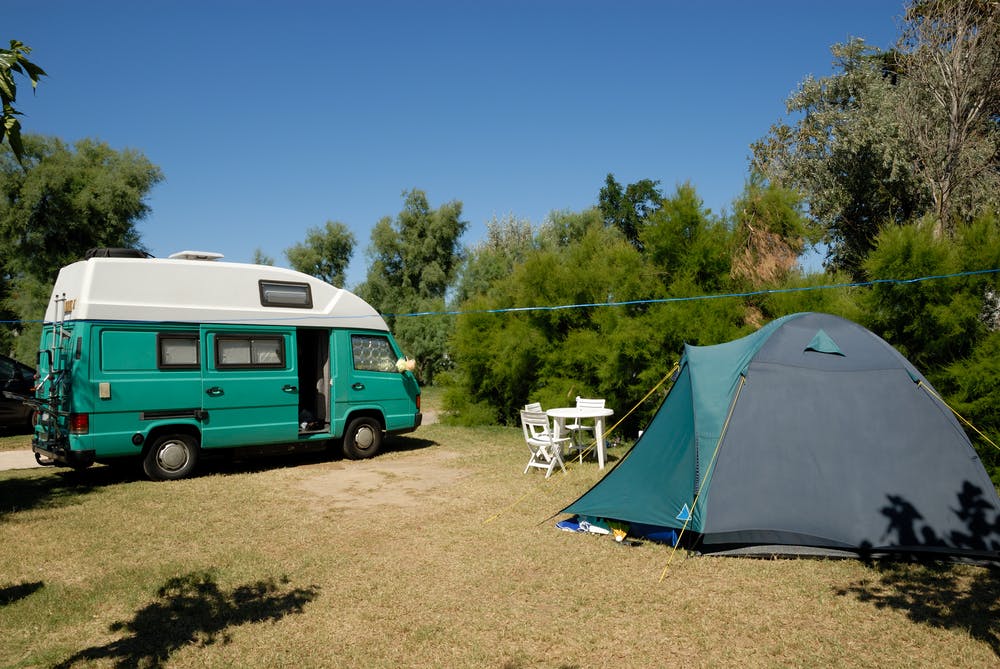 The only thing better than exploring the country is exploring the country behind the wheel of a motorhome. The flexibility of having your transportation and your accommodations in one spot makes for a fun, seamless, and unforgettable vacation.
Whether you're only traveling with two people, only want basic accommodations and an easy drive, or you're simply just on a budget, renting an RV van may be one of the best decisions you make when you go traveling this time around.
In this article, we're going to learn about rental RV vans, where you can rent them, and how much it would cost you to do so.
Van Size RV Rental
When some people think of RVing, they tend to picture big and tall rigs with slide outs, bedrooms, and basically just everything that a small house would have. Many people get a little overwhelmed thinking of that kind of space. It isn't easy to drive around or park. And they're actually quite expensive.
It's refreshing to know that there are also minivan RV rental units that you can travel in instead. What type of RV styles are there for a small RV van rental? It all starts with the basic Class B motorhome style.
Class B RVs are motorized units built from the chassis of vans. They're tall enough to stand and sleep in, but don't have all of the compartments that come with bigger RV classes like A or C. They're easy to drive and are also considered to be much safer than other RV classes.
Although they're one of the smallest styles of RV, Class B RVs still have enough room to have a kitchen, living area, sink, shower, and toilet. These units have the best fuel economy of motorized RVs and are the cheapest to rent.
Luxury RV Van Rental
From there, we have small Sprinter RV van rental units. These are Mercedes-Benz brand RVs that come in two or four door styles. They are basically regular Class B RVs but come with Mercedes luxury.
For example, many Sprinters com with all electric features, leather interiors, great sound systems, and overall excellent quality. They're perfect for families who are looking for a small RV rental van, while still having all the luxuries many of the larger classes have.
RV conversion vans are in the class B family as well. It's a full sized cargo van that is usually sent to a third-party company for the purpose of being outfitted for luxury. They're large enough to carry up to seven passengers comfortably, with seats that can fold into beds.
They've got large windows and shades, storage cabinets, and TVs. An RV conversion van rental is good for families who like the Mercedes Sprinter but have a little smaller budget. Like the other vans mentioned in the Class B family, they're safe to drive, don't require any special storage space, and they have great fuel economy.
RV Camper Van Rental
Now that you know a little more about small RVs, let's learn about how you can get a small RV van rental here in the USA. Welcome to RVshare, the world's largest peer-to-peer RV rental marketplace. Here can look through hundreds of high-quality listings and rent a small RV that meets your family's criteria.
Find campervans for rent directly by owner in a few easy steps. First, right from your screen, enter your travel dates and the location you'd like to pick up your RV or van rental. You'll instantly be taken to a long list of RV options that are available exactly where and when you need them.
Customize your results by using our handy search filter. You can choose to view RVs based on class, size, and the number of people traveling with you. This way, you're sure to only spend time viewing RVs that match your interests.
When you see a unit you like, click on it to view information such as a description of the unit left by owners, bios of the owner, and rules owners may have for their units. In this section, you'll find beautiful images of the rigs, so you know exactly how it looks before you book, and you can even read reviews left by previous renters to see what kind of experiences other families have had.
If it fits your needs, request to book it and the owner will review your request and get in touch with you as soon as possible. After you agree to terms, you'll schedule when to meet to pick up your RV Rental. They'll give you a quick demo, hand you the keys, and you'll be on your way. Just remember to dump the tanks and replace the gas you used when you return it.
RV Van Rental Prices
RVshare isn't only the biggest marketplace for RV rentals by owner, we've also got the lowest prices. Our rates start at only $10 per night. RV van rental rates depend on factors such as when you book and how long you rent for.
On average, rates are about $50 to $125 per night for a Class B Rental. If you're looking for a more luxurious ride, expect to pay around $200 to $300 per night. Other costs to consider are taxes, a refunded security deposit, fees for bringing pets, and fees for miles driven (if the unit you're renting doesn't come with unlimited mileage).
RV Van Rental Near Me
Renting an RV doesn't necessarily mean having to spend thousands of dollars on massive units that you probably won't need anyway. If you're going on a short trip with a couple of people, a small camper van, sprinter, or conversion van rentals will most likely be more than enough to have a comfortable trip.
Use RVshare to find the perfect RV rental for your next family trip and find out why more and more families are choosing the sharing economy every day!