Top RVs Nearby
Find a Cheap RV Rental in the USA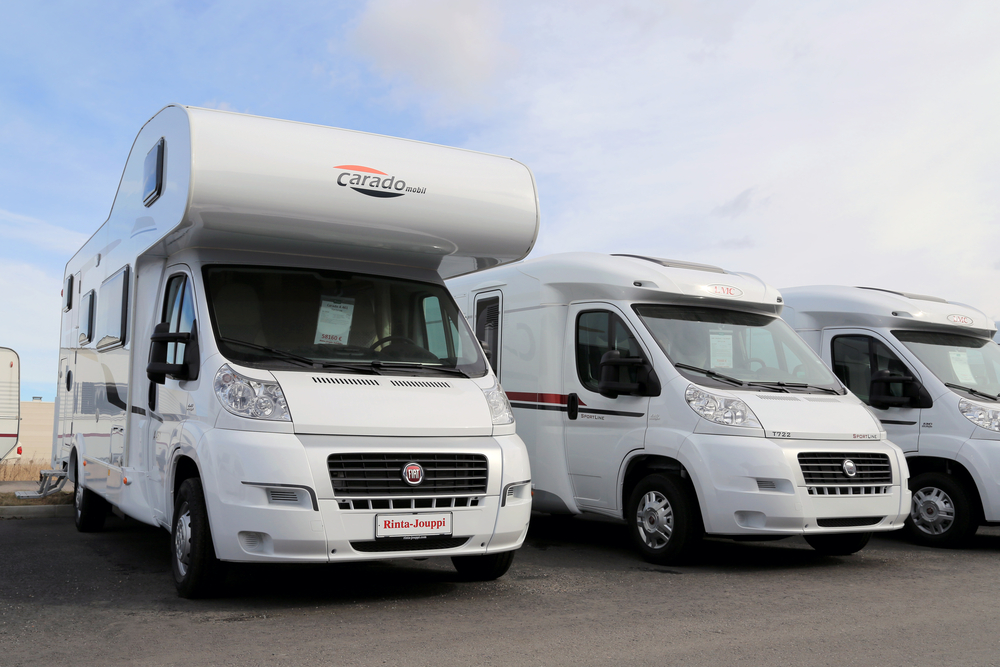 Road trips are becoming an increasingly popular way to travel. Perhaps one of the most popular ways to take a road trip is in a recreational vehicle. RVing gives you the freedom to travel at your own pace, get closer to nature, and bond with family, all while enjoying the comforts you're accustomed to at home.
RVing is an exciting way to experience new things. With so many advantages, it's no wonder why more and more people are choosing to make their next vacation in an RV. One of the best advantages, however, has to be the affordability of traveling in a motorhome.
In this article, we'll explore how traveling in an RV can save you money, and how to get the best deals on an RV.
Cheap Motorhome Rental USA
You may be slightly confused at first when you hear that RVing is affordable. After all, aren't motorhomes an expense that you can only afford if you have money to blow?
Well, it is true that owning an RV is costly. Not only does RV ownership come with monthly payments, but it also requires maintenance and repairs, as well as storage space. That's why many people turn to RV a rentals, as they can be found anywhere in the USA for cheap compared to buying a motorhome.
In fact, renting an RV can save you up to 57% compared to other forms of travel. Instead of making monthly payments on a vehicle you may only use two or three times a year, renting allows you to pay for the unit only when you want to use it. An RV rental can be found anywhere in the USA, and is usually the cheapest option!
Where to Find Budget Camper Rentals in the USA
You may be wondering, "Where can I find cheap RV rentals near me?" You might consider looking for a rental at your local RV dealership. However, these places often have lots of hidden fees and long, drawn out contracts that are hard to understand. Is there a better option?
This is where online rentals can come in handy. RVshare is the world's largest online rental marketplace. Owners from all over the country list their RVs, letting people like you get a budget RV motorhome rental anywhere in the USA.
With thousands of listings available, you can find the perfect rental for you and your family. You can find cheap, but luxurious RV rentals with unlimited miles and unlimited generator usage anywhere in the USA. How exactly does it work?
You can find and book a listing in only a few minutes with our easy to use search tool. Simply enter the location that you want to pick up your unit, and you'll be provided with potentially hundreds of the cheapest RV rentals available in the USA.
From there, you'll be able to filter your results so you're only provided with listings that fit your exact needs. You can filter the results based on price range, RV class, number of travelers, RV model year, and more. Then you're ready to browse the options until you find your motorhome!
Once you've found the RV you want, all you have to do is send the owner a quick email with a request to book their rental. After the owner has approved your request, you'll meet with them at the time and place you agree upon. The owner will then give you a quick tutorial and answer any questions you may have. Then you're ready to hit the road!
Discount RV Rental USA
What are the average motorhome rental prices? That will depend on what kind of RV you're interested in. Like with most things, larger typically means it will cost more.
In order to decide which RV is right for your vacation, you need to know a little bit about the different classes. There are six classes of motor homes; three motorized and three non-motorized. Let's take a quick look at the differences on each of them.
Class A RVs are built on bus chassis and are the largest of the motorized campers, which also means they're usually the most expensive, with an average rental rate of $175 to $275 per night. This price tag allows for quite a bit of space and luxury, however.
Class B motorhomes are smaller campervans, that are usually only large enough for a few people to travel on. Their small size makes them much more affordable, however, with an average nightly rate of $100 to $200. They also offer much better gas mileage, which makes them a great choice for a cheap RV rental for a trip in the USA.
Class C motorhomes are somewhere in the middle when it comes to price and luxury. At an average price of $150 to $200 per night, they offer more luxury than a class B rental, at a more affordable price than a class A rental.
The non-motorized classes are trailers that must be towed by a separate vehicle. These include travel trailers, which are towable trailers that can come in a variety of sizes. The average nightly rate of a travel trailer is around $50 to $125.
A fifth wheel trailer is very similar to a travel trailer, except it must be towed by a vehicle with a fifth wheel hitch, which makes it easier to maneuver. These trailers average $60 to $150 per night.
Finally, there's the pop-up trailer, a lightweight unit that collapses for easy transport. These aren't great for large groups or long trips, but their affordable price makes them great for a trip on a budget. You can rent a pop-up trailer for less than $100 per night.
RV Rental Deals USA Conclusion
RVing is an exciting way to travel and experience new things. Thanks to RVshare, it's easier than ever to find an RV rental at a cheap price anywhere in the USA. You can be on your way to having the vacation of your dreams in no time at all!