Travel Inspiration
September 2nd, 2015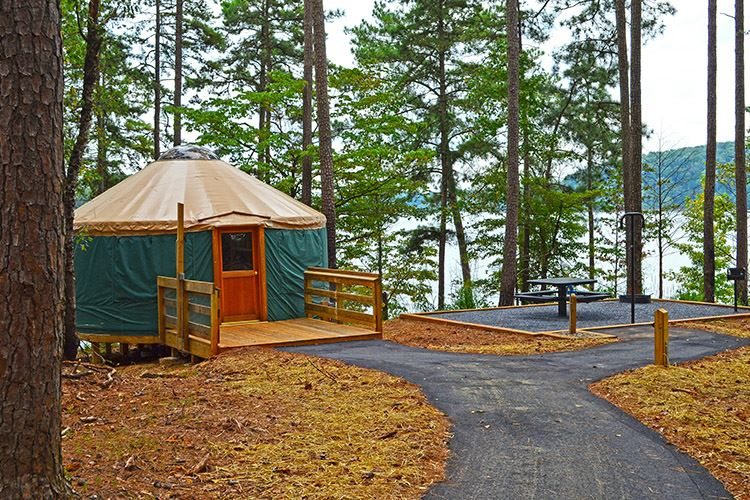 The dome shaped structures that we now call yurts were the preferred shelter of Mongolian king, Genghis Khan. Today, yurts are a popular type of camping, or glamping, and have become popular all over the world for those who enjoy camping and with a bit of luxury thrown in.
These days there is no need to have your own yurt. Simply visit one of the many campgrounds where yurts can be rented. Campgrounds such as Georgia State Parks where yurts made from flexible wood lattice and canvas are available for overnight guests to enjoy. These yurts are similar to cabins with facilities such as a space heater, skylight, back deck, furniture, ceiling fan, and an outdoor area with water spigot, grill, and fire ring.
If yurt camping sounds appealing check out the following five Georgia State Parks that offer yurt camping.
High Falls State Park features the largest waterfall in middle Georgia. There are six yurts in the park lining the eastern edge of the lake under the canopy of trees. The lake is a popular spot for boating a fishing, although swimming is prohibited. For more recreation there is a public swimming pool nearby as well as a network of hiking trails.
Located 36 miles north of Atlanta in Cartersville, Red Top Mountain State Park is on the shores of a large lake with a single yurt available for rent. The yurt is located in an isolated place, making it a hidden gem that provides you with a seating area and a bunk bed. The park offers many opportunities to hike, bike, and picnic.
Cloudland Canyon State Park is located in Rising Fawn, and is one of the most scenic parks in Georgia. Because of rugged geology, the park offers excellent hiking trails along with many other activities such as fishing, horseback riding, picnicking, mountain biking, and more. The park houses a yurt village with 10 yurts in a secluded area. The yurts also provide easy access to West Rim Trail for hiking.
Located in Winder, Fort Yargo State Park offers scenic beauty, serenity, and plenty of things to do. The yurt village has five yurts located on a lake island. If you want to have the most beautiful views from your yurt, then go for the yurt 3 which is encompassed by lake on three sides. The boat ramp is close by with the canoe rack right in the village. Some of the activities at the Fort Yargo include canoeing, tennis, fishing, lake swimming, hiking, and mountain biking.
Situated on Lake Hartwell, Tugaloo State Park provides with boating, waterskiing, and fishing opportunities. The park also houses a yurt village, located far away from the crowded campgrounds. The village has six yurts with a waterfront view. For the best views of the lake choose yurt 4.