How Tos & Tips
Last updated on January 16th, 2023. Originally published on March 15th, 2019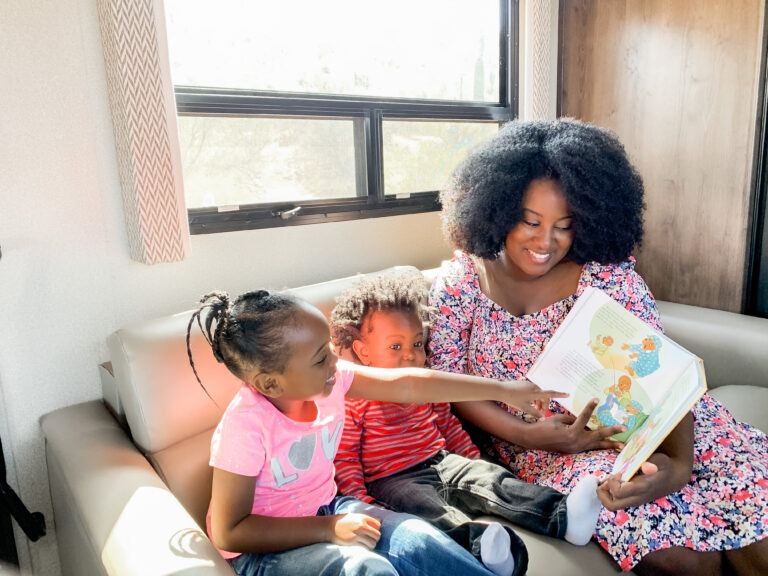 Thinking of taking that family RV trip you've been dreaming about? Great news! You're going to love it. That said, there are some things you should know about taking RV trips with kids.
Read on to learn all of our best tips and tricks for keeping everyone happy during your big family adventure. By the end of this article, you'll know the ins and outs of RVing with kids, so you can hit the road like a pro.
Finding the Best Family RV
The first step is finding the RV that's right for your needs. While you may or may not be staying in this rig long-term, knowing the best RV to live in with kids certainly is a good first step. Unfortunately, it's not really that simple. There isn't any single RV that is best for all families.
That said, we can definitely recommend some RV types that would be great for a family RV trip:
Trailer vs Motorhome
Most people will agree that a fifth wheel or bumper pull tends to be the best bet when traveling with kids. Trailers tend to have more living space and more floor plan options. Additionally, there's no cockpit to tempt young vehicle enthusiasts. Many parents also like pulling a trailer because they feel more comfortable putting car seats in a truck.
That said, motorhomes do have their place. This is especially true if you plan to be moving often or at a fast pace.
Go for the Bunkhouse
No matter which type of RV you choose to get, you will want to look for a bunkhouse model. Bunkhouse floorplans give the kids a place to sleep without converting tables and couches back and forth throughout your trip. Some even provide a space for the kids that is completely closed off from the rest of the rig, providing everyone with the privacy they desire.
Choosing the Ideal Road Trip with Kids
Of course, choosing an awesome destination is another key to a successful adventure. Luckily, finding the best family RV road trips for your little tribe shouldn't be too difficult at all.
Here are some ideas for the best RV trips with kids. These fun trips for kids are ideal because they have something for everyone, meaning the entire family will be happy together.
A Local Campground
A local campground is a great option for a first trip out or a quick weekend getaway. Kids will love that the drive is short, and you'll love the relatively small amount of gas you have to use to get there and back.
The Beach
We've yet to meet a kid who doesn't love playing on the beach. When you're staying in an RV you have the option of staying so close to the beach that you can see the waves from your window, and even step out of your home-on-wheels right onto the sand.
Disney World
Did you know Disney World has an RV park? They do, and it's called Fort Wilderness. This is easily one of the best parks in the country. Because Disney World is a magical destination for kids of all ages, this would be an amazing RV trip to take with your family.
National Parks
Our country is chock-full of incredible natural attractions. Many of these are located in our national park system. For this reason, we highly recommend making RV trips to as many national parks as possible. Many of these parks have camping right on site, but even those that don't will have campgrounds nearby.
Keeping Kids Entertained on Road Trips
Long RV trips with kids can result in some pretty fussy passengers. Sure, you could limit yourself to short trips only, but finding ways to entertain the kids while driving down the road will allow you to explore the entire country while keeping everyone happy in the backseat.
Luckily, there are plenty of awesome ways to keep kids busy on road trips. Here are some of our favorite options:
Audiobooks
Audiobooks are a fabulous way to entertain the entire family as you drive. Even the youngest kids who can't yet read will enjoy listening, and those who can read can follow along in a hard copy of the book if they wish.
Kid Music
Jamming to some kid music is sure to bring the mood up a few notches in your road trip vehicle. There are tons of amazing kid albums out there, but we especially love the "Giants of Science" album by The Pop Ups as well as anything by Sugar Free Allstars.
Road Trip Games
Classic road trip games such as the Alphabet Game and the License Plate Game will hold the attention of slightly older children for quite some time. Add your own little twists to the games to make them extra fun.
Window Clings
If your kids are sitting next to windows, window clings are an amazing way to keep them entertained. Kids love to stick the clings to the window to create different scenes, and parents love that they're so easy to clean up.
Pipe Cleaners
Pipe cleaners are another fun thing that you may not think to bring along. These can be bent and twisted to create all kinds of sculptures. Because these are pointy, you won't want to give them to tiny kids, but elementary school-aged travelers should be fine with them.
Color Wonder
If your kids want to draw and color on the ride, you'll love Color Wonder products by Crayola. These amazing markers only show up on Color Wonder-specific paper, meaning you won't have to worry about your truck seats or anything else around.
Family RV Living Tips and Tricks
Whether it's short-term or long-term, RV living with kids does come with its challenges. That said, it's also very rewarding. When kids RV, they are exposed to things they may never have seen or done otherwise. Therefore, taking a big RV trip with the kids in tow is not something you want to skip.
Of course, you might want to jump in with an idea of how to handle those challenges that are bound to crop up. Here are some of our favorite tips for RV living with kids:
Take It Slow
One super cool thing about traveling by RV is the fact that you can stop to eat, rest, or look around anywhere. We highly recommend taking advantage of this, especially with kids in tow. This will allow your kids to really get a feel for each place you visit and will keep everyone well-fed, rested, and happy.
Rent Playtime Gear
Whether you forgot your child's favorite toy or find you didn't bring nearly enough activities to entertain them with, there's a solution for you! BabyQuip rents out toys, books, games, and more to keep everyone happy while away from home. Plus they'll deliver right to your location! Get 10% off with code RVSHARE.
Stay Organized
When you're a parent, staying organized is always important. That said, this becomes even more important in tiny spaces such as RVs. Before hitting the road, decide on a place for everything and make an effort to keep everything in its place. You'd be surprised how helpful this is.
Do Things Together
For some people, camping means sitting around the campsite while their kids run off and play elsewhere. Try to avoid this camping style and instead use the close quarters and free time to bond as a family. Play games together, take hikes as a group, and finish each night with a family campfire.
Invest in Reciprocal Memberships
If you'll be traveling often or long-term, investing in at least one reciprocal membership is a must. Reciprocal memberships allow you access to numerous attractions across the country. There are options for science museums, children's museums, zoos, national parks, and even theme parks.