How Tos & Tips
Last updated on May 15th, 2023. Originally published on May 6th, 2019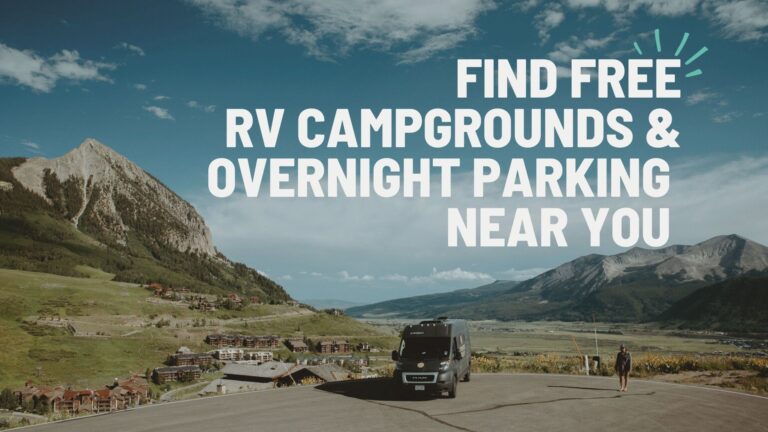 Did you know you can camp in your RV for absolutely nothing? That's right! There is absolutely no reason you need to be paying $50+ a night to stay in traditional RV sites. In fact, there are some RVers out there who make a point of rarely staying in paid campgrounds.
Wondering why somebody would choose this and how you can do the same? Read on to learn these things and more.
Why Some Campers Avoid Paid RV Parks
Let's begin with the basics: Why should an RVer go out of their way to find free RV parking?
Well, there is the obvious answer of money savings. This is a huge factor for many campers. After all, when you camp often, those campground fees can really add up. That said, money is far from the only reason to seek out free campsites.
Another awesome reason some people choose to avoid the typical RV campgrounds and seek out free camping instead is, well, freedom. Most of us hit the road in our little homes-on-wheels because we love the feeling of freedom, and skipping campgrounds can actually give you even more freedom. This is because most free camping is first-come-first-served, and to be honest, free camping areas rarely fill up. This means you have complete freedom from reservations and can come and go as you please.
The third most common reason one might choose to find free camping is for the amazing locations that free camping often offers. Obviously, we aren't referring to the truck stops and Walmart parking lots here. However, the BLM land and National Forests that offer free camping opportunities can be absolutely stunning.
On top of that, this type of camping—often referred to as boon-docking—is typically very secluded. This means no annoying neighbors and plenty of space to spread out.
For more on RV parks, see our guide to Long-Term RV Parks.
Free RV Camping 101
By now you're probably thinking that free camping sounds pretty great. However, there are some things you should know before jumping in. Below are some of our favorite dry camping and boon-docking tips and tricks:
Remember Your Manners
While you won't usually have neighbors while boon-docking, there is a chance that you might. You will also probably have neighbors when you stop in parking lots for quick overnights. Therefore, it is always important to remember your manners by keeping your volume down, avoiding running the generator at night, and generally being kind and respectful.
Leave No Trace
This tip actually goes along with the tips about manners above. However, it is important enough to get its own spot on the list. Always, always remember to clean up after yourself after camping. No trash or items should ever be left behind, and free camp spots certainly shouldn't be used for RV storage.
Take Plenty of Supplies
If you'll be camping far from any kind of store, you'll want to be sure to take plenty of supplies along. Fill your freshwater tank and take some jugs of drinking water. Stock up on food and propane, and be ready to escape for a few days.
Have a Way to Generate Electricity
Generally speaking, free campsites will not include RV hookups. This means you'll need plenty of water on hand, but it also means you'll need a way to generate and store electricity. Usually this means investing in a generator, but some RVers turn to solar instead.
Watch your generator usage. It can be tempting to run a generator all night long when dry camping. However, this is disturbing to those around you. Therefore, you will want to avoid running the generator late at night or early in the morning.
Always Put Safety First
Safety should always come first. Therefore, if a campsite ever feels unsafe for any reason, move you rig. A weather radio and emergency kit should always be close at hand. Additionally, many RVers feel it is a good idea to keep a can of pepper spray on hand for self defense.
Offer your business
Plan to stay all night in the parking lot of a business? Help that business out by doing a bit of shopping while you're there. Fill up at the truck stop or grab some groceries at Walmart. These are things you'll need anyway, and doing this helps out the business that is helping you.
Finding Free Overnight Parking Near Me
The next step is to find free overnight RV parking. There are two types of free RV parking: those that are meant for a quick overnight only, and those that allow actual camping. In this section we'll discuss the former.
When it comes to finding someplace you can park overnight and catch some zzz's, you should have no problems at all. However, the most common places that allow free overnight parking only allow RVs to stay for one night. Therefore, these stops should be for resting along your travel route only, not for camping.
This means no setting up camp and leaving quickly the next day. In some cases, it also means giving the store or restaurant that so graciously allowed you to stay overnight some sort of business.
Below are some of our favorite places to stop for a quick overnight. Just be sure to ask and check signage before staying overnight anywhere:
Cabelas
Camping World
Cracker Barrel
Rest stops
Walmart
Finding Free Campgrounds Near Me
Of course, you don't always want to head out after only one night in a place. If you're looking to camp for a few nights, you will want to look into finding a free campground or simply take advantage of dispersed camping opportunities.
Unfortunately, finding these free camping opportunities is not always as easy as searching the internet for "RV parks near me". That said, once you know where to look, you should be able to find quite a few awesome free campsites.
The very best place to look is FreeCampsites.net. This awesome website allows users to search for free or incredibly cheap camping in a given area. The results include such information as whether or not there are restrooms, trash cans, and picnic tables onsite, as well as reviews. Some of the campsites listed even offer RV hookups, though these do sometimes require some sort of small fee. Other great websites include ultimatecampgrounds.com , Campendium, and The National Map. Another option is to sign up for Boondockers Welcome, which does carry a small annual fee but will connect you with individuals who welcome overnight campers to their locations for short periods of time.
Another option is to head to the Bureau of Land Management and National Forest websites directly. Here you can research your options in terms of camping on government-owned land.
What about Stealth Camping?
Ever want to camp — undercover?
According to stealthcamping.com (who we'd think would be the authority), stealth camping is "the act of sleeping in non-conventional areas without trace or discovery."
And thanks to the increasing numbers of people looking to live a minimalist lifestyle focused on experiences over things, stealth camping is taking the world by storm. There's a specific movement around stealth camper van conversions, allowing stealth campers the opportunity to combine the flexibility of the stealth camping lifestyle with some of the basic comforts of home.
In this post, we're going to walk you through everything you need to know about stealth camping, including stealth van living, how to find a stealth camp, and, importantly, whether or not any of this is even legal!
What is Stealth Camping?
As mentioned above, stealth camping is all about finding places to sleep (and live) that aren't the typical, conventional ones the people around you would expect. Living in a street-parked camper van is stealth camping, but so is pitching a tent in an unmarked place in the BLM desert.
Stealth camping is an attractive option because, for one thing, it's low-cost. In many cases, you can find totally free places to camp your van or pitch your tent, and you have the added bonus of being able to be pretty much wherever in the world you want to. For instance, rock climber Alex Honnold famously lived in his van for years so he could spend his time bouncing between his favorite U.S. national parks and other wilderness areas to complete climbs on his bucket list.
If you have a full-time job, living in a stealth camping van may allow you to drastically cut your expenses and pay off debt. It provides mobility and simplicity, and is certainly a step above living in your car!
Of course, you can't just throw your van into park or set up your tent anywhere you please; if the land is privately owned, it might be illegal. The good news is, there are plenty of stealth camping communities on forums and even Facebook, and they all can offer great insights as to how to live this unique lifestyle.
Stealth Camping Safety
Stealth camping is fun and affordable… but if you're not careful, it can also be a little scary, particularly if you're alone. A van parked on the side of a busy highway is definitely not the safest place in the world to sleep at night, for instance.
However, many people comfortably and safely pull off full-time van dwelling. It's all about keeping your wits about you — and taking a few precautionary steps. For example:
If you're totally alone at your campsite, avoid leaving your RV for long periods of time.
Don't leave valuable items in your camper at all, or if you must, hide them well and make sure they're not visible from the window.
If camping alone, consider leaving two pairs of shoes outside of your camper door to indicate that more than one person is living there (even if they're not).
Avoid illegal parking situations, even if they seem tempting.
Consider caravaning or traveling in groups whenever possible.
Stealth Camping FAQ
Let's finish out this article on stealth camping with some answers to a few of the most commonly asked questions!
Is stealth camping illegal?
It depends! There are plenty of places you can find free overnight parking, at least in the short term. That said, many stealth campers do straddle the line and sometimes exist in a legal gray area, "moochdocking" on private property, for instance.
When is it a good idea to stealth camp?
Stealth camping is a good idea when you can find safe, legal parking, can afford the right kind of vehicle for your needs and you're enthusiastic about traveling.
When is it a bad idea to stealth camp?
Stealth camping is a bad idea if it'll throw the rest of your life into chaos (for instance, making it difficult for you to meet family obligations or get to work), or if you aren't in a position to afford a van or trailer right now. You can always try out the stealth camping lifestyle by renting a small RV off the peer-to-peer market at RVshare!
Can you set up a tent anywhere?
Unfortunately, no, not anywhere! Although tent camping can be even stealthier than van camping, you would probably get in trouble if you tried to set up your tent in, say, someone's front yard. Stick to the steps outlined above for finding free, safe campsites!
Are you ready to hit the road and park overnight for free? We hope this complete guide answered all your questions and left you feeling prepared! In case you have other questions or tips leave them in the comments below.
For more helpful tips, check out this article: