RV Decor & Unusual RVs
August 11th, 2015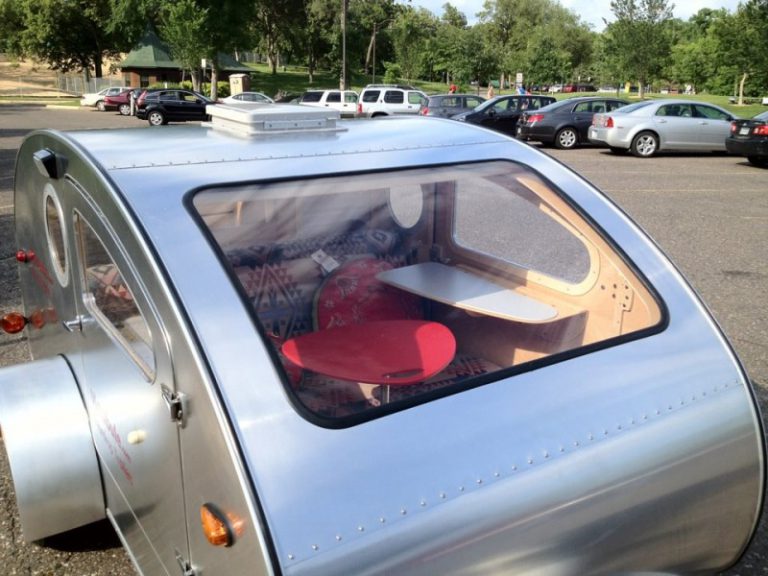 Teardrop trailer lover's, this one's for you!  Introducing the Vistabule — a one of a kind teardrop trailer with a twist.
Why spend your time feeling claustrophobic in a tiny tin can when you could be looking out a giant window at the vista beyond? This special teardrop features large windows so you can enjoy camping.
You want to know the best part? The bedroom converts into a living space so you can enjoy the those views day or night! At night, lay back and relax in your comfy queen size bed, and during the day flip the bed up, pop the table down, and you have a perfect spot to relax and enjoy the scenery.
The rear of the trailer features a galley kitchen under the hatchback and side doors that open wide allowing you to use the table space inside or outside. Close the door and the tables, flip up to cover the windows for instant black out blinds!  (Super clever!)
The Vistabule is sure to be an instant hit.  Here are a few of the amazing features:
Large vista windows
Extra wide doors
Queen size sofa bed
Under the bed storage
Popup table
Privacy screens / swing up tables
Clothing storage
2 burner cook top
Sink with running water
Grey water holding tank
3 speed fan with 2 air vents
Storage for dishes, food and gear
Lighting & electronics charging
New for 2015 the Vistabule now features a shiny aluminum skin just like an Airstream. They are made in Minnesota and can be towed by nearly any vehicle. Prices start at $15,000. Visit the Vestibule website for more information.