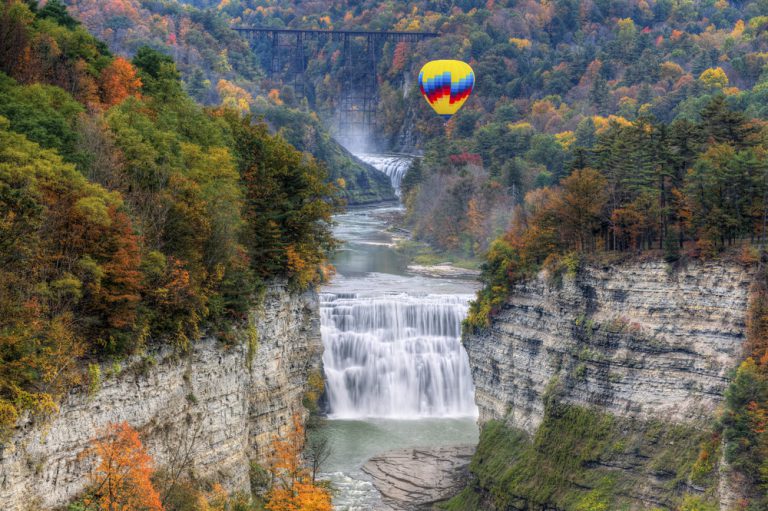 What is a Landmark?
Home to the post populous U.S. city by a landslide and chock full of history well beyond the bounds of the Big Apple, it's no surprise that New York is chock-full of must-see landmarks both natural and historical. Here are the ones you absolutely must have on your itinerary.
What are Some Famous Landmarks in New York?
1. The Empire State Building
2. 9/11 Memorial and Museum
3. Stonewall Inn
4. The Brooklyn Bridge
5. Montauk Point Light
6. Playland Amusement Park
7. The Erie Canal
8. The Susan B. Anthony House
9. The Grand Canyon of the East
10. Niagara Falls
New York Landmarks
From the big city to the breathtaking countryside, here are the New York landmarks not to miss on your next trip!
1. The Empire State Building
Arguably one of the most famous buildings in the world, though it's long since been outstripped as the tallest, the Empire State Building stands as a towering, iconic symbol of New York City but also the state itself — and even America. Constructed in 1930 and '31, the structure boasts a grand total height of 1,454 feet including its antenna, or 1,250 feet if you're measuring from the roof. It's known for its unique Art Deco architecture style and offers observatories with sweeping views on both its 86th and 102nd floors, as well as a newer indoor observatory on the 80th floor opened in 2019. Whether or not you want to brave your fear of heights to ascend the tower, this iconic landmark is a must-see and must-stop for anyone within a stone's throw of New York City!
Things to do near the Empire State Building: It goes without saying that New York City has literally endless options for shopping, dining, and tourism in general, and the Empire State Building's midtown location puts it within easy walking distance of attractions like Bryant Park and the giant Herald's Square Macy's. And yes, there are RV campground options near NYC — and plenty of great local RVshare vehicles to stay in!
2. 9/11 Memorial and Museum
Every American who was alive and old enough to be making memories at the time remembers where they were on September 11, 2001. And although the skyscrapers that once stood proud on this spot have tragically fallen, today, you can visit the 9/11 Memorial and Museum to pay your respects and learn more about these unforgettable attacks. Along with a permanent collection of artifacts and rotating topical exhibitions, the museum also hosts educational programming for the general public, students and teachers, families and more. Visiting the monument is an emotional journey, but one well worth taking.
Things to do near the 9/11 Memorial and Museum: Located at the site of the World Trade Center towers in the southern part of Manhattan toward the battery, this memorial is close to other sober-but-important attractions, like the Museum of Jewish Heritage and the Irish Hunger Memorial. Here are some nearby RV campgrounds to stay at, and RVshare vehicles to bring to them.
3. Stonewall Inn
Whether or not you're a member of the LGBTQ community, you've doubtless heard the name of the Stonewall Inn, the site of a 1969 police raid that led to a serious of demonstrations that led to the ongoing evolution of gay rights we know it. Located in the West Village, this important cultural site was named a National Historic Landmark in the year 2000, and was also listed on the National Register of Historic Places the year prior. More recently, the site has been upgraded to national monument status, making it the first American national monument dedicated to the LGBTQ rights movement. The monument includes the grounds surrounding the Inn itself, including Christopher Park and the block of Christopher Street that borders it, directly across the street from the building.
Things to do near the Stonewall Inn: Straddling Greenwich Village and the West Village, Stonewall's hip location is part of what caused it to become the launching point for this important cultural movement — and puts it within easy walking distance of plenty of other landmarks and sights to see, like the apartment building that served as the exterior for the show "Friends." Plus, there are some great RVshare rentals and campgrounds in the area to make for a comfortable, affordable stay!
4. The Brooklyn Bridge
As full of life and must-see tourism spots as Manhattan is, Brooklyn's streets are equally teeming — and slightly less-trodden, at least by most visitors. One of the best ways to venture over into the more local borough? Walking or driving across the Brooklyn Bridge, which is not just a method of conveyance but an important landmark and destination in its own right. First constructed between 1869 and 1883 with a central span of 1,595 feet, it was the longest suspension bridge in the world at the time, and it's still an impressive sight today. Another fun fact you might not know: the structure was originally known as the New York and Brooklyn Bridge or the East River Bridge, and was only renamed to its familiar moniker in 1915.
Things to do near the Brooklyn Bridge: Walking across the bridge itself is a great way to get some exercise and some stellar Instagram snaps, but once you arrive in Brooklyn, there's even more fun to be had, no matter which way you turn. Meanwhile, local RVshare rentals and New-York-City-area campgrounds make it easy to enjoy a stylish stay nearby!
5. Montauk Point Light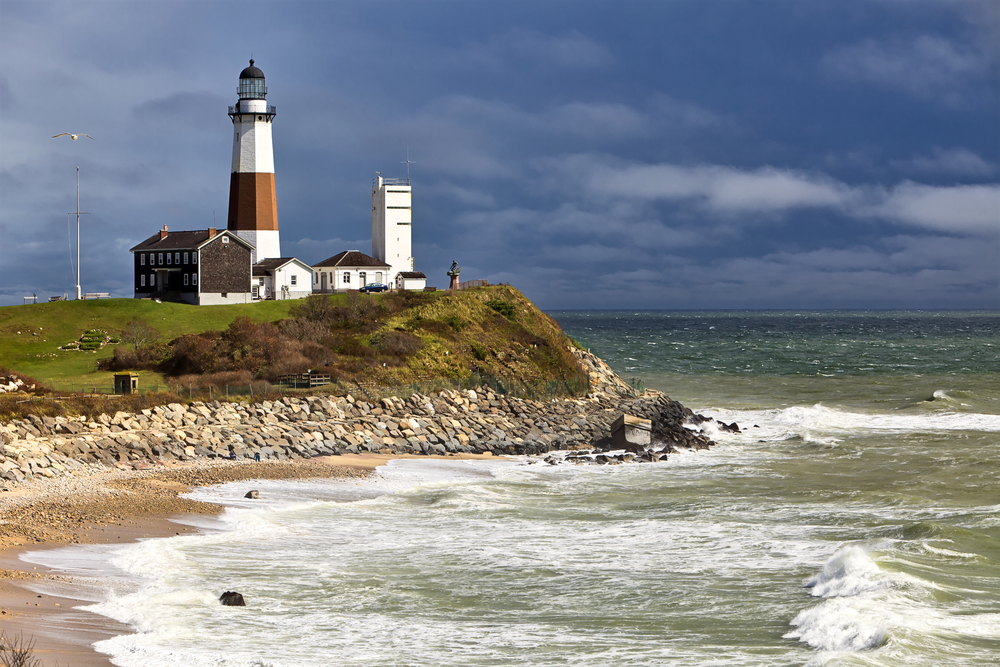 Remember Clementine telling Joel to meet her in Montauk in Eternal Sunshine of the Spotless Mind? Even if not, you'll quickly buy into the undeniable romance of the area when you visit for yourself — and you should certainly put the Montauk Point Light on your list of must-see landmarks if you do. Located adjacent to Montauk Point State Park at the easternmost point of Long Island, this lighthouse stands 111 feet tall and was first built back in 1796, making it the first such structure to be built in New York state and the fourth-oldest operating lighthouse in America. Rumor also has it that this is the most-photographed lighthouse not just in the United States, but in the world… and again, we think you'll understand why when you see it for yourself.
Things to do near Montauk Point Light: There are many other beautiful, campable wildernesses to explore on Long Island, such as Hither Hills State Park and Wildwood State Park. There are also some other wonderful private and public RV campgrounds on Long Island and plenty of RVshare rentals… not to mention incredible food and views almost anywhere you turn!
6. Playland Amusement Park
Also known as Rye Playland, this seasonal and historical beachside amusement park is known for both its long-standing cultural cache and its completely contemporary array of amusements. With more than 50 rides, a children's museum, a summer-friendly ice-skating rink, a swimming pool and more, there's a vast array of fun to be had at Playland Amusement Park — and given that it was originally constructed in 1928, it's a history-lover's fantasy, too.
Things to do near Playland Amusement Park: Tucked just north of New York City proper near White Plains, Playland Amusement Park is only a short drive from scenic Rye Beach and very close to the New York-Connecticut border. Here are some nearby RVshare rentals to consider for your visit!
7. The Erie Canal
One of the most important feats of engineering in human history, the Erie Canal was constructed to create a navigable water route between the Great Lakes and the Atlantic Ocean by way of New York City — an ambitious project that was first proposed all the way back in the 1780s. When it was first completed in 1825, it was the second-longest canal in the world after China's Grand Canal, measuring some 363 miles from Albany's Hudson River to Buffalo's Lake Erie. Today there are many ways to visit the canal, including paddling and cycling tours alongside and on the waterway itself. Either way, you'll be adding your story to an ongoing and important part of human history.
Things to do near the Erie Canal: Given that the canal stretches across much of the northern section of the state between Buffalo and Albany, there's a great multiplicity of things to do in the area, including many great state parks for camping in. Check out our guides to some of the best local wildernesses here!
8. The Susan B. Anthony House
Don't let the portrait of a graying lady in glasses fool you: Susan B. Anthony was one of the greatest revolutionaries in history, and you can see the place where she lived and worked for much of her life — and also the place where she died — when you visit the Susan B. Anthony House in Rochester, New York. Along with the opportunity to simply walk through the house and grounds that hosted this important leader, you can also participate in social and educational events held here, including lecture series, scout programs, school programs and more.
Things to do near the Susan B. Anthony House: Located in the upstate city of Rochester, the Susan B. Anthony House is surrounded by other worthy sites, such as the Hinchey Historical House and Park and The Strong Museum. And that's not mentioning, of course, the nearby river- and lakefront views; Hamlin Beach State Park is one not to miss, and here are some local RVshare rentals to consider.
9. The Grand Canyon of the East
Think you have to book a flight — or a long drive from New York — to see the grand canyon? Well, if you're talking about the official Grand Canyon National Park, that's the case. But New York's Letchworth State Park is known for its own -stunning crack in the ground, known by many as the Grand Canyon of the East. Located in the west-central part of the state about equidistant from Rochester and Buffalo, this incredible natural landmark is a convenient drive from most New York population centers, and offers more than 60 miles of hiking trails, river rafting opportunities, and so much more.
Things to do near the Grand Canyon of the East: If Letchworth State Park doesn't scratch your outdoorsy itch, take heart; there are so many other beautiful wildernesses in this area, such as Silver Lake State Park, Stony Brook State Park and more. Looking for local RVshare rentals? We've got you covered on that front, too!
10. Niagara Falls
Widely considered one of the wonders of the world and easily one of the most beautiful places where the borders of Canada and the United States meet, Niagara Falls is a worldwide destination for a reason — and for New Yorkers, it's not too far of a drive at all. Tucked between Lake Ontario and Lake Erie just a few miles north of Buffalo, these falls are actually a stretch of three separate waterfalls with a total height of 167 feet, boasting the highest flow rate of any falls in the United States with a mind-boggling 168,000 cubic meters of water cascading over the edge every minute. The falls are protected and preserved by Niagara Falls State Park, and the nearby city of the same name offers plenty of dining, shopping, and other visitor resources.
Things to do near Niagara Falls: A quick drive from Buffalo and views of both Lake Erie and Lake Ontario, Niagara Falls is centrally located to many worthwhile New York State ventures. If you're in need of even more beautiful outdoor adventures, try out nearby Amherst State Park or Golden Hill State Park, as well as these local RVshare rentals that make it easy to string together an upstate New York tour.
Planning an RV Trip to New York
From Brooklyn to Buffalo and everywhere in between, we've got you set for your once-in-a-lifetime New York RV trip! We've penned guides to many of the biggest and most interesting cities in New York state, not to mention its best state parks and wildernesses. We've also got you covered when it comes to RV rentals and campgrounds, of course.
The world — and specifically New York state — is your oyster, so get out there and find those landmark pearls!