Landmarks
April 29th, 2021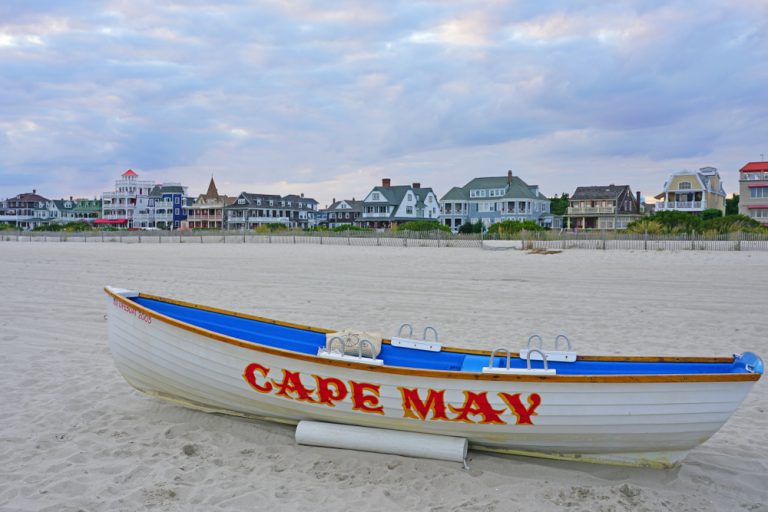 What is a Landmark?
A landmark might be an important cultural site or an incredible stretch of natural landscape you can't find anywhere else in the world — and given its long historical legacy in our country and its well-earned nickname as the Garden State, it's no surprise New Jersey is chock full of must-see landmarks.
What are Some Famous Landmarks in New Jersey?
1. High Point Monument
2. The Hermitage
3. Great Falls of the Passaic
4. The Holland Tunnel
5. Palisades Interstate Park
6. The Red Mill
7. Burlington County Prison
8. Sandy Hook Light
9. Atlantic City Convention Hall
10. Cape May Historic District
New Jersey Landmarks
From mountain peaks to rushing waterfalls to scenic lighthouses and everything in between, here are some New Jersey landmarks you don't want to miss out on!
1. High Point Monument
Nestled about as far northeast as you can get within New Jersey state borders, close to where it meets both Pennsylvania and New York, High Point Monument is located inside High Point State Park — which, yes, protects and exhibits the highest point in the state of New Jersey. Standing 1,804 feet above sea level, this viewpoint offers a sweeping scene of the surrounding greenery and hillsides, and is marked by the monument itself, which is dedicated to New Jersey's veterans. The obelisk tower can be entered and climbed; the 291 steps to the highest viewing platform give visitors an even better vantage and also an opportunity to pay their respects.
Things to do near High Point Monument: This area of the state is known as the Skylands for a reason; there are plenty of incredible wide-open spaces to explore here. Check out some of the other New Jersey State Parks both near and far to this monument, and consider using an RVshare rental to take your travels comfort.
2. The Hermitage
This fourteen-room Gothic Revival-style house has a lot more to offer visitors than its stunning historic exterior and interior — though those are well worth the photo opp alone. Located in the borough of Ho-Ho-Kus, this now-museum bears the distinction of being visited by none other than George Washington, Alexander Hamilton and Aaron Burr, who were invited to stop over during their travels by Theodosia Bartow Prevost. Other famous historical visitors to this site include James Monroe, William Paterson, the Marquis de Lafayette and Lord Stirling, and today, when you visit The Hermitage museum, you'll learn even more about this structure's important place in American history.
Things to do near the Hermitage: Inland from the Skylands but still only an hour or so north of Newark and the nearby Big Apple, the Hermitage is close to other important landmarks like the John Fell House and the Van Voorhees – Quackenbush – Zabriskie House. Plus, there are some great RVshare rentals in the area to consider for your vacation!
3. Great Falls of the Passaic
Think of it as New Jersey's Niagara — and an important natural and historical landmark all at the same time. The Great Fals of the Passaic are a stunning sight to behold even without any context, standing 77 feet high and bearing the distinction of being one of the largest waterfalls in America. But beyond that, these falls were also important to the early industrial development of the state, providing hydro power for one of the world's first paper mills as well as additional enterprises like Rogers Locomotive Works and Colt's Manufacturing Company (yes, as in the revolver). Today it's protected by the National Park Service as part of the Paterson Great Falls National Historical Park, and is also part of the Great Falls of Paterson–Garret Mountain National Natural Landmark.
Things to do near the Great Falls of the Passaic: Continue just a bit further southeast, and you'll be close to the beating heart of Newark and New York City — though the Paterson area itself has plenty to offer in the way of things to do. Here are some nearby RVshare rentals if you're looking for a longer getaway!
4. The Holland Tunnel
An everyday marvel of engineering, the Holland Tunnel connects downtown Jersey City directly with New York's Lower Manhattan — and given its original opening date back in November of 1927, it'll soon celebrate its first centennial. These four lanes of traffic tucked almost 100 feet below sea level sees thousands of vehicles each and every day of the year and remains open even as it's being worked on and improved. Although its destination is an obvious benefit of visiting this iconic landmark, the drive itself is worth taking note of; we might not give it second thought today, but the math and architecture that went into designing such a useful route are actually pretty incredible, especially before the days when we all had high-powered computers constantly at our fingertips!
Things to do near the Holland Tunnel: With Jersey City (and nearby Newark) on one side and New York City on the other, you'd be hard-pressed not to find things to do near the Holland Tunnel! And don't worry, there are, in fact, RV campgrounds this close to the Big Apple — and RVshare vehicles to enjoy them in!
5. Palisades Interstate Park
A joint venture operated by both New York and New Jersey states, Palisades Interstate Park preserves some stunning wilderness close to the heart of one of the most urban places in not only the country, but the world. In New Jersey, the Park consists of approximately twelve miles and more than 2,500 acres of stunning Hudson River shoreline, with 30+ miles of hikeable (and ski-able) trails, a scenic driving route for those who want to enjoy the beauty from the comfort of their vehicle, and a boat launch for those eager to get out on the water. With an original dedication dating back to 1909, these beautiful lands have been drawing locals and visitors from further afield alike for over a century — come see why.
Things to do near Palisades Interstate Park: Running along the waterfront a ways north of Newark and Jersey City, across from the place where Upper Manhattan turns to Yonkers, Palisades Interstate Park provides the perfect natural getaway without having to leave the city. That said, if you're looking for a more remote adventure, there are plenty of incredible New Jersey State Parks within easy driving distance; here are some local RVshare rentals to adventure in!
6. The Red Mill
Head west from the hustle and bustle of the big city and you'll find yourself in New Jersey's smaller, slower-paced towns — including Clinton, which is home to what's now known as the Red Mill Museum Village. This historic four-story grist mill served this town's growing population and aided its industry starting as long ago as the 1760s, and was purchased in 1960 by a group called Red Mill Five, led by a local artist named James Randall Marsh. Adjoining properties were also purchased and donated that decade to the Clinton Historical Museum, and today, the museum village offers visitors not only a look at the quaint, historic architecture of these structures, but also the ways of life they supported. (The Red Mill in particular is one of the most-photographed sights in America, and when you visit, you'll certainly understand why!)
Things to do near The Red Mill: A small but sweet riverside city, Clinton offers plenty of shopping, dining, and historical exploration opportunities — and is also only a short drive from wildernesses like Voorhees State Park and Hacklebarney State Park. Click here to browse some local RVshare rentals!
7. Burlington County Prison
Originally built back in 1810, Burlington County Prison is today a museum that offers visitors a grim if insightful look into the history of incarceration in our country. But before it was opened to the public, this edifice served as a prison continually all the way up until 1965, making it the oldest prison in the country at the time it ceased operations. That's thanks in part to the structure's smart design: crafted of poured concrete, brick, and stone, it was essentially fireproof, and also offered progressive features like individual cells and good ventilation. It's been considered a National Historic Landmark since 1986.
Things to do near Burlington County Prison: The prison museum itself is certainly an intriguing adventure, and its Mt Holly location puts it in close proximity to other destinations like Rancocas State Park. Here are some local RVshare rentals to consider.
8. Sandy Hook Light
Nestled onto the well-known barrier spit that might be considered the north end of the Jersey Shore, the Sandy Hook Light is the oldest working lighthouse in the United States, originally built all the way back in 1764. To this day, it guides sailors through the sometimes-treacherous North Atlantic waters, though fascinatingly, the structure is in a significantly different position than it was originally: thanks to littoral drift, the long-term effects of the currents on the coastline, it's almost a mile and a half inland from the tip of Sandy Hook. That distance was originally only 500 feet! Today, the lighthouse is protected and managed by the National Park Service, and guided tours allow visitors to learn more and also to enjoy the sweeping view from the top.
Things to do near the Sandy Hook Light: Sandy Hook itself is a stunning stretch of sea and sand well worth exploring, particularly within the Gateway National Recreation Area Sandy Hook Unit preserve. Be sure to check out Seal Beach, too! Here are some nearby RVshare rentals to consider.
9. Atlantic City Convention Hall
Put your makeup on, fix your hair up pretty — and head down to the Atlantic City Convention Hall, today known as the Jim Whelan Boardwalk Hall, to participate in an ongoing part of New Jersey and national history. Declared a National Historic Landmark in 1987, this sprawling building was once the primary convention center in all of Atlantic City, and to this day continues to host the world's largest musical instrument — a 33,000-pipe pipe organ with eight chambers, over 1,000 stop keys, and 64 foot-stops. Over the years, this place has been the site of the Miss America pageant, Democratic National Conventions, Beatles concerts and so much more. It's truly a sight to behold and a must-visit landmark for anyone who wants to say they've truly seen New Jersey.
Things to do near the Atlantic City Convention Hall: There's a reason this seaside gem enjoyed a long heyday as a resort town — and there's still plenty to see and do today, without quite the same crowds! Roll the dice at one of the city's many coastal casinos or head down to Steel Pier for a classic boardwalk experience. Here are some nearby campgrounds and RVshare rentals to check out.
10. Cape May Historic District
At the extreme southern end of the state, Cape May awaits with its beautiful beachside offerings — and it takes a special city indeed to land as a whole district onto the National Register of Historic Places. Along with its stunning shoreline, Cape May boasts one of the largest collections of 19th-century framed buildings in the country, as well as several historic estates, the Cape May Lighthouse, the Higbee Beach Wildlife Management Area, wineries, and more. Trust us: it's worth the drive!
Things to do near the Cape May Historic District: As you explore the southern terminus of the Jersey Shore, you'll be greeted with plenty of cute shops and restaurants as well as breathtaking beaches and other outdoor areas. An RVshare rental vehicle makes the perfect home away from home!
Planning an RV Trip to New Jersey
As you can see, New Jersey is swimming in fascinating landmarks to visit — this list is nowhere near exhaustive! An RV trip is a great way to string them all together.
We've got you covered on that front! Check out our fleet of cozy, peer-to-peer New Jersey RV rentals, as well as our guides to the best campgrounds in the state. We've also covered New Jersey's best state parks as well as its major cities and urban sights, including Newark, Trenton, and the Jersey Shore as a whole.
Enjoy!