Landmarks
March 25th, 2021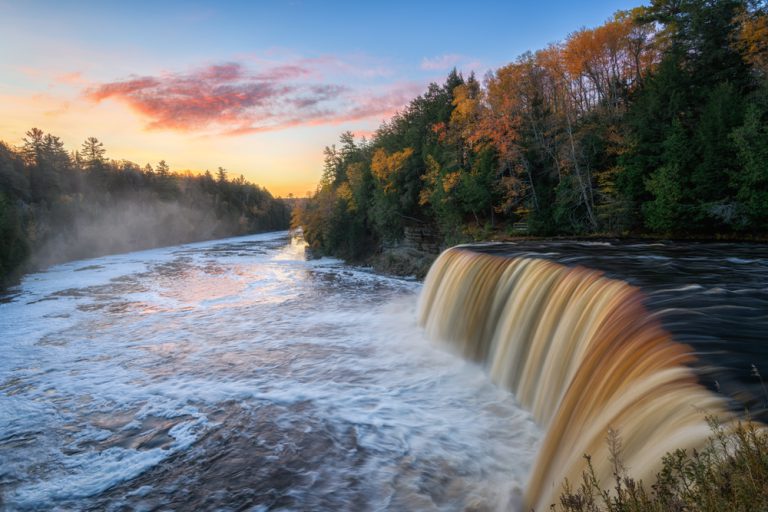 What is a Landmark?
Historical buildings where important cultural events have occurred. Bridges, locks, and other constructions that help us keep the world moving. The places where we've made history — and watched history being made.
There are all sorts of important landmarks to discover, especially if you find yourself in Michigan. Unsurprisingly, thanks to its position amidst four of the five Great Lakes, the state was named for the Ojibwe word mishigami, meaning "large water" — and these waters factor into the many important landmarks the state has to offer.
Here are the top ten.
What are Some Famous Landmarks in Michigan?
1. Isle Royale
2. Quincy Mine
3. Pictured Rocks National Lakeshore
4. Tahquamenon Falls
5. Soo Locks
6. Mackinac Bridge
7. Alden Dow House
8. Norton Mounds
9. Michigan State Capitol
10. The Henry Ford
Michigan Landmarks
Here are ten landmarks not to leave off your list next time you're in Michigan.
1. Isle Royale
As beautiful as Lake Superior is from the shore — and it is beautiful — there's an even more intimate way to experience this unique body of water. Tucked into the northern part of the lake, not far at all from Canada's border, Isle Royale is a remote island with no permanent residents, but which does offer camping opportunities as well as a lodge. The island is only accessible via ferry boats; you can take one from Copper Harbor or Houghton, Mighican, or Grand Marais or Grand Portage, Minnesota, and you'll arrive in either Rock Harbor or Windigo. The island itself is comprised entirely of a national park — though a little-known one — and there are plenty of day hiking opportunities as well as canoeing, paddling, SCUBA diving and more in the pristine waters.
Things to do near Isle Royale: The port cities that connect to the island via ferry boats also offer options for dining and shopping, though this island is fairly remote, located off the rugged Upper Peninsula of Michigan. There are, however, many more wildernesses on the mainland to discover, such as McLain State Park or Grand Portage State Park on the Minnesota side. Here are some nearby RVshare rentals to consider.
2. Quincy Mine
Located in the Upper Peninsula near the towns of Hancock and Houghton, Quincy Mine actually refers to an extensive network of mines that were once used to pull copper from the earth. Also known as "Old Reliable," this mine was used primarily between 1846 and 1945, though activities on a smaller scale continued through the 1970s. Today, Quincy Mine is a museum experience open to the public, which allows visitors to get up close and personal with the mine experience on a guided tour. The property is also home to the largest steam-powered hoist engine ever built, known as the Nordberg Steam Hoist, as well as offering incredible panoramic views of the surrounding areas.
Things to do near Quincy Mine: Given its Upper Peninsula location, Quincy Mine is close to some unforgettable Michigan state parks, such as McLain State Park, Twin Lakes State Park, Baraga State Park and others. Here are some nearby RVshare rentals and campgrounds to browse.
3. Pictured Rocks National Lakeshore
Perhaps the most scenic stretch of Lake Superior coastline — though you can't go wrong with any of it — Pictured Rocks National Lakeshore encompasses 40 miles of the coast, as well as more than 73,000 acres of the accompanying forests alongside the lake, which are criss-crossed with a network of over 100 miles of trails. Characterized by the northern hardwood forests that are native to this area, Pictured Rocks National Lakeshore is also open to licensed hunters and fishers, as well as those looking to day hike, backpack, cycle, swim and kayak. In the winter, brave visitors come to enjoy the frost-covered diorama of these dramatic lakeside cliffs, as well as for snowshoeing, cross-country skiing, and ice climbing.
Things to do near Pictured Rocks National Lakeshore: Situated between the cities of Munising and Grand Marais, Pictured Rocks is near many other must-see UP attractions, such as the Wagner Falls Scenic Site, Muskallonge Lake State Park, and the wilds of Grand Island. Here are some nearby campgrounds to stay at — and RVshare rentals to consider for your journey!
4. Tahquamenon Falls
Known for its status as one of the largest waterfalls west of the Mississippi, Tahquamenon Falls measures a sweeping 200 feet across and cascades nearly 50 feet down into the Tahquamenon River below, and is ensconced in its very own state park — Tahquamenon Falls State Park, to be exact. Along with the scenic falls themselves, this park also features about 50,000 acres of wilderness, perfect for hiking, both backcountry and developed camping, and a variety of paddlesports to be partaken in along the river. The falls are even more striking, if it's possible, in the winter time, and accompanied by the park's four miles of regularly-groomed cross-country skiing trails, make for an excellent snow day getaway.
Things to do near Tahquamenon Falls: Although quite remote and tucked deep into the woods, the beautiful scenery of Tahquamenon Falls is actually only about an hour and a half from the relatively big city of Sault Ste. Marie, and equally close to Mackinaw, the gateway to the Lower Peninsula. Here are some nearby RVshare rentals and campgrounds to consider.
5. Soo Locks
The city of Sault Ste. Marie is a special one in many ways — but not least because it's the connection point between the United States and Canada, here in Michigan. Furthermore, it's home to the unique feat of engineering that is the Soo Locks, originally constructed all the way back in 1855 to allow ships to travel between the lower Great Lakes and Lake Superior to the north. Today, visitors can enjoy a trip not just to, but through the locks aboard one of the specially designed tour boats that take you on a ride right alongside the freighters. (If you're into seeing attractions from the waterside, also check out the lighthouse cruises, fireworks cruises and other options offered by these local outfitters.)
Things to do near the Soo Locks: Whether or not you've got your passport with you, Sault Ste. Marie is full of fun things to do, from restaurants and shops to art galleries and casinos. And it's all just a stone's throw from many of the most beautiful state parks in Michigan — here are some RVshare rentals to consider for your adventure.
6. Mackinac Bridge
Mackinaw City is the metaphorical bridge between the Upper and Lower Peninsulas — but the physical bridge is called the Mackinac, and it's certainly a sight to see. This impressive suspension bridge spans more than 26,000 feet (just shy of five miles) long, making it the 24th-longest main span bridge in the world and the longest suspension bridge between anchorages in the Western hemisphere. While driving over the bridge is an incredible experience regardless of which direction you're going, if you're really in the mood for a challenge, you could consider walking over its expanse — or running, if you're really motivated. It's also a stellar spot to watch an unbeatable, purely Michigan sunset… or sunrise, if you're the type to take this bridge for a run.
Things to do near Mackinac Bridge: Explore nearby Mackinaw City or make the journey out on the water (and back in time) to Mackinac Island, which is closed to motor vehicles and must be traveled either by foot, bicycle, or horse-drawn carriage. This area is also close to Wilderness State Park and the Sault Ste. Marie State Forest Area, so camping opportunities abound; check out these local RVshare rentals to get your vacation going.
7. Alden Dow House
Alden B. Dow was known as one of the most iconic and impressive architects of the 20th century — so of course his stunning yet simple abode has earned its place on the list of National Historic Landmarks, which it's had since 1989. Located in the town of Midland, close to where the "thumb" of Michigan meets the rest of the mitten, the Alden Dow House is more than just a museum: it's also an educational and research facility, where scholars and amateur architects and historians alike can all enjoy the primary source materials collected here or participate in specially-crafted, fun and informational events. There's even an architecture and design summer camp program available for youths who make good use of a pencil and ruler!
Things to do near the Alden Dow House: Midland has far more to offer art lovers than the Alden Dow House alone! Be sure to also check out what's on stage at the Midland Center for the Arts, as well as the nearby Grace A. Dow Memorial Library. Here are some RVshare rentals in the area to peruse.
8. Norton Mounds
Like other parts of the midwest, long before white settlers got here, Native Americans called these lands home — and today, the Norton Mounds remain to remind modern-day visitors of the longstanding history of this place. Constructed by peoples who followed the Hopewell tradition, mounds played an important role in ceremonial and cultural events for ancient indigenous peoples — although the name we've given these mounds today is actually after a white man, Captain A.N. Norton, who owned this land back in the 1800s. The mounds were first excavated in the mid 1870s, and earned a place on the Michigan Register of Historic Sites in 1957 before being named a National Historic Landmark in 1965.
Things to do near Norton Mounds: Close to the city of Grand Rapids, Norton Mounds is a quick day trip from the heart of this urban landscape, which offers plenty of restaurants, shops, museums and more to choose from. Other wilderness areas, such as Saugatuck Dunes State Park, Grand Haven State Park, and the Ionia State Recreation Area aren't far away; here are some RVshare rentals to consider for the journey.
9. Michigan State Capitol
This building's iconic dome decorates downtown Lansing, Michigan, the state's capital since 1847 (the first capital was Detroit). The Michigan State Capitol building stands apart from other similar government buildings thanks to its soaring dome, which is actually made entirely out of cast iron. Along with hosting the important discussions that help Michigan find its way to better policies and futures, the capitol building is also open to the public for tours and events, including advocacy days, celebrations, performances, protests and more. The capitol building has been on the National Historic Landmark list since 1992, and its original construction was completed in 1848, though it's gone through two relatively recent periods of renovation (1989-1992; 2010-2014).
Things to do near the Michigan State Capitol: Downtown Lansing is a bright and vibrant community with many exciting attractions, such as the nearby African World Museum and Resource Center and the Herbert M. Rogers House. It's also close to wilderness getaways such as Sleepy Hollow State Park and the Fort Custer Recreation Area; here are some great RVshare rentals nearby!
10. The Henry Ford
While Detroit as a whole has many important cultural and historical landmarks to visit, if you have to narrow your scope to just one, The Henry Ford — otherwise known as The Edison Institute — might very well be the top of the list. This sprawling indoor and outdoor museum complex is technically located in a suburb of the city called Dearborn, and celebrates and informs visitors about the unique and important history of American Innovation, from Henry Ford to Thomas Edison and beyond.
Things to do near The Henry Ford: Just a short way from the heart of Detroit, The Henry Ford makes for a great addition to a city day visiting other must-sees like the Motown Museum. Be sure to grab a slice or three of Detroit-style pizza while you're in town — and check out these RVshare rentals and campgrounds!
Planning an RV Trip to Michigan
A spirit of exploration is pure Michigan — and we've got all the deets you need to do it in style. For starters, find your perfect rental RV through our platform, and then read up on the best campgrounds in the state, as well as near Detroit and throughout the UP. We've also written guides to the best state parks in Michigan, as well as its biggest and best-loved cities, too.
In other words, we've taken care of all the hard stuff so all you have to do is go out there and enjoy your vacation. Get to it!