Landmarks
Last updated on September 22nd, 2023. Originally published on April 3rd, 2021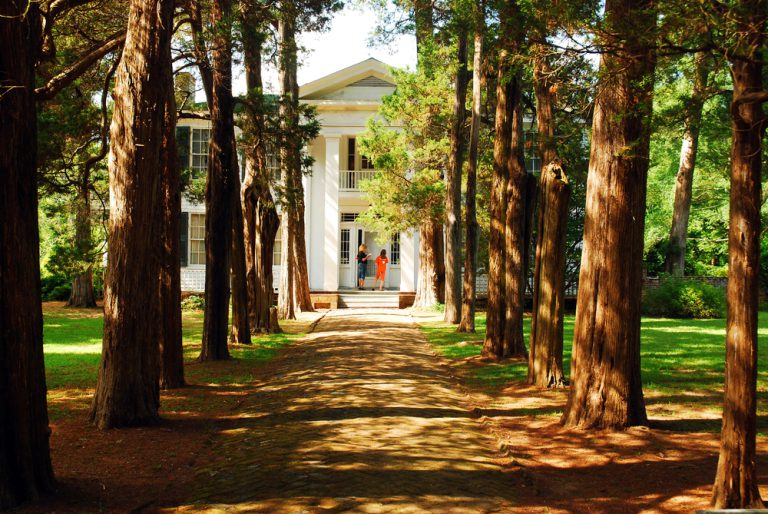 What is a Landmark?
From battlegrounds where critical fights were fought to houses that famous authors and civil rights leaders called their homes, Mississippi is chock full of important U.S. historical and cultural landmarks — some of which date back to well before the United States of America was called by that name. From sweeping forested pathways that were once trodden on by indigenous peoples to more modern destinations like carousels and lighthouses, here are some of the very best landmarks to add to your itinerary in Mississippi.
What are Some Famous Landmarks in Mississippi?
1. William Faulkner House
2. Waverly
3. I. T. Montgomery House
4. Winterville Site
5. Dentzel Carousel
6. Vicksburg National Military Park
7. Champion Hill Battlefield
8. Old Capitol Museum
9. The Biloxi Lighthouse
10. Eudora Welty House
Mississippi Landmarks
Let's dive into the details!
1. William Faulkner House
Also known as Rowan Oak, the William Faulkner House is located in Oxford, Mississippi, and served as the famous author's home for decades. In fact, Faulkner bought it as a bit of a fixer upper, if you can believe it given the grand appearance of the property today; originally constructed in the 1840s, it was in disrepair by the time the author purchased it in the 1930s. Faulker did many of the renovations and repairs himself, and today, this unique property bears witness to the unique life he lived within its walls. A reasonable admission price or $5 allows you to walk the grounds and within the house itself to get a full sense of what it was like when he lived here.
Things to do near the William Faulkner House: The city of Oxford may be best known as the home of the University of Mississippi, otherwise known as Ole Miss. It's also home to many famous and well-regarded restaurants, including a few that have earned James Beard recognition. You'll quickly understand how it earned its nickname as the "cultural Mecca of the South." Meanwhile, Holly Springs National Forest, John W Kyle State Park and Wall Doxey State Park are right around the corner. Here are some RVshare rentals to consider for your adventure.
2. Waverly
Although the South certainly has no shortage of old plantation homes, Waverly stands apart from the crowd for its octagonal cupola, which is unique amongst antebellum mansions. Declared a National Historic Landmark in 1973, this home was owned by a Georgia-born Colonel named George Hampton Young, who named the property after the Sir Walter Scott novel of the same name. While of course any plantation includes dark history along with the light, this historic home is still an undeniable part of the culture of this area — and open for public tours on select days at select times.
Things to do near Waverly: Waverly is about midway between the communities of Columbus and West Point, located in an unincorporated part of Clay County. The town of Starkville is only a short drive away (and home to attractions like the Mississippi Entomological Museum), and there are some great RVshare rentals in this area to choose from.
3. I. T. Montgomery House
Although his name might not ring as familiar as those of the white authors further down on this list, I. T. Montgomery was a critical historical figure in the fight for racial justice. Isaiah Montgomery was a slave of Jefferson Davis, and one of the minds behind the town of Mound Bayou, which was one of the first economically successful settlements created by freed slaves. (It still exists today, and is where this house is!) Montgomery's house today is both a frankly beautiful piece of construction and also an important piece of cultural history. It was declared a National Historic Landmark in 1976, though it has served a variety of purposes after Montgomery's death, including as a private residence.
Things to do near the I. T. Montgomery House: A small town with a heaping helping of historical import, Mound Bayou was founded as a revolutionary place all the way back in 1887. Today, it looks similar to other small residential areas in the South, but walking along its streets, you can feel its unique legacy. If you're looking for a less urban adventure, check out nearby Great River Road State Park — here are some great RVshare rentals in the area to take your vacation in!
4. Winterville Site
Also known as the Winterville Mounds, the Winterville Site is one of the most important archeological sites in the entire southeastern United States, if not the world. Located just north of Greenville along the Mississippi River, this area was called home by Native Americans long before white people came in to take the lands, and the evidence of those settlements remains in the form of these earthen mounds that were hand-built when the civilization was thriving between about 1000 and 1450 AD. Although such mounds are not unique to Mississippi, and can be found in other parts of the United States, this area has a large claim to fame with 12 of these mounds on display, as well as cleared and filled plazas, which were also instrumental in cultural and religious events.
Things to do near the Winterville Site: With almost 70,000 residents, nearby Greenville is a thriving, yet still friendly-sized, town, with lots of shopping and dining to enjoy. Those looking to get away from it all can head to nearby Paris Mountain State Park or Table Rock State Park and check out these local RVshare rentals.
5. Dentzel Carousel
Although only the most devoted nerds would know this, Dentzel was a famous carousel building company in the late 19th and early 20th centuries — it was founded all the way back in 1867. There are very few Dentzel Carousels left around, and guess what? The oldest one in America is — that's right, right here in Mississippi, in the town of Meridian! Each of the animals aboard the carousel is hand-carved and colored, and this particular carousel dates all the way back to its construction in 1896. (It didn't go into operation until several years later, in 1909.) The only other Dentzel Carousels in America are in Indiana, making this a truly Mississippi landmark and a rolicking good time for visitors of all ages — not just kids!
Things to do near the Dentzel Carousel: The seventh largest city in the state, Meridian is filled with things to see, do, and eat, and is also only a short drive from natural areas like Clarkco State Park, Golden Memorial State Park and others. Here are some nearby RVshare rentals to help you make your dream trip a reality.
6. Vicksburg National Military Park
Most Mississippians know that Vicksburg was once considered "the nailhead that holds the South's two halves together." Both the Confederate and Union forces knew that holding this pivotal town was tantamount to Civil War victory. We all know how the story ended, but for a deeper dive into the specifics, a trip to Vicksburg National Military Park can be eye opening — not to mention the pure beauty of its rolling green hillsides, even if they were made famous for bloody battles. This NPS-managed site also offers events led by rangers and historical reenactors and also access to the only remaining City Class ironclad, the USS CAIRO, which has since been transformed into a floating museum. Choose one of the many guided historical tours available or simply stroll around the grounds at your leisure; there's no way to go wrong.
Things to do near Vicksburg National Military Park: Along with its status as a vital part of Civil War history, Vicksburg is also filled with tons of modern-day attractions. Dining and shopping options abound, as do museums and cultural attractions — plus the town isn't far from wildernesses like the Delta National Forest or Louisiana's Tensas River National Wildlife Refuge. Here are some nearby RVshare rentals to check out.
7. Champion Hill Battlefield
The site of a pivotal Civil War battle, Champion Hill Battlefield lies just a few miles east of Vicksburg, where there are plenty more memorial sites and informative adventures for those interested in military history — which you just read about! However, this battlefield is less developed, offering visitors the opportunity to gaze upon this land in its unmitigated, somewhat grim glory. More than 700 soldiers were killed here, and almost 3,000 were injured — but the union victory laid the path for the historical narrative we know and love today, one which led to a freer America for all people.
Things to do near Champion Hill Battlefield: Tucked between the towns of Edwards and Bolton, the Champion Hill Battlefield is serene and solitary while also having great access to the resources and to-dos of both small and large cities. You can drive to either Vicksburg or Jackson in only half an hour, not to mention nearby wildernesses. Here are some RVshare rentals and campgrounds in the area to check out.
8. Old Capitol Museum
Jackson hasn't always been the capital of Mississippi — the first capital city named was Natchez. But in 1821, legislators voted to move the capital to Jackson, which was both closer to the center of the state and close to a navigable river. But the story doesn't end there! Although Jackson is still the capital today, if you navigate to the Capitol building, the place you arrive won't be the first Jackson capitol. That honor belongs to what is today known as the Old Capitol Museum, the original seat of the Mississippi legislature who served in this city between 1839 and 1903. The Old Capitol Museum is considered the most historic building in all of Mississippi, and offers visitors a feast for the mind as well as the eyes. Gaze up at its iconic dome, as gorgeous from the inside as it is the outside, or take a stroll through the Mississippi Hall of Fame, which memorializes certain important historic Mississippians.
Things to do near the Old Capitol Museum: The city of Jackson is never lacking in things to do, offering destinations like the Mississippi Museum of Natural Science and the Jackson Zoo, just for starters. The city is also an easy drive from Bienville National Forest as well as Roosevelt State Park, Lake Lincoln State Park and others. Here are some nearby RVshare rentals and campgrounds to consider.
9. Eudora Welty House
Located in downtown Jackson just steps from Belhaven University, the Eudora Welty House — and the beautiful gardens that surround it — served as this author's home for almost 80 years. Originally built by her parents, Welty grew up here and then continued to live in it as an adult, doing almost all of her writing in one of the upstairs bedrooms. The house has been on the National Register of Historic Places since 2002, and has also been a National Historic Landmark since 2004. It's been open to the public as a museum since 2006, and visitors are free to stroll around the beautiful gardens as well as explore the rooms where this unique mind lived out her days.
Things to do near the Eudora Welty House: Jackson, the bustling capital city of Mississippi, is teeming with fun things to see, do, and eat. Plus, there are some incredible nearby campgrounds to stay in… and RVshare rentals to take to them!
10. The Biloxi Lighthouse
The coastal city of Biloxi is situated scenically on the shores of the Gulf of Mexico — and as such, it's no surprise that it's home to a beautiful and historic lighthouse. The Biloxi Lighthouse is unique in its cast-iron construction and dates all the way back to 1848. Daily guided tours are available, and the beacon still flashes at night, helping sailors find their way home and adding peaceful ambiance to the landlubbers who live in the city of Biloxi. Even if you can't make the trek, you can enjoy the live camera feed streaming from inside the lighthouse — though given its educational and entertainment benefits, we strongly recommend making the trip to see it in person.
Things to do near the Biloxi Lighthouse: Like other parts of Mississippi, Biloxi is known for its bevy of casinos — but it's also home to the Maritime and Seafood Industry Museum, thanks to its coastal location. Meanwhile, must-see natural areas like Gulf Islands National Seashore and Shepherd State Park are right around the corner. Here are some nearby RVshare rentals to consider.
Planning an RV Trip to Mississippi
Planning an RV trip to Mississippi is easy with RVshare on your side! We've got the best peer-to-peer RV rentals in the state as well as guides to major Mississippi cities and all the best state parks. Oh, and we've listed the best Mississippi campgrounds, too. You're in good hands!