Landmarks
April 2nd, 2021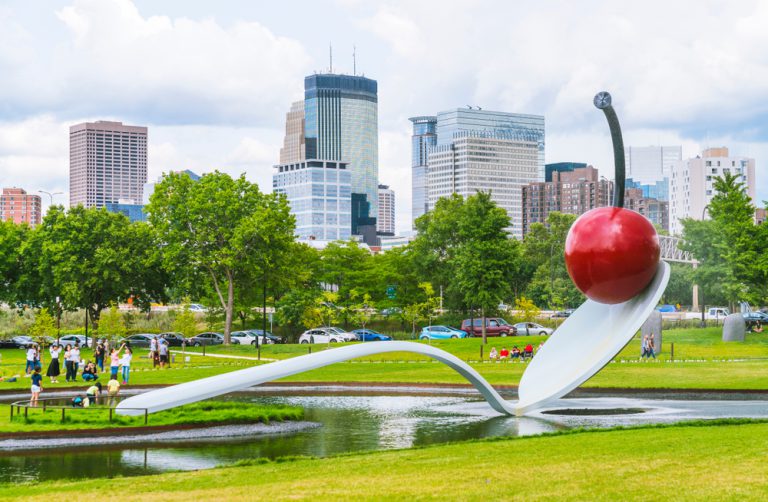 What is a Landmark?
Historic and stunning lighthouses, one-of-a-kind geological formations, and the largest mall in not only America, but the world — these are just a few of the important landmarks in Minnesota. The North Star State is full of exciting things to see, do and explore, including these iconic destinations that you just can't find anywhere else.
What Are Some Famous Landmarks in Minnesota?
1. Mountain Iron Mine
2. Split Rock Lighthouse
3. Kathio Site
4. Andrew Volstead House
5. Pipestone National Monument
6. Mall of America
7. Mill City Museum
8. Minneapolis Sculpture Garden
9. Frank B. Kellogg House
10. Hill House
Minnesota Landmarks
Here are ten of the most exciting landmarks in the state of Minnesota.
1. Mountain Iron Mine
Originally opened back in 1892, Mountain Iron Mine was the first mine on the Mesabi Iron Range, which quickly became a world-famous site for digging up the stuff of steel. Mountain Iron Mine also bears the unique distinction of hosting the largest deposit of iron ore ever discovered in the world so far — and although the bottom of this open-pit mine has since filled with water, you can still view the outside perimeter of this historic site, where mining operations went on until 1956. Of course, given the size of it, you could easily mistake it for one of the lakes that give Minnesota its other state nickname
Things to do near Mountain Iron Mine: Located in the town of the same name (Mountain Iron, Minnesota), Mountain Iron Mine is close to many of the great untouched wildernesses that characterize northeastern Minnesota. McCarthy Beach State Park is a popular option, as is Bear Head Lake State Park and Scenic State Park, not to mention nearby Hill Annex Mine State Park, where you can learn even more about this area's mining history. Here are some nearby RVshare rentals to consider.
2. Split Rock Lighthouse
It might not be a coastal state, but thanks to its proximity to the great lakes, Minnesota does have its share of lighthouses — and Split Rock Lighthouse is easily one of the most scenic and famous. This beautiful navigationa aid tower was originally constructed back in 1910 at the cost of $75,000, or almost $2 million in today's dollars. Perched on a rocky cliff and serving the sailors who braved the waters of the Great Lake Superior, this lighthouse was built after the infamous Mataafa Storm in 1905, which caused a great loss of lives in numerous shipwrecks. (One of these wrecked ships, the Madeira, is located just north of the lighthouse, and is still accessible to those willing to SCUBA dive down to its final resting place. The lighthouse has also spawned Split Rock Lighthouse State Park, a 2,200 recreational site that preserves and surrounds it.
Things to do near Split Rock Lighthouse: Just an hour or so northeast along the shore from the city of Duluth, Split Rock Lighthouse is close to both urban and wilderness destinations. Small towns like Silver Bay and Beaver Bay offer quaint spots to stop for a bite to eat en route to other campable areas, like Tettegouche State Park. Here are some nearby RVshare rentals to consider.
3. Kathio Site
Otherwise known as Mille Lacs Kathio State Park, the Kathio site offers a one-of-a-kind opportunity to engage with ancient history — seriously. This area was inhabited by Native Americans who built iconic earthen mounds, which were used ceremonially and culturally. The park as a whole contains 19 different identified archeological sites, including Native American burial grounds as well as areas that show evidence of copper tool manufacture. The state park as a whole covers more than 20 square miles and offers campsites, hiking and equestrian trails, canoe and paddle boat rentals and more.
Things to do near the Kathio Site: Tucked in the heart of the state near the town of Onamia, the Kathio Site is surrounded by other wildernesses worth camping in, such as Father Hennepin State Park, Charles A. Lindbergh State Park and Crow Wing State Park, just to name a very few. Here are some nearby RVshare rentals to consider.
4. Andrew Volstead House
You may not know who Andrew Volstead is, but if you enjoy a tipple from time to time, you should. Andrew J. Volstead was a Minnesota Representative from 1903–1923 and a staunch believer in prohibition — so much so that the law that brought prohibition on is often colloquially known as the Volstead Act. Volstead made his home in this beautiful house in the city of Granite Falls, Minnesota, surrounded by the wide-open natural areas the midwest is best known for. Today, his house has been preserved and repurposed as a museum, the Volstead House, where visitors can learn more about this era in general and also Volstead's life specifically. The house was named a National Historic Landmark in 1967.
Things to do near the Andrew Volstead House: Granite Falls is a quaint midwestern town with a population of just about 3,000, though there are plenty of nearby RVshare rentals. It's also close to plenty of other visit-worthy natural areas like Upper Sioux Agency State Park, Fort Ridgely State Park, the Joseph R. Brown State Wayside Rest and more.
5. Pipestone National Monument
Pipestone National Monument is more than a one-of-a-kind landmark: it's sacred ground. For centuries, Native Americans quarried this area for the red pipestone it yields, which as its name suggests, was a prime material to be made into pipes that were used in ceremonial religious smoking. Today, the monument offers visitors the opportunity to quarry the pipestone for themselves, as well as simply taking in the scenery along its many hiking trails and scenic drive. Pipestone National Monument is also a popular place for birders to get a peek at some of their favorite peepers — for instance, one of the events that goes on here is the Migratory Bird Day BioBlitz, where bird experts and non-experts alike come together to gather data on the feathered friends who make their way through this area.
Things to do near Pipestone National Monument: Located in Pipestone County, Minnesota, close to the town of the same name, this southwestern MN attraction is only an hour out of Sioux Falls, South Dakota, and also just a few miles from Split Rock Creek State Park. Here are some nearby RVshare rentals to consider for your adventure.
6. Mall of America
Minnesota is known for a lot of things — but not the least is the fact that it's home to the largest mall in the entire world. Mall of America is composed of a stunning 5,600,000 square feet of indoor shopping space… although truth be told, there's much more than shopping to be done here. Along with its suite of stores, this mall also hosts a full-on theme park, an aquarium, two different mini golf courses, full service and fast casual restaurants, and so, so much more. You could truly spend a lifetime in this mall and not see it all — we mean it.
Things to do near the Mall of America: Located just south of Minneapolis proper in the suburb of Bloomington, the Mall of America is within close proximity of so many incredible attractions — a few of which we'll list below. If you're looking for a getaway from the urban lifestyle, head a bit further south to Minnesota Valley State Recreation Area or one of the many great Minnesota state parks in this area. Here are some nearby RVshare rentals and campgrounds to consider.
7. Mill City Museum
Constructed into the ruins of the Washburn "A" Mill — part of a complex that dates to tye 1870s — Mill City Museum showcases the unique milling history of this city, particularly around flour milling and other milling processes that utilize the water power of nearby Saint Anthony Falls. Exhibits at the museum explicate the history of Minnesota as a whole while also getting guests up close and personal with milling equipment as well as a baking lab. Plus, you'll get the opportunity to gaze in wonder at the architectural remains of the mill that once was. Psst — kids aged 4 and under get in for free! Hard to beat a deal like that one.
Things to do near Mill City Museum: Tucked right into the heart of Minneapolis along the bank of the Mississippi River (see: the hydropower used to operate the mills), Mill City Museum is only steps away from other city attractions such as Guthrie Theater and the Stone Arch Bridge. Here are some nearby RVshare rentals and campgrounds to consider for your journey.
8. Minneapolis Sculpture Garden
Although the image of the cherry balanced on the spoon might be the most iconic one from this one-of-a-kind landmark, the Minneapolis Sculpture Garden is actually home to 40 permanent public art installations, along with a range of temporary, rotating pieces. Originally encompassing 11 acres on its own, it has since been united with the nearby Walker Garden to create a single 19-acre park, filled not only with impressive sculptural art but also well-manicured lawns and plant life perfect for picnicking amongst. The garden is open every day from 6 a.m. to midnight and is free to entire — score! Plus, you'll get a chance at that unmissable Instagram picture in front of the cherry spoon, whose actual title is Spoonbridge and Cherry, and which was installed back in 1988.
Things to do near the Minneapolis Sculpture Garden: The Sculpture Garden is only steps away from Walker Art Center, the Basilica of St. Mary, and so many other important attractions in the neighborhoods of Lowry Hill and Loring Park. Meanwhile, there are still some great nearby campgrounds and RVshare rentals for those looking to get away from it all, just outside of town!
9. Frank B. Kellogg House
You know the name from your box of Corn Flakes — but this is a different Kellogg! Frank B. Kellogg was a lawyer and politician who was a member of the U.S. Senate as well as serving as Secretary of State for a time. He was awarded the Nobel Peace Prize in 1929 for signing the Kellogg–Briand Pact, a peacekeeping tactic which held signers to the promise that they would avoid using war to solve "disputes or conflicts of whatever nature or of whatever origin they may be, which may arise among them." Original signatories included Australia, Canada, the United States and many others, and today more than three dozen states are still under its effect. Frank B. Kellogg's historic residence is both a marvel of period architecture as well as a culturally important landmark.
Things to do near the Frank B. Kellogg House: Located on Fairmount Avenue in St. Paul, Minnesota, the Kellogg House is close to the hip shopping and dining district along Grand Ave. It's also only a short walk away from the Mississippi River waterfront; here are some nearby RVshare rentals and campgrounds to choose from.
10. Hill House
You may have heard of the Haunting of Hill House — but don't worry, this is a different one! The James J. Hill House was owned by the railroad magnate James J. Hill, who had the house constructed back in the late 1800s. It was completed in 1891, and was considered the "showcase of St. Paul" at the time for its size and majesty. Its vast interior includes, among other things, an art gallery filled with both paintings and sculptures. Hill also had a pipe organ installed because what can we say? The man was, as the kids say, "extra." After Hill and his wife died and their children moved out, the house was donated to the Roman Catholic Archdiocese of Saint Paul and Minneapolis and used by the church for more than half a century. It has since been acquired by the Minnesota Historical Society, and was named a National Historic Landmark in 1961.
Things to do near Hill House: Another St. Paul gem, Hill House is close to attractions like the Science Museum of Minnesota and F. Scott Fitzgerald's birthplace. Plus, there are still some great campgrounds and RVshare rentals in the area to try out!
Planning an RV Trip to Minnesota
Minnesota is an incredible place to explore, and an RV is the perfect way to explore it! We've got all the deets and resources you need to make for an unforgettable trip: the best Minnesota RV rentals, guides to the best Minnesota state parks, deets on St. Paul and Minneapolis and all the best campgrounds in the state, to boot. So get out there and enjoy this unique northern state!