Landmarks
February 25th, 2021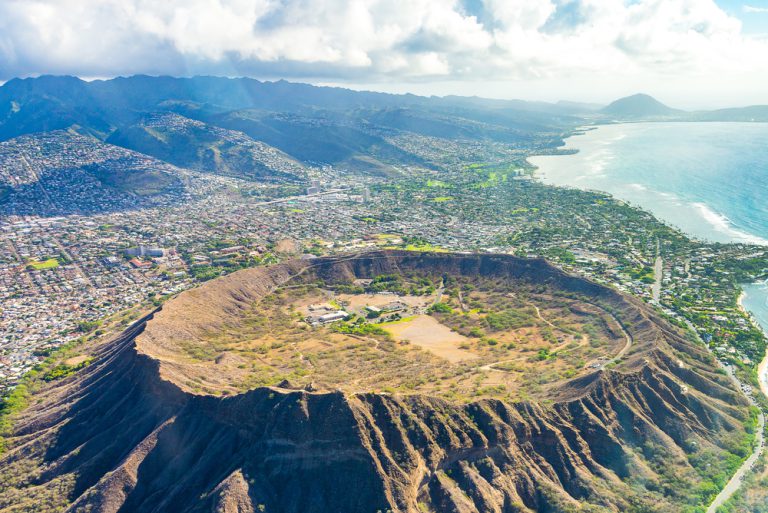 What is a Landmark?
This famed stretch of eight distinct islands in the vast expanse of the Pacific Ocean is a highly sought-after travel destination for a reason. Hawaii is known for its surf, sand, and sunshine — but there's so much more to it than that. Hawaii is full of historically significant locations, towering (and in some cases active) volcanoes, famous buildings and more… and its landmarks are well worth spending an ample amount of time in this unique state to visit. Here are the can't-miss, iconic landmarks across the island state of Hawaii.
What are Some Famous Landmarks in Hawaii?
1. Hawai'i Volcanoes National Park
2. Mauna Kea
3. Hana Highway
4. Diamond Head
5. Hanauma Bay
6. Pearl Harbor National Memorial
7. Waikīkī Beach
8. Waimea Canyon State Park
9. Kīlauea Lighthouse
10. Queen's Bath
Hawaii Landmarks
Here are just a few of the incredible sights to see along the islands of Hawaii.
1. Hawai'i Volcanoes National Park
It's not everywhere on earth you can see volcanoes so active, hot lava is flowing as we speak. In fact, there are very few places in the world where you can witness the unique and awe-inspiring processes of rock so heated, it flows. Fortunately, however, Hawai'i Volcanoes National Park is one of them — and it's home to two of the most active volcanoes on the face of the planet, Kīlauea and Mauna Loa. (This second volcano also bears the distinction of being the tallest natural edifice in the world, rising more than 31,000 feet from the seabed into the sky above. Mount Everest is only 29,032 feet, for comparison!) This national park also offers visitors the opportunity to hike, camp, and participate in special programs, including guided tours of the craters.
Things to do near Hawai'i Volcanoes National Park: Located on the "big island" of Hawai'i, this one-of-a-kind national park is also close to a variety of other recreation areas, including Kalapana State Wayside Park, Hāpuna Beach State Recreation Area and others. Here are some nearby RVshare rentals to consider.
2. Mauna Kea
As incredible as the active volcanoes on the other end of the island are, dormant volcanoes offer their own kind of beauty and intrigue — and Mauna Kea, whose peak towers about 13,800 feet above sea level, is also the tallest point in the entire state of Hawaii. This volcano last erupted approximately 4,600 years ago (around 2600 BC), and was responsible, along with the other volcanoes on the Big Island and over unimaginable stretches of time, for creating Hawaii as we know it today. It's possible to drive to the summit of this incredible volcano, but you'll need four-wheel drive to do it… and use caution. Driving from sea level to an altitude of almost 14,000 feet in the space of just an hour or two could easily lead to altitude sickness.
Things to do near Mauna Kea: Located on the northern end of the big island, Mauna Kea is close to Hāpuna Beach State Recreation Area and other area wildernesses. It's also an easy drive from communities like Pepeekeo and Holualoa — and, of course, Hawai'i Volcanoes National Park. Here are some nearby RVshare rentals to consider.
3. Hana Highway
Considered by many to be the top attraction on the island of Maui, Hana Highway, or the Road to Hana as it's sometimes called, is an incredible scenic drive that runs along the coast of the island for nearly 65 miles. Along the way, visitors will encounter all sorts of incredible landmark destinations, including black-, red- and white-sand beaches, waterfalls, lush gardens and more. Constructed nearly 100 years ago in 1926, the Hana Highway is also a historically significant landmark, and one that many travelers have experienced before. Add your story to the collection of sights, sounds, and experiences that this highway can boast of!
Things to do near the Hana Highway: The island of Maui is one of the most popular in the state to visit, though it is outranked by its neighbor Oahu. However, while you're on Maui, you'll want to be sure to check out Haleakalā National Park, Wai'anapanapa State Park, Polipoli Spring State Recreation Site and others. Here are some RVshare rentals in the area to consider.
4. Diamond Head
Perhaps the most recognizable landmark in the entire state of Hawaii, Diamond Head is a volcanic tuff cone that overlooks the urban cityscape of Honolulu. Known to island natives as Lēʻahi, this volcanic cone has been designated a state monument, and has historically been used in the construction of military fortifications, the remains of which are still visible inside the cone today. But its history stretches back far further than our human interventions: it was first shaped approximately 300,000 years ago in a single eruption that exploded as if out of nowhere before going dormant and settling into the tuff cone that is visible and visit-able today.
Things to do near Diamond Head: Located only minutes from downtown Honolulu, Diamond Head is close to a wide range of Hawaiian must-sees, including Waʻahila Ridge State Recreation Area and Waimānalo Bay State Recreation Park. Here are some nearby RVshare rentals to browse.
5. Hanauma Bay
It seems as if everything in Hawaii has been touched by the state's volcanic history, and Hanauma Bay is no different. A marine environment encircled by another volcanic tuff cone, Hanauma Bay is easily one of the most popular destinations on the island, particularly for visitors who like to snorkel and SCUBA dive. Area companies offer a variety of ways to get more familiar with the bay, including spinner dolphin excursions, catamaran sails, and more.
Things to do near Hanauma Bay: Another landmark close to Honolulu, Hanauma Bay is the perfect day trip for folks staying in Hawaii's biggest city… or those camping in the many state parks in this area. Here are some local RVshare rentals to consider for your vacation!
6. Pearl Harbor National Memorial
Most Americans know about the Japanese attack on Pearl Harbor back on December 7, 1941 — a day that, as FDR so eloquently put it, will continue to "live in infamy." But seeing the place where that historic event happened in real life is a much different matter. Pearl Harbor National Memorial offers educational exhibits that explain not only the events of that day, but its historical significance as the American entry point into World War II. Visitors also have the opportunity to step aboard the USS Arizona and explore a variety of museums and a visitors center on site.
Things to do near Pearl Harbor National Memorial: Located, like so many other landmarks on our list, in the southern section of Oahu, this memorial is close by to Honolulu — but make sure you don't miss some of the beautiful protected wildernesses further afield. A journey across the island to Ka'ena Point State Park or Mālaekahana State Recreation Area only takes an hour or so, and pays dividends. Here are some RVshare rentals in the area for your journey.
7. Waikīkī Beach
Perhaps the most famous beach in the entire world, Waikīkī Beach is located immediately adjacent to Honolulu and close by to a range of the city's most unmissable tourist locations, including the Honolulu Zoo and Waikīkī Aquarium. The beach is known for its soft white sands, calm-yet-surfable waters, and remarkable sunsets… though honestly, you can't go wrong no matter what time you decide to visit.
Things to do near Waikīkī Beach: As mentioned above, Waikīkī Beach is another Honolulu must-see and is surrounded by all manner of tourist attractions and hotels. Looking to get away from it all? Head to one of the various state parks on the island, and rent an RV to make your adventure into a full-on getaway!
8. Waimea Canyon State Park
Known by some as the Grand Canyon of the Pacific, Waimea Canyon State Park is an incredible mountain-top gorge nestled on the island of Kauai, already known amongst the group as the outdoorsiest of the isles. (It's sometimes called the "Garden Island." Measuring about 10 miles long and approximately 3,000 feet deep, these expansive views offer a completely different side of Hawaii to get familiar with — one that may make you think more of the continental southwest than the beaches and palm trees other portions of the state are known for.
Things to do near Waimea Canyon State Park: On Kauai, it's all about getting outside… and there certainly is a lush abundance of woods and wildernesses to do it in. One of the best is nearby Nā Pali Coast State Wilderness Park, which is known for its dramatic rock walls and cliffs immediately alongside turquoise waters. Small towns like Hanalei and Kīlauea are also worth exploring. Speaking of which…
9. Kīlauea Lighthouse
This far out at sea, sailors need guidance more than ever… which is why the Kīlauea Lighthouse was built, and has been standing for more than 100 years. First constructed circa 1913, this picturesque and historic lighthouse is tucked into the larger Kīlauea Point National Wildlife Refuge, which is a gathering place not only for thousands of human visitors, but also for droves of sea bird species and whales who pass by this spot on their long journeys around the planet. Tours of the 52-foot structure, which sits on a rocky peninsula some 180 feet over the crashing waves below, are available by appointment.
Things to do near Kīlauea Lighthouse: The nearby town of Kīlauea offers basic necessities and some cute eateries, not to mention nearby Kauapea Beach — one of the more secluded stretches of coast in the entire state. Na 'Aina Kai Botanical Gardens & Sculpture Park is another closeby spot worth putting on your itinerary. Here are some local RVshare rentals to consider!
10. Queen's Bath
A unique sinkhole tucked on the northern coast of Kauai near the town of Princeville, Queen's Bath has been carved out of the indigenous rock that surrounds it for ages — and today presents a one-of-a-kind opportunity for swimmers, sunbathers, and those who simply like beautiful views. A short hike of about 25 minutes one way is required to reach the sinkhole, which also makes for a truly unbeatable spot to watch the sunset. Although the hike isn't particularly strenuous, the area is rocky and slick, and when the tide comes in it can be easy to get accidentally swept out to sea. Always heed warning signs posted at the trailhead!
Things to do near Queen's Bath: Princeville is a bustling little town with a population of almost 1,700 offering multiple beaches, a golf course, and more. Plus, nearby Hanalei National Wildlife Refuge is a great spot if you're in need of even more hiking opportunities. Here are some RVshare rentals in the area.
Planning an RV Trip to Hawaii
Although it might be pretty tough to take an RV from the mainland out to Hawaii, you can certainly fly out and rent a rig once you arrive! Thanks to all its incredible state parks and wildernesses, the Island State is actually a wonderful place to take an RV trip, even though it might sound counterintuitive at first. Here are the best campgrounds in Oahu, the Big Island, Maui and Kauai!
Aloha!