Haleakalā National Park
Hawaii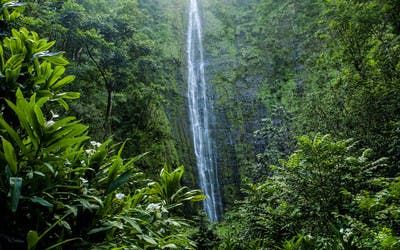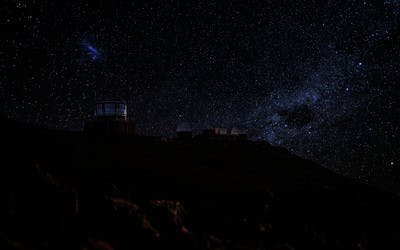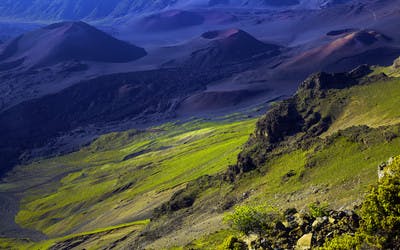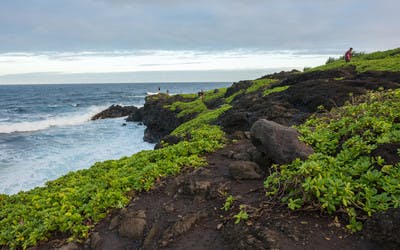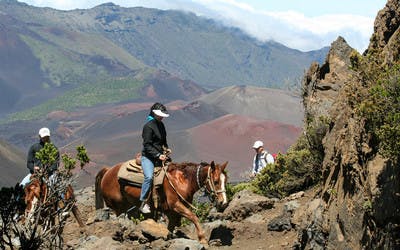 Haleakalā National Park
, on the Hawaiian island of Maui, provides an unusual landscape in an area known for its lush greenery. The park covers more than 30,000 acres of land, and the terrain offers everything from red rock deserts near the top of 10,023 foot Haleakalā Crater to waterfalls and streams in the coastal area near Hana.
Like the rest of the Hawaiian islands, Haleakalā National Park has a rich history of Indigenous and First Peoples who populate this island long before westerners were able to quickly and easily fly out to them from the mainland. Polynesians, from whom Native Hawaiians today are descended, first made their way to these islands more than a thousand years ago, braving high seas in hand-crafted canoes and learning how to work with the unique beauty and bounty of these lands to survive and thrive. Learn about the history of the park here.
The weather is as varied as the land, with temperatures at the summit as much as 50° cooler than those along the coast. Rain and wind can come up quickly during the day, and disappear again just as fast.
Part of the park's charm is its remoteness and untouched natural beauty, but this also means gas stations and other services are at least thirty minutes away. Be sure to bring everything you need for your trip.
Haleakalā has many in-park activities including ranger talks and guided tours. You can find events planned by the park here. Some outside groups are also allowed to provide tours for stargazing, horseback riding, and more, you can find information on them here.
Weather
Spring
Summer
Fall
Winter
Nearby Cities
Pukalani, HI
Trip Planner
Use our FREE RV trip planner to begin customizing the perfect RV trip.
Continue
RV Resorts & Campsites in Haleakalā National Park
There are no official RV parks at Haleakalā National Park - or on Maui at all, for that matter - but there are several campgrounds where visitors can enjoy the amazing views only found on Maui. While there are no hookups for RVs at these sites, you can park your vehicle and camp, for a one-of-a-kind experience on the island.
There are two drive-up campgrounds available within Haleakalā National Park, as well as other campgrounds around the island of Maui. There are also hike-in campgrounds in the backcountry of the park, so you could establish a "base camp" at your vehicle before backpacking into the more remote areas. Be sure to check these tips on wilderness camping before starting your trek.
Public Campgrounds at Haleakalā National Park
Public Campgrounds Around Maui
Private Campgrounds Around Maui
RV Rentals Near Haleakalā National Park
Nearby RV Rentals
Hit the Trails
Hiking at Haleakalā National Park will afford you a much different experience than visiting the rest of Maui. The cinder desert landscape at the summit of Haleakalā is a far cry from the verdant green of lower elevations. The weather varies widely, depending on the area of the park where you're hiking. Be sure to wear layers at the summit where temperatures are at least 20 degrees colder than sea level, but expect weather at the Kīpahulu (Coastal) District to be hot and humid.
Trails at the Summit
Pā Ka'oao
Distance: 0.4 miles round trip
Terrain: Hike up to the pu'u next to the visitor center to see ancient rock wall shelters and the crater.
Hosmer Grove
Distance: 0.54-mile loop trail
Terrain: Compare the non-native trees planted before the park was established (to prevent erosion) to the native shrubland. See honeycreepers, which are found nowhere else on earth.
Halemau'u
Distance: 2.2 miles round trip
Terrain: A hike along a rocky path to a crater viewpoint, passing a popular natural land bridge. 400 ft elevation change.
Keonehe'ehe'e (Sliding Sands)
Distance: 11 miles round trip
Terrain: The trail begins at the visitor center, crosses the valley floor 2,500 feet below, and ends at Halemau'u.
Trails in the Coastal District
Kūloa Point
Distance: 0.5 miles
Terrain: Beautiful ocean views and archaeological sites. Hikers can view the Pools of 'Ohe'o (the "Seven Sacred Pools").
Pīpīwai
Distance: 4 miles round trip
Terrain: A moderately strenuous hike that winds through a freshwater stream and diverse forest area with views of waterfalls and bamboo forests. 800 ft. elevation change.
Other Outdoor Activities
Sunrise/Sunset Viewings
Distance:
Terrain: Watching the sun rise or set from the top of Haleakalā is one of the most popular reasons people visit the park. Guests wanting to drive to the summit for sunrise are required to make reservations up to 60 days in advance. There is currently no permit necessary for viewing the sunset. Be sure to dress warmly! The summit is 10,023 feet above sea level, and often windy and cold.
Biking
Distance:
Terrain: Book a unique bike ride down Haleakalā Crater. Companies like Maui Activities offer bike tours that pick up cyclists at their hotel or cruise ship, drive them to the top of Haleakalā to watch the sunrise and then lead them as they cycle down the crater to the bottom.
Stargazing
Distance:
Terrain: Haleakalā offers world-class night sky conditions, and easily accessible places to watch planets, stars, and moons at night. Rent binoculars, grab a star map at one of the park visitor centers and see if you can spot popular moons and constellations. You can also book an astronomy tour with one of these outside vendors.
What to Do at
Haleakalā National Park
There are no restaurants inside Haleakalā National Park. In fact services, lodging, and stores are all at least thirty minutes away. Stock up at a local produce stand, order food to go for a picnic lunch, or plan a special meal before or after you see the park.
Stand offering produce, drinks, fresh baked goods, jams and sauces
Type: Stand
Location: Kula, on the slopes of Haleakalā
Type: Pizza, pasta, burgers, and seafood
Location: Kula
Type: Modern Hawaiian
Location: Makawao
Type: Seafood
Location: Pa'ia
Type: Cafe
Location: Pa'ia
Shopping
The culture and scenery of Maui inspires local artists, crafters, writers, and more...which means there are plenty of amazing places to shop around the island.
There are three bookstores within Haleakalā National Park, at the visitor centers at Park Headquarters, Haleakalā, and Kīpahulu. Pick up hats, shirts, or other items commemorating your trip, browse books about the history and geology of the area, and much more.
Visit Ali'i Chang's 13 ½ acre lavender farm on the slopes of Haleakalā and wander through 55,000 plants of 45 different varieties. Then browse the gift shop for everything from scented soaps to lavender chocolate.
This quirky store features locally handmade jewelry and soaps, clothing, totes, and Hawaiiana. Celebrities like Willie Nelson, Steven Tyler, and Owen Wilson have been known to drop by for some souvenir shopping.
Shop designer clothing, surf wear, ukuleles, and more at this open-air shopping center. Also check their events page for outdoor entertainment including singers, coconut huskings, and a Polynesian show.
Caffeine lovers rejoice! You can bring home Ka'anapali Estate Coffee, grown right on the island. MauiGrown Coffee prides itself on "quality from seed to cup" and customers can choose from a variety of Arabica coffees along with store merchandise.
Museums
There is much to learn about Maui - the island's history, its geology, its ecosystem and the animal and plant life that thrive there. Thankfully, there are several museums to visit and learn more.
Learn about marine life on and around the island of Maui! This aquarium has one of the largest collections of live Pacific corals in the world, and offers twenty daily presentations by marine naturalists, outdoor tide pools, and an Open Ocean exhibit with a 240-degree view acrylic tunnel.
Also known by its Hawaiian name, Hale Hoikeike, the Bailey House Museum is located on the former royal compound of Kahekili II, the last ruling chief of Maui. The lava rock and koa wood structure now houses anything from Pre-European Hawaiian artifacts to 19th-century paintings.
Located in the plantation town of Puunene, next to Hawaii's largest sugar factory, the 1,800 square foot museum is dedicated to preserving the history and heritage of Maui's sugar industry.
The Baldwin Home is the oldest house still standing on Maui, and presents a look at missionary life in a Hawaiian village.
A social meeting hall and temple built by Chinese immigrants who worked on sugar plantations and helped construct tunnels and irrigation systems through the mountains. The cookhouse was constructed so adults could cook with their huge woks, steamers, pots, and pans for social functions.
Sightseeing
Along with visiting Haleakalā National Park, there are so many other unforgettable experiences on the island of Maui.
The iconic road to Hana provides breathtaking scenery and spots of historic and cultural interest. Most people recommend you set aside an entire day - or even several - to enjoy the drive and the sights along the way.
One of Maui's most popular beaches, Kaanapali Beach covers three miles of the northwest coast. There is excellent snorkeling, whale watching, and sunset cliff diving. The area also features two championship golf courses, several world-class hotels, and an open-air shopping center
Maui boasts fourteen highly acclaimed golf courses, some of them designed by notables including Arnold Palmer and Ben Crenshaw.
Learn about Hawaiian culture and food during a traditional luau, featuring award-winning dancing and music.
In the town of Lahaina, near the courthouse and the harbor, sits Banyan Tree Park, home of one of the largest banyan trees in the country at over 60 feet tall
How to Get to
Haleakalā National Park
Visitors from the mainland can fly into Maui's main airport - Kahului Airport - which is a hub for Hawaiian Airlines and Island Air. About ten other airlines also fly to Kahului including Air Canada, Alaska Airlines, American Airlines, Delta Airlines, and United Airlines. If you are unable to book a direct flight to Maui from your city, you can book a flight to Honolulu, then transfer to a smaller plane for the flight to Maui. The airport is approximately one hour from Haleakalā National Park.
By Car
To reach the park from the airport, head south on HI-37 for 7.8 miles, then turn left onto State Hwy 377 for 6 miles. Turn left onto State Hwy 378 and follow it into the park.
If you're staying in Lahaina, the trip to Haleakalā is about an hour and 45 minutes, and from Wailea it's a little over 90 minutes.
By RV
One way to travel to Haleakalā National Park is in an RV. Renting an RV or conversion van allows you to explore not just the park, but the entire island on your own schedule. Since the majority of visitors fly into Maui, you can look up RV rentals on the island.
RV rentals and conversion vans allow you to camp in comfort at Haleakalā National Park, or anywhere your adventures take you on the island. Maui offers so many breathtaking views, the flexibility of renting an RV or camper means you can wake up to a new, beautiful scene every morning.
If you are planning to stay in your RV or camper at Haleakalā, remember the park does not offer hookups. Campers use the same facilities that tent campers use at the campsites.
View RV Rentals
Entering Haleakalā National Park
There is a fee to enter Haleakalā National Park, although the National Park Service does have designated free days, which you can find here. Also, fourth graders can get a pass that allows them and everyone in the vehicle with them free entrance into all national parks for the year. You can get your Every Kid in a Park Pass here.
The National Park Service also offers Annual Passes and Lifetime Senior Passes, which you can find here. The private vehicle, motorcycle, and per person passes are all valid for 3 days, including the day the pass was purchased.
Private Vehicle : $25
Private, non-commercial vehicles (14 passenger capacity or less) and all occupants to Haleakalā National Park including both the Summit and Kīpahulu areas.
Motorcycle : $20
Private, non-commercial motorcycle to Haleakalā National Park including both the Summit and Kīpahulu areas.
Per Person : $12
One individual with no car to Haleakalā National Park including both the Summit and Kīpahulu areas. Typically used for bicyclists, hikers, and pedestrians. Youth 15 and under are free.
We are very happy (and maybe a little jealous!) for the trip you're planning to Haleakalā National Park. Haleakalā Crater is such a unique landscape, and it's unlike anything you'll find anywhere else in Maui. Here at RVshare, we get so excited about helping people to get outdoors and spend time with family and friends in the beautiful areas that RVs allow you to access. Whether you spend the day at Haleakalā, or several days in the park, we'd love to share in the memories of your trip! Send us photos at [email protected] or tag us on Facebook, Instagram, or Twitter for a chance to be featured on our blog and social media platforms.