Haleakalā National Park
WIDE-RANGING INVENTORY
From affordable pop-ups to luxury motorhomes
LARGEST RV RENTAL MARKETPLACE
Thousands of 5 star reviews from happy customers
SECURE AND MOST TRUSTED
24/7 Emergency roadside assistance on every booking
Haleakalā National Park, on the Hawaiian island of Maui, provides an unusual landscape in an area known for its lush greenery. The park covers more than 30,000 acres of land, and the terrain offers everything from red rock deserts near the top of 10,023 foot Haleakalā Crater to waterfalls and streams in the coastal area near Hana.
The weather is as varied as the land, with temperatures at the summit as much as 50° cooler than those along the coast. Rain and wind can come up quickly during the day, and disappear again just as fast.
Part of the park's charm is its remoteness and untouched natural beauty, but this also means gas stations and other services are at least thirty minutes away. Be sure to bring everything you need for your trip.
Haleakalā has many in-park activities including ranger talks and guided tours. You can find events planned by the parkhere. Some outside groups are also allowed to provide tours for stargazing, horseback riding, and more, you can find information on them here.
Read more
Park Info
Haleakalā National Park Private Vehicle: $25
Haleakalā National Park Motorcycle: $20
Haleakalā National Park Per Person: $12
RV Rentals Near Haleakalā National Park
Nearby RV Rentals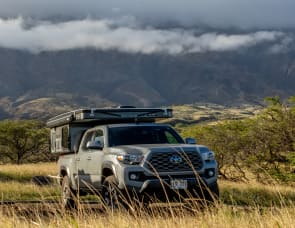 Four Wheel Camper Fleet Camper
2022 / Pop-up Camper
Haleakalā National Park Hiking Trails
Hiking at Haleakalā National Park will afford you a much different experience than visiting the rest of Maui. The cinder desert landscape at the summit of Haleakalā is a far cry from the verdant green of lower elevations. The weather varies widely, depending on the area of the park where you're hiking. Be sure to wear layers at the summit where temperatures are at least 20 degrees colder than sea level, but expect weather at the Kīpahulu (Coastal) District to be hot and humid.
Trails in the Coastal District
Things to do Outside Haleakalā National Park
There are no restaurants inside Haleakalā National Park. In fact services, lodging, and stores are all at least thirty minutes away. Stock up at a local produce stand, order food to go for a picnic lunch, or plan a special meal before or after you see the park.
Discover Nearby Towns and Cities
RV Resorts & Campsites in Haleakalā National Park
There are no official RV parks at Haleakalā National Park - or on Maui at all, for that matter - but there are several campgrounds where visitors can enjoy the amazing views only found on Maui. While there are no hookups for RVs at these sites, you can park your vehicle and camp, for a one-of-a-kind experience on the island.
There are two drive-up campgrounds available within Haleakalā National Park, as well as other campgrounds around the island of Maui. There are also hike-in campgrounds in the backcountry of the park, so you could establish a "base camp" at your vehicle before backpacking into the more remote areas. Be sure to check these tips on wilderness camping before starting your trek.
Campgrounds Near Haleakalā National Park
Find the Best Dumpstations Near Haleakalā National Park
An unglamorous but necessary aspect of RVing? Dump stations. Knowing where the best dump stations are near you will allow for more ease and less stress in your travels. Dump stations are an easy and convenient way to clear waste from your RV. Use our guides to find dump stations on your route, so you can get back to the good stuff – exploring, relaxing, and making memories on the road.
Dumpstations Near Haleakalā National Park
How to get to Haleakalā National Park
Visitors from the mainland can fly into Maui's main airport - Kahului Airport - which is a hub for Hawaiian Airlines and Island Air. About ten other airlines also fly to Kahului including Air Canada, Alaska Airlines, American Airlines, Delta Airlines, and United Airlines. If you are unable to book a direct flight to Maui from your city, you can book a flight to Honolulu, then transfer to a smaller plane for the flight to Maui. The airport is approximately one hour from Haleakalā National Park.
One way to travel to Haleakalā National Park is in an RV. Renting an RV or conversion van allows you to explore not just the park, but the entire island on your own schedule. Since the majority of visitors fly into Maui, you can look up RV rentals on the island.
RV rentals and conversion vans allow you to camp in comfort at Haleakalā National Park, or anywhere your adventures take you on the island. Maui offers so many breathtaking views, the flexibility of renting an RV or camper means you can wake up to a new, beautiful scene every morning.
If you are planning to stay in your RV or camper at Haleakalā, remember the park does not offer hookups. Campers use the same facilities that tent campers use at the campsites.
To reach the park from the airport, head south on HI-37 for 7.8 miles, then turn left onto State Hwy 377 for 6 miles. Turn left onto State Hwy 378 and follow it into the park.
If you're staying in Lahaina, the trip to Haleakalā is about an hour and 45 minutes, and from Wailea it's a little over 90 minutes.
Frequently Asked Questions
What is the climate of Haleakalā National Park?

Haleakalā National Park has weather that can vary greatly. On one day, the temperature can fluctuate from a high of 80°F in Kupahulu to a low of 30°F at the summit of the mountain. Clouds and rain can come up quickly and drop the temperature as well.

Is Haleakalā National Park accessible for disabled visitors?

Haleakalā National Park has accessible areas for disabled visitors. The visitor centers are accessible, along with a picnic area, some restrooms, and some water fountains. The summit building is accessible with assistance.

Are there designated camping spots in Haleakalā National Park?

Haleakalā National Park has two campgrounds - Hosmer Grove Campground and Kipahulu Campground. There are also wilderness cabins available for overnight guests.

Are pets allowed at Haleakalā National Park?

Yes, pets are permitted in areas of Haleakalā National Park. Dogs are allowed in parking lots, drive-up campgrounds, on roadways, and on paved pathways. They are not allowed on trails or in park buildings.

What is the best time of year to visit Haleakalā National Park?

Fall is the best time to visit Haleakalā National Park. The summer crowds have disappeared, and the weather is still warm enough for hiking and exploring.