How Tos & Tips
July 30th, 2019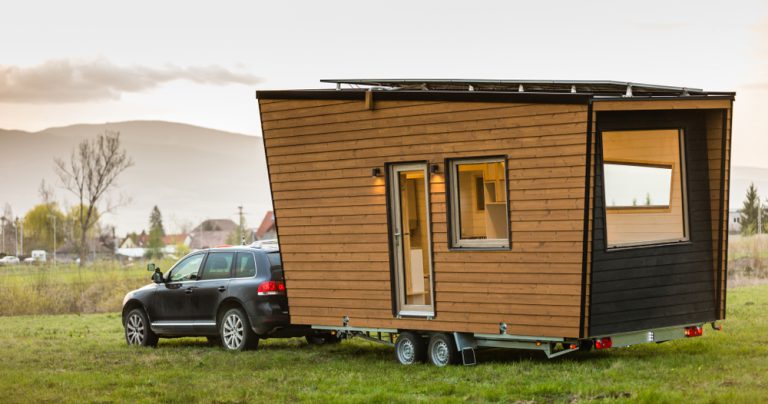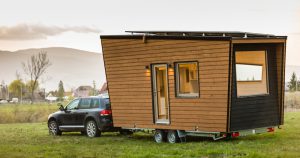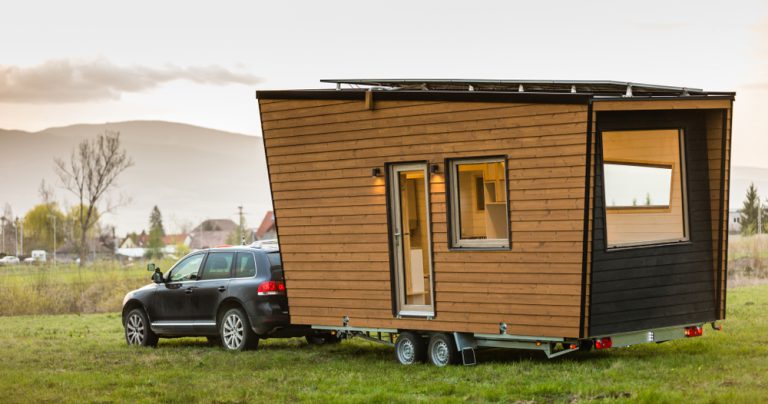 Whether you're new to the RVing community or an old hat, chances are you've noticed how much the mobile lifestyle has increased in popularity in recent years. Thanks in large part to the proliferation of remote work, more and more people — of all ages — are ditching the standard sticks-and-bricks lifestyle to take on a life on the road.
Of course, not all of them are doing so in motorhome and travel trailers. There's also been a huge influx of people living and traveling in tiny houses, which offer a whole new way to live small and unfettered.
Maybe this kind of minimalist lifestyle has always appealed to you, or maybe you've been on an RV trip or ten and are seriously considering downsizing your life to get on the road permanently. But how can you tell which of these two alternative living arrangements is right for you and your family? Because although their hearts may be in the same place, tiny homes and RVs do have significant differences — and understanding them is key to knowing which path you might want to follow.
In this post, we'll dive into the advantages and disadvantages of living in a tiny house vs. an RV, including a fair and balanced description of both lifestyles. We'll point out key differences that can help you decide which path sounds better for you, depending on your needs, wants, and travel preferences.
Let's dive in!
5th Wheels, Tiny Houses, Motorhomes and More
The first step to figuring out which option is right for you is to fully understand what those options are. Here's what you need to know about the tiny RV vs. tiny houses available currently on the market.
1. Tiny homes are more customizable.
Don't get us wrong: RVs are pretty darn versatile. They come in a huge array of shapes, sizes, floor plans, and price points, and chances are there's one that will fit your travel lifestyle no matter how you prefer to get where you're going.
For instance, if you're pretty low-key about luxury amenities and just looking for a place to lay your head and reconnect with nature, a fold-out trailer will give you the flexibility and ease of use you need, not to mention being available at a bargain.
On the other hand, if you're into living large, that's fine, too; Class A motorhomes and fifth wheel travel trailers often come packed with some seriously posh accessories, like full-sized kitchen amenities, bath tubs, and even washing machines.
But no matter how many different makes and models the RV manufacturers come up with, they can't compete with the customizability of tiny homes… because tiny homes are usually custom-designed by their owners! Some people also think that tiny homes are more aesthetically pleasing than RVs, but we tend to think they just haven't been hanging around in the right rigs. 😉
Some vendors also offer pre-designed tiny homes, or tiny home plans, for a fee. Either way, going the tiny house route is a whole lot more like building your own house from scratch, whereas buying an RV means buying a pre-built product.
(For a full breakdown of the different classes of RV available, check out this RVshare post.)
2. However, tiny homes occupy a "grayer" area, legally speaking.
Regardless of how much customization matters to you, chances are you're hoping to actually live in your tiny house or camper. And since RVs and motorhomes have been on the market for so much longer while tiny houses are a pretty new phenomenon, there can be more legal and tax-related headaches to deal with if you go with the latter.
For instance, some cities have ordinances that don't allow you to treat a building without a foundation as a domicile, or which require certain minimum square footage to meet code. Although many of these rules go unenforced, especially in communities where tiny living is popular, it can still be nerve-wracking to realize you're breaking the law just by sleeping in your bed each night.
When considering the tiny house vs. mobile home equation in this light, RVs have the advantage. With specially-built RV parks and campgrounds, you always know you'll have somewhere legal to park your home — and the government specifically recognizes RVs as potential domiciles for tax purposes, too, which can be hairier in a tiny home situation.
Tiny Home vs. Mobile Home
Here are a few more factors to consider before you make your big (little) move.
3. Don't want to live quite so tiny? Mobile homes can offer more room.
Tiny houses, particularly those built onto travel trailer foundations, tend to max out at 500 square feet — and usually offer far less living space than that.
And while living small is likely part of the appeal to you for choosing this kind of alternative lifestyle, if you've got a big family or just like a little bit of extra leg room, a space that small can start to feel very cramped, very fast.
But RV innovators have been able to come up with some incredible technology to increase their living space, such as slide out room expansions. And if you're looking at a very large travel trailer or 5th wheel, which doesn't have to devote any of its square footage to a cockpit, you can definitely find rigs that offer more than 500 square feet of living space when they're fully expanded. So if you'd like to live small as largely as possible, keep that in mind when you're figuring out whether or not to buy a tiny house or an RV!
4. Mobile homes come pre-built and pre-installed with everything… which makes them more accessible for getting on the road fast.
Ready to ditch your stationary existence as quickly as possible?
If so, buying a motorhome may be a better bet. After all, all you have to do to get on the road is to just go out to the dealership and buy one… whereas if you go the tiny house route, you're likely looking at a longer timeline between design and construction.
(Of course, if you have the patience, designing it yourself could be a huge part of the fun…)
Tiny House on Wheels
There's one more thing to consider before you make the big decision about living small, and it's a factor that tends to surprise some people.
5. A tiny home on wheels isn't actually meant to move that much.
We get it: the idea of a tiny home RV is pretty appealing. A perfectly-Instagrammable home built onto a travel trailer foundation, which promises all the comfort of an HGTV interior with the ability to be mobile? Seriously, sign us up.
But the thing is, even the best-built RV tiny houses can't compete with real-deal RVs when it comes to withstanding the pressure of constant motion. In fact, many tiny house owners say that even after short trips, they find themselves needing to make fairly major repairs. Hitting the road puts a lot of stress on a structure!
So if you're planning on camping out in just one area for the majority of the year or only moving short distances on occasion, a tiny home on wheels might still be a great bet for you. But if you're looking to get nomadic in earnest, a motorhome or travel trailer might be better able to withstand the stresses of perpetual motion. (Of course, it'll also need repairs from time to time… which is exactly why we've written so much about how to DIY as much of your maintenance as possible, and how to find a trustworthy repair person when you absolutely need a professional.)
Is a Tiny House or RV Right for You?
The tiny house vs. travel trailers battle is not an easy one, and no matter which side you find yourself landing on, you may eventually cross the fence. Ultimately, the only person who can decide which kind of lifestyle best speaks to your needs and interests is — you guessed it — you.
However, actually experiencing life in both an RV and a tiny home can go a long way toward clarifying the situation! We suggest staying a night or three in a tiny house, perhaps at a specialized hotel like this one in Portland… and, of course, experiencing an RV trip or several to help you suss out the differences. (Psst: RVshare rentals come in way more varieties than what you'll find at the big box stores!)
This post may contain affiliate links.