The Ultimate Guide to RVing with Kids
Travel Inspiration
March 16th, 2020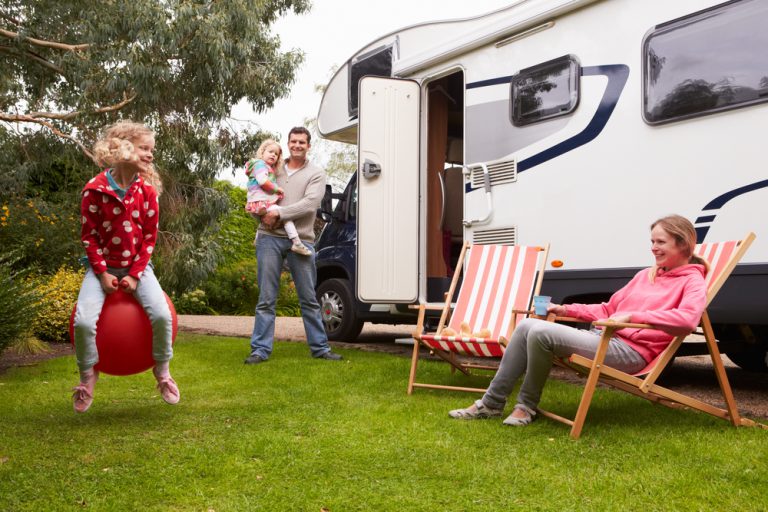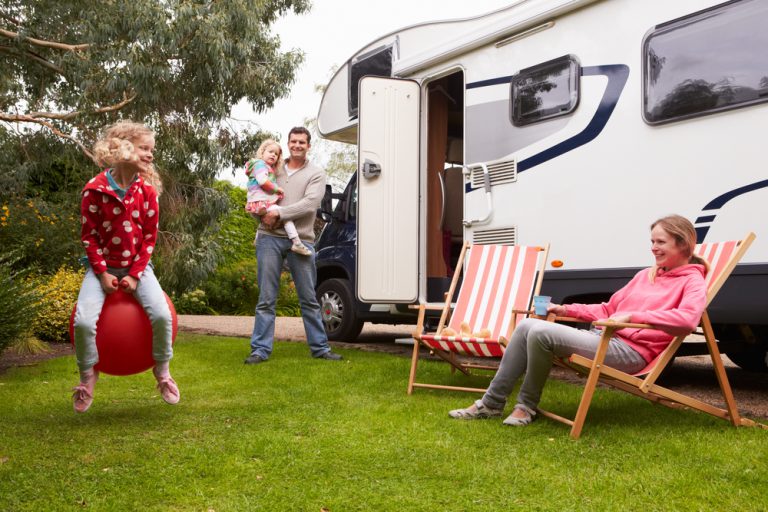 For those who've been considering an RV family vacation, yes, you can do it. You will not regret the decision. Instead, your kids will love driving down the road in your home on wheels. You will love skipping the airport lines and hotel resort fees. 
Not sure where to begin? We've got you covered. From picking an RV to choosing a campground to figuring out meals, read on and get ready for an RV adventure for the books.
Start With the Right RV
All RVs are not created equal. There are teardrops, motorhomes, fifth wheels and pop-up campers (and so many more). They've all got pros and cons, but that's where we come in. Whether you want to drive an RV or tow an RV, we're here to help. 
Our first tip is go big or go home. To be clear, we don't mean rent the absolute biggest RV on the website. What we do mean is go bigger than what you think you need. An RV may sleep four, but it will be cozy. As in, you may find yourself a bit too close for comfort. 
An RV that sleeps a family of four may have two double beds. If your kids like to sleep in the same bed, great. If not, you may have a kicking, clawing, whining problem. An RV that sleeps six may have three double beds. Voila, each kid gets their own bed. Problem solved. Trust us, this alone will go a long way toward keeping the peace inside the RV. 
Pro Tip: Be thoughtful about finding an RV that works for your family. Beyond size, consider layout. The right configuration can make a space feel larger than it actually is. 
It's no secret that there's limited personal space inside an RV, which is why the layout you choose is so critical. Many listings include a diagram of the layout. If you don't see one, don't hesitate to reach out to the owner for the configuration. 
A layout with a separate bunk room for the kids can make the RV feel spacious. Bunk rooms can give kids a space to play and call their own on rainy days. A divider, like a curtain or pocket door, that separates adults from children can help ensure happy, well-rested travelers. 
Pro Tip: Do NOT drive away with your RV rental without having all of life's most important questions related to the RV answered, like how to use the DVD player. 
Once you've found the right RV, make sure you know what's inside (so you know what else to bring, like cookware and sheets). Also, know how to work every feature in the RV. Get a primer from the owner on must-knows, like how to hook up to water, how to dump grey water and how to pop out the sides of an RV. Take notes, if necessary. 
Make sure all adults know how to operate "comfort" features too, like the thermostat, satellite television, DVD player and appliances. Drive off into the sunset filled to the rim with RV knowledge. This will help ensure a pleasurable RV adventure for every member of the family.  
Book a Campground That Suits Your Family 
Much like choosing an RV, you must do your due diligence in selecting a campground or RV park that fits your family like a glove. Privately-owned campgrounds, like those run by KOA and Jellystone Park, are typically good choices, especially for first-time RVers.
Private campgrounds are often brimming with amenities, like water parks, mini golf, jumping pillows, fishing ponds and dog parks. Weekends bring full slates of activities, from candy bar bingo and hay rides to movie nights and ceramics painting. Pick up a schedule when you check in for your stay.
Public campgrounds, like those inside state parks and national parks, have fewer amenities and tend to be more primitive. For example, they may lack showers or bath houses. They're also less likely to have on-site staff for assistance with finding your site or parking your RV. 
Pro Tip: Pick up the phone once you've found what may be the campground of your dreams. Speaking with an on-site team member can go a long way toward ensuring it's the right fit.
Call your first-choice campground (before you lay down a credit card) to ask about which site(s) would be best for your family, as well as your level of RV experience. A pull-through site is better for a first-timer. You may also want a site near a bath house or laundry room. 
It's a good call to be close to kid-friendly amenities, like playgrounds and sandboxes. A site near a large open space where kids can run around and burn off energy is a bonus.
Considering a large campground? Ask about golf cart rentals. You won't regret it. They can sell out, so book a golf cart before you arrive. Also, look for on-site restaurants. When you don't want to cook or grill, it's a nice option that doesn't require you to leave the campground. 
Look for a site that is safe and comfortable. Shade is also an exceptional quality in an RV site. It should be no surprise that our final piece of advice is to book early. As you can imagine, the best campgrounds and the best RV sites book up quickly.
Pro Tip: Don't dally. Plan to arrive at the campground early enough to give yourself plenty of time to unload and set up your site. It's no fun to do so in the dark. 
Arrive at the campsite during daylight hours (and business hours). If you do, you're more likely (like, 100% likely) to find helpful attendants still on-site that can help guide the RV into the designated site, if necessary. 
An early arrival also gives you time to organize your site space. It's way more challenging to do so when kids are under foot. In daylight, kids can run around the campsite or playground. It's not nearly as straightforward to set up by the light of head lamps. 
Lastly, always make a reservation (you absolutely do not want to get shut out by a full campground) and book a campsite for no more than a few nights, at least on the first go. Make sure that RVing is something your family will enjoy before committing to a stay of a week or longer in an RV at a campground. 
Know What to Bring
You will quickly regret not bringing certain items, like folding camp chairs, head lamps, bug spray and lanterns. Also, typical household items, like trash bags, dish soap, sponges and wet wipes (paper napkins won't cut it on sticky, marshmallow-covered fingers). Print and save this RV Checklist so you know what to bring on your RV vacation.
Beyond the basics, bring your own outdoor play and relaxation space. Reclining chaise lounge chairs are ideal for reading a book or taking an afternoon nap. It's nice to slow down and just chill at your campsite. 
For small children, a large outdoor mat makes a great play space where they can build with blocks, color or play games. For babies, a colorful mat is just right for tummy time. 
Pack fun explorer toys too, like binoculars, a compass and bug catchers so kids can roam the campground and engage with nature. Last, bring outdoor games like wiffle ball, ladder golf or ring toss that the whole family can play in open spaces at the campground. 
Pro Tip: Know when it will get dark and manage your time accordingly. 
While it's important to plan for play, it's as critical to plan for darkness. Pack flashlights, head lamps, firewood, lanterns and candles. You'll need all of them if you want to spend time as a family outside the RV after nightfall. Head lamps can help keep kids from tripping on tree roots and tent poles. Don't forget batteries. 
Plan for Rainy Days 
No matter how efficiently you plan your RV family adventure, you can't control the weather. Many private campgrounds have indoor activities for rainy days, like arts and crafts. Some also have arcades, ping pong tables and game rooms. 
Still, you'll want to plan to be inside the RV too. Do your best to stave off boredom with coloring books, decks of cards, activity books and tablets. When in such close quarters, make sure your kids are not draining the whole family with rainy day gloom. 
Pro Tip: If rain is in the forecast, bring rain boots and ponchos. Let the kiddos burn off pent up energy by wandering the campground in the rain and splashing in puddles.
Since most RVs have DVD players, it's okay to settle in with a family movie. It's also nice to spend quality time as a family over a friendly game of UNO or Monopoly.  
Keep it Clean & Organized 
A messy RV can lead to a disorganized and decidedly un-fun stay. Unpack, then store away bulky suitcases and duffel bags in the outside storage compartment. Many RVs have more storage than you think. Consider your RV your home and use the space accordingly. Take a peek at our easy RV organization tips for more ideas and guidance.  
Pro Tip: Reduce clutter and identify spaces where kids can store toys, books and tablets when they aren't using them. This will help combat mess and stress inside the RV.
As for cleanliness, many don't realize that the small space inside the RV gets dirty very quickly. This means you need to clean it more often. Wipe down sticky counters, make the beds and sweep the tracked in dirt from the floors. Once the RV is picked up, get back outside as a family for more campground fun.
Be Mindful About Meals 
Do yourself a huge favor. Order a pizza on the first night. Most campgrounds should be able to suggest a pizza delivery service. There's a lot to be done when you first roll into a campground – from leveling the RV to securing the wheels to setting up the pop-outs. Truly, the last thing you want to do is make dinner. Set up, relax, wait for dinner to arrive. 
After the first night, keep it simple. Plan meals in advance and bring ready-to-serve dishes that can be re-heated in a slow cooker, like mac and cheese or chili. Keep in mind that space in the RV will be limited for storing ingredients and preparing meals.
Pro Tip: Opt for meals you can quickly pull together. A family RV trip is not the time for preparing a gourmet meal. 
Consider meals that don't require cutlery, like grilled cheese sandwiches, hamburgers, hot dogs and burritos. For breakfast, set out bagels and cream cheese or mini donuts. Don't knock yourself out making blueberry pancakes, at least not on the first morning. 
Keep in mind that you won't have full-size appliances inside the RV. Only a rare few will have an oven. At best you'll have a mini-fridge, a microwave and a small stove. Count on having a grill at your site, so keep this top of mind as you plan.
Importantly, consider condiments (salt, pepper, ketchup), staples (butter, cooking spray, milk) and paper products (plates, bowls, paper towels). Items that are usually "just there" in your house are easily forgotten on family RV trips. 
Take it Slow & Steady 
The very best family memories are made when you're not rushing from one attraction to the next. Stop at rest stops to kick around a soccer ball, ditch your cell phone in favor of board games and revel in every moment spent together as a family. At the very least, savor time spent far from laundry, carpool pick-ups and work deadlines. 
Along the same lines, limit travel time. If you can, limit time spent driving in the RV to no more than three hours at a time, particularly if you want to keep kiddos from becoming miserable and uncomfortable. Board games and tablets are nice on the road, but kids need to run, jump, bike and swim. 
Final Tips 
Before you drive off on your RV adventure, hold onto these three final tips, which can go a long way toward ensuring a safe and super-fun family trip. 
Buckle up. It seems obvious, but sometimes it's not, particularly when riding in a motorhome-style RV (as opposed to an RV made for towing where kids ride in the tow vehicle). 
Get serious about sleep. If everyone is used to having their own rooms, it can be hard to adjust to sleeping together in such a tight space. As we noted at the start, begin with the right RV. You will thank us when you choose a comfortable layout for your family. 
Bring white noise. Even with the right layout, it's a must to bring a white noise machine, even a white noise mobile app, like Sleep Pillow. Sounds of raindrops, lullabies and ocean waves can block out outside noises, helping everyone get a good night's sleep. Well-rested campers are happy campers!
Check out more activities and tips for RVing with the kiddos: