Travel Inspiration
Last updated on May 25th, 2023. Originally published on December 17th, 2019
There's just something about going on a road trip and experiencing nature that can bring a family together. However, these vacations can be difficult for some families, especially those with children. Younger kids often can have trouble when they're away from home and "roughing it" out in nature. Thankfully, there are lots of amazing RV parks & campgrounds for families. Some of the best family RV parks have amenities that rival the top resort hotels. If your family loves to camp, consider these 25 best places to camp with kids.
RV Parks & Campgrounds for Families
1. Riley Creek Campground
If you're really ambitious, try taking the family to Alaska. Riley Creek Campground inside Denali National Park offers family camping from early May to mid-September. There are 149 sites at this campground near a mercantile which sells supplies. A laundry and a shower house are also located nearby. During the day, take advantage of the tour bus allowing you to see the rest of the park. While on the bus, you may see moose, grizzly bears, brown bears, and many other animals. You will stop at a visitor center where your children can enjoy gold panning. The campground is also located near the free evening ranger's programs. Reviewers give this campground five stars, noting the large sites, nearby conveniences, and great atmosphere.
Address: Denali Park Rd, Denali National Park and Preserve, AK 99755
Directions: Take Highway 3 from Anchorage or Fairbanks, Alaska. When you arrive at mile marker 237, turn west toward Denali. Watch for Riley Creek Campground on your left.
Contact Number: (800) 622-7275
2. Yogi Bear's Jellystone Park RV Camp Resort of the Alabama Gulf Coast
Yogi Bear's Jellystone Park RV Camp Resort of the Alabama Gulf Coast is one of the best family campsites because of the wide range of activities available for all age groups. Each weekend from May to mid-September has its theme, like Yogi Bear's birthday party, a foam party, and a chocolate weekend. No matter how often you come back, you and your children will have a unique experience. Reviewers give this family-friendly campground top marks because of its pool, beach, and playgrounds.
Address: 12160 Wortel Road, Elberta, AL 36530
Directions: From Elberta, head east on U.S. 98. Once you reach State Street, turn right. The campground will be a short distance down on your left.
Contact Number: (251) 986-3566
3. Lake Hemet Water Park and Campground
If you're looking for campgrounds with water parks, head to Lake Hemet in Riverside County, California. Everyone will enjoy fishing in the lake and swimming in the protected swimming areas. Numerous climbing walls also help burn off energy. However, the water park is the star of this campground. With over 20 inflatable structures, it's fun for kids of all ages. Reviewers give this facility top marks for all the outdoor options, including making s'mores over the campfire.
Address: 56570 CA-74, Mountain Center, CA 92561
Directions: From Mountain Center, take California Route 74 southeast until you reach the campground.
Contact Number: (951) 659-2680
4. Mystic KOA Campground
Nestled in southern Connecticut, Mystic KOA Campground is one of the best campsites for kids in New England. They can burn energy on a jumping pillow, go on hayrides, challenge you to a game of miniature golf, and make tie-dye T-shirts. Adults will love camping here, too—you'll be able to watch outdoor movies with the family or catch fish in the stocked fishing pond. Reviewers say they love the pull-thru sites and the outdoor furniture.
Address: 118 Pendleton Hill Rd, North Stonington, CT 06359
Directions: This campground is located southeast of North Stonington. Start by getting on CT 2E and going to CT 184E. Continue on 184E until you reach CT49S. Go south on it until you come to the campground on your right.
Contact Number: (860) 599-5101
5. Disney's Fort Wilderness Campground
If your little ones love Disney, then Fort Wilderness Campground may be the perfect family RV campground for your crew. There are many on-site activities, including archery, horseback riding, and canoeing. Treat your family to a sing-along led by Disney characters around a campfire. Play in the pool with a corkscrew waterslide. Reviewers give this campground top ratings for the ease of getting around on the bus and golf carts along with the movie-and-fireworks nights.
Address: Disney's Fort Wilderness Resort and Campground Entrance, Fort Wilderness Trail, Orlando, FL 32836
Directions: If you are coming from Walt Disney World, head north on World Drive. Take the ramp to Vista Boulevard. Then, turn left onto Fort Wilderness Trail where you will find the campground.
Contact Number: (407) 824-2900
6. Green River Oaks RV Park & Campground
As perhaps the best family RV resort, the all-inclusive Green River Oaks offers themed weeks throughout the summer. That means you can expect a unique experience each time you stay at this family RV campground. Relax in the two heated swimming pools, go fishing in Lake St. George, rent a kayak, or borrow a campground bike. There are never any additional charges for campground activities, like the camp-wide hayride. Reviewers say the playgrounds here are fabulous, and they love the fact this campground is centrally located near top golf courses.
Address: 1442 Sleepy Hollow Rd, Amboy, IL 61310
Directions: To get to this campground from Amboy, go south on Main Street, which becomes Rockyford Road. Turn right on Sleepy Hollow Road and continue to the campground.
Contact Number: (815) 638-2088
7. Red Apple Campground
If you're looking for a campground for kids in Maine, consider the Red Apple Campground. Your children will love the playground, the basketball and volleyball courts, and many other amenities at this RV resort. Adults will love the adult-size swing. However, the best thing at this campground is the fresh-steamed lobsters delivered to your trailer door each evening. Reviewers love the cleanliness of this campground and its proximity to activities, including the Atlantic Ocean that's just about two blocks away.
Address: 111 Sinnott Rd, Arundel, ME 04046
Directions: To reach this campground from Arundel, head south on Old Post Office Road. Then, turn right and then left on Sinnott Road and left again on Granny Smith Boulevard. The campground is on your right.
Contact Number: (207) 967-4927
8. Clay's Park RV Resort
For more than 71 years, RVers looking for family campgrounds have been heading to Clay's Park Resort. This resort features a 10-acre adventure water park, a large concert venue, and a kids' splash pad. Reviewers give this campground high marks for its zip line, which lets you fly off a platform straight into the water. There's also a paintball facility.
Address: 13190 Patterson St NW, North Lawrence, OH 44666
Directions: Arrive at Clay's Park Resort by taking Ohio 93 South to Penbrook Avenue NW. Follow Penbrook, and the campground will be on your right.
Contact Number: (330) 854-6691
9. Campground at James Island County Park
South Carolina's 643-acre Campground at James Island County Park features miles of hiking, skating, and biking trails. The 16-acre lake is a great place to go fishing. An inexpensive shuttle makes going to activities in Charleston easy. Reviewers say they love this campground for its water park and dog park.
Address: 871 Riverland Dr, Charleston, SC 29412
Directions: From Charleston, take SC-30 W toward James Island and Folley Beach. Turn right on Central Park Road and left on Riverland Drive. Finally, turn onto James Island Parkway to reach this campground.
Contact Number: (843) 795-4386
10. Eugene T. Mahoney State Park
If you're looking for family-friendly campgrounds in Nebraska, head to Eugene T. Mahoney State Park. Children will enjoy playing in the indoor playhouse if the weather is bad and tobogganing down the large hill in winter. Get a unique perspective by climbing on the treetop ropes course. This campground also offers indoor ice skating. Reviewers say they love the paddleboats and the wave pool.
Address: 28500 W Park Hwy, Ashland, NE 68003
Directions: From Ashland, follow NE 66 E south to reach the campground.
Contact Number: (402) 944-2221
11. Whispering Pines Campground
Nestled within Douthat State Park in Virginia, this campground has over 45 miles of hiking trails. There's also a well-stocked lake filled with trout — a great way to introduce your children to fishing. A large playground helps burn off extra energy. Reviewers love this campground for its mountain biking and fabulous restaurant.
Address: 4239 Douthat State Park Rd, Millboro, VA 24460
Directions: Campers looking to get to this park from Millboro should head south on State Route 633. Then, they should turn left on VA 39 until they reach the park.
Contact Number: (540) 862-8100
12. Falls Creek Cabins and Campground
You will not want to miss seeing Cumberland Falls in Kentucky, where you can stay at Falls Creek Cabins and Campground. Try to time your family camping trip to coincide with the lunar rainbow that appears over the waterfall. This resort also offers many miles of hiking trails, horseback riding facilities, many types of water activities, and tennis courts. Many reviewers commented on how their children loved the ranger-led activities designed just for them.
Address: 1943 KY-90, Corbin, KY 40701
Directions: To get to this campground from Corbin, follow Highway 25 S. Then, turn right onto KY 90 W.
Contact Number: (800) 541-7238
13. Glacier View
Sawtooth National Forest is a great place to explore with your family, and there are many small campgrounds within the forest. One of the best for families is Glacier View, which offers a playground. This campground is located directly across from Redfish Lake where families can rent boats. There are many interesting day trips that families might want to consider, including the Sawtooth Hatchery and the Stanley Museum. Reviewers report the scenery is breathtaking, and the family campsites are within walking distance of a swimming beach.
Address: Redfish Lake Rd, Stanley, ID 83278
Directions: In Stanley, take Rt. 75 south to Forest Rt. 214. Turn right and continue to the campground.
Contact Number: (208) 774-3376
14. Mammoth Campground
Mammoth Campground is the only campground in Yellowstone National Park that is open year-round. This makes it a favorite of many families who like to come for winter activities or when crowds are gone. Elk and bison occasionally pass right through this region, making it one of the best family RV campgrounds for nature lovers. Reviewers report that they like that this campground is very near the Mammoth Hot Springs Terraces, and fishing and hiking opportunities are located nearby.
Address: N Entrance Rd, Yellowstone National Park, WY 82190
Directions: This campground is located right inside the North Entrance to Yellowstone National Park.
Contact Number: (307) 344-7381
15. Devils Garden Campground
Located within Utah's Arches National Park, Devils Garden Campground is shaded by juniper and pinyon pines. Roads nearby allow visitors to see many of the 2,500 unusual natural rock formations. Numerous hiking trails run right through this campground. Many families also enjoy mountain biking here. Reviewers say they love the quiet atmosphere and the clean restrooms at this campground.
Address: Arches Entrance Rd, Moab, UT 84532
Directions: From Moab, you should take U.S. 191 north until you reach the national park. Then, turn on Arches Scenic Drive before finally turning right on Devils Garden Road.
Contact Number: (435) 719-2299
16. South Isle Campground
Frisbee golf, train rides, horseshoe tournaments, wagon rides, and many other activities are part of the camping experience offered at South Isle Campground in Minnesota. Families can also take part in special themed weeks throughout the camping season, including ladder golf, safari hunts, redneck games, wacky Olympics, and many other activities. Reviewers say they love this campground for the playground and the heated swimming pool.
Address: 39002 State Hwy 47, Isle, MN 56342
Directions: From Isle, take Minnesota 27 south until you reach the campground.
Contact Number: (320) 676-8538
17. Ingalls Homestead
If your children are fans of "Little House on the Prairie," then they will love camping at Ingalls Homestead near De Smet, South Dakota. All of the sites are located on land that once belonged to Charles Ingalls, father of the author of the Little House series. This site only has nine camping spots, so reservations are highly recommended. Children can participate in many activities, such as making corncob dolls. Reviewers say that the variety of activities available here, like driving horses and making rope, helps bring history to life.
Address: 20812 Homestead Rd, De Smet, SD 57231
Directions: From De Smet, take U.S. 14 S until you reach the homestead.
Contact Number: (800) 776-3594
18. Ames Brook Campground
As one of the best family RV resorts, Ames Brook Campground offers a large variety of activities for guests. Examples include candy bar bingo, potluck dinners, ice cream socials, parades, and fireworks. This small campground is within 20 minutes of many Ashland, New Hampshire attractions, including polar caves, a science center, an adventure park, and shopping. Reviewers love the big private wooded sites and friendly atmosphere.
Address: 104 Winona Rd, Ashland, NH 03217
Directions: From Ashland, take NH 132 southeast until you reach the campground.
Contact Number: (603) 968-7998
19. Ocean Lakes Family Campground
If you're looking for the best camping for families, consider an RV park with oceanfront access. Ocean Lakes Family Campground in Myrtle Beach often hosts live music concerts, but the main draw is the ocean here. Reviewers often comment on this campground's water park, which includes a lazy river and attentive security.
Address: 6001 S Kings Hwy, Myrtle Beach, SC 29575
Directions: From downtown Myrtle Beach, get on U.S. 17 Bus S and turn left on Ocean Lakes Drive.
Contact Number: (843) 238-5636
20. Lake Rudolph Campground and RV Resort
If you are a camping family, then you need to book a spot at Lake Rudolph Campground and RV Resort. This spacious campground, which is located near Indiana's Holiday World Theme Park & Splashin' Safari Water Park, has received many accolades for being the best kid and family camping facility. Play at the giant Blitzen Bay swimming pool or Dasher Splasher splash pad before having an ice cream cone at Blitzen Kitchen Ice Cream & Pizza. Reviewers say that Halloween and Christmas are especially fun times to visit this park.
Address: 78 N Holiday Blvd, Santa Claus, IN 47579
Directions: From Holiday World Theme Park, head southwest on N Holiday Drive until you reach Reindeer Run. Turn right and continue until you get to the campground on your right.
Contact Number: (812) 937-4458
21. Stone Mountain Park Campground
There are over 400 sites at Stone Mountain Park Campground in Northern Georgia. Stone Mountain offers plenty to keep active families busy. Learn about dinosaurs at the dinotorium, watch the laser show, go on a hike, or challenge your family to a round of miniature golf. You may also want to ride the cable car, feed the animals, and go for a hike. Reviewers recommend this campground for its seasonal activities, its quick registration procedure, and its friendly staff.
Address: 4003 Stonewall Jackson Dr, Stone Mountain, GA 30083
Directions: To get to this kid and family campground from Stone Mountain Park, exit the park going west on Jefferson Davis Drive. Turn right on Stonewall Jackson Drive and right onto Campground Road.
Contact Number: (770) 498-5710
22. Massey's Landing
If you're looking for a beachfront kid-friendly camping facility, consider Massey's Landing on the shores of Rehoboth Bay in Delaware. You can enjoy the pool, which even has a swim-up bar for adults. It's easy to launch a kayak here, and the campground has 2 miles of private beach. Your whole family may enjoy renting bikes while the kids are sure to enjoy playing on the two spacious playgrounds. Reviewers give this facility top marks for its beachfront location, friendly staff, and outstanding level of cleanliness.
Address: 20628 Long Beach Dr, Millsboro, DE 19966
Directions: From Millsboro, go north on DE 24 E until you reach Road 304. Turn left and continue until you reach 297. Make a right and continue until you reach 307. Turn right until you get to Friendship Road. When you reach DE 23-S, turn right until you get to Yellowfin Drive. After 5 miles, you will get to Long Beach Drive and the campground.
Contact Number: (302) 947-2600
23. Bear Creek Lake Campground
Bear Creek Lake Campground near Denver is perfect for families. This family-friendly campground offers many different activities, including horseback riding, water skiing, hiking, swimming, and boating. The visitor center has hands-on exhibits for kids, and there are night hikes and ranger talks at the fire pit out back. Reviewers love the beach and swimming here, and they are thankful that veterans can use this park for free.
Address: 15600 W Morrison Rd, Lakewood, CO 80228
Directions: If you are coming on Interstate 70E, then take exit 259. Follow Morrison Road until you reach Kaupfmiller Drive. Once you get on Kaupfmiller, the campground is on your right.
Contact Number: (303) 697-6159
24. Fool Hollow Lake Recreation Area
Searching for "kid-friendly campgrounds near me" in Arizona? Just pack up the RV or the tent and head to Fool Hollow Lake Recreation Area in the eastern part of the state. You'll love the ranger-led activities held at the amphitheater. After learning about the region, consider renting an inflatable boat to play in the calm waters at this campground. At night, listen to the wind blow through the pine trees. Reviewers say the scenery here is remarkable, and you may see elk grazing on the shores of this lake. They also love the great kayaking opportunities here.
Address: 1500 Fools Hollow Rd, Show Low, AZ 85901
Directions: From Show Low, turn right on W Deuce of Clubs Road, turn right on West McNeil, turn left on W 16th, turn right on Old Linden Road, and turn right on Fool Hollow Road. The campground will be on your right.
Contact Number: (928) 537-3680
25. Woolly Hollow Campground
You will find 30 full-service campsites and 10 tent campsites at Woolly Hollow Campground in Arkansas. This state park campground offers a lifeguard-protected swimming beach that the Weather Channel rated as one of the top places to swim in Arkansas. This makes Woolly Hollow one of the best campgrounds for kids. It also offers many miles of hiking paths. There is outstanding fishing nearby, and one of the state's top mountain bike destinations is less than 10 miles away. Reviewers give this campground top marks for its kayaks, paddleboats, waterfall, trails, playground, day-use picnic areas, fishing dock, snack bar, and boat launch.
Address: 82 Woolly Hollow Rd, Greenbrier, AR 72058
Directions: Follow U.S. 65 north out of Greenbrier, AR, until you reach AR285. Continue on AR285, and the campground will be on your right in 8.6 miles.
Contact Number: (501) 679-2098
26. Malaekahana Beach Campground
Malaekahana Beach Campground is a public campground where families can stay in cabins, take surfing lessons, and go sailing. Many families consider coming here during holiday breaks because the campground offers discounts for swimming and surfing lessons. You can enjoy the ocean view while relaxing on the beach or in one of the cabins. Malaekahana Beach Campground is known for having surfboard, sailing, and cabin rentals all year long. There is a camping store where you can shop for camping supplies, snacks, and clothes.
Address: 56-335 Kamehameha Highway, Kahuku, HI 96731
Hours: Daily, 8:30 a.m. to 4:30 p.m., except Thanksgiving Day and Christmas Day
Contact Number: (808) 674-7715
27. Marval Family Fishing and Camping Resort
This resort is known for welcoming people who enjoy fishing, camping, and mini-golf. This is one of the best RV parks for kids to play golf, ride bikes, or drive pedal cars outdoors. This campground has lodging cabins, campsites, and other facilities. The site has an outdoor theater and water parks as well.
Address: 445140 E. 1011 Road, Gore, OK 74435
Hours: Sunday through Thursday, 9 a.m. to 5 p.m., Friday & Saturday, 9 a.m. to 8 p.m.
Contact Number: (918) 489-2295
28. Anchors Aweigh RV Resort
Anchors Aweigh RV Resort is considered to be one of the best kid-friendly RV parks. People say this is a great place to go swimming. The campground will provide full hookups to your RV along with WiFi. It's well-known for having 24-hour security patrol, laundry service, and hot showers. It features a beautiful beach where you can go surfing or swimming at any time. All age groups can go mini-golfing, go-kart racing, and play arcade games. You can also go shopping for souvenirs at the local shop.
Address: 19814 County Road 20, South Foley, AL 36535
Hours: Open 24 hours a day
Contact Number: (251) 971-6644
29. Duck Creek Resort
Regulars say this campground is always clean and peaceful. Families enjoy the cable service, the water park, and the warm beach at this location. Kids enjoy the beautiful water park. Along with campsites, this location has basketball and beach volleyball courts near the playground.
Address: 1155 W. Riley Thompson Road, Muskegon, MI 49445
Hours: Open 24 hours a day
Contact Number: (231) 766-3646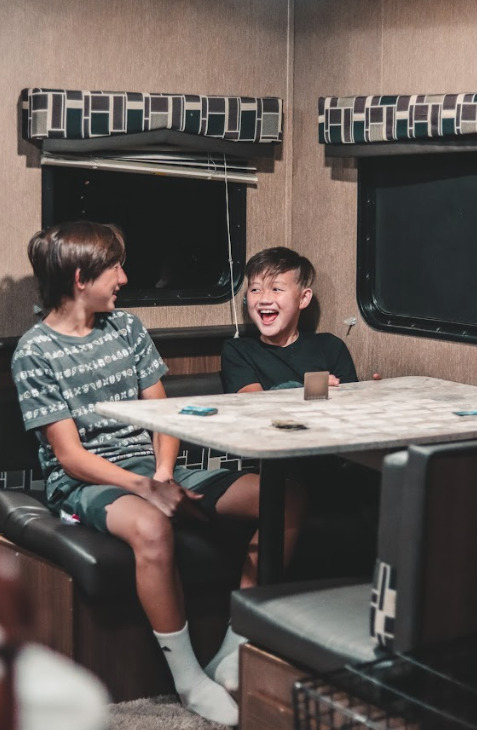 30. Raccoon River Campground
Raccoon River Campground is known for its natural surroundings and quiet campsites. This is a great place for kids to play golf and to go swimming. Racoon River doesn't just have a beautiful campsite and two swimming pools. It also has bathhouses that were recently remodeled. Plus, it has a fishing site, basketball court, and volleyball court.
Address: 12209 Hutchison Blvd, Panama City Beach, FL 32407
Hours: Open 24 hours a day
Contact Number: (850) 234-0181
31. American Heritage RV Park
The American Heritage RV Park is one of the best kid-friendly RV parks in Williamsburg, Virginia. Many families love this park because it's clean and renting a camping spot is highly affordable. This is a great place for kids to hike and play arcade games near the local playground.
This park has over 70 acres of land that includes a campsite, basketball court, volleyball court, and mini-golf course. In addition, there is a 24-hour laundry service and a clubhouse that is within walking distance from the campsites. There are one-bedroom and two-bedroom units that include a kitchen, cable television, a refrigerator, and free wireless internet access.
Address: 146 Maxton Ln, Williamsburg, VA 23188-7025
Hours: Monday through Saturday, 8 a.m. to 8 p.m., Sunday, 9 a.m. to 7 p.m.
Contact Number: (888) 530-2267
32. Smoky Bear Campground
Smoky Bear Campground is highly recommended for families who need a stress reliever that includes enjoying the outdoor life. Kids will enjoy the playground and can check out books and movies in the library.
This campground has bathhouses, cabins, and tent sites for families. Also, it features a clubhouse where anyone can have rallies, parties, and reunions. Near the clubhouse is a park store where you can buy gifts, snacks, and souvenirs at certain hours.
Address: 4857 East Parkway, Gatlinburg, TN 37738
Hours: Daily from 9 a.m. to 7 p.m.
Contact Number: (865) 436-8372
33. Baraboo Hills Campground
This campground is one of the cleanest and best kid-friendly campgrounds in Wisconsin. It also offers free games for kids to play. Most families enjoy the layout of the campground because finding activities and camping sites is easy. Kids can stay busy riding bikes, playing golf, going fishing, and swimming.
This campground has RV sites that have full hookups along with tent/pop-up sites. In addition, this place offers deluxe cabins that have kitchens and bathrooms. Those cabins are very cozy and comfortable.
Address: E10545 Terrytown Road, Baraboo, WI 53913
Hours: Open 24 hours a day
Contact Number: (608) 356-8505
34. Mountain View Campground
Mountain View Campground is one of the top family campgrounds in the Green Mountains area. Families love this place because it's well-maintained and clean. The grounds feature two heated swimming pools that children are welcome to swim in. Also, the kids enjoy the lodge room and outdoor playground.
This campground has a camp store where people can shop around for supplies, snacks, and gifts. In addition, there is a volleyball court and yard games that kids can use. Wi-Fi and mini-golf are free to all who stay.
Address: 3154 Vt Route 15E, Morrisville, VT 05661
Hours: Sunday through Thursday, 9 a.m. to 6 p.m., Fridays & Saturdays, 9 a.m. to 8 p.m.
Contact Number: (802) 888-2178
35. Black Hills Trailside Park Resort
Black Hills Trailside Park has one of the best campgrounds for kids in South Dakota. It offers 35 RV sites, 10 tent sites, a furnished luxury loft, and beautiful cabins. What people love about this park are the bike rentals and shuttle service. This service gives people tours of the entire park and helps people save money on gas. This is a great place for kids to go fishing and ride the bike trails.
What makes this park special is that it's about 12 miles away from Mount Rushmore. The staff recently renovated a new basketball court and a small playground near the camping site.
Address: 24024 US Hwy 16/385, Hill City, SD 57745
Hours: Open 24 hours a day
Contact Number: (605) 574-9079
36. Colonial Woods Campground
Colonial Woods Campground is a family fun campground with water slides. Kids will love the water slides, and it has a mini-golf course, a fishing section, and basketball/volleyball/tennis courts. Families can attend outdoor movie nights or enjoy the game room. The park also features arts and crafts sessions for kids.
Address: 545 Lonely Cottage Drive, Upper Black Eddy, PA 18972
Hours: Open 24 hours a day
Contact Number: (610) 847-5808
37. Woodside Lake Park
Woodside Lake Park is a great campground with kid activities. From arcade games to swimming, this park can keep a child busy. The most popular kid camping activity here is sand volleyball. Some of the features at this park include the convenience store, billiard tables, picnic areas, and multiple hiking routes.
Address: 2486 Frost Road, Streetsboro, OH 442241
Hours: Open 24 hours a day
Contact Number: (330) 626-4251
38. The Vineyards Campground and Cabins
Heading to Texas? The Vineyards Campground and Cabins is one of the best campgrounds for kids. Adults will probably love it too. The scenery and hiking trails in this lovely Lone Star campground are some of the best out there. If you get a little too hot while out hiking, be sure to check out the sandy lakefront beaches found in the campground and jump in for a swim. Of course, you could also choose to kayak or fish in the lake if that's what you prefer.
Kids love the playground and planned activities offered by this park—along with their bike, kayak, and paddle board rentals.
Address: 1501 N Dooley St, Grapevine, TX 76051
Hours: 9 am – 6 pm
Contact Number: (888) 329-8993
39. Campland on the Bay
San Diego is one of those cities everyone should experience at least once in their lifetime. Why not take your kids to experience it now? Campland on the Bay provides the perfect lodging option for your family getaway to this lovely city.
Because this campground is located on the shores of Mission Bay, you can count on having plenty of fun in the water. That said, there are also a number of other ways to fill your time while in the campground. These include a game room, scheduled family activities, pools, bike rentals, a skate park, and even an open-air study hall for the kids to do their online schooling.
Address: 2211 Pacific Beach Dr, San Diego, CA 92109
Hours: Open 24 hours
Contact Number: (800) 422-9386
40. Camping on the Gulf
The beach is always a fantastic place to take the family. That's just one reason why families love Camp Gulf. Here, you're only steps away from an absolutely gorgeous beach, so spending days in the sand and sun is incredibly easy.
In addition to being on the beach, Camp Gulf also offers a lot of fun activity options for kids and adults alike. These include a super fun water slide, plenty of games to borrow, and fun family activities.
Address: 10005 Emerald Coast Pkwy W, Miramar Beach, FL 32550
Hours: 8 am – 5 pm
Contact Number: (850) 502-5282
Spending the Holidays at Jellystone Parks
There are all sorts of reasons people choose to celebrate the winter festivities in their mobile homes and travel trailers. Maybe you're traveling to be closer to family but want to retain some of your privacy; maybe some special, far-flung holiday event is calling your name. Heck, maybe you just have so many destinations on your travel bucket list that you can't resist using the extra time off to knock out a few of them. Grab your favorite Santa hat or your best set of dreidels — because if you're looking to make some holiday memories this year, we have just the place in mind.
Camping Holidays for Families
So, why do Jellystone Parks make for some of the best camping holidays?
Each park is run by a family who fell in love with the RV lifestyle, just like yours, which means each location offers friendly and personalized customer service. In fact, it's less like "customer service" and more like staying with old friends.
Although every campground is unique and special, you can also count on finding certain themed activities and fun events across the entire chain. You may find meet-and-greets with your kids' favorite characters like Cindy Bear, Boo Boo, and Yogi himself, organized arts and crafts, and outdoor adventures like wagon rides or hide-and-seek games.
Think the snow will keep you cooped up? Think again! On the contrary, many Jellystone Parks are near fun winter events that will keep the whole family warm and smiling.
Jellystone Parks for the Holidays
Here are just a few holiday festivities you could participate in this year:
Gloucester Point, VA – This campground makes a great home base for visiting the Old World charm of Colonial Williamsburg. The Christmas season is especially festive with 18th-century music, events, shopping, and home tours.
Sturbridge, MA – During your stay, you won't want to miss historic Old Sturbridge Village, the largest outdoor history museum in the Northeast. Discover the history of Christmas traditions on the Christmas by Candlelight tours in December and enjoy holiday favorites like caroling and sleigh rides.
Nashville, TN – As the closest campground to the famous Opryland Hotel, Jellystone Park in Nashville is a great family vacation destination. "A Country Christmas" begins in mid-November at the Opryland Hotel, with thousands of lights, decorations, and entertainment.
Pigeon Forge, Tennessee – Want to enjoy a White Christmas in the heart of the Appalachian mountains, complete with skiing? Pigeon Forge Jellystone Park is open for reservations year-round, and once you experience a holiday season in the Smokies, we're pretty sure you'll be coming back. Be sure to head to the sister city of Gatlinburg to hit the ski slopes!
Elberta, Alabama – Even in the wintertime, the Gulf Coast is nice and toasty, with daytime highs hovering around 66 degrees in December. Head on down to the beach and forget all about shoveling your driveway and defrosting your windshield — and take advantage of Elberta Jellystone Park's basketball court, playground, pavilion, arts and crafts room, and more.
Robert, Louisiana – If you're looking for an opportunity to explore New Orleans, or simply have a holiday season with a touch of southern charm, it's hard to do better than Robert, Louisiana's Jellystone Park, which offers more than 450 wooded campsites and a range of amenities including gem mining, mini-golf, and pedal cars.
These are just a few of the special events you can take part in by camping at a Jellystone Park this year. Here's the full list of campgrounds that will remain open this winter — with locations across the country, there's sure to be one near your holiday destination.
American RV Holidays
So, now that you have the perfect campground in mind, let's talk logistics. For example, if you're going to be celebrating Christmas or Thanksgiving in an RV, you're probably wondering what you're going to do about dinner!
Although it takes a little bit of creativity, entertaining a large family is totally possible even in the smallest of campers. Here's our guide on how to throw a big party even in a tiny trailer.
We've also written up some guidelines to help you with cooking up that famous holiday feast of yours, even if your rig doesn't have an oven.
Winter Camping
It's also important to keep in mind that cold-weather camping requires some extra precautions and preparations. Your RV's pipes can freeze just like the ones in your home — but don't worry! Preparing your rig for sub-freezing temperatures isn't tricky.
Here's our full guide on how to winterize your RV. You might also want to buy an insulating RV skirt to help insulate your camper's delicate systems from the snow, and a small indoor dehumidifier to help keep down the moisture inside.