Travel Inspiration
November 27th, 2019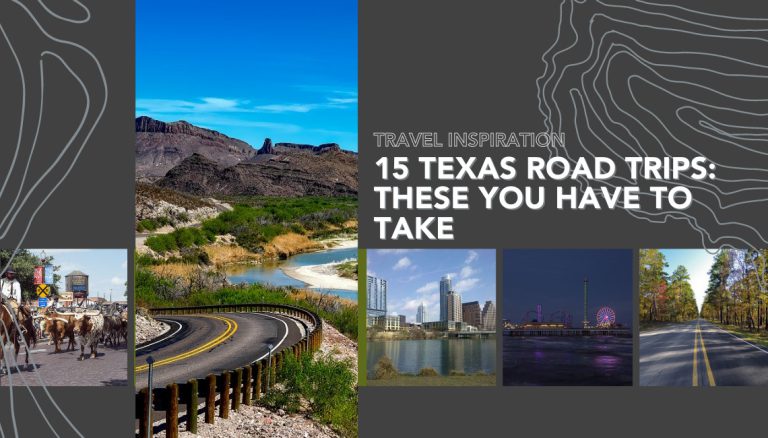 They say everything's bigger in Texas — and it should come as no surprise. The state itself is the largest of the lower 48.
Which perhaps one reason why Texas road trips are so popular. Whether you're looking for a good time in the big city or a wilder, more remote adventure, you'll find something fun to discover in the Lone Star State.
Of course, when you're talking about a land area of almost 270,000 square miles, you're going to want to do some planning before you take off on the nearest Texas highway. If you're looking for the best road trips in Texas, read on! We've got plenty of viable options to keep you entertained, deep in the heart of this beloved state.
1. Austin
The capital city of Texas, Austin is perhaps most renowned for being the "Live Music Capital of the World." You can paddle board on Lady Bird Lake, attend the many music festivals or even the ballet, dine at the varied restaurants, and visit world-class museums.
One of the most unique experiences you can have is viewing the colony of bats that fly out from under the Congress Avenue Bridge nightly. From world-famous resorts and 5-star hotels, to cozy RV Parks, there is a wide range of overnight accommodations in Austin.
Click here to see RVshare rentals near Austin, Texas.
2. Big Bend National Park
A world of wonder for outdoor adventurers of all stripes, Big Bend National Park provides ample opportunities for bird watching of more than 450 species in the many habitats. There are also fossils for pterosaur and 50-foot crocodiles in this area, as well as cacti which line the 150-miles of hiking trails and three campgrounds.
Although this national park is quite remote, it is a great add-on to other west Texas trips, such as a road trip to Marfa, discussed below.
Click here to see RVshare rentals near Big Bend National Park.
3. Cascade Caverns
This cool, living cavern—located north of San Antonio—offers corridor after corridor of unique rock formations. The 45-minute guided tour is a great way to escape the Texas heat, since the average temperature within is 64-degrees.
Opened in 1932, Cascade Caverns has offered camping since its inception. The RV Park and campground has over 100 campsites of different levels of service. Along with the public restrooms and showers, there is a pavilion, nature trails, free W-Fi, picnic tables and grills, a convenience store, and a recreation building with pool tables and vending machines.
Click here to see RVshare rentals near Cascade Caverns.
4. Corpus Christi
Beaches, islands, bays, and ports—there are many opportunities to engage in the variety of available water and wind sports. Arts, music, museums (such as the USS Lexington battle ship), and other cultural activities (like the Texas State Aquarium) make this Texas road trip enjoyable for those who desire a more relaxing time than their water-adventuring counterparts.
You can even camp directly on the beach in one of the several oceanfront campgrounds.
Click here to see RVshare rentals near Corpus Christi, Texas.
5. Dinosaur Valley State Park
Just outside of Fort Worth, in the riverbed of the Paluxy River, dinosaur tracks are easily seen; merely follow the well-marked maps.
There are many other things to do at Dinosaur Valley State Park, as well. Camp at one of the regular or backcountry campgrounds, picnic, hike, or mountain bike the more than 20 trails, fish and swim in the river, or go geocaching. You can even bring your own horse to ride in the park! Visit the interpretive center and hear about the indigenous wildlife or learn a new skill, such as fishing or archery, from the knowledgeable rangers.
Click here to see RVshare rentals near Dinosaur Valley State Park.
6. East Texas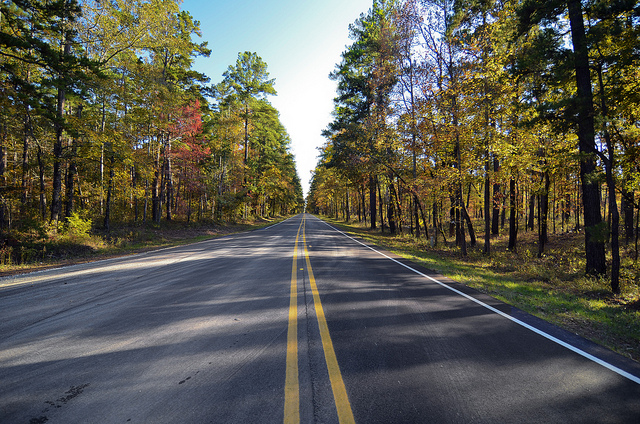 The humid, subtropical climate of East Texas, which is — as the name implies — the eastern region of the state, features mile after mile of thick forests and soaring pine trees. In fact, the Piney Woods that covers the upper two-thirds of the area only thins out as it nears the Gulf of Mexico.
Along with the multiple quaint Cajun or southern eateries and bed and breakfasts, you can also camp to get the full experience. Watch Longview's "Great Texas Balloon Race" or visit the "Texas Country Music Hall of Fame." From the Gulf Coastal Plain to the Cajun country of nearby Louisiana, the terrain and culture is some of the most varied you will find.
Click here to see RVshare rentals in East Texas.
7. Enchanted Rock
The mammoth pink granite dome formed from molten magma is the primary draw for tourists. Found in Fredericksburg, there are several rock formations and there are many other attractions for visitors to enjoy.
Route maps and climbing rules are available for amateur and expert rock climbers to pick up at the park headquarters. For the less adventurous, there are opportunities for camping, backpacking, picnicking, hiking, bird watching stargazing, and geocaching. You can also explore the boutiques and family-owned orchards of the nearby town.
Click here to see RVshare rentals near Enchanted Rock.
8. Fort Worth
Dallas may get all the attention, but the neighboring town of Fort Worth has just as much to offer, if not more. Along with a variety of museums, eateries, coffee shops and breweries, Fort Worth is also home to the famous daily cattle drive — a symbolic holdover from the days when this city earned its nickname as "Cow Town."
Once you've visited the stockyards, be sure to check out the Fort Worth Zoo, which is home to more than 7,000 animals… or get really wild by taking a trip to Six Flags Over Texas!
Click here to see RVshare rentals near Fort Worth, Texas.
9. Galveston
Want all the glamor of Santa Monica without the price — or the drive time? The east Texas seaside city of Galveston has all that and more, thanks to its historic pleasure pier including a Ferris wheel, amusement park games, concessions, and more. The town is also home to a variety of historically significant structures, such as Bishop's Palace and Moody Mansion, not to mention the wildlife exhibits at Moody Gardens.
Click here to see RVshare rentals near Galveston, Texas.
10. Houston
The fourth-largest city in the U.S., the city was built on terrain that originally consisted of prairies, forests, swamps, and marshes. It also has the fourth tallest skyline in the country.
Now, Houston is reputed as being the most diverse city in Texas. There are a wide variety of cuisines, as well as theaters, museums, art galleries, and the largest galleria in the country. It is the home of the Houston Livestock Show and Rodeo, NASA's Johnson Space Center, Houston Auto Show, and the Bayou City Art Festival. You can also visit the Grand Texas Theme Park or the water park Wet'n'Wild SplashTown.
Click here to see RVshare rentals near Houston, Texas.
11. Marfa
West Texas does weird well. Case in point: Marfa.
Visit this strange little artsy community for an unusual experience. Throughout the day, you can peruse the various shops and art galleries. In the evening, you can camp in one of several local RV parks and campgrounds where you will see a mystical spectacle—the famous Marfa lights. These lights, which defy any definite explanation dance across the evening sky, astounding those who observe them. There's even an annual festival celebrating the phenomenon!
Click here to see RVshare rentals near Marfa, Texas.
12. Route 66
Cruise 178 miles over historic Route 66 through the Texas Panhandle. This legendary highway takes you past the "World's Largest Bottle of Ketchup," Amarillo's infamous Cadillac Ranch, Wigwam Village, and many other unusual sites.
Many people enjoy traveling to the numerous ghost towns that dot the landscape. Some stop at the Bugg Ranch in Conway or the Devil's Rope Museum. Others prefer the natural landmarks that they view along the way.
Psst — want some more hints on how to do you Route 66 road trip right? Click here.
Click here to see RVshare rentals near Route 66.
13. San Antonio
From the San Jose Mission to the Alamo, this city—technically known as The City of San Antonio—is known for its fabulous, historic architecture. With a mix of Spanish and U.S. cultures, the Mexican and Tex-Mex food is more authentic than found almost anywhere else in the country.
There is a lot to do in San Antonio, from visiting sites like the Memorial to the Alamo defenders to touring the River Walk or Natural Bridge Caverns. You can also spend days enjoying family-fun destinations like SeaWorld and Six Flags or join a ghost and vampire tour. There is no lack of diversions to explore in this city!
Click here to see RVshare rentals near San Antonio, Texas.
14. South Padre Island
Looking for an exotic beach getaway that doesn't require crossing the border? Head almost as far south as Mexico, and then stop just short at South Padre Island, the resort town on the barrier island of the same name. Along with beautiful beaches lapped by calm Gulf waters, this island is also well-known for its wildlife watching, including a 5-story watchtower from which birders glimpse seasonal migrants. Enjoy boat tours and touch tanks at the South Padre Island Dolphin Research & Sealife Nature Center, or just kick back and enjoy a fresh cocktail on the beach. You can't go wrong!
Click here to see RVshare rentals near South Padre Island, Texas.
15. Texas Hill Country
With unending panoramic views, this beautiful area is something that has to be experienced to be completely appreciated. You can tour the second most visited wine country in the U.S. or drive through Marble Falls.
Ride a tube down Comal, Guadalupe, and San Marcos Rivers or go fishing and floating in the many lakes. With nearly 100 RV Parks and campgrounds, there is room for everyone.
Texas Hill Country is also home to some famous wineries, and is a great place to get a taste of some homegrown vino — not all of it's in California, after all! Come through during the springtime to be treated to some epic Texas wildflowers, including the bluebonnets it's renowned for.
Click here to see RVshare rentals in Texas Hill Country.
In Conclusion
From historic architecture to modern amusement parks, from deluxe resorts to rustic campsites, there is a lifetime of activities to enjoy in the state of Texas. Whether you live there or just plan to visit, it is almost a certainty that you have not seen everything this state has to offer. If you feel inspired to plan a Texas road trip, share this with any friends or family members who also have a fondness for the largest of the 48 continental states. With so much to explore, you may never want to leave.
Psst — looking for even more Texas adventures? Check out the 10 best campgrounds in the state of Texas, as well as our in-depth guides to the very best Texas State Parks. And don't forget to view our Texas RVshare rentals!