Renting an RV
December 22nd, 2020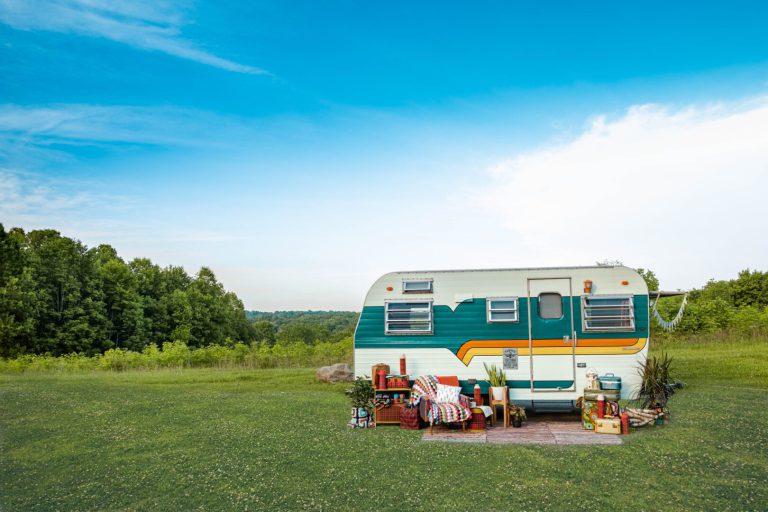 When you're looking into renting an RV, you may start to feel overwhelmed by all the options. Do you want a towable RV or a driveable one? Do you prefer something with a lot of space, or something smaller that'll fit wherever you roam? Maybe you want a boondocking setup, or maybe you prefer an extra plush camping experience.
Another thing you must consider is whether you'd like to drive (or tow) the rental RV. Some people are nervous about doing this, especially if they're never driven a big rig before. Fortunately in these cases, there are a couple of different options. These include stationary rentals and delivery rentals.
Both of these options allow you to avoid driving the RV rental yourself. That said, they are not one and the same. Because you want to make sure you're happy with the rental you pick, it's important to know the difference between stationary rentals and delivery rentals.
Let's dive in and discuss each type of rental RV so you can choose the best option for you and your family.
What is a Stationary Rental?
Let's start by discussing stationary rentals and what you might expect from one of these rigs. Stationary rentals are…well, stationary. They don't move from where they're set up, even for rentals.
Generally, stationary rentals are set up on an individual's land where electric and water hookups have been put in place to ensure renters are comfortable. Many times, this land will have something to attract guests such as a body of water, beautiful views, an excellent location, or even a place to hunt or fish.
The fact that the RV doesn't need to be moved before you can start enjoying your vacation is one major benefit of stationary rentals. Another awesome perk is that there aren't usually any camping fees attached, meaning the price of the rental is all you'll pay for lodging during your RV getaway.
What is a Delivery Rental?
Now that you know what a stationary rental is, let's talk about delivery rentals and how they differ from the other option. As the name suggests, delivery rentals are delivered to the renter, meaning you won't need to do any driving of the rig at all. That said, these rentals differ from stationary rentals in that they do move from site to site, depending on where the renter wants to be.
Delivery rentals are best for those who wish to be in one spot for their whole trip but prefer to be in a particular campground rather than on someone's land. Sometimes RV owners are happy to deliver to any campground within a certain mile radius, and other times they have a specific set of campgrounds they deliver to. Be sure to have a chat with the owner of the RV you wish to rent to ensure they will deliver to your preferred site before you commit to anything.
Keep in mind that when you choose a delivery rental, you will need to pay all campground fees. This is also true of rentals you drive yourself, meaning stationary rentals might be the best bet for those on a tight budget.
Which Type of Rental Suits Your Needs?
Still not sure which rental type is best for you? Well, if you've already decided you don't want to be responsible for driving whatever rig you end up with, you've already narrowed down your options. In this case, you'll be choosing between a stationary and a delivery rental.
Ask yourself these questions to decide which option best suits your needs:
Do I prefer the bustle and amenities of a campground, or the quiet and privacy of staying on private land?
Will additional campground fees fit into my budget?
Do I have a specific camping location in mind, such as a national park campground?
Do I prefer amenities that would only be feasible with a stationary rental, such as a deck or a permanent fire pit?
Am I comfortable staying on an individual's property?
Which options are available in the area I plan to visit?
How to Search for the Rental Type You Prefer
At this point you likely have a pretty good idea which rental option you prefer. The next step is finding a specific RV that suits all of your needs and wants. Fortunately, RVshare has plenty of options, meaning finding the perfect one should be a cinch.
You will of course want to search for an RV that is 1) located where you want to be, 2) sleeps the correct number of people, and 3) is available the dates you need it. All of these options can be selected on the initial RVshare search page.
Once you've added this info and hit the search button, a list of available rigs will show up. This page is where you'll be able to narrow your search even further. If you're looking to narrow things down based on whether an RV is deliverable or stationary, look for the "more filters" button. Touching this button will drop down a menu of several options, including a "delivery" option and a "stationary" option. Select what applies to you and refresh the list.
Hopefully this information helps you plan a relaxing and comfortable RV adventure. Why not start searching now so you can book the perfect RV and start your vacation as soon as possible? You won't regret it, and we're betting you return to RVshare time and time again to plan new and exciting adventures!