Renting an RV
August 6th, 2020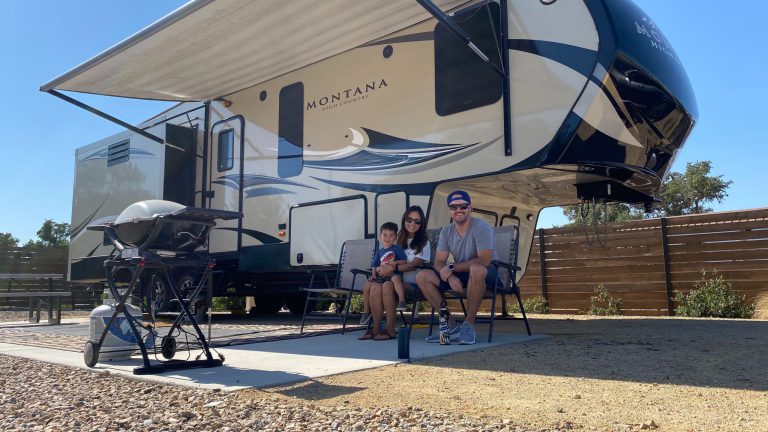 One of the best parts of RVing is that it's a perfect vacation for everyone! Whether you're a solo traveler, coupled up, or venturing out with the family, there's so much fun to be had on the road – especially for kiddos! Plus, it's a very safe way to travel in 2020, which definitely will put parent's minds at ease. With your kitchen, bathroom, sleeping areas, and lounging spaces all contained to your RV, you can still take a trip while safely distancing yourself from others.
You don't even have to own a rig of your own – you can rent one through RVshare! Curious about what it's like to use RVshare? We asked a first-time renter some questions on their recent RV vacation with their toddler!
What kind of RV did you rent?
We rented a 5th wheel with the delivery option. It was delivered and set up at the campsite we reserved. 
What was the delivery process like?
The owner, Daniel, met us at check-in time and set up everything. We got see to how the leveling, slideouts, and complete hookups worked, which was both a nice educational experience and also provided peace of mind in case we needed to adjust anything during our trip. 
The walk-through was pretty easy since we weren't driving/towing anything. The owner showed us how the lights, awning, appliances, tanks, and control panel worked. We signed off on the departure form and then he took off.
What was provided with your rental?
The owner provided camping chairs, BBQ grill & tools, entrance mat/rugs – as well as everything we needed inside the rig (kitchenware, cutlery, glassware, linens, towels, etc). All we really needed to bring were our clothes and personal items. 
Where did your trip take you?
We stayed at Cava Robles RV Resort and spent the weekend exploring Paso Robles, CA – breweries, wineries and eateries during the day. In the evenings, we hung around the campsite – cooking over the open fire and enjoying smores. 
What were your kids' favorite parts of RVing?
Our son loved the campfire and s'mores of course! He also enjoyed having a "big bed" (sofa pullout) all to himself. He also really enjoyed turning on the awning/exterior lights and watching the slide outs/levelers when setting up the rig.
How was the check out process?
Sunday morning we wanted to get on the road a little early, so we called Daniel and let him know. We did a few things to get the RV ready for the return – standard cleaning of stripping sheets/towels, vacuuming, wiping down interior, and taking the trash out. Then we locked the rig and headed out!
Daniel texted later in the afternoon and confirmed everything looked good and that he had picked up his 5th wheel. 
How was communication with the RV owner?
Communication was great throughout the weekend – texts and calls, if we had any questions, were replied to very quickly. 
What did you like most about the trip?
It was a very easy, stress-free weekend trip for the whole family – especially with a 3-year-old!
Looking to take your kids on the road? Check out these posts to get started!