How Tos & Tips
Last updated on September 12th, 2023. Originally published on May 27th, 2021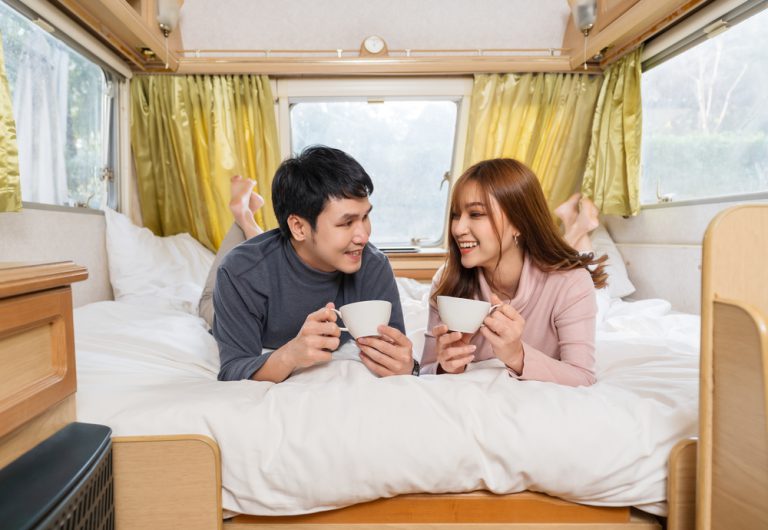 There's nothing like waking up in the great outdoors. Being able to step outside to greet the day immersed in nature is so recharging. The big question is – are you opening the door of your RV or unzipping a tent?
As you can probably imagine, we're partial to RV camping. We love having our home on wheels to retreat to after a long day of exploring. But don't just take our word for it! We'll walk through the key differences between RV and tent camping, so you can decide for yourself.
RV vs Tent Set-Up
For the quickest set-up, most tents will beat out an RV. The size of the tent can add more complexity and an extra set of hands may be required. But getting an RV set up isn't too hard once you get the hang of it! All that's needed is some basic leveling and hookups for water and electricity. (You can also get your RV delivered and set up to make it even easier!)
Flexibility
Flexibility and ease of loading and unloading will vary both on the tent and RV you choose. For instance, a campervan is typically much easier to move locations than a travel trailer, just as a tent for two is easier to pack up and relocate than a tent for a family.
RV vs Tent Comfort
As far as amenities go, RVs take the cake. Even with a small pop-up trailer, you will probably find it to be more comfortable than a tent. RVs have home-like amenities such as comfortable mattresses, whereas tents are more bare bones.
Temperature Control
Another source of comfort when going on a camping trip is the temperature. When tent camping, there aren't any temperature controls. RVs, though, have heating for cool nights, cooling for hot days, as well as an awning to provide shade.
RV vs Tent Safety
It's always important to be aware of your surroundings, especially when camping. With an RV, not only are you more protected from the elements and wildlife, you also have the ability to lock doors and windows to stay safe.
RV vs Tent Cooking
We love roasting marshmallows over a campfire, but cooking a full meal? Of course it can be done, but preparing food in your RV's kitchen is much easier. With a stovetop, oven, and microwave, you can cook up most anything you would at home, and being able to wash dishes in the sink is a major benefit, as it can be tricky to clean up when tent camping. Plus, being able to store food in a refrigerator and freezer is much more convenient – and less likely to attract any unwanted guests!
RV vs Tent Bathrooms
One of our favorite features about RV camping is the fact you have your own personal bathroom. No worries about having to wait for a shower or pay by the minute. Have to go in the middle of the night? Much easier making your way to the toilet in your RV than the campground's clubhouse.
RV vs Tent Storage
This one may be pretty obvious, but we'll say it anyway – RVs offer the best amount of storage. You can store clothing, cooking supplies, and other equipment in the RV itself or in external storage compartments. When tent camping, everything must be packed up each time it's used.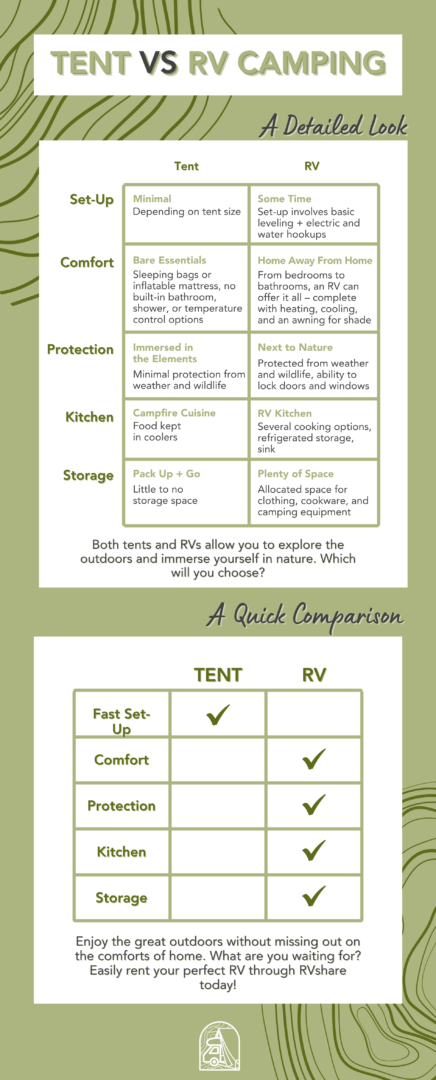 How to Get Started Camping
So which will you choose? For tent camping, you can get started by buying a tent and necessary accessories, such as a sleeping bag or air mattress. To start your RV journey, easily rent from RVshare! With thousands of options nationwide, you can find the perfect campervan, motorhome, or trailer for your next trip. Start your search here!