HVAC
Last updated on April 21st, 2023. Originally published on September 16th, 2019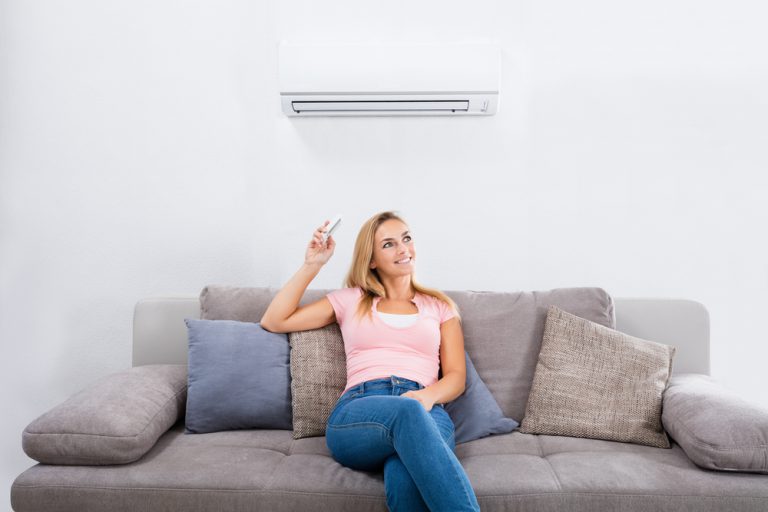 Taking the RV out on the road for summer vacation to experience all nature has to offer – well, if you ask us, there's nothing better. Seeing sights in an RV is the ultimate in comfort, but we all know that summer months can get a little hot. That's why it's important to have an RV roof air conditioner! It keeps your motorhome nice and cool, because there's nothing quite like entering a cool space after a long day spent enjoying the outdoors.
If you've ever spent any time in an RV, you know that motorhomes heat up quickly and easily without much effort. But adding a roof air conditioner for RV can feel overwhelming and the process of finding the perfect one is confusing. It doesn't have to be hard, though! Here's everything you need to know and consider before purchasing, as well as information about RV roof air conditioner prices.
First, as with most RV accessories and parts, it's important to consider the space you have. When choosing an RV roof air conditioner, you'll want to keep in mind that your rig may have limited space. In general, if a motorhome is tall, you can get away with low-profile roof mounted air conditioners for RV. If it's average or low height, you can purchase regular profile roof mounted air conditioners for RV, which can save money!
Don't forget to consider the exterior part of the air conditioner, too. If you can just squeeze your RV into the garage or space you keep it when not in use, you'll want to use a low-profile unit.
Next, you'll want to know if you need an RV roof air conditioner in ducted or non-ducted. A ducted-style air conditioner wires directly into your RV and uses a thermostat on the wall, much like your heating and cooling unit at home. A non-ducted RV roof air conditioner may use a remote for temperature adjustments.
Are you replacing previous RV roof air conditioners? Then you're safe to purchase whatever type your previous air conditioner was. If you are replacing ducted-style RV roof air conditioners, you may be able to use the same duct and wiring work as the previous unit, which can save time and money during installation.
RV air conditioners offer a wide range of BTUs, but the average is 15,000 bytes, which is designed to cool a space of roughly 10 by 50 feet or less. Before you purchase an RV roof air conditioner, make sure you're thinking about the BTUs and the ampage required – and remember – bigger is not always better! A newer RV roof air conditioner for sale may provide you with better cooling power with less amp usage.
You'll also want to think about how big your RV is. Many RVers have more than one RV roof air conditioner in their motorhome. It's important to think about where you are storing your RV and where you'll be using it most often. If the areas you'll be spending the most time in are warm places, you'll definitely need to invest in more than one air conditioner. If you're using more than one unit, you'll want to make sure to place one in the front of your RV and the other in the back, to keep the entire rig cool.
If you think you will be using your RV air conditioner sparingly, you can consider buying a unit that uses less than 13,500 BTUs, which can save some money. Otherwise, you will want to buy a unit that uses more than 13,500 BTUs, or as noted above, purchase several air conditioners.
Thinking you'll want to get the most out of your purchase? Consider an RV roof air conditioner for sale that also comes with a heat pump. It may be a more expensive purchase, over $600, but these types of RV air conditioners can cool your RV as well as heat it up – great for RVers who plan to travel throughout a wide variety of climates!
Not everyone loves these types of units, so it's important to review RV roof air conditioner reviews to determine if it will work for your motorhome and RV lifestyle! This is also an important task for all units or RV rooftop air conditioner for sale – RV roof air conditioner reviews can help you answer questions you may have or give important feedback you'll want to know.
Not sure what to expect or budget for RV roof air conditioner prices? In general, RV roof air conditioner prices vary based on a variety of factors, including: the style and type of the air conditioning unit, the amount of BTUs, whether they are a dual unit that can also heat and much more. Most RV rooftop air conditioners begin in the $200 range, but they can go up to $1,000 depending on the unit itself. Luckily, that means there's an RV air conditioner for every budget!
In general, purchasing a rooftop RV air conditioner is likely a purchase you won't regret. Here's to happy, and cool, camping!