RV Owners
December 4th, 2019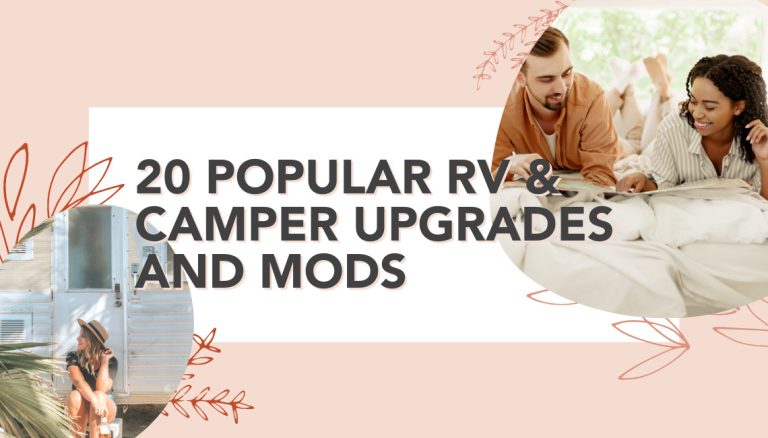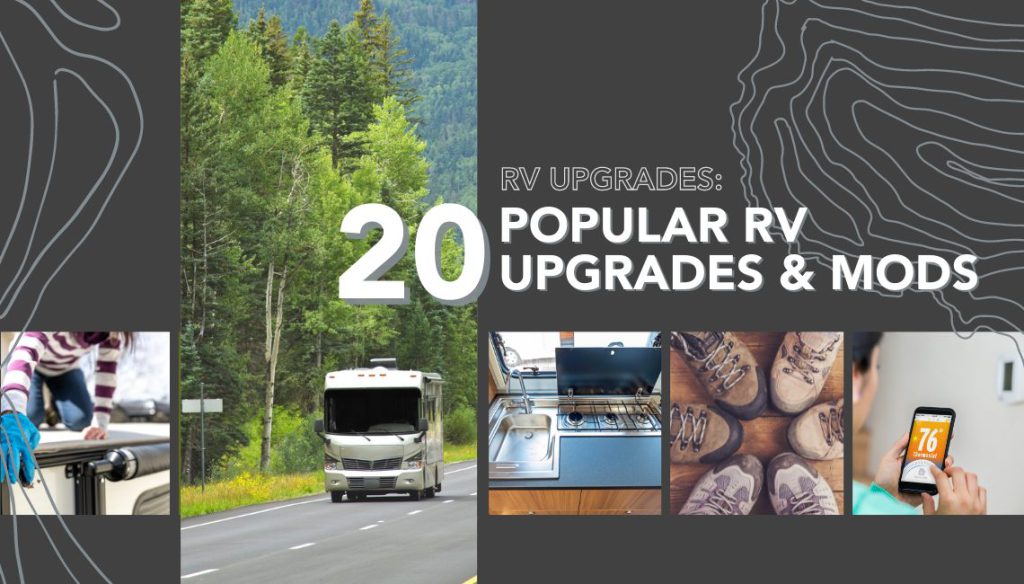 Brand new RV owner?
Congratulations! There's little that's as exciting as the feeling of bringing home your new baby. That said, as awesome as your rig may be and as many bells and whistles as it may include, chances are you'll soon notice a few little things here and there that could be better.
RV upgrades and mods (modifications) are very common in the camping community. In fact, one of the coolest parts of this style of travel is having the opportunity to make your RV into your very own home away from home. Whether it's major RV improvements (like adding a solar power setup) or more minor camper upgrades (like adding stick-on backsplash behind your kitchen or bathroom sink), here are some of the best RV upgrades we've come across.
RV Upgrades & Mods
Taking your motorhome or travel trailer to the next level doesn't mean you have to be an engineer. There are plenty of cool RV modifications that don't take very much time, energy, or money… and the ones that do require a lot of effort often pay for themselves over time.
Here are some ideas to help you get started on your RV improvements.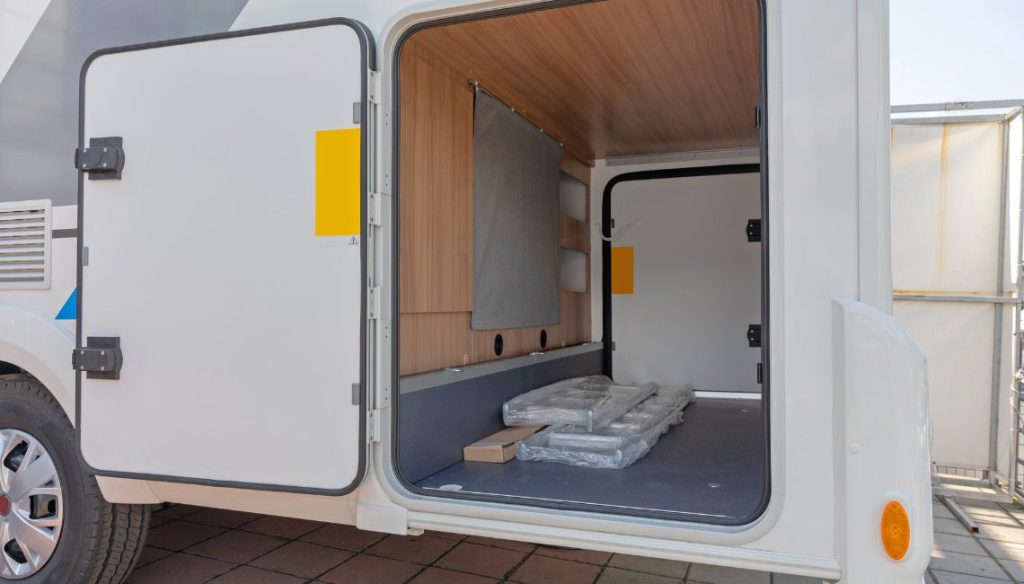 Most locks on RV storage bays are the same. If you have a key marked CH751, chances are your storage bay lock can be opened by millions of other RV owners with the exact same key.
Many campers store a variety of valuable equipment in their under-coach storage, from large recreational equipment like kayaks to day-to-day necessities that just won't fit up top. If you're security-minded, this RV upgrade is a no-brainer, and a great way to keep your precious gear safe!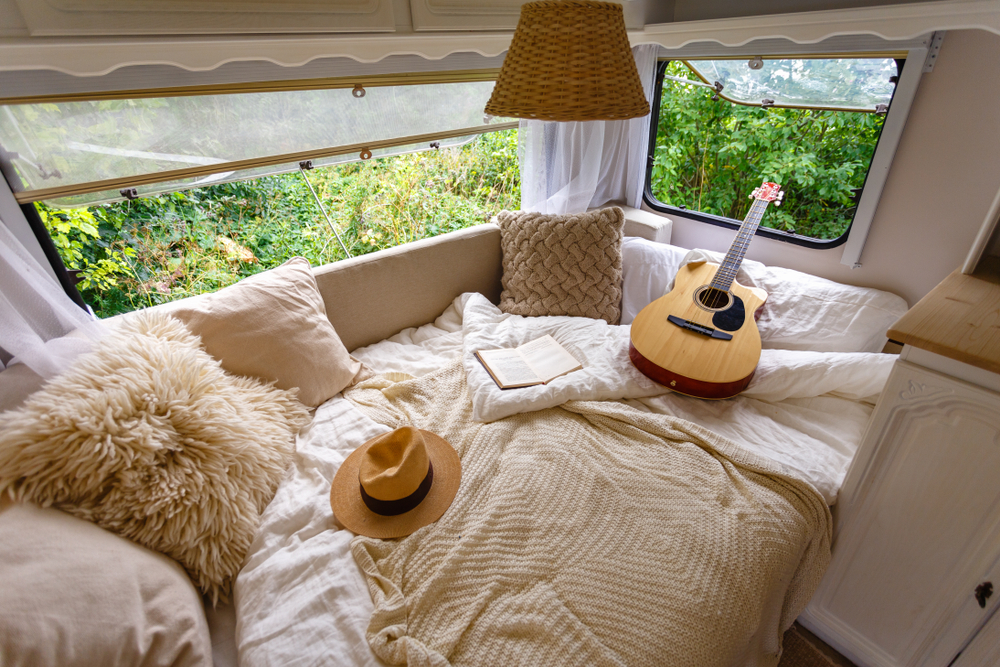 Imagine you walk into the most beautiful, high-class RV on the market. It's a 40-foot diesel pusher with five slide outs, complete with a bathtub and washing machine.
Chances are that even this rig, which likely cost you more than half a million dollars, still doesn't have a mattress you actually want to sleep on.
It's just a fact of RVing life that camper mattresses kind of suck. And since you spend a full third of your life asleep (hopefully), it can be well worth the investment to upgrade your mattress.
Just keep in mind that RV mattresses are not the same as standard mattress sizes, so you usually can't just order a standard queen and expect it to fit. Look for mattresses specifically geared towards RVs, which are often "short" sizes. Some companies custom make mattresses for specific types and styles of rigs; for instance, North-Carolina-based Southern Mattress Company has cornered the market on mattresses for Casita travel trailers.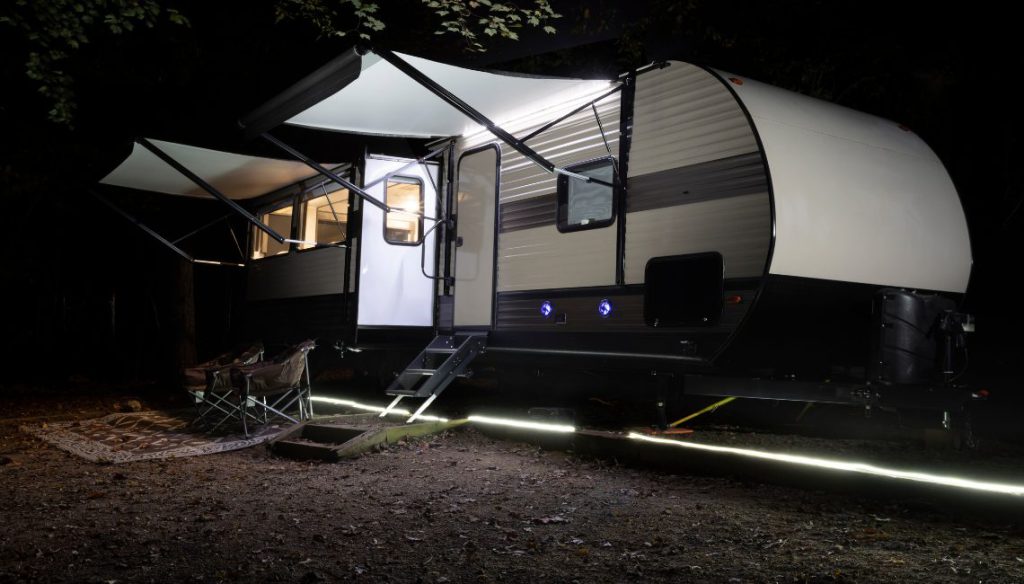 LED bulbs save valuable power, plain and simple. They also improve visibility, both in and outside the RV, are cool to the touch, and last far longer than any other type of bulb.
You can upgrade your interior RV lighting to LEDs, and also invest in LED awning lights to brighten up your patio.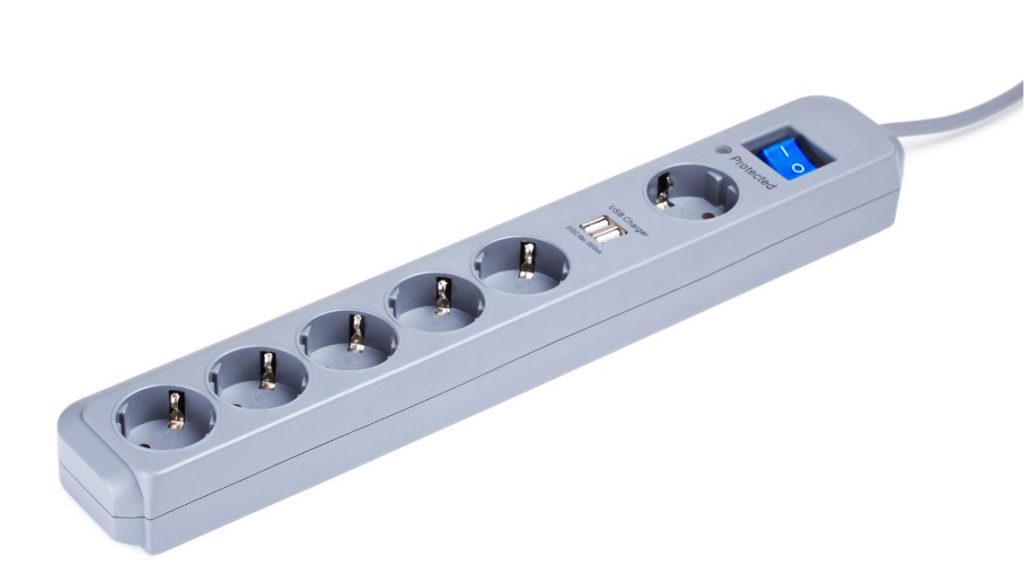 If you're computing on the road — which most of us are — surge protectors are a necessary RV upgrade. These handy little devices monitor the voltage coming into your RV when connected to shore power and automatically disconnect if high or low power is detected — which can keep your expensive electronics from frying.
Surge protectors are pretty affordable these days; you can get a pair on Amazon for less than $15. And in the long run, they are definitely much cheaper than replacing all your electronic appliances due to a power surge. And in RV parks, where shore power is sometimes intermittent, it's a really good idea to invest in this killer RV upgrade.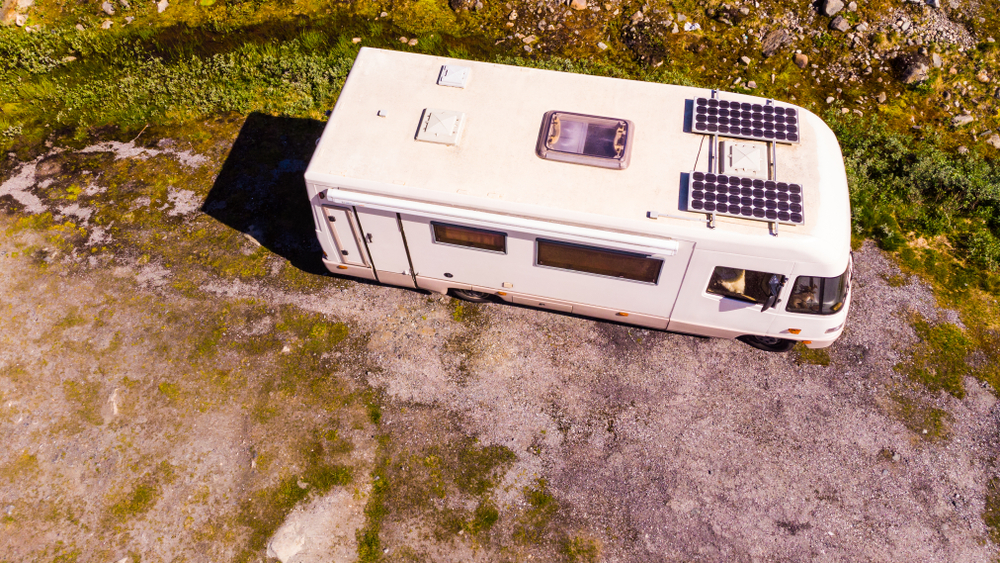 Okay, okay. When it comes to RV upgrade ideas, solar is one of the most common… and one of the most expensive.
But the good news is, the cost of solar systems is dropping every year. And for those who prefer to RV off the grid, or at campgrounds with no hook-ups, solar power is an investment well worth making. Not only is it better for Mother Earth, but you'll have to deal with fewer toxic fumes and less noise than you would with a generator!
Just keep in mind that installing solar isn't as simple as slapping some panels on the roof of your RV and setting out. You'll need a solar charge controller to send the power your panels make to your RV's battery, and an inverter to transform it into the kind of power your RV can actually use. (For full details on setting up your RV for solar, click here.)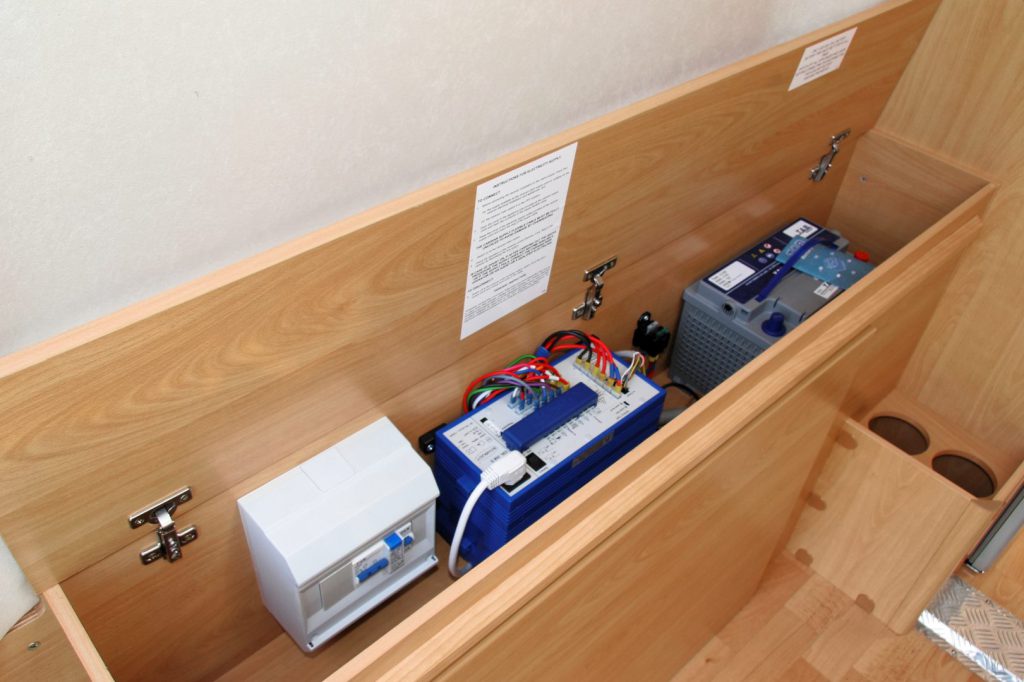 Your RV's batteries are pretty darn important. Without them, you won't be able to run any of the appliances that make living on your RV feel like home.
Many campers eventually upgrade to lithium batteries, because they're easier to take care of and also boast a longer lifespan. Lithium batteries are definitely more expensive upfront, but if you're looking for RV upgrade ideas that will make your life easier in the long run, investing in these batteries is definitely up your alley.
Click here for more information on RV battery care and maintenance.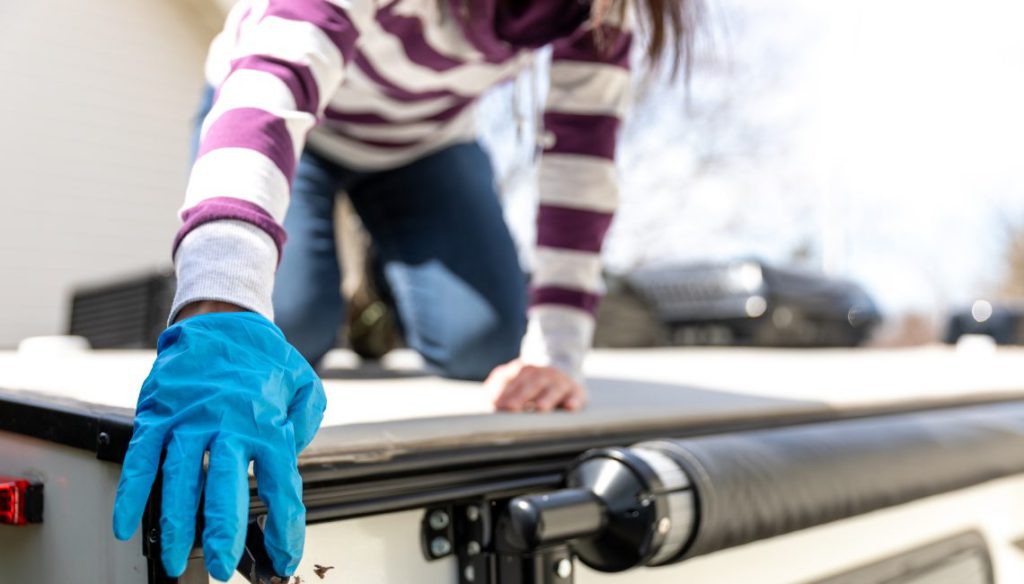 A leaking RV roof can cause thousands of dollars in damage — in fact, water damage is what comes for most RVs in the end! It may also cause physical health problems due to the mold that grows when moisture leaks in. A helpful upgrade is to improve the seals on your roof with a product such as Eternabond tape. It's inexpensive, easy to use, and could save you a lot of money in the long run.
Another option (and a good idea for all RVers, really) is to reseal your RV roof with a product like roof coat. This finish helps keep your RV's roof UV-resistant and waterproof — but be sure you use one that's compatible with your RV's roof material, which may be rubber, aluminum, or fiberglass.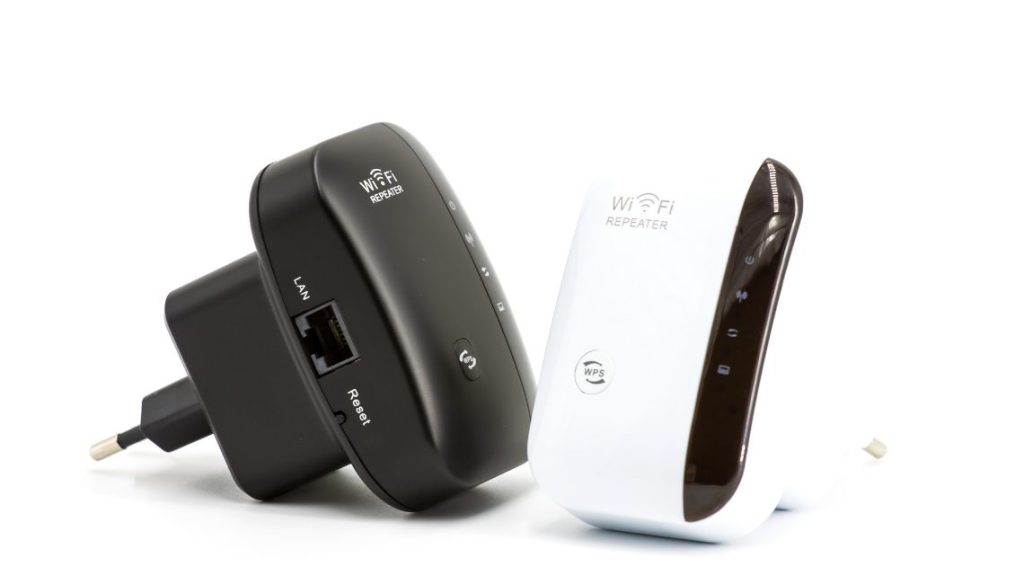 It happens so often. The campground advertises "free Wifi," but you arrive and set up camp only to realize the Wifi may be free, but it's pretty much unusable. After all, they're trying to host upwards of a hundred devices on a single connection, and a campground is usually a pretty big place!
A Wifi repeater system helps you improve your chances of making a connection, which can help you make the most of a distant network and improve speeds. An internet connection is pretty much non-negotiable these days, so you'll be grateful you made the upgrade!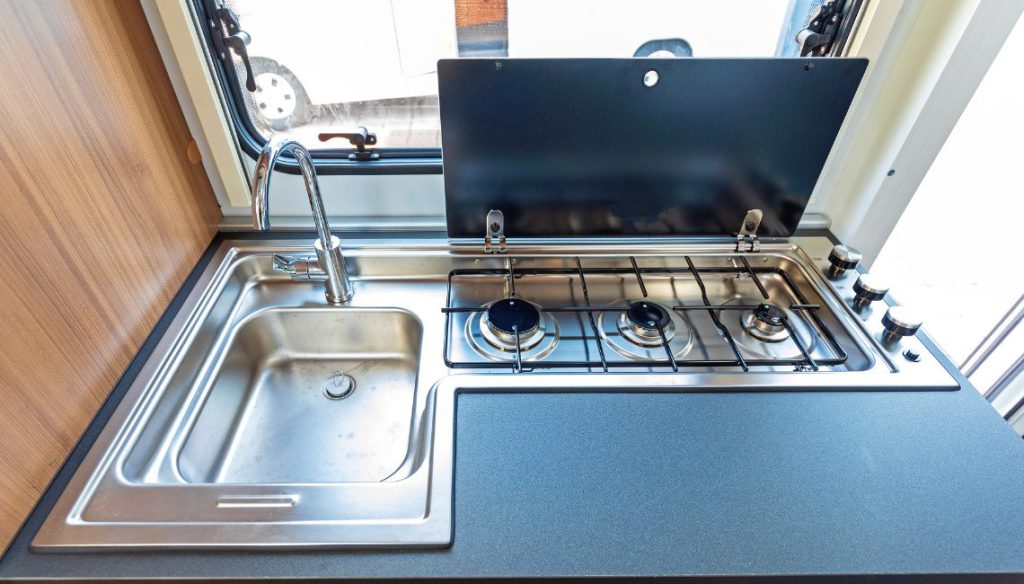 If one of the reasons you were excited about your RV was the opportunity to cook on the road, you may find yourself discouraged with your current setup… particularly if you're in a smaller motorhome or travel trailer. Although the kitchen may have many of the appliances and fixtures you're used to at home, they're all crammed into a pretty darn tiny space… which makes the actual "preparation" phase of the meal into a chore.
That's why we love the very simple (but very cool) RV upgrade/modification that is Camco's RV stove cover. It comes in both a sturdy metal and a handsome wood version, and either will extend your chopping and dish-drying space when you're not using your burners.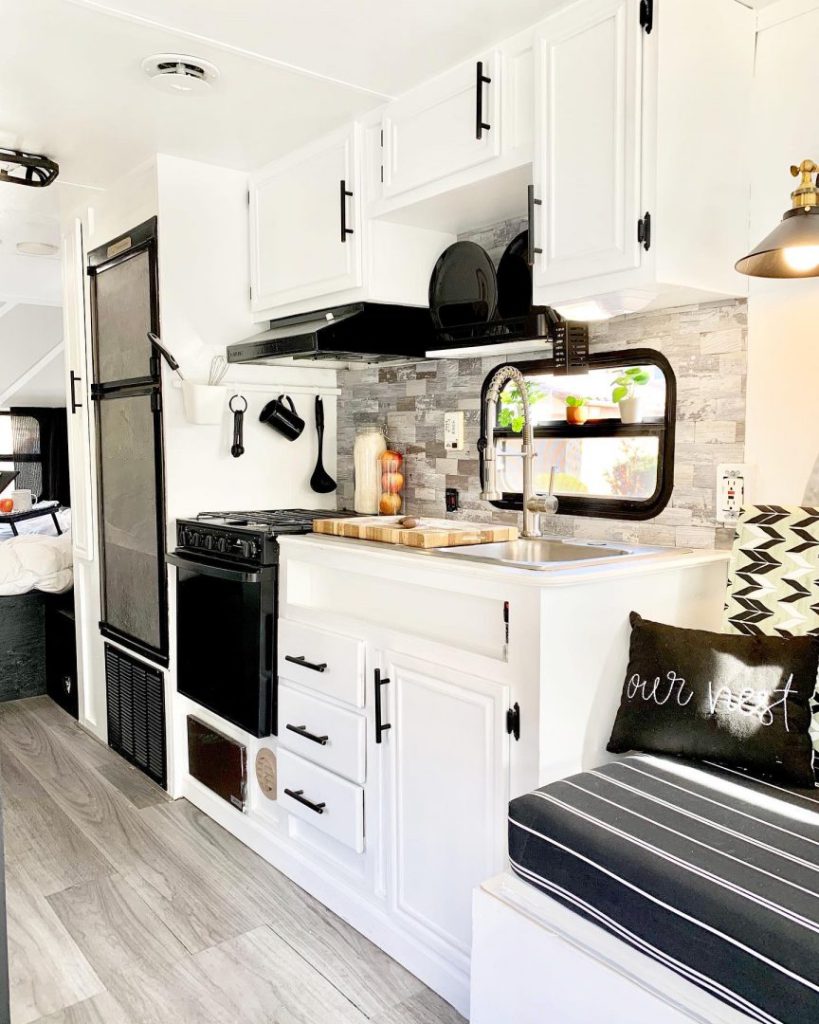 Want to give your RV kitchen or bathroom a little bit of oomph — but don't want to mess with grout?
Stick-on backsplash to the rescue! This easy-to-use product can help you give your RV's interior a facelift in no time, and you can even clean and disinfect it the exact same way you would normal tile. Plus, since it's so affordable and easy to use, if you decide you get sick of it and want to change it sooner than later, it's no problem!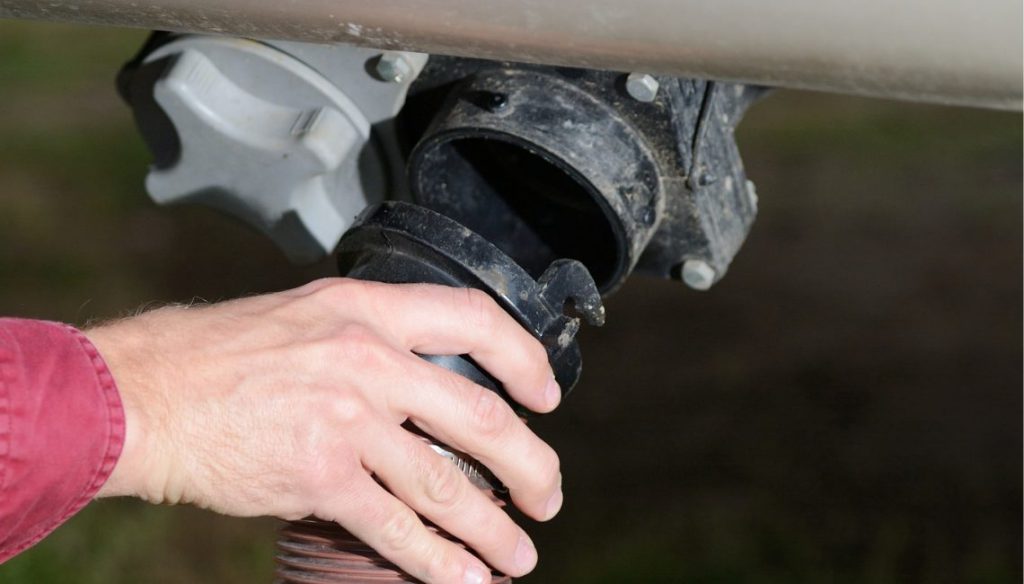 All RVers know to tightly close the waste valve after dumping the tanks — and if they don't when they start, they figure it out REAL quick!
Unfortunately, sometimes the valve may not seal properly, try as you might, and the next time you open the valve, a dribble of nasty water flows out. Yuck!
This problem can be negated by installing an extra waste valve. Simply twist it onto the end of the pipe and the problem is solved.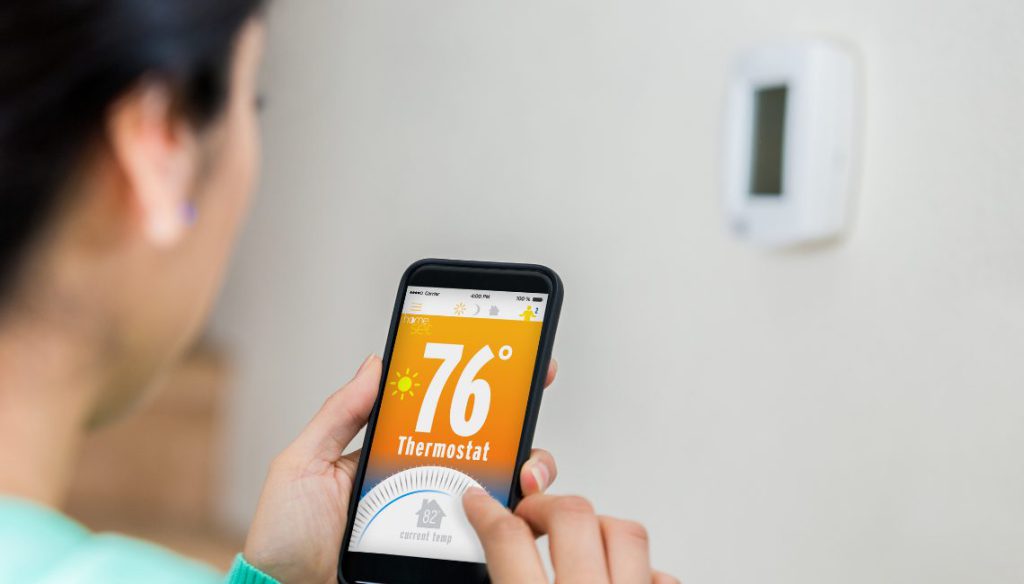 A smart thermostat will give you more precise temperature control than the manual slider control thermostat that comes standard in most RVs. You'll have the ability to monitor and change the temperature in your RV, right from your smartphone — something you'll be thankful for when you're headed back to your site from a hot or chilly day of adventures. Always double-check your user manual to ensure your thermostat will fit and work with your HVAC unit!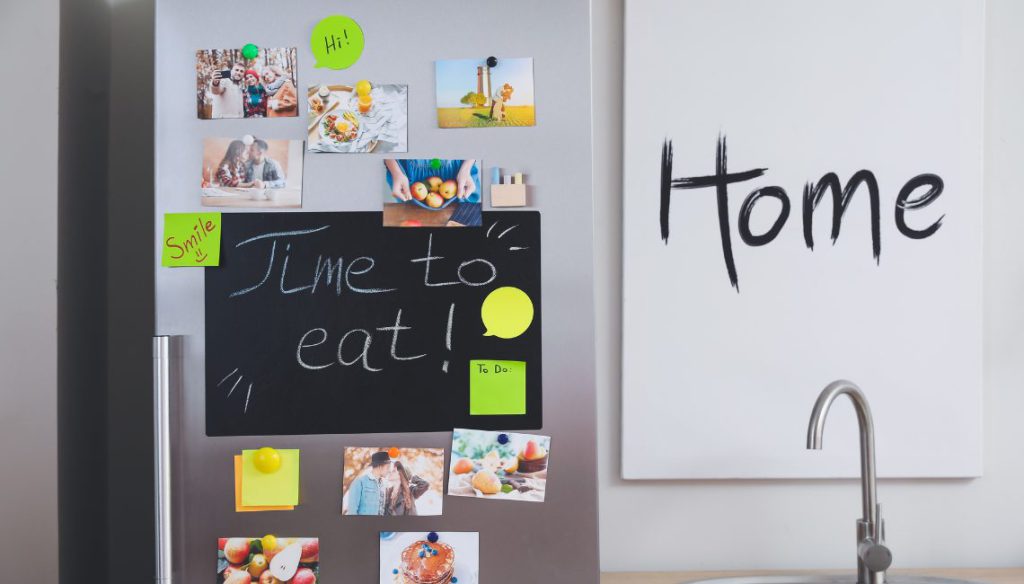 We got this great idea from the folks over at The Wandering RV, who have tons of fantastic ideas for RV modifications and upgrades! If you travel with family (and by "family," we mean "small children," you may know the pain of attempting to keep them from coloring all over the walls. Using chalkboard paint can transform your RV refrigerator into a creation-safe zone, and make for a fun and easy way to leave notes to yourself as an adult, too!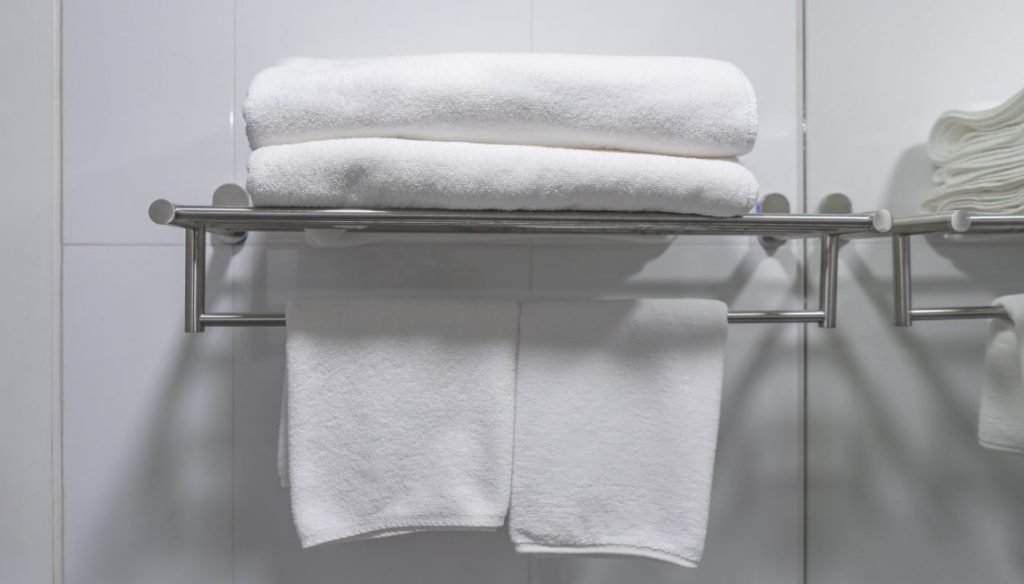 With all the decor choices that manufacturers make when designing an RV, you would never imagine a towel and shower rack would be an RV upgrade. Yet somehow this necessary item is often overlooked. Towel racks can be found at most home stores, as well as places like Camping World or Ikea. This modern design is small enough to fit on the back of most RV bathroom doors (but always measure your unit first!)
After spending a week or more traveling in an RV, you come to realize the biggest thing missing in terms of storage is a place to put your shoes! The usual method ends up being a pile of shoes either inside or outside the RV. If you can find an empty space, or even cabinet, make a simple shoe rack for dedicated shoe storage. This bedskirt organizer makes it easy, as you can install it along the perimeter of your master bed.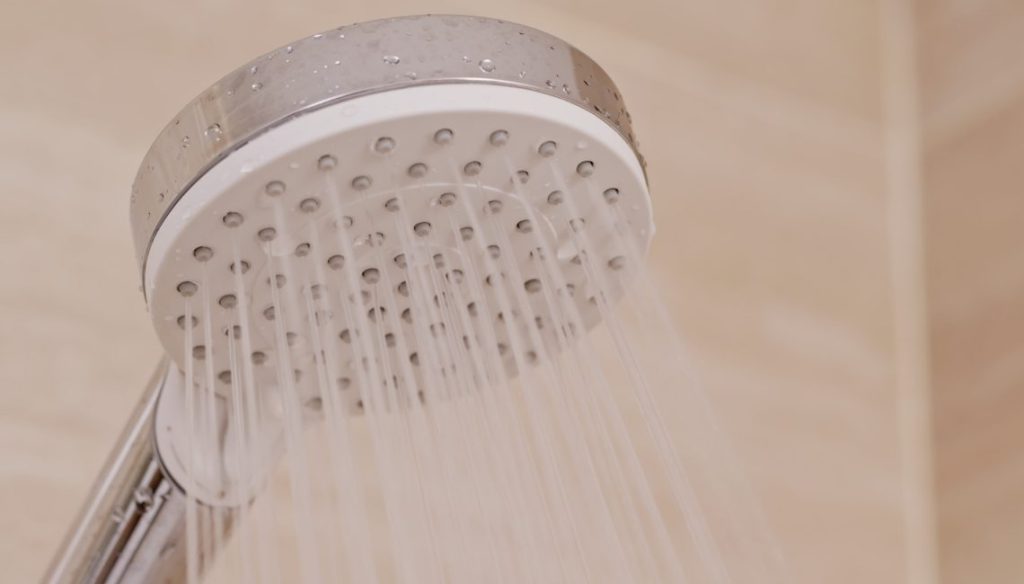 Aside from the iffy mattress, another common complaint heard from RVers across the globe: the water pressure in the shower just isn't that great. (It can be especially frustrating if you're someone with long, thick hair you're trying to wash… or an adventurer who needs to scrub the dirt from her calves after hiking!)
Fortunately, high-pressured RV shower heads are one of the easiest (and best) RV mods available. It'll cost you less than $20 on Amazon, and along with making your showers better, it also helps you save water!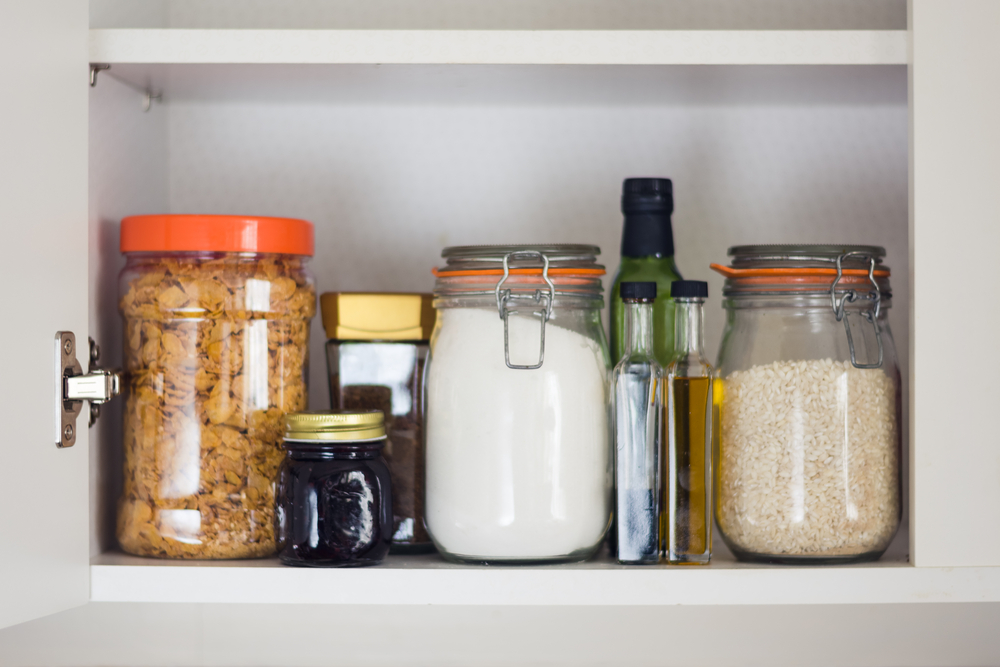 If you have a deep pantry, it doesn't matter how your house lights are set up — chances are it will be dark in there. Install a simple light inside the pantry to make life easier. Consider a battery-operated light that requires no wiring, or a motion detected light that automatically comes on when you open the pantry door. These stick-on LEDs from Amazon work great!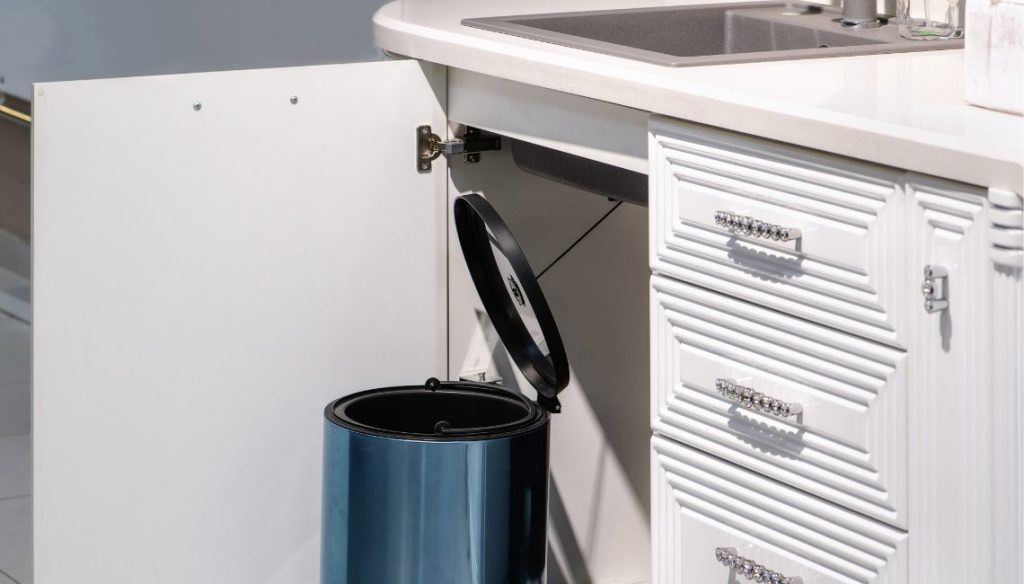 You have to create garbage during the course of your day… but that doesn't mean you want to see it. (Or smell it!)
Along with keeping your interior more inviting, a hidden cabinet garbage can also free up valuable floor space, which is at a premium in even the largest RVs. Simple models that hang on the cabinet door are the easiest and most affordable to install.
Another great method is to store your garbage can in your shower (when no one's using it of course). You can also use a collapsible laundry hamper as a trash bin for your campsite. Then when you're done, just pop it down and tuck it away.
Tall cupboards and walls often end up being wasted space. Install a few wire shelves or baskets to utilize this space for items such as towels, plastic dishes, or clothes.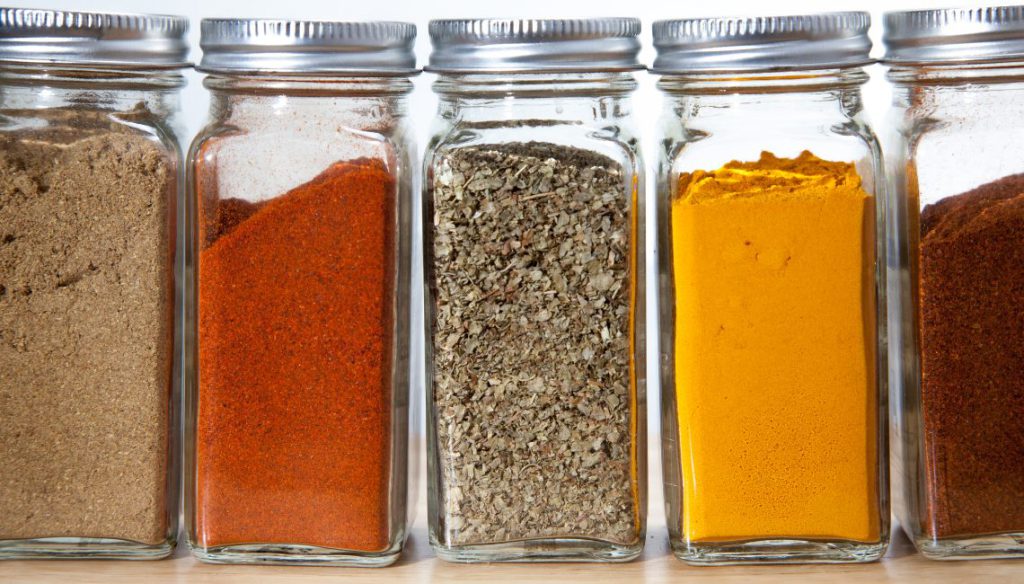 If you're a gourmet, you probably use more than the standard salt and pepper. But keeping all those delicious spices at hand can be a pain in the neck, especially when your kitchen has a habit of picking up and moving!
These cabinet spice racks are easily installed on the inside of a kitchen cabinet, holding the jars tight and sturdy and ensuring they don't roll around. They also make sure that everything is easy to see, so you'll never have that problem where you accidentally buy two canisters of apple pie spice or cardamom. Winning!
Final Thoughts
Having the right RV upgrades and mods can really go a long way towards transforming your vacation. It's a whole lot easier when your day-to-day life is… well… easier! Which clears up your energy and time for the stuff that really matters: having fun.
Speaking of having fun, now that your RV is all geared up and ready, click around to some other RVshare pages to help you get started concocting your next adventure. Check out these articles for more RV tips and tricks:
We also have comprehensive guides to the U.S. national parks, details on the best state parks, and tons of other great blog posts to help you brainstorm your next road trip itinerary. (Here are just a few!)
Happy (well-equipped) camping!
This post contains affiliate links. RVshare may receive compensation if you make a purchase after clicking on a product link.