RV Diesel Generator – Read This Before Buying or Fixing One
Generator
September 17th, 2019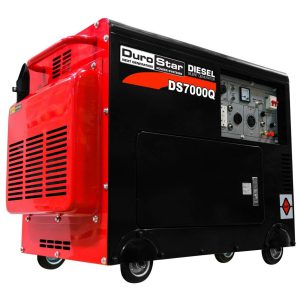 You'll likely want an RV generator when you travel. They're very useful when you want to run your air, or TV, or even your coffee maker…but aren't connected to shore power. A good RV generator can mean the difference between a pleasant, comfortable trip and one that is less so. Here are a few things to know when considering an RV diesel generator for your rig.
RV Generator Fuel
Generators for RVs run on one of three kinds of fuel:
Diesel fuel
Liquid propane
Gasoline
Liquid propane is about 10% less efficient than the other two, but it has a very long shelf life so you can use it after a year of inaction and not have any problems. Gasoline is easy to find and efficient, but it burns quickly.
Finally, if your RV runs on diesel, you'll likely want a diesel RV generator as well so you don't need to keep two different kinds of fuel on-hand. Also, diesel burns cleaner than gasoline and produces more power than propane.
What Kind of Generator To Buy
Not all portable generators are the same. In fact, a small, portable generator made for your home use won't necessarily be the best choice for camping with an RV. Look for a portable diesel RV generator specifically made for motorhomes or travel trailers. Your installation and set-up will be a lot easier with a unit that was designed for an RV.
Another thing to consider when looking at portable RV diesel generators is how much power you'll need. This will depend on the size and model of your motorhome as well as the draw rating of the appliances you plan to run. A smaller trailer with a lower BTU air conditioning unit won't require as big of a diesel RV generator as a larger rig.
The amount of fuel your RV generator uses is going to depend on how much power you draw and how much you run it, but a good rule of thumb when you're running your air conditioner is to plan on slightly less than a gallon an hour. This means you want to be sure to turn it off when you're not using it!
Which Diesel Generators Are Highly Recommended?
As we discussed, you're going to want to consider things like how much power you need to run your appliances and how much room you'll need for your generator – but these models get great reviews:
The Cummins Onan 6HDKAH-1044 120v Diesel RV Generator
The Kipor Power Systems KDE5000TA Powered Portable Generator
The ProSeries Portable Diesel Generator
How To Start a Diesel RV Generator
Starting an RV diesel generator is usually pretty simple, though it will depend on the generator you have. Usually, nowadays you only have to push a button…but be sure to read the owner's manual or ask a sales clerk ahead of time if you're not sure about the process.
Diesel RV generators can be very useful when you're already driving a diesel-powered rig…and they burn cleaner than regular gas as well! With a little research beforehand, you can be sure to purchase the generator that will best suit the needs of your RV or camper.
This post may contain affiliate links.