How Tos & Tips
Last updated on June 13th, 2023. Originally published on May 8th, 2019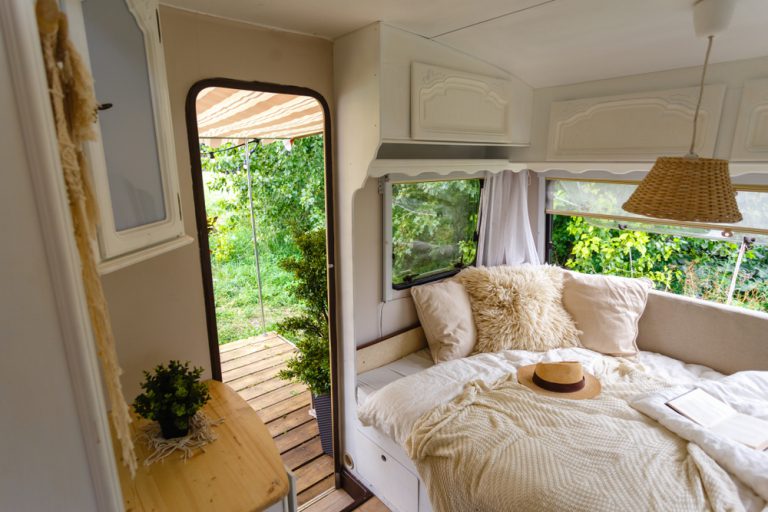 Maybe you've just purchased your first RV or you've decided it's time your trusty travel trailer got some well-deserved updates… one thing's for sure: renovating, redecorating, and repairing your rig can quickly rack up a pretty penny of a price tag. Professional remodeling services and mechanics' fees aren't exactly renowned for their affordability, and that's if you're lucky enough to find a service that isn't out to get you.
Fortunately, there's a simple solution. You can save time, money, and even have a little bit of fun by taking matters into your own hands.
From cute-yet-clever, space-saving storage ideas to surprisingly-simple renovations to basic, user-friendly repairs, here are some of the best DIY ideas for RVers to make life on the road easier, cleaner, and overall happier!
DIY RV Room Decor & Organization
Sometimes, all you really need to totally transform your rig are some relatively minor decorative upgrades. A new set of window trimmings, a quick reupholster of your dinette set, or even just some throw pillows and an oil diffuser can go a really long way.
That said, there are a few DIY RV crafts and decor ideas that are so smart and simple, you don't have to be a creative wizard to do them.
Here are some of our favorites:
1.) DIY PVC Pipe Toothbrush Holders
It's a common problem amongst RVers: you've got lots of toothbrushes, and only a limited amount of bathroom storage space. Plus, ideally, you don't want them just rolling around in your cabinet… you do put them in your mouth, after all. That's why we love Crafting in the Rain's adorable PVC pipe toothbrush holders. Each holder is customized with the toothbrush owner's initial, so you never have to worry about accidentally using someone else's (ick). Plus, this relatively simple craft requires few materials and can easily be done as a family. Kids can design their toothbrush holders and decorate them to their heart's content using washi tape and stickers.
2.) Custom RV Bathroom or Kitchen Backsplash
A beautiful backsplash can transform even a drab kitchen or bathroom into an opulent oasis… and you don't have to worry about tile and grout to make it happen. Thanks to the super-simple, self-adhering peel-and-stick backsplash, you can jazz up your RV's counter-spaces almost instantly. (What's more, they're cheap and easy to clean! Don't you wish every renovation project were this easy?)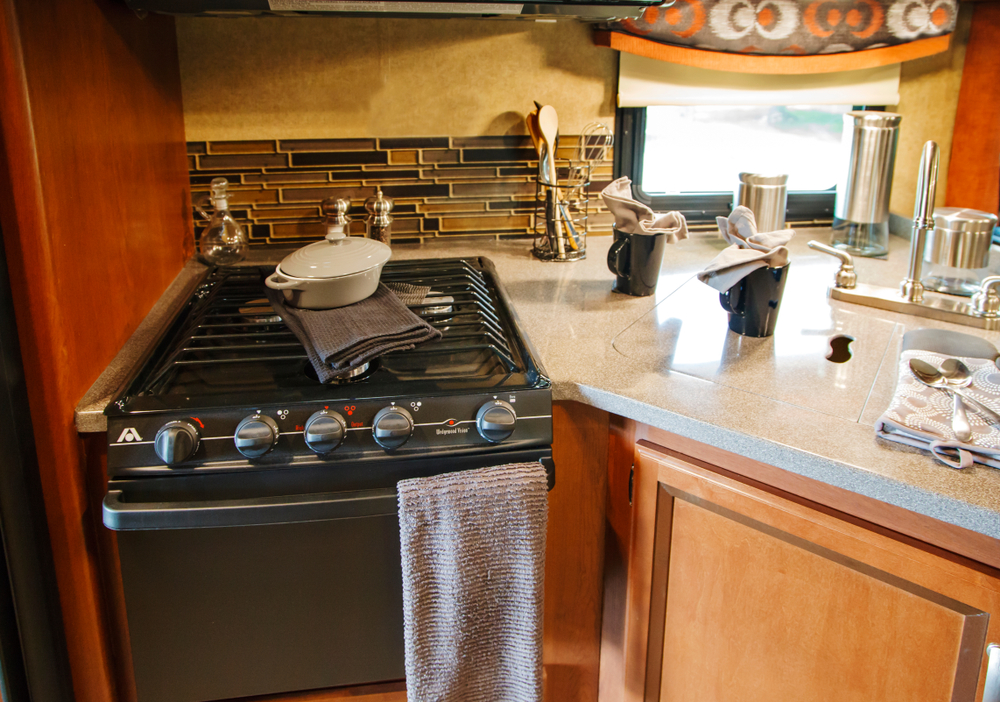 3.) RV Trash Can
RVs can be cramped, and standard-size household items rarely fit where you want them to. Need a trash can? Try using a dry food container that will fit snugly into a small space. Simply add a trash bag and you have an instant trash can. A collapsible laundry basket can also make an easy campsite garbage can. (Just be mindful not to leave this outside at night if you're in bear country!)
4.) Repair Wood Veneer
If the wood veneer in your RV has loosened over time, all you need to repair it is some wood glue and an applicator. Simply squirt the wood glue into the damaged area using the applicator and push the wood back on. You may have to use a clamp or some tape to hold it in place while it dries.
6.) Need to Dry Some Laundry?
Plan on doing laundry while out on the road? Hang a tension rod in the shower for a convenient place to dry your clothes. This can also act as extra storage!
7.) Hold curtains in place with velcro
8.) Use command hooks to hang curtains
Curtains not only make the interior of an RV feel cozy, but they also serve many practical purposes. Privacy curtains near the RV bed, light-blocking curtains in the living room, and towel bars in the bathroom are all practical uses for curtains in RVs.
But what if you want to hang those curtains without adding extra holes to your RV walls?
Try Command hooks with removable sticky backs. These ingenious hooks come in a variety of sizes rated for different weights. Simply stick the hook on the wall, slide the curtain rod over top, and there you have it.
9.) Update your RV floor with stick-on vinyl flooring
Does your RV suffer from old, outdated flooring? Simply cover the old with peel-and-stick vinyl floor planks. This easy-to-install product can be easily cut with a utility knife.
10.) Hang shoe organizers for more than shoe storage
Got some shoe organizers but don't know how to use them? Cut them up and use them around your bed.
Or use a shoe organizer for your outdoor cooking supplies, in closets, or in behind the bathroom door to keep things neat and organized.
11.) Hold items in place with non-slip liners in your drawers and on your shelves
12.) Improve safety at night with motion-sensing light strips on your steps
13.) Install new interior lighting
RVs can sometimes feel dark with standard lighting. You may want to get rid of existing lighting and replace it with some lighting fixtures like dimmable wall scones in place of traditional reading lamps next to the bed.
14.) If you have a toy hauler, convert the garage
A toy hauler garage not only functions as a way to haul kayaks, ATVs, and more, but it also makes for the perfect blank slate for you to DIY your own custom room. Turn the garage into an office space, a playroom or school room, a craft room — whatever you'd like!
15.) Accent Wall
Add some character to your RV with an accent wall. You can do this with peel-and-stick wallpaper or get even more creative with tile or wood designs.
16.) Cutting Board Sink Cover
Most RV sinks have covers that slide over the top while you're driving down the road. These covers are great because they not only create a covered in-sink storage area, but they also serve as extra counter space. But what if we took that concept one step further?
What if, in addition to a storage lid and extra space, the sink covers also doubled as cutting boards? Brilliant right! This simple DIY requires nothing more than a simple piece of high-density plastic and a hack saw to cut it to size. For detailed instructions, take a look at this article on rvtravel.com.
17.) Bungee Cord Plate Rack/ Cabinet & Drawer Holders
Plates are probably one of the biggest space hogs of all the kitchen items in your RV. When stacked flat they take up a large amount of space on the bottom of the cupboard, while leaving extra wasted space above. Even worse, they sometimes don't fit flat in our tiny RV cupboards.
There's got to be a better way! Why not try going vertical? When stored vertically, plates take up less space on the bottom of the cupboard, while at the same time leaving no wasted space up top. It's easy to make your own DIY Plate rack. All you need are small bungee cords and metal cable clips.
Head on over to watsonswander.com for a quick tutorial.
Bungee straps can also be useful for securing cabinets to keep them closed while traveling. The 3-inch loops with a ball end are useful for cabinet doors, and the ones with hooks on the ends are great for drawer handles.
18.) Propane Quick Connect for Grill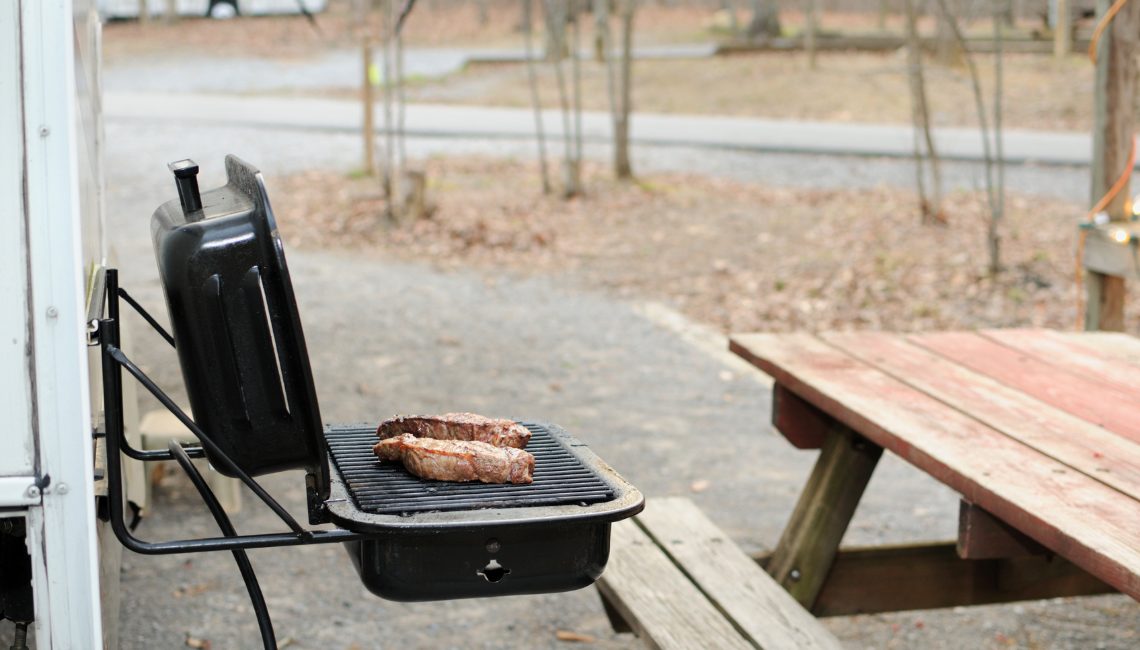 Portable grills and RVs go together like…well, like hamburgers and hot dogs, or marshmallows and chocolate, or corn on the cob, and…you get the idea. The problem is that a portable propane grill needs a fuel supply. Your choice is either to lug around an extra full-size propane cylinder or spend a ridiculous amount of money on those small, non-refillable canisters. 
Wouldn't it be easier if you could simply tap into the onboard propane tanks you already carry on your RV? Well, guess what? You can do just that. With a few basic items, or with the simple purchase of a kit, you can create a DIY solution to this problem.
Take a look at both this article for DIY instructions and this video for directions on how to modify your grill for an existing RV propane quick connect.
19.) Chalkboard Refrigerator
RV Refrigerators can be, well… kind of boring. Most older RV fridges are constructed of wood laminate that is not only ugly but non-magnetic, which makes decorating a pain.
One awesome solution to jazzing up the fridge (and turn it into a useful space at the same time) is to cover it with a roll of chalkboard vinyl or paint. The vinyl comes in a large roll that you simply cut to size and adhere to the front of the fridge. Or you could buy a jar of chalkboard paint from places like Amazon or any craft store and apply a coat to your fridge (or wall!). Presto! You now have a chalkboard surface where you can write notes or keep lists. Practical and good looking!
20.) DIY Counter Top Extension
This flip-up countertop extension gives you extra space when you need it, and folds down out of the way when you don't. Lovethatrv.com provides easy to follow instructions for making a DIY countertop extension.
21.) Towel Rod for Storage
 Use hooks to hang items from a towel rod such as cosmetics, kitchen utensils, or even decor.'
22.) Electrical Adapter Mounts
Keep electrical adapters organized by mounting them.
23.)  Peg Board 
Use peg boards to hang kitchen items like pots, pans, and wine bottles.
24.) Shower Caddies for Tackle Boxes for Kid's Items
Use shower caddies or tackle boxes to hold and organize activities and snacks for the kids while on road trips.
25.) Floor Mats or Yoga Mat
Place foam floor mats or a yoga mat under your bunk mattress for insulation and comfort.
26.) Wine Bottle Sleeves
Protect your wine bottles while en route with mesh sleeves. If they knock together, they won't break.
27.) Clothespins
Most people realize the benefit of keeping duct tape in their rig, but what about clothespins? They can be used for laundry, chip clips, and even securing trash bags.
28.)  Clothesline
Keep some clotheslines handy as well. You can use it to assist with laundry, hang wet towels and swimsuits, and tie cabinets closed when in transit.
29.) Drink Koozies for Glasses
If you've ever broken drinking glasses while traveling, this one is for you. Slide koozies over them, and place them back in the cabinet to keep them nice and safe.
30.) Use an Oxygenics Shower Head to Increase Water Pressure
Replace your shower head with a low-flow, high-pressure Oxygenics Shower Head. This ingenious product mixes air into the water as it sprays out, providing you with a great shower while saving water at the same time.
And of course… good Ol' Paint, Fabric, and Elbow Grease!
Not every DIY project has to be about stripping your RV down to its bones and starting fresh. In many cases, simply sanding down your cabinets and slapping on a fresh coat of paint — or grabbing a bolt of fabric and getting busy with your sofa or dinette set — can have a huge impact on your RV interior's overall feel.
Other Insanely Genius DIY Camping Hacks
If you want to have a trouble-free, relaxing RV season, grab a notepad and keep reading. The DIY camping hacks below will show you how to make the most of your camping experience!
1.) Panty Hose Soap Holder
Don't drop the soap! Throw a bar of soap into an old pair of pantyhose and tie it on a tap. This simple camping hack will keep your soap clean and prevent you from transferring germs.
2.) Homemade Tank Cleaner
Mix a cup of dish soap and ½ cup of Calgon water softener to create an effective, cheap waste tank cleaner.
3.) Keep Addresses and Contact Phone Numbers Within Sight
Get a dry-erase board and stick it somewhere convenient. Write down the name, site number, phone number, and address of any campground you stay at as soon as you arrive there. In case of an emergency, having this information readily available for emergency crews will help them get to you faster.
Additionally, you can use the dry-erase board to post a checklist of things to do before heading out, a grocery list, or the Wi-Fi password.
4.) Use Square Containers
Purchase square containers for storing items in your RV. They stack better than round ones that bump into each other and waste space.
5.) Soap and scented dryer sheets can help keep mice away
Are there mice near where you are camping? Keep Irish spring soap and/or scented dryer sheets in your RV. Mice don't like how these smell!
6.) Save Your Condiments
Condiments come in handy when camping, so don't throw them away when you get takeout. Save them in a little container and take them while on an RV trip. They take up a lot less space than full-size containers.
7.) Use pet flea collars to keep wasps away
Got wasps? Cut up some pet flea collars and place them around your propane tanks. Wasps love the smell of propane… but not flea collars!
8.) Pool noodles prevent head injuries
Cut a foam pool noodle lengthwise and place it over your awning rail. Trust us, your forehead will thank you!
9.) DIY Bug Spray
This is a super easy-to-make, all-natural bug spray that works surprisingly well. Just mix ½ cup witch hazel with ½ cup apple cider vinegar, and 40 drops of essential oils — use a mix of any of the following: eucalyptus, lemongrass, citronella, tea tree, or rosemary. Keep this in a spray bottle and use it to spray your clothes and camping gear to keep pesky ticks and mosquitoes away.
10.) Make a Mason Jar Solar Lantern
For lasting outdoor fun even into the night, one of the best ways to light up your campsite is with a table lantern. And the best kind of table lanterns are those that run on solar power.
Rather than go out and buy an expensive solar lantern, why not make your own? With just a single-dollar solar light, a mason jar with a lid, and some double-sided sticky tape, you can make your very own solar lantern. Let the experts over at Instructables show you how.
11.) Use a Cordless Drill to Deploy Rear Stabilizers
If you have a travel trailer or fifth wheel without electric stabilizer jacks, then you are familiar with the chore of hand cranking them up and down. An easy solution is to use a rechargeable cordless drill. Simply attach a socket extension that fits your stabilizer jacks. Plug the socket into the jacks and let the drill do all the work.
12.) Pine-Sol for Flies
Keep flies away by wiping down awnings, tables, and counters with a 50/50 solution of Pine-Sol and water.
13.) Install a Clear Sewer Pipe Elbow
By installing a clear elbow at the end of your sewer hose, you can prevent a lot of potential problems. Seeing what's going on in your hose allows you to check for undissolved toilet paper (in which case you might want to switch brands), to know ahead of time if a clog is about to happen, and to have visual confirmation that the tank is done emptying.
Pinterest Crafts
One great way to source inventive new ideas for DIY RV projects and camping hacks? Check out Pinterest! There are so many boards full of clever ideas, masterminded by innovative RVers just like you. We especially love the idea of stashing rolling storage containers under your dinette set or adding extra shelves in your kitchen and bathroom to instantly increase your storage space. Plus, many of these projects can be done using pre-fabricated, purchasable items… no need to get out the hand saw or take a carpentry class.
You can start sourcing creative DIY RV projects simply by searching Pinterest itself for terms like "DIY RV interior" or "RV redecoration." Once you find some ideas you like, you can even create your own board so you'll have those resources readily available for you to refer back to — and eventually, even try some yourself!
In the meantime, though, we've put together a list of a few of our favorite existing Pinterest boards to get you started. Check out the following for inspiration (and plain old eye candy):
RV Redecorating is full of both super-simple solutions (like installing command hooks) and slightly more work-intensive redecoration ideas.
RV Obsession's RV Renovations board will help you find ways to get your camper into ship shape, no matter your handiness skill level, or budget.
Mountain Modern Life, a blog run by full-time travelers Katie and Eric, is already an awesome resource… and what's more, they compiled some of their best DIY RV tips and tricks into a Pinterest board called RV Life. We love their rust-chic sense of style and their commitment to following their wanderlust and experiencing all the wonder life has to offer… and we're pretty stoked to try out some of the tips they've pinned, too.
Even More DIY Projects for Your RV
Many RV upgrades may seem difficult at first, but with some patience and practice, you might be able to develop the skills you need to take them on. For example, although your RV's dinette set might seem like a nightmare to reupholster, it actually isn't. Just check out this super-simple-to-follow tutorial on YouTube, made by user Sara Torres. Even if you're new to the world of sewing, this project could definitely be doable for you!
Another easy DIY upgrade that's a total interior game-changer: upgrading your window treatments. those drab old beige curtains have got to go! As Ashley Mann shows us over at RV Inspiration, there are tons of ways to totally redo your windows, from simply installing some curtains on pre-built rods to getting really fancy and building new interior framing. Even if you think a project is beyond you, it might not be. After all, the most prolific interior decorators, builders, and designers started as beginners!
RV Repair: The Best Ways to Save on Maintenance
It's funny; even people who are happy to do DIY drywall or roof repair in their homes are sometimes remiss to try out the same tactic when it comes to their RVs. And they're missing out on valuable savings opportunities by doing so!
As anyone who's owned an RV for more than a week or so can tell you, keeping these beasts in ship shape isn't always cheap, especially if you hire out every single little thing to a professional.
That's why we've written about tons of DIY RV repair projects you don't have to have an electrical engineering degree to tackle. From changing your rooftop sewer vent to deep-cleaning your awning to getting up close and personal with your RV HVAC system, here are some of the best DIY repair projects we've written about here on the RVshare blog.
Of course, it's important to remember that some projects do benefit from professional assistance, particularly if they're potentially dangerous or you're not confident in your skill level. It's a lot better to shell out a few extra bucks to hire an electrician than it is to get hurt attempting a repair. Follow these tips to find someone trustworthy.
The industrious spirit of taking matters into your own hands is one of the most common shared traits of RVers, and these DIY decor and repair projects can help you save money, pass a rainy day, and become more invested in (and proud of!) your rig.
In Conclusion
Simple tricks like these take all of the guesswork out of enjoying your motorhome. Try them yourself, and do your friends and family members a favor, by sharing with them!
Looking for more ideas? Check out these articles on the blog:
This post contains affiliate links. RVshare may receive compensation if you make a purchase after clicking on a product link.