How Tos & Tips
May 8th, 2019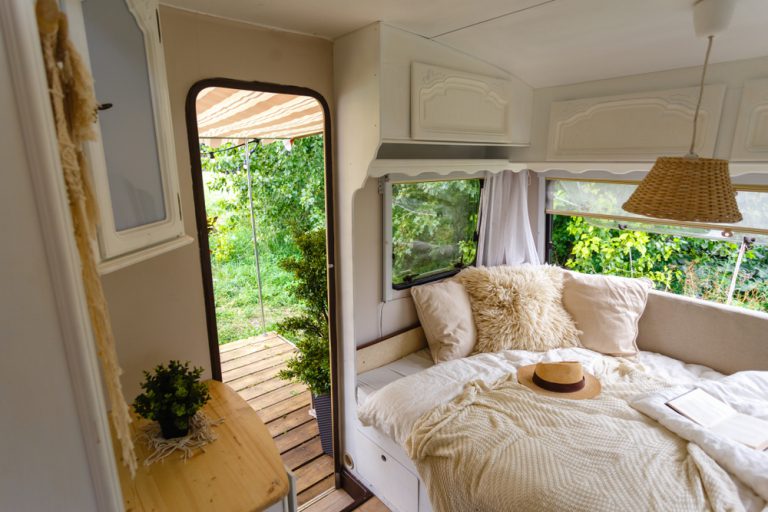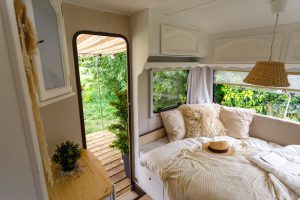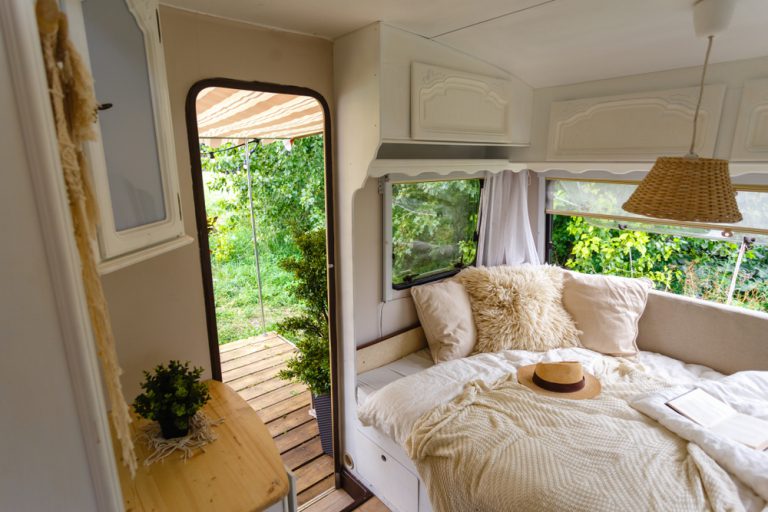 Whether you've just purchased your first RV or you've decided it's time your trusty travel trailer got some well-deserved updates, one thing's for sure: renovating, redecorating, and repairing your rig can quickly rack up a pretty penny of a price tag. Professional remodeling services and mechanics' fees aren't exactly renowned for their affordability, and that's if you're lucky enough to find a service that isn't out to get you.
Fortunately, there's a simple solution. You can save time, money, and even have a little bit of fun by taking matters into your own hands. From cute-yet-clever, space-saving storage ideas to surprisingly-simple renovations to basic, user-friendly repairs, here are some of the best DIY ideas for RVers to consider for their motorhomes and travel trailers.
DIY Room Decor
Sometimes, all you really need to totally transform your rig are some relatively minor decoration upgrades. A new set of window trimmings, a quick reupholster of your dinette set, or even just some throw pillows and scented candles can go a really long way.
That said, there are a few DIY crafts and home decor ideas that are so smart and simple, we can't believe we didn't think of them ourselves. Here are some of our favorites.
DIY PVC Pipe Toothbrush Holders
It's a common problem amongst RVers: you've got lots of toothbrushes, and only a limited amount of bathroom storage space. Plus, ideally, you don't want them just rolling around in your cabinet… you do put them in your mouth, after all.
That's why we love Crafting in the Rain's adorable PVC pipe toothbrush holders, which solve both of those problems in one fell swoop… and look super cute while doing so! Each pipe is customized with the toothbrush owner's initial, so you never have to worry about accidentally using mom's or junior's (ick). Plus, this relatively simple craft requires few materials and can easily be done as a family, given the proper supervision. While adults should have control of tools like drills and hot glue guns, kids can design their own toothbrush holders and decorate to their heart's content!
Custom RV Bathroom or Kitchen Backsplash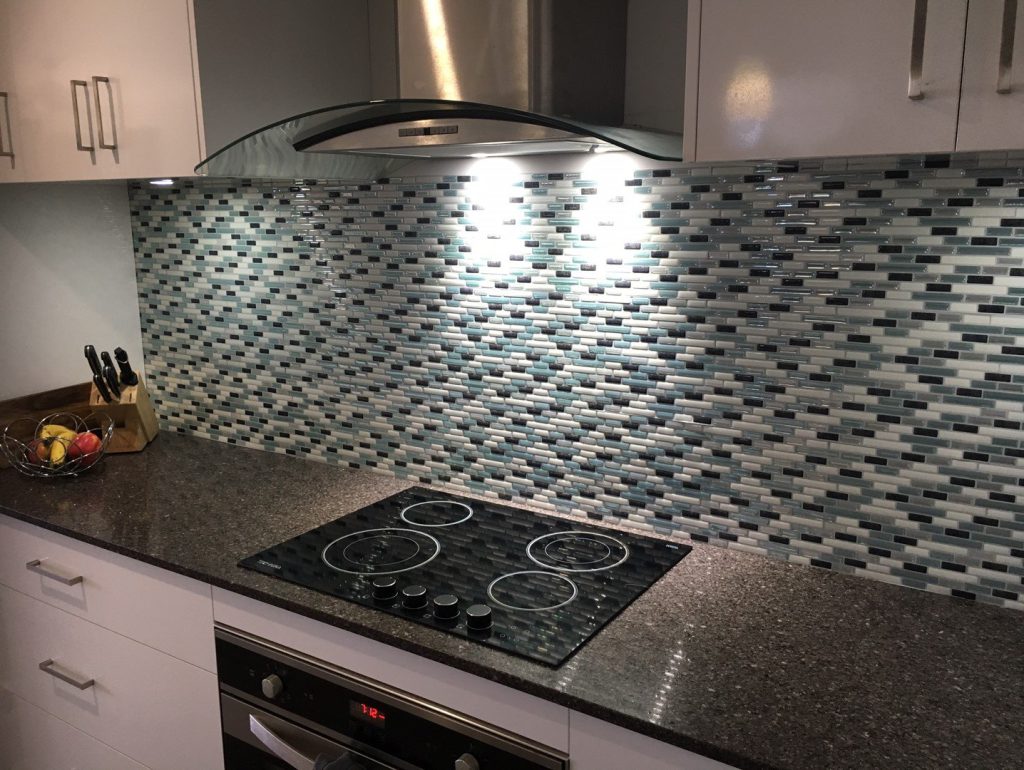 A beautiful backsplash can transform even a drab kitchen or bathroom into an opulent oasis… and you don't have to worry about tile and grout to make it happen.
Thanks to super-simple, self-adhering peel-and-stick backsplash, you can jazz up your RV's counter-spaces almost instantly. (What's more, they're cheap and easy to clean! Don't you wish every renovation project were this easy?)
Good Ol' Paint, Fabric, and Elbow Grease
Not every interior renovation has to be about stripping an RV down to its bones and starting fresh. In many cases, simply sanding down your cabinets and slapping on a fresh coat of paint — or grabbing a bolt of fabric and getting busy with your sofa or dinette set — can have a huge impact on your RV interior's overall feel.
We'll admit that ogling well-done RV renovations is one of our favorite pastimes here at RVshare HQ, so we've written a decent number of posts highlighting the creative (and often surprisingly simple!) renovation efforts of real-life campers. For more ideas, instructions, and inspiration, check out the following RVshare posts:
Pinterest Crafts
One great way to source inventive new ideas for your DIY RV projects? Check out Pinterest! There are so many boards chock full of crazy clever ideas, masterminded by innovative RVers just like you.
For example, this list of 52 creative (yet simple) camper storage solutions was put together by Homystyle, using nothing but Pinterest-sourced ideas. We especially love the idea of stashing rolling storage containers under your dinette set, or adding in extra shelves in your kitchen and bathroom to instantly embiggen your storage space. Plus, many of these projects can be done primarily by using pre-fabricated, purchasable items… no need to get out the hand saw or take a carpentry class.
You can start sourcing creative DIY RV projects simply by searching Pinterest itself for terms like "DIY RV interior" or "RV redecoration." Once you find some ideas you like, you can even create your own board so you'll have those resources easily available for you to refer back to — and eventually even try yourself!
In the meantime, though, we've put together a list of a few of our favorite existing Pinterest boards to get you started. Check out the following for inspiration (and plain old eye candy):
RV Redecorating by user Aspenstand4me is full of both super-simple solutions (like installing command hooks) and slightly more work-intensive redecoration ideas.
RV Obsession's RV Renovations board will help you find ways to get your camper into ship shape, no matter your handiness skill level or budget.
Mountain Modern Life, a blog run by full-time travelers Katie and Eric, is already an awesome resource… and what's more, they compiled some of their best DIY RV tips and tricks into a Pinterest board called RV Life. We love their rust-chic sense of style and their commitment to following their wanderlust and experiencing all the wonder life has to offer… and we're pretty stoked to try out some of the tips they've pinned, too.
Even More DIY Projects for Your RV
Many RV upgrades may seem difficult at first, but with just a little bit of practice and learning-curve patience, you might be able to develop the skills you need to take them on. For example, although your RV's dinette set might seem like a nightmare to reupholster, it actually isn't. Just check out this super-simple-to-follow tutorial on YouTube, made by user Sara Torres. Even if you're new to the world of sewing, this project could definitely be doable for you!
Another easy DIY upgrade that's a total interior game-changer: upgrading your window treatments. those drab old beige curtains have got to go! As Ashley Mann shows us over at RV Inspiration, there are tons of ways to totally redo your windows on the world, from simply installing some curtains on pre-built rods to getting really fancy and building new interior framing. The moral of the story? Even if you think a project is beyond you, it might not be. After all, even the most prolific interior decorators, builders, and designers started as beginners!
RV Repair: The Best Ways to Save on Maintenance
It's funny; even people who are happy to do DIY drywall or roof repair in their homes are sometimes remiss to try out the same tactic when it comes to their RVs. And they're missing out on valuable savings opportunities by doing so!
As anyone who's owned an RV for more than a week or so can tell you, keeping these beasts in ship shape isn't always cheap, especially if you hire out every single little thing to a professional.
That's why we've written about tons of DIY RV repair projects you don't have to have an electrical engineering degree to tackle. From changing your rooftop sewer vent to deep-cleaning your awning to getting up close and personal with your RV HVAC system, here are some of the best DIY repair projects we've written about here on the RVshare blog.
Of course, it's important to remember that some projects do benefit from professional assistance, particularly if they're potentially dangerous or you're not confident in your skill level. It's a lot better to shell out a few extra bucks to hire an electrician than it is to get electrocuted — especially if you follow these tips to find someone trustworthy.
The industrious spirit of taking matters into your own hands is one of the most common shared traits of RVers, and these DIY decor and repair projects can help you save money, pass a rainy day, and become more invested in — and proud of — your rig.
So what are you waiting for? It's time to get busy!
This post may contain affiliate links.