Travel Inspiration
Last updated on March 28th, 2023. Originally published on February 25th, 2019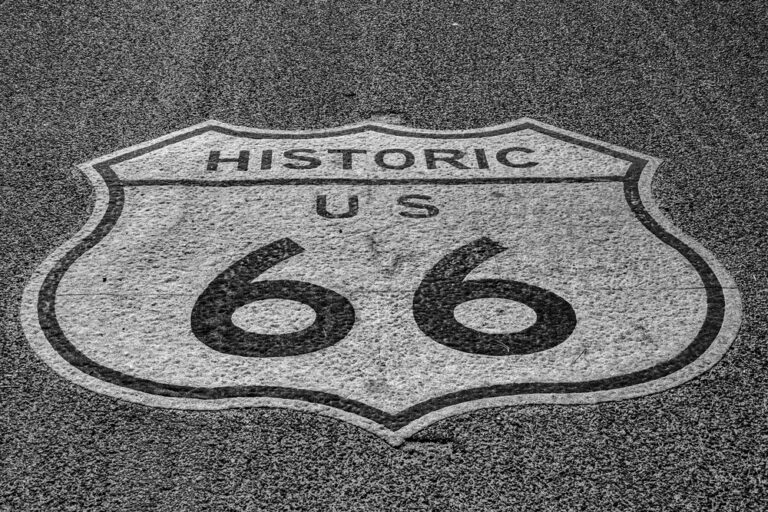 Honestly, we're travel-hungry enough that we think it's possible to get your kicks on just about any road trip. (Or even on a plane. Or cruise ship. Or — well, you get the picture.)
But there's something about a Route 66 road trip that just screams "America." And if you're looking for a particularly epic journey to take on in 2019, this historic roadway might just be calling your name, too.
Covering almost 2,500 miles of the very heart of our country, Route 66 is one of our nation's most beloved highways. In fact, in many ways, it's a destination in and of itself. But as liberating and soul-lifting as just cruising down the asphalt itself can be, there are definitely a few stops you'll want to make along the way. (Okay, actually… there are dozens.)
So in this post, we're going to walk you through some of the major stops and can't-miss attractions to add to your Route 66 road trip itinerary. The wide-open west and all it has to offer are waiting, so let's waste no time and dive right in!
Route 66 Road Trip Itinerary
Just long the song says, "it winds from Chicago to LA" — which means you've got a lot of stuff to see and do along the way!
If you're the road trip planner in charge of doling out the time you'll spend at each stop when you drive Route 66 start to finish, here are the major cities you'll find yourself passing through… and the stuff you won't want to miss while you're in town.
Chicago, Illinois
Whether you start here or end here, you can't really experience Route 66 without experiencing Chicago. And what an experience the Windy City is!
Although just walking along the lakefront might be enough to inspire major joy, there's no shortage of amazing cultural sites and endeavors to explore: The Sears (now Willis) Tower, Chicago History Museum, Pullman Historic District, Shedd Aquarium, and Art Institute are just the start.
And don't forget about the food, of course. It's not really a trip to Chicago until you've had some deep-dish pie and a loaded hot dog. Top it all off with a selfie at Cloud Gate, and then get ready to hit the road for some Route 66 adventures!
Springfield, Illinois
Abraham Lincoln's long-time home (and final resting place), Springfield, Illinois is a bustling midwestern city that's also the state's capital. Enjoy its many parks and green outdoor areas while also taking a moment to pay your respects to our 16th president. Springfield is also home to a fabulous zoo and a wildlife sanctuary, if you're looking for some less-indoorsy pastimes!
St. Louis, Missouri
The city where the mighty Missouri and Mississippi Rivers meet, St. Louis is the unofficial entryway to the west. (Well, as unofficial as an entryway can be when there's a 600-foot gateway erected to commemorate it.)
Once you reach this heartland town, you'll surely have channeled the adventuresome spirit of Lewis and Clark, who started their great explorations — and America's westward expansion — right here on this land two hundred years ago.
Springfield, Missouri
That's right, there's not one, but two Springfields to explore along historic Route 66. Missouri's version features stalagmite-filled caverns, Dickerson Park Zoo, and a Discovery Center with dynamic and interactive exhibits on dinosaur DNA, among other fascinating topics.
Tulsa, Oklahoma
Nestled on the banks of the Arkansas River, Tulsa is a Great Plains gem of a town, home to world-class cultural and educational exhibits like the Oklahoma Aquarium and the Tulsa Zoo. It's also well-known for its art deco architecture, particularly in the central Deco district, where iconic buildings like the Philcade and Philtower loom, bespeaking this oil town's historic success and plentitude.
Psst — if you're after wacky roadside attractions, don't miss the Blue Whale of Catoosa, which sits on a pond just to the east of the city. It's even got a water slide, just in case you're looking for a quick dip to cool off during your long summer road trip. There's an on-site picnic spot, too, so you can hang out for a while while the kids get wet and wild!
Oklahoma City, Oklahoma
Oklahoma's capital is ripe for exploration for anyone with a touch of pioneer spirit — it's home to the National Cowboy & Western Heritage Museum, not to mention its Nature Center, Science Museum, zoo, and botanical gardens. If you're looking for a different kind of wild west, spend some time in its happening Bricktown district, filled with unforgettable food, boutiques, piano lounges, and wine bars. Yeehaw!
Amarillo, Texas
A mid-sized city in the Texas panhandle, Amarillo probably wouldn't get as much attention as it does if it weren't along everyone's favorite historic byway. But it is, which means it's got all sorts of kooky attractions, like the Cadillac Ranch (which we'll discuss in more detail below), the famous Big Texan steakhouse (home to the famous 72 ounce steak challenge), and Wonderland Amusement Park.
Albuquerque, New Mexico
Although it's not high on many peoples' radars, there's a reason they call New Mexico the "Land of Enchantment" — and you'll figure it out pretty quickly once you wind your way there. Its biggest metropole, Albuquerque, is filled with food, fun, and (of course) Breaking Bad tourism, but you'd be remiss not to take the extra hour to drive up to Santa Fe, or even further north to Taos.
By the way, if you happen to make the trip in fall, you'll be in for even more surreal, high desert beauty: Albuquerque is the host city of the famous International Balloon Fiesta, widely considered to be one of the most photographed events on earth. It's easy to see why!
Gallup, New Mexico
From Red Rock Park to the Rex Museum, this western New Mexico town might not be big, but it sure does offer a lot of opportunities for fun and exploration. You'll get a real feel for how it was to be in the old west — and as soon as you cross over the Arizona border, it'll be time to take a detour to Petrified Forest National Park!
Flagstaff, Arizona
Widely known as the gateway of Grand Canyon National Park, Flagstaff is also a college town and thus filled with more great food, beer, entertainment, and cultural to-dos than you'd expect for a southwestern city of its size. Schedule in a stop at the Lowell Observatory for some stargazing fun, which is perfect for these wide-open, dark skies.
Santa Monica, California
This is where it all ends (or begins): the beautiful, Pacific seaside of Santa Monica, California. Take a spin on the Ferris wheel at the pier or just sit back and enjoy the sound of the crashing waves — and, of course, the fresh seafood they bring with them!
Route 66 Attractions
Any Route 66 road trip planner knows that the best journey includes not just gallivanting around in the big cities, but also taking on all the roadside attractions along the way. Whether you spend a month traveling the length of this historic byway or try to make it across the country in just a few days, here are a few Route 66 stops you might want to add to your itinerary.
The Lincoln Tomb in Springfield, Illinois
Whether or not you've seen the famous monument in the nation's capital, it's well worth taking the time to pay your respects at our 16th president's final resting place, the Lincoln Tomb in Springfield, Illinois. His burial site, which has been designated a National Historic Landmark and listed in the National Register of Historic Places, is marked by a 117-foot obelisk, as well as several bronze and marble statues.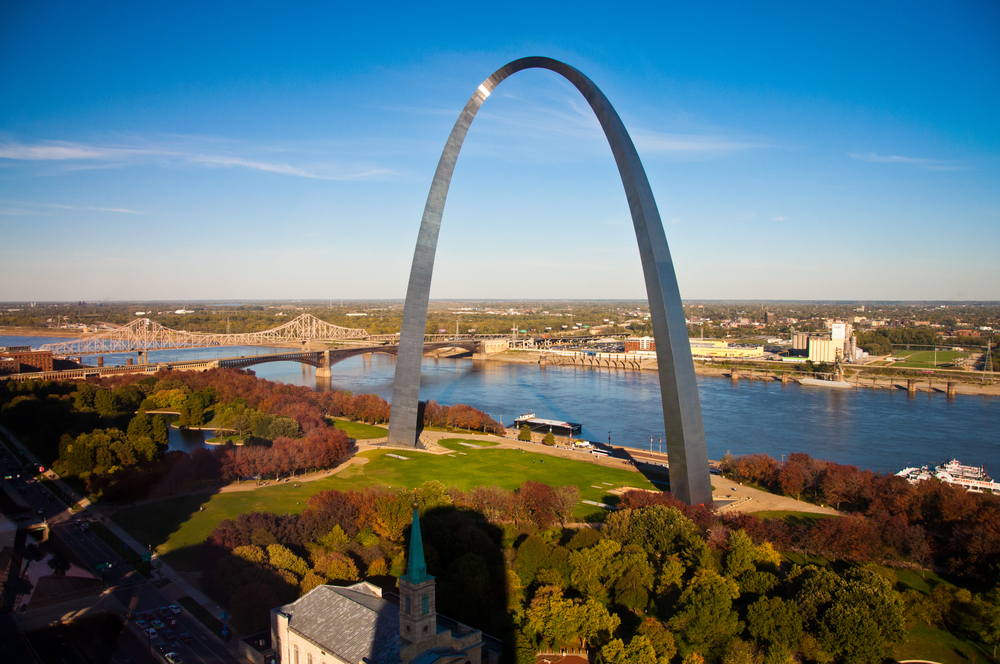 Gateway Arch National Park in St. Louis, Missouri
There's no better place to wave goodbye to the east (and hello to the wide-open west) than the Gateway Arch, which was recently designated a national park back in 2018. Its towering 630 feet are worth visiting — as is the tram ride to the top, where you'll get an unbeatable view of what you've left behind you and, more importantly, what's still to come.
The park also has an informational visitor center with educational videos and a gift shop, and is home to the "Old Courthouse" where the pivotal Dred Scot case was tried in 1847 and 1850. The Courthouse is also listed in the National Park Service's National Underground Railroad Network To Freedom, which recognizes sites and locations with ties to the famous Underground Railroad.
Wilson's Creek National Battlefield in Republic, Missouri
On August 10th of 1861, the second major battle of the Civil War — and the first to occur west of the Mississippi River — took place right here on the outskirts of Springfield, Missouri. Today, the site is preserved for posterity with an educational visitor center filled with artifacts and interpretive materials, as well as a 5-mile paved tour road that can be accessed by car, bicycle, or on foot. Click here to learn more about Wilson's Creek National Battlefield.
66 Drive-In Theater, Carthage, Missouri
Route 66 is all about the spirit of the open road… and one of the ways motorists celebrated their devotion to that lifestyle was by taking their entertainment in their cars, as well. If you're looking for a place to relive times gone by, 66 Drive-In Theater is a can't-miss stop right outside of Joplin, Missouri. The show goes on even if it's raining, but the theater does close down for the winter. The season usually runs from the first weekend of April through mid-September, but check the website for complete, up-to-date details.
Milk Bottle Grocery in Oklahoma City, Oklahoma
If you're taking on a Route 66 road trip, chances are you want at least a little bit of kitsch along the way — and that's exactly what this famous roadside attraction is all about. Milk Bottle Grocery is exactly what it sounds like: a grocery store with a giant milk bottle on top of it. The shop itself is teeny-tiny, and the whole thing may not seem like a big deal at all, but thanks to its prominent spot along such a famous byway, it's actually been added to the National Register of Historic Places.
Cadillac Ranch in Amarillo, Texas
It may be called Cadillac Ranch, but depending who you ask, this iconic roadside attraction might more accurately be called a Cadillac graveyard. The cars are, after all, half buried in the Texas clay — as they have been since 1974, when the art installation was first conceived by Chip Lord, Hudson Marquez, and Doug Michels, of the art collective known as Ant Farm. The cars are periodically repainted, making this a dynamic art exhibit; you can visit multiple times and not have the same experience.
Route 66 Guide
Here are more sights and highlights you won't want to miss along your historic Route 66 road trip.
The Enchanted Circle in Northern New Mexico
Fancy an additional drive? (You're already going to traverse about 3,000 miles on Route 66 itself, so why not?)
The Enchanted Circle Scenic Byway is an 83-mile loop that'll wind you through northern New Mexico's majestic mountains, not to mention the towns and communities that line them. From artistic Taos to picturesque Red River, the lands wheeling around Mt. Wheeler — the tallest peak in the state — are sure to, well, enchant you. For best results, we recommend giving yourself a full day so you can get out and explore as you go. There's plenty of hiking, sightseeing, and delicious Mexican food to be had along the way!
Petrified Forest National Park in Arizona
Bright yellow, cobalt blue, and silver — it's not every day you see those colors inside a chunk of wood, but you will at Petrified National Forest. This national park might not be as well-known as its neighbor a few miles further west, but it's well worth stopping by, especially since historic Route 66 runs right by it. Along with wood rendered Technicolor by hundreds of years of history, you can also take on epic backcountry hikes, go geocaching, or enjoy horseback riding!
Standin' on the Corner Park in Winslow, Arizona
Sorry to get yet another song instantly stuck in your head. But Route 66 winds its way right through Winslow, Arizona — yes, that Winslow, the one immortalized by the Eagles. In response to its fifteen minutes of fame, the town erected "Standin' on the Corner" Park in 1999, so now you can snap an Instagram shot that will definitively tell your followers that you were there!
Meteor Crater in Arizona
On the way from Winslow to Flagstaff, you've got to take the extra hour to drive out to Meteor Crater, one of the largest and best-preserved impact sites on earth. There's even an on-site RV park if you decide you're so moved by the surreality of the landscape you'd like to overnight there.
Just be aware that Meteor Crater is a privately owned attraction, so there is an entry fee involved — and your federal National Parks Pass won't get you in, unfortunately.
The Grand Canyon in Arizona
No great American road trip is complete without a stop at the Grand Canyon, especially if you're taking Route 66. You can stay in Flagstaff and road trip up for the day, or — our suggestion — camp at one of the on-site campgrounds at the national park itself. (The South Rim has options year round, while the less-traveled North Rim closes down during the winter.)
Although summer might be the most common time to visit this, one of the most popular federal recreation sites in the country, the canyon is just as pretty — if not even more so — with a dusting of snow. For bonus points, visit in both seasons!
Havasu National Wildlife Refuge on the border of Arizona and California
Just outside the city of Needles, the Havasu National Wildlife Refuge serves as a haven for bighorn sheep, coyotes, foxes, bobcats, and more than 300 species of aquatic bird. You can enjoy it on foot, of course, but you can also take to its waters by kayak and canoe to get a more up close and personal experience.
Joshua Tree National Park
It doesn't lie directly along Route 66, but we'd be remiss not to let you know how close you'll be to this, one of the most surreal and alien landscapes on the country, and one of the best-loved national parks in our system. Named for the unique, twisted fauna that thrives within it, Joshua Tree National Park is a must-see glimpse of a totally unparalleled southwestern desert landscape. (We also recommend checking out the town just outside of the park gates, Twentynine Palms. Make sure you listen to this song by the Andrews Sisters while you're motoring through!)
Santa Monica Pier in Santa Monica, California
What better place to end your Route 66 travel route than this iconic Santa Monica attraction? Grab some peanuts and cotton candy, line up for a whirl on the Ferris wheel, and take a gander at that ocean. Isn't travel swell?
American Route 66 Road Trip
Now that you've got some specific stops and road trip ideas set up for your Route 66 vacation, it's time to do a bit more of the logistics footwork. How long does it take to make the Route 66 road trip, anyway? And where will you stop along the way?
Technically, you could drive all of Route 66 in a little more than thirty hours. But you'd be missing all of the interesting destinations and attractions that make the road so special… not to mention running on extreme sleep deprivation.
That's why many travelers give themselves at least two weeks, or even a month, to make this epic journey. That way, you'll have ample time to explore all the destinations you've added to your road trip planner, and even to factor in some unexpected stops (or stay extensions) without having to worry about throwing off your schedule.
As far as where to stay along the way, the choice is up to you — goodness knows you've got a plethora of options. If you're going the old-school road trip route and taking a car, there are a variety of motor inns and motels waiting to host you, and there are both public and private campgrounds available for those traveling by motorhome or travel trailer.
Speaking of which…
Best Way to Drive Route 66
We know this is probably a pretty predictable piece of advice coming from us. But in our opinion, there's no better way to see Route 66 than in an RV. You'll have all the freedom of the open road with the convenience of carrying your accommodations along with you, which means you won't have to worry about finding (or paying for) a hotel every single night in what could be a multi-week adventure.
When it comes to RV camping along Route 66, you'll find a wide range of options, from developed, resort-style campgrounds to public parks and other low-cost options. You'll also be passing through areas with lots of BLM land, where dispersed camping, or "boondocking," is possible — and may be completely free of charge. To understand more about the different types of campgrounds and how to decide which is right for you, click here. And for some tips on boondocking for beginners, check out our expert guide.
No matter what kind of campgrounds you decide to stay in, though, you'll need to secure an RV. And if you don't already have one of your own, you've probably been looking at motorhome and RV rentals for your upcoming Route 66 vacation.
Traveling in an RV rental can be a great way to experience this unique travel style without having to commit to the major purchase of buying a rig of your own. But that doesn't mean that motorhome rentals are inexpensive! In fact, when you rent from the major rental agencies with nationwide franchise locations, you might spend as much as $300 on your motorhome rental… per night. If you're looking to take a leisurely tour of the mid-to-southwestern chunk of America, that kind of rate can seriously add up.
But that's exactly why we started RVshare — to making RVing more accessible to thrifty campers like you who don't want to blow their entire travel budget on signing their rental agreement. When you rent a rig directly from its owner, you'll likely pay a fraction of the big box prices; after all, that RV owner doesn't have to keep the lights on at a dealership floor. They're just trying to fund their own upcoming adventures!
What's more, renting through RVshare gives you access to a huge array of vehicles it's not always easy to find at a traditional rental agency. Most of those commercial dealerships exclusively offer fresh-from-the-factory motorhomes in Class A and Class C styles… which are nice, don't get us wrong. But they're also nothing like having an RV of your own, and they lack many of the comforts and cozy touches a rig that's actually vacationed in and loved by its owners will include. Renting through the peer-to-peer market will give you a better understanding of what RVing is actually like, which will help you decide whether or not you want to eventually purchase your own rig. (Which — full circle — you might even one day list on RVshare for some other new traveler to experience!)
Now, we do know that picking up a rental vehicle from someone you don't know from Adam can be… well, a little bit intimidating. But RVshare has put lots of structures in place to ensure you keep your peace of mind during the entire rental transaction. First of all, there's a great rating system, which will give you insight into how other customers assessed their experience with the renters and their vehicle. Plus, all your sensitive information is safe, as all monetary and communicative transactions take place through our platform. We also cover each rental with comprehensive collision and liability insurance — the absolute best coverage in the business!
To see the RVshare rental vehicles available in your area, click here. You can even choose between motorized rigs and towable vehicles; just use the filters on the left side of your screen. You might be surprised how much is available in your area!
How to Make Any RV Road Trip Awesome
Whether you rent through RVshare or a major dealership, or even if you own a rig of your own, traveling through the western U.S. — or really anywhere — in a travel trailer or motorhome is an amazing way to slow down and really experience each destination you find along the way. But like any kind of travel, RVing is, in some ways, a skill, and there are things many of us wish we knew before we first took to the road in our own rigs.
So here are some more RVshare posts to help get you ready to take on the wide open road, whether you're westward bound or otherwise.
Happy trails, campers!
This post may contain affiliate links.