How Tos & Tips
Last updated on November 28th, 2022. Originally published on June 12th, 2017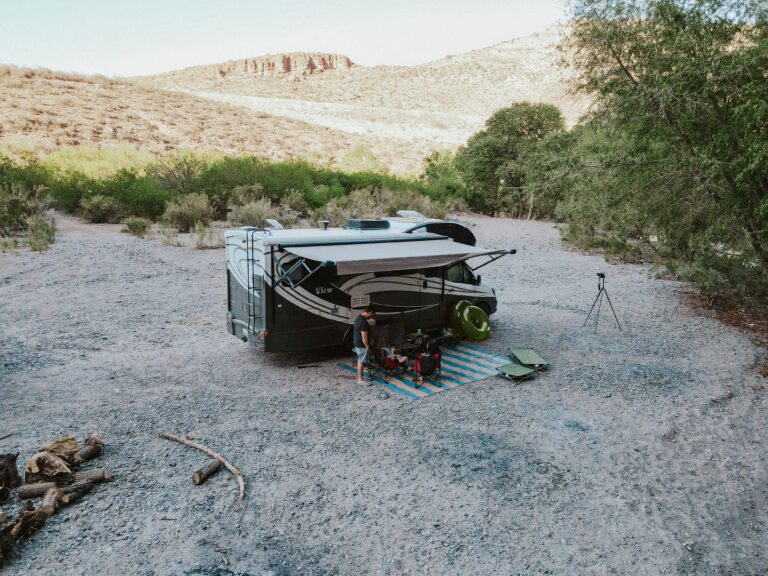 Congratulations! If you're getting ready for your first-ever RV trip, you've already taken a huge — and awesome — leap. You're trying out a new kind of travel to see the country at your own pace, which is already more daring and adventuresome than many people ever get. But what about when it's time for RV Setup?
When you're driving and camping in an RV for the first time, there can be a bit of a learning curve for beginners. Not only are trailers and motorhomes large vehicles, but their living spaces, while generously appointed, can be complex when you first start. There are just so many systems to learn about!
And trust us: After a long day's drive, the last thing you want to do is to be fumbling around at the campsite, trying to figure out your RV's set up procedures for the first time.
So we've created this short setup guide to help make your first-ever camping trip a smooth one. By the end of this blog post, you'll have at least a basic idea about everything you need to know how to setup the perfect RV campsite.
RV Rental and Setup
First things first: You need to get your hands on an RV rental.
Since you're here at RVshare's blog, kudos: you've clearly already done some research to make this part of the trip happen! The peer-to-peer rental marketplace through RVshare is a great place to find an affordable and comfortable rental vehicle, and there are also a variety of larger, commercial RV rental dealerships throughout the country.
Let's move on. Say you've already got your vehicle and you're ready to settle in for your first night at a campsite. What steps do you need to take?
How to Set Up Your RV at the Campsite
Getting your RV set up for the night isn't as daunting as you might think, but your process will change a little bit depending on what kind of campsite you choose.
Let's start with getting setup at a built-up, resort-style RV park — the kind with concrete slabs or gravel slips.
These parks make it pretty simple for beginners and first-timers. All you have to do is get your RV into the spot, which can be easier said than done if you're driving a big rig for the first time. Don't be afraid to ask for help if you're having trouble figuring out how to back in!
A very important note: No matter what kind of campsite you're in or what kind of travel trailer or motorhome you're driving, you'll need to ensure that your RV is level. This will help all your systems run correctly and extend the life of your RV's amenities.
Then, you'll simply plug your RV's systems into the hookups provided. These hookup stations will likely include electricity (30 or 50 amps, depending on your rig's size and needs), plumbing setups including potable water and sewer, and possibly cable TV access. As long as you have the right connections, it's really as simple as plug and play!
Once you've got those basics in place, you can pull out your RV's awnings and set up any outdoor furniture, like folding chairs, that you may have brought along. Tada: Your campsite is all set up, and ready for cozy, fireside relaxation!
What If You Aren't at a Campsite?
Setting up your RV for camping in the wild, or boondocking, is a little bit different. In this case, you don't have those convenient hookups to connect to, which actually makes your setup process easier. In many cases, all you need to do is pull over and turn your engine off!
However, boondocking requires extra vigilance when it comes to your water and electricity consumption, because your time at the campsite will be limited by how long you can make your tanks' storage capacity — and RV generator fuel — last.
For instance, you'll want to go easy on washing dishes in your RV's kitchen and flush the toilet as little as possible. And if you want to use power, you'll need to rely on solar panels or your generator, which uses propane fuel and can be noisy, so it's best to minimize your electrical usage! One great way to do this is to choose destinations that aren't excessively hot… not to mention leaving your laptop at home.
Finally, there's long term RV setup, for when you're not planning on moving for several weeks or even longer, like when you're planning on using your RV or travel trailer to live in full time. This generally involves the same kinds of hookups you might find at an RV park, so you can continue about your day to day life as normal without worrying about moving to dump your tanks. You might also be able to set out more decor and personal items, since you won't have to worry about things falling over every time you break camp.
RV Trailer Setup
If you're RVing in a travel trailer rather than a motorhome, your process is a little different still. You'll need to add in disconnecting your travel trailer from your tow vehicle. If it's a pop-up or foldable trailer, you'll also need to add in the process of cranking it up to its fully extended position.
Every trailer's setup and breakdown process is a little bit different, so it's a good idea to bring along a setup checklist sourced from the rental agent.
Checklist for RV Setup
If you're still nervous about setting up your RV or travel trailer for the first time, a checklist is a great tool to use. Not only will it help ensure you don't miss anything, but it'll also make it easier to memorize the process for your future camping trips. Here are a few great RV setup checklists from KoA, GoRVing, and Good Sam Club. And be sure to check out the rest of this blog for more helpful hints and tricks!
Don't worry — setting up camp isn't as hard as it seems.
In fact, we're sure you'll be a pro in no time… although it does take practice. What better excuse to get back out on the road? 🙂