How Tos & Tips
Last updated on November 17th, 2022. Originally published on October 17th, 2022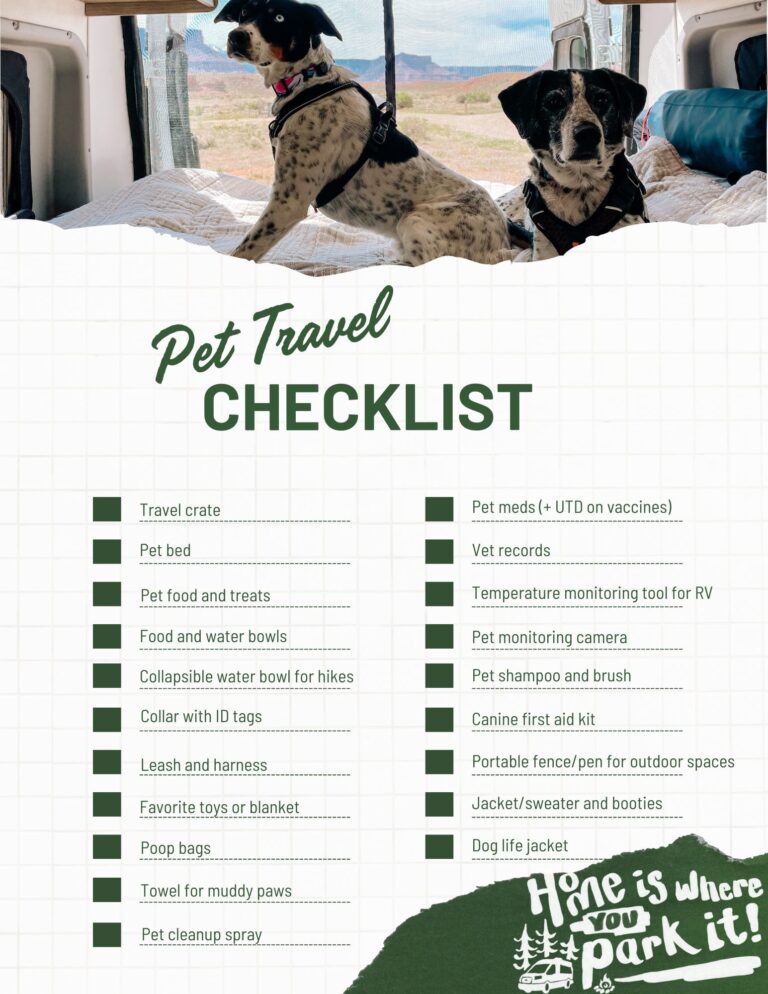 Camping with your pets makes RVing even better. But bringing pets along means there's an additional set of gear to remember. Not to worry! We've put together a checklist of everything you need to pack when RV camping with your pets. But first, let's talk about important things to know before you take Fido or Whiskers on an RV trip.
Camping With Pets
RVing camping with your pets is amazing, but there are few things to keep in mind when bringing along your four legged friends. Many of these happen even before you leave on your trip.
Check With Your Vet
Before you head out, stop by the vet to make sure your pet's vaccinations are all up to date. If you're traveling to an area that's known for ticks (who love tall grass and trees), talk to the vet to see if your pet needs flea and tick or heartworm prevention medication. Get a copy of your pet's medical records – especially their rabies vaccine – as some pet daycares, groomers, and vets won't accept new clients without proof of rabies vaccination. It's best to be prepared in case your pet needs to be groomed or has a medical emergency on the road. Additionally, make sure your pet's tags are up to date with the correct contact number. Or have them microchipped in case they get lost. If you've ever had to deal with a pet emergency on the road, you know it's not fun. So check for vets near your campground ahead of time just in case.
Watch the Temperatures
If you're traveling in summer keep an eye on the temperature, both outside and inside vehicles. Never leave your pet unattended in a car during the summer if it's not running. The temperatures inside vehicles rise much faster than the outside temperature and can lead to a pet's death. If you're going to leave your dog in your RV while you're gone, use a temperature monitoring tool like these to keep an eye on the inside temperature of your rig. Also, be aware of the outside temperature and the sun if you're hiking during the hotter months of the year. Bring things like extra water and a collapsible bowl and take breaks in the shade.
Practice Good Pet Camping Etiquette
Make sure to practice good etiquette while RV camping with your pets. First, always clean up after them. While many places have doggie clean-up stations with waste bags, make sure you have a few of your own with you so you're not caught without them. We want pets to be allowed in campgrounds and on trails, so make sure you're picking up after them!
If you're planning to hike with your dog (or cat!) be sure to check that the trails are pet friendly and if there are leash requirements. Many trails in national parks are not pet friendly, so respect the rules and find hikes that you all can go on. For more tips on how to travel with your dog, check out this article, and 8 Tips for RVing with Your Dog.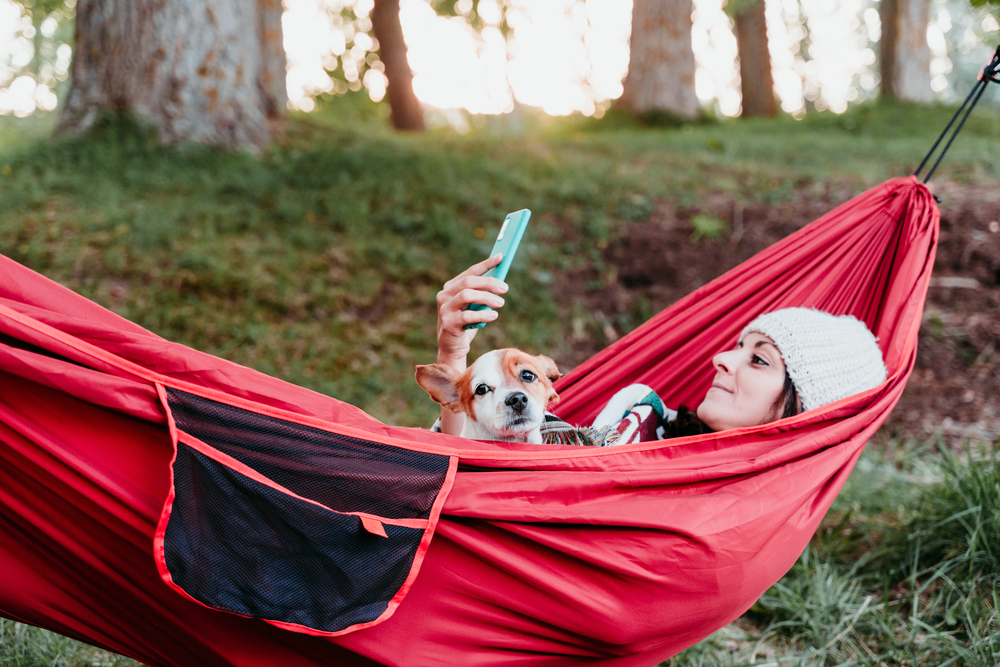 Dog Camping Essentials
Packing for an RV camping trip with humans is one thing, but bringing along pets means extra stuff to remember. But don't worry, we've got an RV camping checklist for your pets to help you bring everything you need. Depending on your pet, you might not need everything on this list. And while this is our dog camping essentials list, you can swap out the dog gear for cat gear (or bird or reptile or whatever your pets are).
Dog Friendly Camping
Now that you've looked over your RV camping checklist for pets and have everything packed, it's time to find a campground! While most RV parks and campgrounds these days allow dogs, you can still find a few that don't. So check with the RV park before you arrive to make sure it allows pets. For those that do, confirm with the RV park on any pet fees or amenities they offer that cater to dogs. Dog runs and fenced in off-leash areas are becoming more common and some RV parks even encourage pets to stay with dog washing stations, huge dog parks, and welcome bags. It pays to check out the campground or RV park before you stay to see what pet amenities they offer.
Need some inspiration for where to stay? Check out our list of The 6 Best Campgrounds for Dogs and The Top 20 Pet-Friendly Campgrounds in the US.
Planning to visit a national park with your pup? Keep in mind that many national parks are not dog friendly or have very restricted areas where they can be. Visit the national park's website to see their rules on pets in the park, and check out our article The Best National Parks to Visit with Your Dog for tips on traveling to the parks with your dog as well as some of our favorites that are dog friendly. Ready to head out on an adventure with your four legged friend? Head over to RVshare.com to look for your perfect rental.
This post contains affiliate links. RVshare may receive compensation if you make a purchase after clicking on a product or service link.