Travel Inspiration
Last updated on July 20th, 2023. Originally published on October 3rd, 2022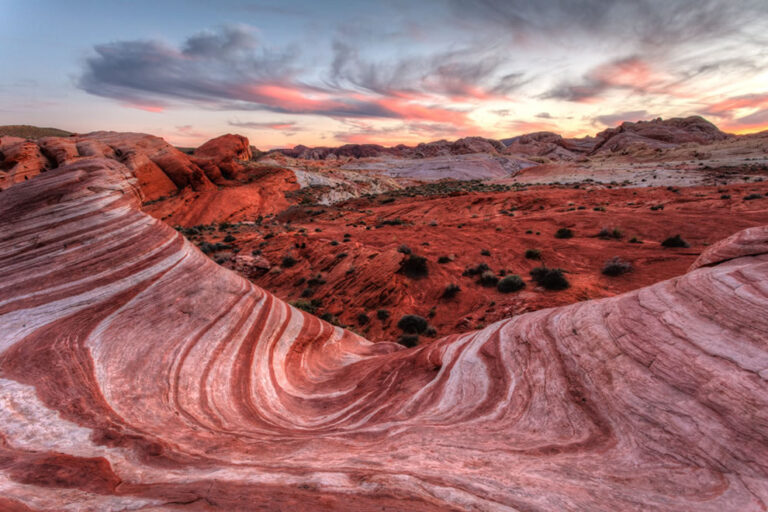 You might think Las Vegas is, Nevada surrounded by nothing but desolate desert for miles. And while that technically might be true, there's actually a ton to explore in this part of the world. For this one tank trip itinerary, we're heading from Las Vegas through this lesser explored area to see ancient petroglyphs, incredible red rock sandstone formations, and the largest reservoir in the U.S. (Who says you can't enjoy a day on the water in the desert?) We'll end up in one of the most popular national parks – all with a single tank of gas!
This one tank trip itinerary is 253 miles and takes just under 6 hours of drive time (in a car). You'll have to adjust the drive time depending on your rig or vehicle.
One thing to remember before you head out. This area of the southwest gets extremely hot in the summer with temperatures in the triple digits most days. To fully enjoy the hiking and outdoor parts of this trip, it's best done during the non summer months. If you do plan on traveling through here during the summertime, bring plenty of water and emergency supplies. So let's see the itinerary for this one tank trip from Las Vegas!
Las Vegas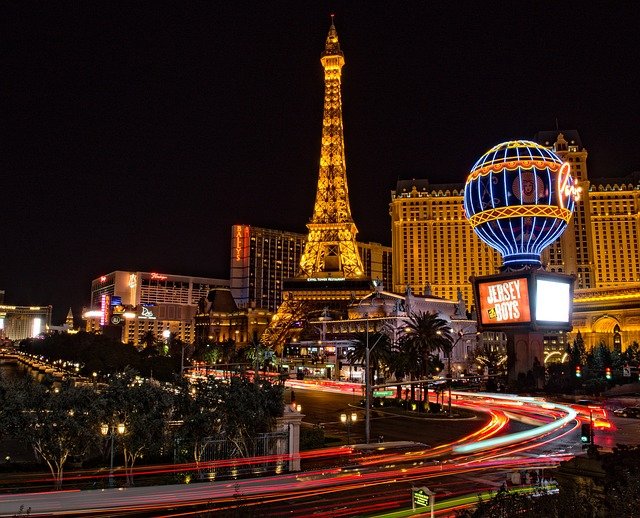 Las Vegas offers visitors endless options of things to do between the casinos, shows, shopping, and dining. Before you head out on this trip, make sure you spend some time at Red Rock Canyon National Conservation Area. This natural region sits just west of Vegas and a beautiful place to hike, rock climb, or view the scenery. It's a great way to escape the crowds of the strip. But for this one tank trip, we're leaving Las Vegas from the east and heading to Lake Mead.
Lake Mead National Recreation Area
About 30 miles southeast of Las Vegas lies Lake Mead National Recreation Area. This reservoir on the Colorado River is one of the largest reservoirs in the United States. It's also home to the Hoover Dam, one of the state's engineering marvels. Stop by the free Hoover Dam museum, take a tour of the power plant, or walk across the top of the dam to see the impressive views.
Then once you've seen the dam, head to the lake itself. Spend the day on the water fishing, boating, water skiing, kayaking, or even scuba diving while being surrounded by rugged mountain terrain of the Mojave Desert. The Lake Mead Marina offers options for kayak rentals, boat cruises, and tours. There are even several options that include a Hoover Dam tour as well as a boat cruise on Lake Mead. Or drive along Lakeshore Road along south shore of Boulder Basin for scenic overlooks and picnic spots. There's also plenty of camping opportunities if you want to stay a few days and enjoy the serene desert atmosphere.
When you're ready to move on, you'll take the scenic Northshore Road through the park to Valley of Fire State Park. As you drive along this 50 mile scenic route you'll be able to view the incredible red and orange rocks. You can also stop at any of the trailheads if you'd like to stretch your legs as you make your way to the next stop.
Valley of Fire State Park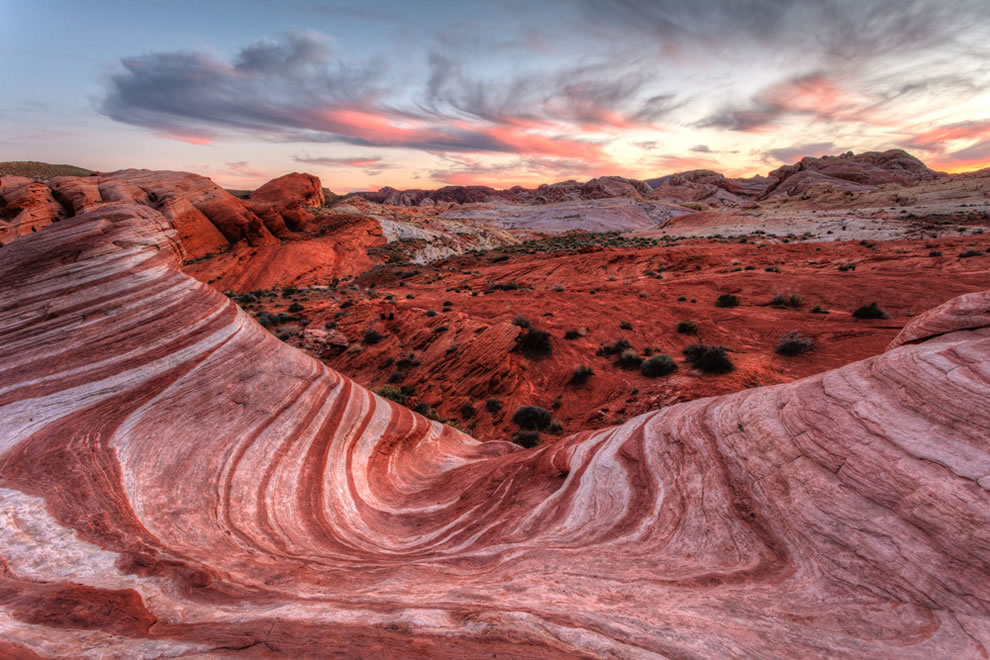 The next stop is the oldest state park in Nevada – Valley of Fire State Park. This park covers almost 46,000 acres with gorgeous red Aztec sandstone formations that shine red and orange like fire in the setting sun. One of the park highlights is the 2,000 year old petroglyphs carved into some of the formations, which can be seen on the beginner friendly Atlatl Rock Hike or Mouse's Tank Hike.
In fact you really can't go wrong with the hikes here. The Fire Wave is another great hike with killer photo spots of the red and white striped rocks. And Elephant Rock (named because it looks like an elephant), Rainbow Vista, and the White Domes should all be on your list as well.
If you don't have a ton of time and just want to drive through, the Valley of Fire Highway and Mouse's Tank Road (also called White Domes Road) will take you past several impressive formations. But we'd recommend building in some extra time and taking a few of the trailheads that start at either of these roads for the full experience. Lastly, make sure to also stop by the visitor center to see the displays and exhibits of the local geology and ecology of the region.
Valley of Fire State Park is open seven days a week from sunrise to sunset. The visitor's center is open daily from 8:30 am to 4:30 pm.
Little Black Mountain Petroglyph Site
As you head north from Nevada, you'll cross through the northern part of Arizona. Here's where you'll find Little Black Mountain Petroglyph Site, just south of the Arizona/Utah border. It's a quick stop and an easy 1 mile hike through sandstone rock formations that are covered in ancient petroglyphs. There are over 500 individual designs that cover over 6,000 years of history. The art is from the ancients cultures of the Western Anasazi, Lower Colorado River, and Great Basin peoples.
The land around this area is run by the Bureau of Land Management, and dispersed camping is available in the area if you'd like to dry camp. Otherwise, it's a great way to break up the trip between Valley of Fire State Park and St. George, Utah.
St. George, Utah
After a few outdoor and nature based stops, it's time to visit civilization again. St. George, Utah is a fantastic base for all sorts of outdoor adventures. And there's plenty to do in town as well! Check out the historic downtown area of St. George that's full of art galleries, museums, historic homes and buildings, and plenty of shopping and food. View historic aircraft at the Western Sky Aviation Warbird Museum or stop by Red Hills Desert Garden for all sorts of desert plants and species.
If you're a fan of museums, a stop at St. George City Art Museum, the St George Children's Museum, or the St George Dinosaur Discovery Site can entertain the entire family. St. Geroge was founded by the Later Day Saints in the mid-1800s, so you'll find plenty of places to learn about their history like the St. George Utah Temple and Brigham Young Winter House. It's a great base for a trip to Zion National Park, but before we head there there's one more stop.
Red Cliffs National Conservation Area and Snow Canyon State Park
Just north of St. George lies Red Cliffs National Conservation Area and Snow Canyon State Park. This unique conservation area is a transition zone between the Mojave Desert, the Colorado Plateau, and the Great Basin. As a result, there are many plants and animals from all three regions (like the protected desert tortoise) that can be seen in this one area. The Red Cliffs National Conservation Area is split into several regions. The Upland area is great for off road exploring, horseback riding, hiking, and primitive camping. The Lowland zone is set aside to protect animals and plants so you'll only be able to hike on established trails and it's much more restricted.
Right next to the conservation area is Snow Canyon State Park (named for the early pioneers' last name, not the weather). Here there are miles of biking and hiking trails as well as rock climbing routes. Several local outfitters offer climbing rentals and lessons if you'd like to try it for yourself. Explore the namesake canyon, check out the sand dunes, or view the lava flows and sandstone cliffs while visiting. Snow Canyon State Park is open between 6 a.m. and 10 p.m. daily.
Zion National Park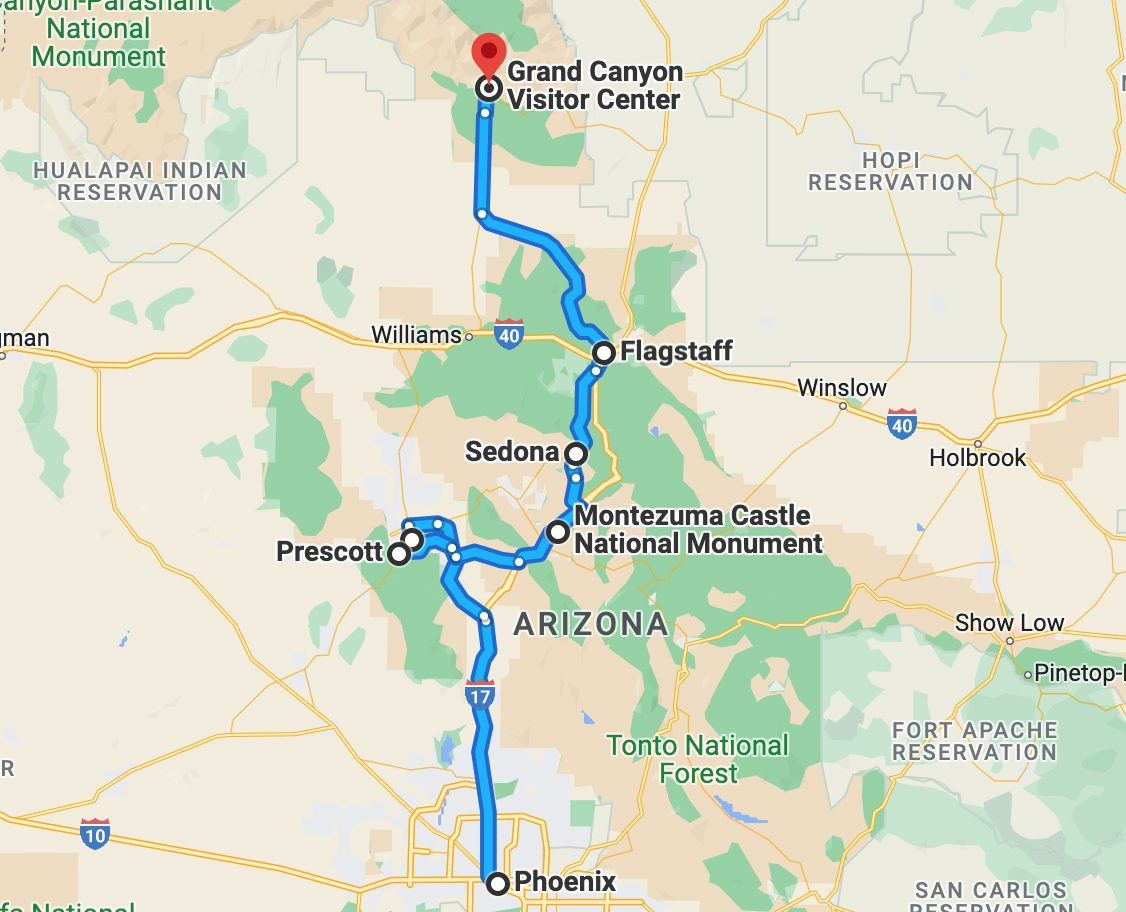 We're ending this one tank trip with a bang – a stop at Zion National Park! One of five national parks in Utah, Zion is an outdoor lovers dream. Wade through the iconic Narrows, hike up to Canyon Overlook for the perfect selfie, or head to the East Rim for a challenging hike through the ponderosa pines. Zion offers plenty of trail options here for beginners through advanced hikers. There are also educational and interpretive programs put on by the National Park Service to give you more information and history of the park.
Want to stay overnight? There are several campgrounds inside the park if you'd like to camp (and we'd recommend it!) South Campground is open March through October and Watchman Campground is open year-round. Both are located near the Zion Canyon Visitor's Center at the south entrance to the park in Springdale. There are also plenty of RV parks and campgrounds outside of the park with easy access to Zion.
Ready to take this one tank trip from Las Vegas for yourself? Head to RVshare.com to view a great selection of local RVs to rent. And if you're looking for more one tank trips, here's our guide for Houston and Salt Lake City.