Travel Inspiration
April 4th, 2021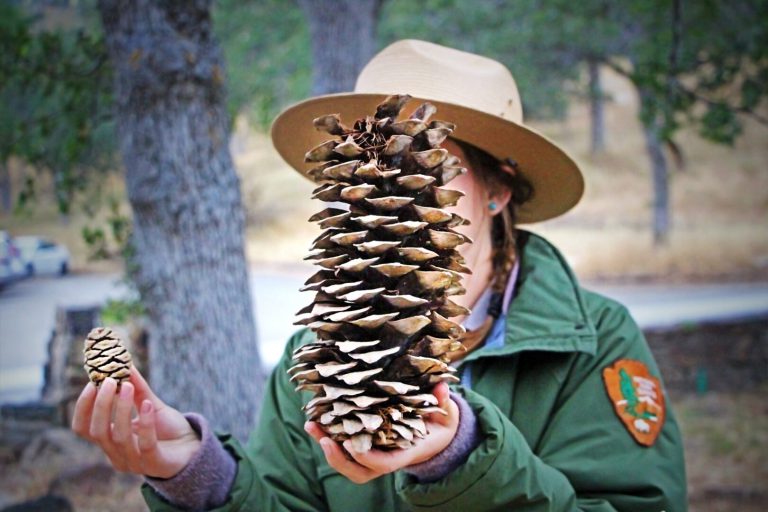 Celebrate National Park Week with us from April 17 to 25! Share your love of the national parks and follow along with themed days throughout the week.
We're covering day 2 of National Park Week: Volunteer Sunday. On April 18th the national parks are encouraging people to donate and volunteer, as well as celebrating the thousands of volunteers that help keep the parks functioning.
Today we're highlighting some of the ways you can give back and recreate responsibly when visiting the national parks.
Volunteer Sunday at the National Parks is April 18
Did you know over 300 million people visit national parks and their surrounding communities each year? In order to keep the parks running and open to visitors, the National Park Service relies on volunteers who give both their time and talents to act as stewards of the parks. These volunteers help by giving tours, hosting cleanups, ensuring park safety, and even helping in research and citizen science. The volunteers, along with NPS employees and nonprofit partners, help the parks protect our nation's wildlife, nature, and historic landmarks. And it's easy to give or become a volunteer yourself!
Ways to Give Back to your Favorite National Park
There are many ways to give back to the national parks to help them continue to protect our nation's wildlife and natural beauty. Here are a few of our favorites.
Donating
If you want to give but don't live near a national park, consider donating. There are many ways to financially support America's national parks including:
Volunteering
You can also get involved by volunteering your time at a national park site near you. The National Park Service's Volunteers-In-Parks program has opportunities for individuals to volunteer at locations across the country. These opportunities cover a wide range of skills and might include leading tours, historical reenactment, preventative search and rescue, teaching trade skills, or instructing visitors. Explore volunteer opportunities near you on the National Park Service website.
The national parks are also celebrating Connected Conservation Month this April, which focuses on the global movement to encourage working together on conservation efforts with communities to protect rivers, mountains, wildlife, history, and our shared heritage. The National Park Service offers opportunities for people to be citizen scientists and to assist with conservation efforts to help the parks through connected conservation. Volunteers have opportunities to help preserve wildlife and the natural treasures across America.
If you can't volunteer directly, not to worry. You can also follow the National Park Service and partners on social media to thank the current national park volunteers for their efforts to keep the parks safe and beautiful for everyone using #NPSVolunteer and #NationalParkWeek.
Park Clean Up
If you're not ready to sign up to be a reoccurring volunteer, there are still ways you can help for a day or weekend. The National Park Service hosts volunteer events throughout the year where people can come and help clean up the parks. These opportunities help keep the parks pristine, so everyone can continue to enjoy their beauty.
Take a look at the NPS website as well as volunteer.gov for park clean up days and other one day volunteer opportunities near you. These opportunities are available for kids, teens, and adults, as well as both individuals and groups, and are a great way to spend the day outside both enjoying nature and making the planet better.
How to Recreate Responsibly
Another important part of Volunteer Day is recreating responsibly. If you'll be visiting a national park in 2021, it's especially important to follow all rules set by the parks for both your safety as well as the safety of the workers and volunteers.
Follow COVID-19 guidelines while in the parks to help protect the health of guests and employees, including wearing masks when in buildings and keeping at least 6 ft distance from others. Also be sure to obey the state, tribal, and local orders for where you're traveling, as they may be different from your home town or state. The NPS works closely with public health professionals and makes operational changes as the conditions change, so check their website for any restrictions and guidelines before you enter the park.
You can also recreate responsibly by following the Leave No Trace principles. These outdoor ethics principles should be used any time you're in the outdoors, not just in national parks! But they're especially good to remember now, when there may be fewer first responders, volunteers, and facility workers due to the pandemic. You can find more details on these principles on the NPS website.
Here are the Seven Principles of Leave No Trace to practice during national park visits:
Plan ahead and prepare
Travel and camp on durable surfaces
Dispose of waste properly
Leave what you find
Minimize campfire impacts
Respect wildlife
Be considerate of other visitors
The NPS encourages you to share how you enjoy using public lands in a responsible way with the hashtag #RecreateResponsibly. It's a fun way to celebrate the national parks by getting outside and protecting our planet.
RVing is a great way to see the national parks, whether you're volunteering or just visiting. If you're looking for more information on ecotourism and how to recreate responsibly, check out our articles on RV eco travels and tips on easy green living in your RV. And if you need an RV to get to your favorite park, we've got you covered with rentals all across America.