Travel Inspiration
June 24th, 2020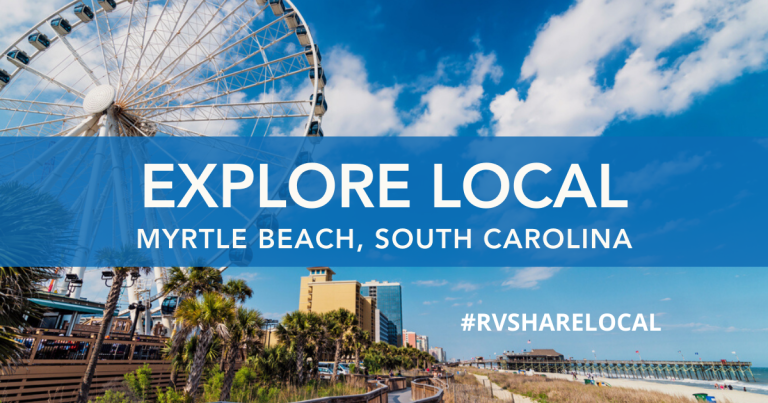 Tucked just a couple of hours away from major South Carolina cities like Columbia and Charleston, Myrtle Beach is a seaside playground that's been known as a resort city for decades. It's also the historic home of the native Waccamaw tribe and the site of European settlements dating as far back as the late 18th century.
Today, of course, it's chock full of diversions for both residents and visitors, from the beach itself (of course) to a variety of restaurants, entertainment venues, and cultural attractions. In short, if you're in Myrtle Beach, you've found a great place to explore — so let's get to it!
Why We Love to Travel
From meeting new people to experiencing new sights, sounds, and smells – is there anything more exciting or rejuvenating than a break from the day-to-day mundanity? Traveling is an excellent way to immerse yourself in a new culture, setting, or way-of-life, but the best part is this: you don't have to venture far from home to enjoy what this world has to offer.
Whether your journey takes you across your own city, to an unexplored part of your state, or even to the other side of the world, there's no doubt you will still learn a lot about your surroundings – and yourself – along the way.
Benefits of Traveling Locally
While the culture an hour away from your home might not be drastically different from what you're used to, you can still gain a deepened sense of appreciation for where you've laid your roots. Plus, traveling locally has a lot of benefits:
More cost-effective. Local travel is certainly a budget-friendly way to explore! Many activities and local parks are free or have a low cost of entry. For day trips, you can also pack your own meals to save.
Eco-friendly way to travel. Travel is hard on the environment, but putzing around your area is more sustainable than air travel.
Quick trips. Getting out locally means you can do it more often! Long weekend trips are a lot easier to take when the destination is a short drive away.
Easy to plan. Preparing your itinerary for a local getaway will likely save you some time and stress.
More convenient. Especially if you have little ones, sticking close to home may be much more convenient than far-off destinations. If you forget something, have an emergency, or need to cut the trip short, being close by definitely has its benefits.
Explore Local: Myrtle Beach, South Carolina
With its 60 miles of beachfront, known as the "Grand Strand" by South Carolinians, and its general atmosphere of frivolity, Myrtle Beach is the kind of place that always feels like it's a vacation, even if you live there. It makes sense, then, that the city has recently appeared on lists of the fastest-growing metropolitan areas in the country, in 2018 coming in second only to Midland, Texas.
Myrtle Beach is also a popular tourist destination, and even in a post-COVID world, travelers are sure to find their way to this seaside paradise sooner or later. No matter what brings you to Myrtle Beach or how long you plan to stay, here are our suggestions for what to do while you're there!
State Parks in Myrtle Beach
You may think Myrtle Beach is all about, well, the beach — it's right there in the name, after all! But there's actually a great diversity of outdoor spaces to see and experience in the southlands. Here are some state and national parks to put on your to-do list while you're in Myrtle Beach, SC.
Myrtle Beach State Park is, of course, one of the most popular destinations for Myrtle Beach residents and visitors alike. It's also a great camping option for those traveling in RVs, since it features more than 270 campsites, 138 of which offer full hookups!
Huntington Beach State Park is just a smidge further south along the coast and is a laid-back place to recreate and meander along beachsides and marshland while getting familiar with area residents like sea turtles, maritime birds, and alligators. There's also a Moorish castle dating all the way back to the 1930s!
National Parks Near Myrtle Beach
Waccamaw National Wildlife Refuge was established in 1997 to preserve and protect native animals like red-cockaded woodpeckers, swallow-tailed kites, and even black bears. You may also spot squirrels, foxes and other types of birds, not to mention the lovely landscape itself.
Congaree National Park is often overlooked, but an excellent destination for outdoor recreation enthusiasts of all types. A stunning southern hardwood forest mercifully spared by the lumber industry, this landscape stands as a testament to what this area looked like before humans came and took it over.
Great Smoky Mountains National Park is one of the largest in the lower 48 — and the most popular of all the American national parks in the roster. While it's certainly a bit of a drive from Myrtle Beach, if you're looking for a change of scenery, it's incredible to see the juxtaposition of the coastline with the Appalachian mountains.
Best Hiking Trails
Even if you don't make your way to the area's state parks, there are plenty of places to take a leisurely stroll — or something a little bit more challenging.
Here are some of the very best hiking trails in Myrtle Beach.
Market Commons Trail
At 5.6 miles round trip and with beautiful lakefront views, the Market Commons Trail is a popular destination for walkers, joggers, and bikers alike. Paved portions make this hike a good option for those pushing strollers or wheelchairs, as well.
Yaupon, Sculptured Oak and Pond Trail
A 2.5-mile out-and-back trek, the Yaupon, Sculptured Oak and Pond Trail is considered a bit of a hidden gem by locals. It's moderately trafficked, so while you might not experience total solitude, you could get away from the large crowds that are characteristic of other parts of Myrtle Beach.
Grissom Parkway Trail
In need of something a little longer? The Grissom Parkway Trail meanders more than 12 miles all told, if you take it for a round-trip venture. Paved, shady, and often wooded, this trail is a popular destination for dog-walkers and bicyclers, as well as those hungry for a longer stroll.
Myrtle Beach Path
The Myrtle Beach Path is a stretch of sidewalk along a large road, so it's not exactly a "hike" in the sense of the word you may be after. But if you're looking for a great place to ride your bike on a sunny day, this 7.1-mile out-and-back path is a great option.
Best Restaurants in Myrtle Beach
Whether you're hiking and biking or just kicking back along the beach, at some point, you're going to have to break for mealtime. Fortunately, there are some incredible restaurants in Myrtle Beach! Here are some of our favorites.
Gulf Stream Cafe
Dining out is as much about the atmosphere as the food — after all, you can cook for yourself at home. Gulf Stream Cafe may be a bit of a drive south of Myrtle Beach proper, but it's a worthy destination: it's well known amongst locals as one of the very best places to catch an east-coast sunset. Of course, the menu is excellent, too; start with tuna tartare or some oyster shooters before moving on to jumbo lump crab cakes or shrimp and grits. Don't forget to save room for dessert; the key lime pie is to die for!
Villa Romana Italian Restaurant
You may be far away from the Old Country, but Villa Romana Italian Restaurant is one of the best not just in Myrtle Beach, but in the entire state — if not a broader radius still. With authentic dishes served in generous portions, you'll leave this restaurant with a smile on your face and a happy fullness in your tummy.
Soho Steak & Seafood Sushi Bar
Here's the thing about sushi: if you like it, you love it, but not everyone does. A trip to Soho Steak & Seafood Sushi Bar pleases everyone in your party because there's a wide range of other delicious treats to choose from on the menu. If you're not feeling Asian food, try one of their Mediterranean delights or classic French cuisine. No matter your tastes, you're sure to find a fit at this renowned Myrtle Beach restaurant.
Kindbelly Cafe
Good food should be delicious — and ideally good for both your planet and your body, too. The fare at Kindbelly Cafe meets all of those requirements, which is probably why it's known as one of the best vegetarian and vegan restaurants in the Myrtle Beach area. (Don't worry, carnivores, they've got options for you, too… though the vegan stuff is good enough you probably wouldn't miss your meat!)
Fiesta Mexicana
The only border you're south of is the one between the Carolinas, but that doesn't mean you can't find some delicious, spicy eats. Fiesta Mexicana is the place to go if you're craving a taste of Mexico, serving a delicious range of dishes including tacos, fajitas, chips with guacamole, churros, burritos and more.
Fun Things to Do in Myrtle Beach
You're well fed. You've gotten some outdoor time and exercise. What else is there to do in Myrtle Beach?
So glad you asked. Here are some of the top things to do in Myrtle Beach this weekend, whether you're a couple, a family, or just one single adventurous soul!
For Kids and Families
If you've got kids, you're in the right place. There are tons of things to do in Myrtle Beach with kids; here are some of our best suggestions.
Ripley's Believe It Or Not and Aquarium
You can choose to believe it — or not. But the artifacts and exhibits in the Myrtle Beach Ripley's Believe It Or Not Odditorium will certainly give you pause either way. There's even an arcade and a mirror maze if you're in need of some more hands-on adventure.
True to its oceanside location, Ripley's also boasts an aquarium in this city. Get up close and personal with finned friends, or go the extra mile to participate in one of the aquarium's special experiences, like a glass-bottom boat adventure or the chance to dive with sharks (if you're brave enough!).
Family Kingdom Amusement Park and Splashes Water Park
Hey, it's got "family" right in the name! In all seriousness, if you're looking for a great way to keep the whole family occupied for an afternoon, it's hard to do better than an amusement park, and Family Kingdom is a great one. Get a thrill on one of the park's many adventure rides, like the Sling Shot or the Swamp Fox roller coaster. Or go for a more laid back approach, enjoying kid-friendly rides, playing carnival games, and enjoying some delicious fair food. Did we mention there's an on-site water park, as well?
At Night
We've covered plenty of great things to do during the day in Myrtle Beach — but what about during those starry summer nights? Here are some options.
Ride the Myrtle Beach SkyWheel
Rising a whopping 187 feet over the town below, the Myrtle Beach SkyWheel is the perfect vantage point from which to get the full lay of the land, and it's a great ride whether you go in daytime or night time. But as far as an after-hours treat, we have to say this is also one of the best things for couples to do in Myrtle Beach — I mean, can you imagine something more romantic than floating high above the shining lights with your sweetheart? Yeah, we didn't think so!
Take a Gamble on a Casino Cruise
What's better than playing the tables with a stiff drink in your hands? Why, doing the whole thing on the water, of course — which is exactly what you can do if you take a ride on the "Big M" casino boat. Enjoy stunning waterside views of town as well as a fun party atmosphere on board, and don't forget, you might just win big!
Cheap and Free Things to Do in Myrtle Beach
Here are some of our favorite cheap things to do in Myrtle Beach — and by "cheap," we do sometimes mean "free!"
Stroll Broadway at the Beach
A shopping and entertainment zone full of fun diversions for the whole family, Broadway at the Beach is totally free to enter… though chances are something will catch your eye while you're there that you'll decide is worth buying. Whether it's a souvenir, a new pair of shoes, or a trip on the Merry-Go-Round that brings you, you'll be sure to stick around for the multitude of other things to see, do, and explore while you're there!
Browse the Myrtle Beach Art Museum
The Myrtle Beach Art Museum, also known as the Burroughs and Chaplin Art Museum, hosts rotating exhibits and permanent collections alike — and thanks to the generosity of museum visitors, members and sponsors, it's totally free for the public to visit! The museum is open every day except Sundays and Mondays from 10 a.m. to 4 p.m., and it also closes for major holidays.
Visit the South Carolina Hall of Fame
The South Carolina Hall of Fame recognizes outstanding contributions to the state's history and progress, and visitors are welcome from 8:30 a.m. until 5 p.m. each and every day at no charge. It's an easy way to pass a rainy summer afternoon, and you might just learn a thing or two about this state's impressive past while you're at it!
Spas in Myrtle Beach
You definitely deserve some pampering — and to look as beachy and wind-swept as this city makes you feel. Here are the best day spas and salons in Myrtle Beach.
Awakening Spa at Anderson Ocean Club
A shimmering oasis tucked just beside the beach, Awakening Spa offers a wide range of services including massages, facials, body scrubs, wraps and more. Their unique reward point system allows frequent customers to save serious money, and once you experience one of their services, you'll definitely want a repeat!
Celestial Spa on Cloud 9
If "on cloud 9" sounds like exactly where you want to be, make your way to Celestial Spa. With all-inclusive packages and specials, you can get world-class treatment without necessarily paying world-class money for it, and that sounds like a blissful experience, indeed.
CoCo Salon & Spa
Need a touchup on your cut or color? CoCo Salon & Spa is home to some of the very best stylists in the area, who will be sure to have you looking your best for your big day, special event — or just because.
Best Gyms & Yoga Studios
Keeping in shape isn't just about how you look — it's about how you feel! Here are the very best places to work up a sweat in Myrtle Beach.
Iron Legacy Gym
Formerly known as none other than Gold's (which, yes, is the chain where Arnold got his start), Iron Legacy is the kind of place with a no-frills approach to fitness: get in, get the work done, and get to your goals! Trainers are also available to help you make a plan to achieve your nutrition and fitness objectives.
Yoga in Common
Whether you're 5 or 95, yoga is for you — that's how Yoga in Common sees it. Offering classic classes as while as unique offerings like family yoga and reiki, this is a great spot to get grounded, flexible, and ready to take on whatever life throws your way.
SweatCycle
If you've never taken a spin class before — or even if you're a veteran — you're in for a treat. At SweatCycle, you get more than just a great workout and a dose of pride and euphoria: you get a community. And the beats are bumpin'! (Did we mention they offer hot yoga, too?)
Day Trips in Myrtle Beach
Obviously, there's plenty to keep you occupied in Myrtle Beach. But if you're looking for a day trip or weekend getaway, you've definitely got options!
Charleston
Just a quick two-hour drive can land you in this one-of-a-kind southern city, well known for its scenery, friendly faces, and — most importantly, we think — food. You can also learn more about the history of both the city of Charleston and America as a whole when you visit Charles Towne Landing State Historic Site.
Georgetown, SC
No, we're not talking about the Washington D.C. university. Georgetown is a small town in South Carolina whose southern sensibilities are eclipsed only by its quaint, scenic bayside views. It's the third-oldest city in the state of South Carolina and home to a variety of museums and attractions — a higher proportion of them than you'd expect, given its size!
Wilmington, NC
It might require a trip over the state border, but Wilmington, North Carolina is well worth your while — and besides, it's only an hour and a half of driving. Visit the Battleship North Carolina, traipse through Airlie Gardens or meander the Bellamy Mansion Museum. Either way, you're definitely not going to be bored.
As a final reminder, some of these activities may need to wait until businesses fully reopen from coronavirus closures. However, there is still much to see and experience in Myrtle Beach that you can enjoy today! What are your favorite spots in Myrtle Beach? Send them our way to [email protected] or by tagging us on Instagram @rvshare and using the hashtag #rvsharelocal.