Luxury Camping
Last updated on January 23rd, 2023. Originally published on August 23rd, 2021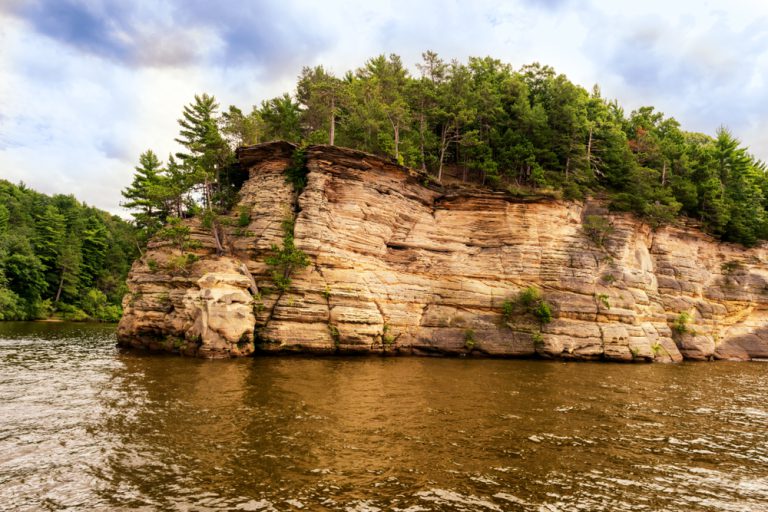 Wisconsin offers loads of places to find luxury RV campgrounds. You can stay in or close to the Wisconsin Dells to enjoy the amusement parks on your trip or head to Green Bay and get tickets to a Packers game. Luxury camping combines the benefits of staying in a resort with the fun of camping under the stars. You can rent an RV for your luxurious Wisconsin RV camping trip or bring one for home and stay in one of the top resorts.
Luxury RV Parks in Wisconsin
Wisconsin Dells KOA Holiday
In a country setting, but only a mile from downtown the Wisconsin Dells KOA Holiday has everything you are looking for and more! From fun on-site amenities like a pool, playground, dog park and bike rentals to weekly events. The Wisconsin Dells area has so much to offer including boat tours, Ziplines, museums and mining! Once you are finished adventuring, a secluded spot among the trees awaits for you to unplug… and that is true luxury.
Fox Hill Campground
Ranked as one of the top destinations in Wisconsin for families, Fox Hill Campground has full hookup spots scattered across 70 acres of beautiful land. Next door is a 12-hole golf course with some challenging holes. When you stay here, you get discounts at local attractions such as Booby Trap Escape Rooms and Bigfoot Zipline. The campground has a snack bar that is close to a heated swimming pool as well as a two-mile nature trail and nine-hole disc golf course.
River Bend RV Resort
Guests of all ages like the wagon rides that take them through River Bend RV Resort. During the high season, the resort helps you unwind and have fun with planned activities that include a celebration for Cinco de Mayo, tie-dye lessons, and a barbecue for Memorial Day. An onsite water park covers 8,000 square feet and features a whirlpool and two slides along with a separate area for kids. You can even rent a golf cart to get around the campground.
Hidden Valley Milton KOA
The Hidden Valley Milton KOA offers luxury camping Wisconsin spots and amenities for all types of travelers. It has a full calendar of events that include a Memorial Day celebration in May and a chili cooking competition in August. You can pick from dozens of sites with trees that offer a peaceful touch to your camping trip. With video games and televisions, the onsite clubhouse can help you unwind, too.
Summer Hideaway RV Resort
All of the spots at the Summer Hideaway RV Resort are just a short walk from the in-ground swimming pool, which has tons of places to unwind before or after taking a dip. A toddler pool and hot tub are also close by. There are both basketball and volleyball courts in the recreation area, along with a horseshoe court and miniature golf course. You can visit the dog park and pick up the ATV and snowmobile trails right outside the resort.
Edge-O-Dells Bar & Resort
One of the top luxury campgrounds in Wisconsin is Edge-O-Dells Bar & Resort, which is close to Wisconsin Dells. This is where you can meet new friends and have fun at group campfires or head over to the bar and restaurant when you want to relax. This resort offers live entertainment during the busy season and plans tons of events every year. There's Millerpalooza Weekend in July and the Ragged Roots Music Festival in September.
Where to Luxury Camp in Wisconsin
Many visitors looking at where to find luxury RV camping in Wisconsin want to stay close to the Dells. This is a popular destination for families due to the family-friendly attractions nearby, such as Noah's Ark Waterpark, which has dozens of water rides built around a Noah's Ark theme. Mt. Olympus is also popular as it has both an amusement park with a roller coaster as well as a waterpark. Not far away is the Timbavati Wildlife Park, where you can see wild animals not usually found in the state.
You may also want to stay close to a big city like Green Bay or Milwaukee. Even if you're not fond of football, you can stay near Green Bay and explore the Bay Beach Amusement Park that is right on the water. Some travelers like walking through the Green Bay Botanical Garden before heading to the National Railroad Museum. Between the Milwaukee County Zoo and Milwaukee Art Museum, this big city of the same name keeps you busy. You may want to check out the Harley-Davidson Museum, too.
Luxury RV Camping in Wisconsin
Though it's easy to find luxury campgrounds in Wisconsin, you may need some help getting ready for your trip. We recommend that you visit our blog and look over the luxury camping tips we suggest. It's often helpful to make a list of your must-have amenities and pick a campground or resort that offers them. You may want clean restrooms with hot showers or a clubhouse that you can rent for a family reunion. Resorts that offer more onsite amenities and activities can help you save money because you don't need to drive to find new things to do.
Another thing to keep in mind is that you should reserve your spot in advance and not just wing it. Campgrounds such as the Edge-O-Dells Bar & Resort hosts many festivals that are popular with visitors and locals. Resorts that are close to popular attractions and events can run out of space months in advance. Don't forget to consider the food that you need either. Camp stores are often expensive, and eating at local restaurants can put a dent in your budget. It's easy to pick up food on your way to your luxury site.
Visiting a luxury RV park is a way to go beyond your typical camping trip. These sites have beautiful amenities, some of which include tennis and basketball courts, spas and fitness centers, golf courses, upscale bathrooms, and much more. Expect fun events and comfortable accommodations that make your vacation feel luxurious and special. Rent a beautifully maintained, peer-owned RV from RVshare and enjoy one of these exclusive resorts.