RV Owners
Last updated on July 21st, 2022. Originally published on June 18th, 2020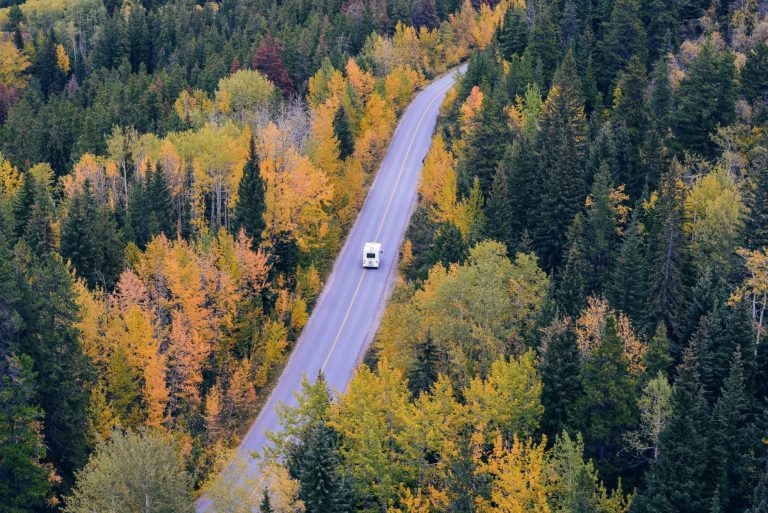 Buying an RV is a big, exciting purchase! You have years of adventure and fun ahead of you…but how many, exactly? When it comes to buying something a big investment like an RV, it makes sense to find out how long you can expect your motorhome to last.
How many miles do RVs last?
The short answer is that the average lifespan of an RV is around 20 years or 200,000 miles, whichever comes first. But the answer isn't quite that simple. That number can vary depending on the class of your motorhome, how well you take care of it, and a few other factors. To learn more about RV classes, see RV classes explained.
Average lifespan of a Class A Motorhome?
A Class A motorhome is the largest of the three classes. Class As are the tour-bus style motorhomes you see on the road – big RVs that are great for fulltime living or camping while offering plenty of room. They're also the most expensive class of motorhome. The average life of a class A motorhome should be around 200,000 miles if you take good care of it and perform regular maintenance. Check out our deep dive of class A motorhomes for more.
Average lifespan of a Class B Motorhome?
Class B motorhomes are the campervan types. Because they're just a bit bigger than a regular van (and sometimes they're the same size), they are cheaper and easier to operate. They should also be good for twenty years or 200,000 miles, but many can go longer if you take good care of them. The drawback of Class B vehicles is that you can't fit as many people in them – they're great for traveling solo or with a very small family but if you have more than three people you're going to want a bigger motorhome.
Average lifespan of a class C Motorhome?
The Class C RV is often regarded as the Goldilocks of motorhomes – not too big and not too small. These are the motorhomes you see that look like they're built on a truck, with the "attic" area that sits on top of the truck cab and the living space in the back. They are cheaper than Class As but offer more space than a Class B. They can also last about 200,000 miles if you perform regular maintenance and get problems fixed quickly.
What is good mileage for a used RV?
Although you'll want to consider the mileage before buying a used RV, it shouldn't be the only thing you consider. An RV with low mileage that hasn't been cared for well could be a worse purchase than a well-maintained RV with more miles on it. Do a thorough inspection of any RV you're interested in buying, and don't be afraid to ask questions or request to see maintenance records. You may even consider hiring someone to inspect the RV – it will be an added expense but if they can help you purchase an older RV for a great price, or keep you from buying an RV that is a money pit, that expense could be well worth it. For the best deals, check out when the best time to buy an RV is.
How to increase how long your RV will last
Because an RV is part vehicle, part house, you'll have to maintain both of those systems to ensure a long life. Here are some tips on how to prolong the life of your RV.
Vehicle maintenance
Just like with your car or other vehicle, you need to do routine maintenance on your motorhome. You'll want to schedule regular check-ups for the following:
oil changes
tire air pressure checks, rotation, and replacement when needed
brake pad checks, change or replace when needed
engine cleaning
fluid replacement
re-alignment
fuel injections
Living area maintenance
Unlike your car, you'll also need to check the areas of your motorhome dedicated to your living space. Here are a few things you'll want to make sure are in good working condition:
regularly lubricate slide-outs to keep them working smoothly
apply UV protectant spray on rubber weather sealing around slide-outs
keep an RV roof patch kit on-hand for leaks
use a surge guard between your rig and power outtake to prevent appliance damage
use motorhome toilet chemicals every week or two to break down toilet paper and waste while minimizing odors
empty the black tank when it's at least 3/4 full
wipe and dry shower area after use to prevent mildew
clean shower and sink after each trip and look for leaks or cracks. Repair those immediately to prevent bigger leaks!
wash your RV regularly after a trip (or during, if it's a long one), wax your RV regularly to protect the exterior
Before storing
If you're storing your RV for several months, you'll want to do a few things first.
drain all tanks, especially if you're storing during cold months, to prevent burst pipes
once all tanks and pipes are drained, add anti-freeze to all tanks, lines, and drains (don't forget the toilet)
disconnect the battery and store it somewhere warmer to preserve its longevity
inspect your RV for holes and broken seals, seal those up to prevent rodents or water damage
pop an air freshener in your motorhome to keep things smelling fresh
if you're storing your RV outside, cover it to protect it from the elements
What else to do with your motorhome
Since RVs can last a long time and hundreds of thousands of miles, you may have it for periods when you're not using it. Don't let it sit in storage that whole time – rent it out! Renting your RV allows another family to experience exciting adventures and create memories just as you have. You'll meet new people, and you'll be earning money while doing…nothing. When you rent with RVshare, their verification check processes ensure you'll have quality renters, and you'll have liability and comp insurance coverage for the duration. You can earn back the money you'll need for maintenance and upkeep of your rig – and you may even earn more that can go towards your own next vacation.
Looking for even more RVing tips and tricks — both during the purchase process and for your first camping excursion?
Here are just a few RVshare blog posts to help you out.