RV Owners
Last updated on June 2nd, 2023. Originally published on December 11th, 2018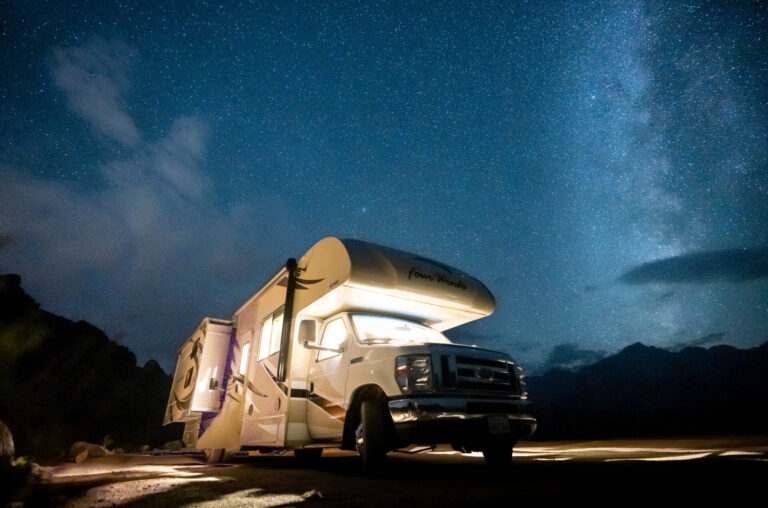 When it comes to RV classes, the "C" in Class Cs could very well stand for "choice." Class As may be big and fancy. Tiny mini-motorhomes and travel trailers give you lots of leeway when it comes to navigating narrow or unpaved roads. But Class C motorhomes are something of a Goldilocks in the RV community. You'll get many of the same creature comforts you'd find in a larger rig, with the flexibility and economy of a mid-size RV or travel trailer. Plus, the Class C is a drivable RV. You won't have to depend on a big, clunky tow-capable vehicle to get you where you're going!
Make no mistake about it, however: If you're in the market to purchase an RV of your own, you'll want to do lots of research. The only person who can make an informed decision about which make and model will work best for your needs is, well, you.
We've written this post as part of our ongoing series of deep dives into the different RV classes. We hope it helps you get a basic sense of which of the many types of RVs might be the perfect one for you.
RV Classes: A Brief Overview
While we've written an in-depth post about the different RV sizes and classes, a short review might be helpful before we get into Class Cs in particular.
Here are the most common RV classes you're likely to find during your search for the perfect vacation vehicle, and some of their key features.
Class C RVs: The start of this show!
Class C RVs are drivable motorhomes built directly onto standard truck chassis. They feature a unique and highly recognizable body shape, including a hanging "attic" space. This can be used for storage or an additional sleeping surface.
Class C campers come in a wide variety of sizes and footprints. These include large, luxurious models with multiple slide-outs and diesel engines, as well as small Class C RVs that might measure just 20 feet or so. They combine the comfortable, amenity-rich camping style of a large motorhome with a bit of the flexibility and affordability of smaller options. Some of the larger Class Cs come at quite a cost and may be difficult to maneuver down winding roadways. Because of their unique body style, Class C RVs are a great option for families with older children who want privacy. That attic bedroom makes an excellent hidey-hole or reading nook.
Let's dive deeper into Class C RVs, the middle-of-the-road option that truly offers something for everyone.
Class C RV Interiors Combine Comfort and Customization
If you want the convenience of a self-powered motorhome, but you're not sure about spending big bucks on a gigantic Class A, a Class C can offer an affordable, easy-to-operate solution. They combine many of the comforts and amenities of larger, high-end rigs with a relatively small footprint, all without giving up having an engine on board.
Is your budget on the smaller size? Are you considering buying a used Class C but are concerned about the interior style? Fear no more, Class C motorhomes offer a fantastic canvas for upgrades. Whether you want to add your personal style or update your camper away from the boring factory browns, the options for remodels and DIY projects are endless! Check out these makeover tour videos for some inspiration! Or the set-by-step makeover of a vintage Class C RV in the videos of The Endless Adventure.
Here are some of the advantages of Class C motorhomes.
Class Cs tend to cost less than Class As.
Don't get us wrong, because you can definitely spend a small fortune on this kind of motorhome. There are some ultra-high-end Class C rigs on the market. (In fact, we'll get to some of those a little bit later on in the post.)
If budget is an important consideration in your purchase decision, Class Cs do tend, in general, to be more affordable motorhomes than their Class A cousins. That's especially true of smaller rigs, which offer scaled-down versions of the extravagant amenities you might find in a top-of-the-line Class A.
Depending on make and model, you can find new Class Cs available for as little as about $40,000, and for much less if they're used. You could also spend a quarter of a million dollars on a large, customized Class C shipped straight from the manufacturer. It's all up to you — and your wallet!
Class Cs are built onto standard truck chassis, which makes them easy to drive.
One of the most common hesitations we hear from prospective RVers is: "But how on earth am I going to drive that thing?"
And we get it. If you've been navigating your day-to-day life in a smaller vehicle, a 40-foot diesel pusher can look scary. Even a tiny travel trailer can be intimidating since towing means you've got to learn how to deal with a hitch and drag weight.
But Class C RVs have the unique benefit of being built right into a standard pick-up truck chassis. This makes them relatively simple to drive even for those who've never dealt with a larger vehicle. The controls and overall user experience are very similar to those you'd find in your everyday car. In fact, when you're sitting in the driver's seat, your Class A may feel indistinguishable from a regular truck.
Pros of Motorhomes Under 30 Feet
If you're in the market for a Class C, you may want to consider motorhomes under 30 feet. Designers manage to carve out pockets of storage and have ingenious ways to make the most of your home on wheels. Smaller vehicles also tend to cost less.
Class C motorhomes under 30 feet are also less cumbersome to drive. If you're new to RVing or just want to be able to fit in almost any camping spot, a 30-foot motorhome is going to offer you an easier time than a bigger vehicle.
Finally, because your motorhome is smaller, you're also going to get better gas mileage than a larger Class A RV. Big Class A's can get between 4-6 miles to the gallon, while Class C's can get between 8-12 mpg. This will save you money on fuel, as well as be better for the environment.
Class Cs offer superior fuel economy to larger motorhome options.
Obviously, the bigger and heavier your RV is, the more fuel it's going to need to operate. Class C RVs are far from the smallest motorhome options on the market. They still take quite a bit of gas to operate. If your RV's fuel economy is important to you from a budgetary or environmental perspective, but you don't want to scale down to a sleeper van, a Class C could help you maximize fuel efficiency while still enjoying a total "glamping" outdoor experience.
Where a large Class A might get between 4-6 miles to the gallon, these rigs can get about 8-12. That might not seem like much of a difference… but let's use an example trip to calculate the fuel cost difference between a Class A and a Class C motorhome.
Let's say you want to travel from Jacksonville, Florida to Gatlinburg, Tennessee to enjoy the Great Smoky Mountains. That's a trip of about 500 miles one way and 1,000 miles round-trip.
Let's say a gallon of gas costs $3 on average. That means if you're driving a Class A, you'll pump a total of between $500 and $750 into your tank (based on that 4-6 mpg figure). In the Class C, you'll spend $250-$375. That's a pretty substantial difference — and one that gives you money left over to spend on the more fun stuff.
Luxury Class C Motorhomes
Although they're generally smaller and more affordable than the big-boy Class As, the best Class C motorhomes offer many of the same luxurious amenities, like slide-outs, full-sized appliances, cozy separate bedrooms, and much more. And if engine quality and fuel type factor into your purchasing decision, you should also know that Class C diesel motorhomes do exist — and are some of the nicest RVs you can find on the market.
Because they're so versatile and come in such a wide array of different makes, footprints, and levels, Class C motorhome prices vary widely. They start as low as about $40,000 new off the lot (and lower if you're looking at pre-owned vehicles), and can quickly go up to hundreds of thousands of dollars.
A huge determiner of the price you'll see when you're shopping is which Class C motorhome manufacturer's product line you're browsing. Here are a few RV makers that offer, or even specialize in, making Class C campers.
Class C Motorhome Manufacturers
Many different motorhome manufacturers offer Class C rigs alongside their Class A motorhomes and travel trailers. Here are a few you might recognize:
Coachmen
Thor Motor Coach
Forest River RV
Jayco
Winnebago
Lazy Daze
Fleetwood
Monaco Coach Corporation
and many others.
It's important to note that the manufacturer name is not the same as the brand name. Each manufacturer generally creates a line of RVs under a specific brand, such as the Chateau or Citation lines by Thor Motor Coach. For lots more detail on RV manufacturers, check out our giant guide to the biggest players in the industry.
Best Class C Motorhome Under 30 Feet
If you're in the market for a smaller motorhome, we've rounded up some of the top-rated Class C motorhomes. Their compact size means they can fit just about any campsite, and they feature some creative uses of space so you get the most out of a small living area. Here are eight great options for motorhomes under 30 feet.
1.) Tiffin Wayfarer
Specifications:
Sleeps 4
Gross Vehicle Weight Rating: 11,030 lb
Overall Length: 25 feet, 7 inches
One-piece Seamless Slide-out
Two 12 V House Batteries (Group 27/180 Amp Hours)
30 Amp 110 V House Service
30 K BTU Propane Ducted Furnace
Fresh Water Tank (gallons): 38
Black Water Tank (gallons): 28
Grey Water Tank (gallons): 33
Tiffin gets consistently good reviews and is known for its luxury motorhomes. The Wayfarer is built on a Mercedes Sprinter chassis that features noise reduction and better steering wheel adjustability. It has generously sized beds and plenty of storage including a basement area. The hydraulic leveling system makes parking at your campsite a breeze.
Price: The starting price is $140,770
2. Winnebago View
Specifications:
Sleeps 4
Gross Vehicle Weight Rating: 11,030 lb
Overall Length: 25 feet, 6 inches
SuperShell™ Sleeper Deck
15,000 BTU Air Conditioner With Heat Pump
20,000 BTU Low-Profile Ducted Furnace
Fresh Water Tank (gallons): 30-37
Black Water Tank (gallons): 41
Grey Water Tank (gallons): 41
There's a reason Winnebago is recognized so well in the RV industry – they make a solidly exceptional, consistently well-reviewed product. This motorhome is designed more with functionality and easy travel in mind than the luxury of the Tiffin, but that makes it a great choice for families and people who want a hassle-free journey. It's also well-appointed for camping off the grid.
Price: The starting price is $161,421
3.) Jayco Melbourne
Specifications:
Sleeps 6
Gross Vehicle Weight Rating: 11,030 lb
Overall Length: 25.17 feet
153,500 BTU Air Conditioner
30,000 BTU Auto-Ignition Ducted Furnace
Fresh Water Tank (gallons): 39-43
Black Water Tank (gallons): 31
Grey Water Tank (gallons): 31
The Jayco Melbourne also uses a Mercedes Sprinter chassis and is available with up to two pop-outs. The Class C motorhome comes with plenty of extra storage, a residential-looking bathroom, and a kitchenette with a fridge and a 2-burner stove.
Price: The starting price is $76,995
4.) Forest River Sunseeker Classic
Specifications:
Sleeps 6
Gross Vehicle Weight Rating: 14,200 lb
Overall Length: 27 feet, 7 inches
TRA Certified Green
30,000 BTU Furnace
Fresh Water Tank (gallons): 44
Black Water Tank (gallons): 39
Grey Water Tank (gallons): 39
The Sunseeker Classic offers nine different floor plans, with options for either a Ford or a Chevy chassis. Three of those floor plans come in at under 30 feet long. The Sunseeker also has a split-level design that allows for more headroom. A few of the models also offer pop-outs for extra room.
Price: The starting price is $77,995
5.) Coachmen Freelander
Specifications:
Sleeps 8
Gross Vehicle Weight Rating: 14,200 lb
Overall Length: 27 feet, 11 inches
Family-Friendly Package
15,000 BTU Air Conditioner
Fresh Water Tank (gallons): 48-50
Black Water Tank (gallons): 29-31
Grey Water Tank (gallons): 28-34
The Coachmen Freelander is a great family-friendly option for a few reasons. It sleeps more people than many other Class C motorhomes. It's one of the more inexpensive RV options. It also has plenty of sleeping space and a private toilet.
Price: The starting price is $99,433
6.)
Thor Motor Coach Siesta Sprinter
Specifications:
Sleeps 4
Gross Vehicle Weight Rating: 11,030 lb
Overall Length: 25 feet, 10 inches
15,000 BTU Air Conditioner With Heat Pump
Fresh Water Tank (gallons): 30-42
Black Water Tank (gallons): 22-38
Grey Water Tank (gallons): 24-28
The Siesta offers four different floor plans that all come in under 30 feet long. You can choose a king bed conversion or a queen-sized Murphy bed along with other sleeping options and configurations.
Price: The starting price is $70,000
7.) Winnebago Navion
Specifications:
Sleeps 4
Gross Vehicle Weight Rating: 11,030 lb
Overall Length: 25 feet, 6 inches
SuperShell™ Sleeper Deck
15,000 BTU Air Conditioner With Heat Pump
20,000 BTU Low-Profile Ducted Furnace
Fresh Water Tank (gallons): 30-37
Black Water Tank (gallons): 41
Grey Water Tank (gallons): 41
The two Winnebagos we have listed here both have insulation around the sleeper deck above the drive, which means the person sleeping above stays nice and warm regardless of how cold it gets outside. The Navion offers three floorplans with a variety of configurations for sleeping arrangements. They are also a great option for dry camping as they come with standard 200W solar, Group 31 batteries.
Price: The starting price is $161,421
8.) Entegra Qwest
Specifications:
Sleeps 4
Gross Vehicle Weight Rating: 11,030 lb
Overall Length: 25 feet, 2 inches
15,000 BTU Low-Profile Air Conditioner
20,000 BTU Auto-Ignition Ducted Furnace
Fresh Water Tank (gallons): 39
Black Water Tank (gallons): 31
Grey Water Tank (gallons): 31
There are several options for floorplans for the Qwest, with a variety of sleeping arrangements that include a queen-sized bed or two twins. You can even choose a larger bathroom. The kitchen includes a 2-burner stove and a convection microwave.
Price: The MSRP is $150,893
Class C RV Maintenance: What You Need to Know
Just like every other type of RV (or vehicle in general), Class C motorhomes do require a certain amount of regular, preventative maintenance to ensure they continue to operate smoothly into the future and support many happy camping trips for you and your family! And given their unique shape and body style, Type C motorhomes do require a few specified tips and tricks to maximize their lifespans.
As a Class C owner, you'll want to implement a regular maintenance schedule just as you would with any other type of RV. This should include all the regular items you normally perform for any vehicle engine, such as oil changes and fluid checks, as well as checking the tires and other vehicle systems on a regular basis.
But RVs are more than just engines and wheels. There's a whole house inside to think about! That means that along with all the exterior maintenance, you also want to thoroughly check your interior systems and appliances to ensure they're in proper, working order, clean, and ready to go for your next trip.
However, one of the most important parts of any Rv maintenance schedule, especially in the case of Class Cs, is a commitment to regularly check for water damage. Roof leaks are one of the most common breakdown processes for any rig, but Class Cs, with their attics and over-truck body shapes, are especially prone to water-leak-related problems.
At least once per quarter and after every camping trip, go through your RV extensively to look for stains, soft spots, drips, and any other signs that may convey the presence of a leak. Be sure to check around the interior of the "attic" space, as these parts of Class Cs tend to be vulnerable to leakage. One way to minimize your chance of experiencing water damage in your Class C is to purchase a rig with a solid end cap, rather than the welded/seamed construction you see on older Class C models.
For more information on regular RV maintenance, check out the following RVshare posts:
Want the Best Class C RV Experience? Rent Before You Buy
Shopping for an RV is no small project. There are so many different types and shapes available, each of which results in a very different camping experience. Although there's a lot of information available online, it can be really difficult to ascertain which kind of rig is right for you through research alone.
One of the very best ways to get a feel for which type of RV might work best for you and your family is to actually take trips in a wide variety of vehicles. No matter how thorough a dealership walkthrough might be, it can't stand in for the experience of actually vacationing in your prospective vehicle!
That's why the peer-to-peer rental market can be such a valuable tool for RV campers in the buying market. Unlike the vehicles you'd find at a large, commercial dealership, the rigs available through RVshare and other peer-to-peer rental platforms aren't limited to brand-new Class A and Class C rigs fresh off the manufacturer floor. You can get a whole lot more information by driving around a rig that's actually been lived in, loved, and used — and you'll also be able to choose from a much wider variety of vehicles in the first place, including nontraditional rigs like teardrop trailers, mini motorhomes, and more.
Think of it like the best homework project ever: you'll get to take lots of trips in lots of different kinds of rigs, all to ensure you have the best information on hand when you're making your buying decision. If you secure your Class C (or any other) motorhome rental through RVshare, you won't have any worries to distract you from figuring out if it's the right kind of vehicle for you. We take care of all the logistics, from covering your rental period with a comprehensive insurance policy to providing you 24/7 access to roadside assistance. And your monetary transaction and communication are all performed through our secure platform, which means your sensitive information stays safe. (Of course, if you're looking for even more RV rental options, you can also run a quick Google search for "Class C RV rentals near me.")
Once you've taken a few trips in a Class C RV rental, you may decide that purchasing one is the right move for you and your family. If so, it's still important to shop around and thoroughly vet each potential vehicle before you make a decision.
The best way to buy a rig you'll really love is to walk through as many as possible and not hold back when it comes to asking questions. Here are our tips for what to ask when you're thinking about purchasing an RV, and here are our suggestions for completing a successful and informative walkthrough.
Scoping out all the dealerships in your area and keeping an eye on RV Trader for used Class C RVs near you are both great tactics for finding the vehicle of your dreams. But we also recommend checking out as many RV-related events, shows, and expos as you can in your area, or even traveling to them. There are few other opportunities to explore as many vehicles under one roof or to talk with (and price shop) between so many dealers. Plus, thanks to the stiff competition created by such an environment, vendors at RV shows are often highly motivated to sell and negotiate, which means you could score an incredible deal.
Even if you're not ready to actually purchase an RV, these events are incredible learning opportunities… not to mention an easy, affordable way to have a fun family weekend.
And finally, once you do purchase an RV, don't forget: you can easily use your rig to earn some extra cash to help you pay it off, or even just to put in your pocket for your next adventure!
Owners who list their rigs on RVshare report earnings of up to $365 per day, which can go a long way toward making those monthly RV payments more bearable. Plus, our peer-to-peer community connects adventurous travelers, and both owners and renters alike frequently make lifelong friends through their RV rental transactions.
No matter which type, shape, class, or size of RV you travel in, whether you buy your own or just keep renting, we here at RVshare are stoked to support and guide you through this unique travel adventure! From choosing your next destination to figuring out what to leave off your packing list, we're constantly coming up with new tips, tricks, and ideas to help maximize your explorations.
After all, the world is waiting — so you'd better get out there and start your adventure! Wewant to hear all the details when you get back.
This post may contain affiliate links.