How Tos & Tips
Last updated on November 28th, 2023. Originally published on December 1st, 2017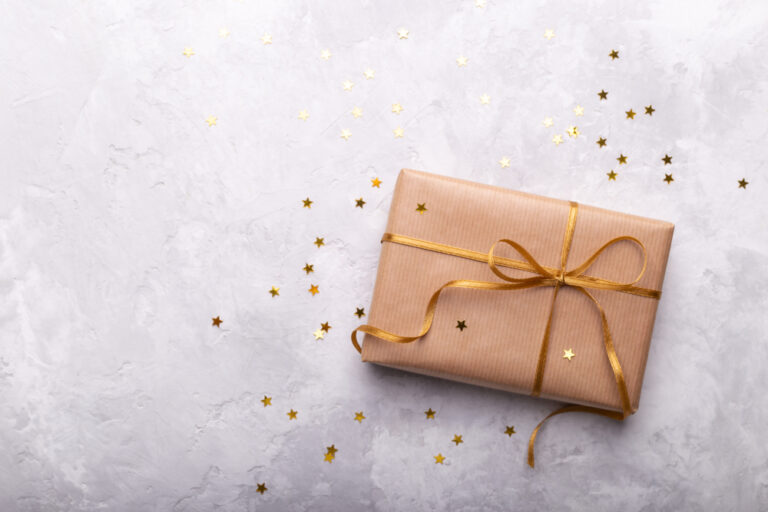 RVing for the holidays?
Of course, it's fun setting off to your favorite winter destinations in your rig, with a whole crew of happy campers in tow. It's the holiday break and the kids are off school, so it's a great excuse for a family vacation! And you need to make the most of your Passport America membership this year, right? That 50% discount at every campground makes for a great incentive to travel.
That said, if a few members of that crew are aged five or under, it's fair to expect a few moments of boredom. Even with all the holiday festivities, sometimes it's hard for the youngest campers among us to stay focused and entertained.
But don't despair! There are plenty of fun activities for kids to do during Christmas break downtime. And lots of these crafts will serve a double purpose by adding to your existing Christmas decor. They might even make the perfect gifts to be given to family members by your children!
So grab your Santa hat and your kid-friendly art set. It's time to get crafty.
Christmas Crafts for Toddlers to Do
Even if your children are very young, there are plenty of creative Christmas crafts perfect for kids to tackle. Here are a few for the littlest artists to try out.
1. Handprint Reindeer
What's that they said about reindeer games?
If your toddler can press her hand to a piece of paper, she can make these easy and adorable handprint reindeer. They're perfect to post up around the camper!
Just get some heavy-duty construction paper so the design won't seep through. Also, be sure to use a non-toxic, washable, kid-friendly paint. Add fun extras like googly eyes and pom poms, using Elmer's school glue.
And as with all of these crafts, it's a good idea to lay down a nice surface of newspaper to protect your furniture. You may even want to bring your crafting party outside if you've chosen a warm enough destination this winter!
2. Mistle-"toes"
Using handprints for Christmas crafts is a classic, but little tootsies can get in on the action, too!
Thanks to Nichole from Pinkie for Pink for this adorable and easy idea. It can be done with all the same crafting materials as the reindeer above.
3. Button Christmas Trees
One of our favorite Christmas crafts for young toddlers, this one takes a little bit of effort from Mom or Dad. But it makes adorable Christmas ornaments that can be used at home or given as gifts. They even stand up on their own!
Your job is to cut out these triangle trees from some good, strong cardboard. Kids get to paint them and glue on buttons to their heart's content! Put this one in the category of fun Christmas activities for toddlers and adults, alike! (Thanks to the brilliant minds over at No Time for Flash Cards for this one.)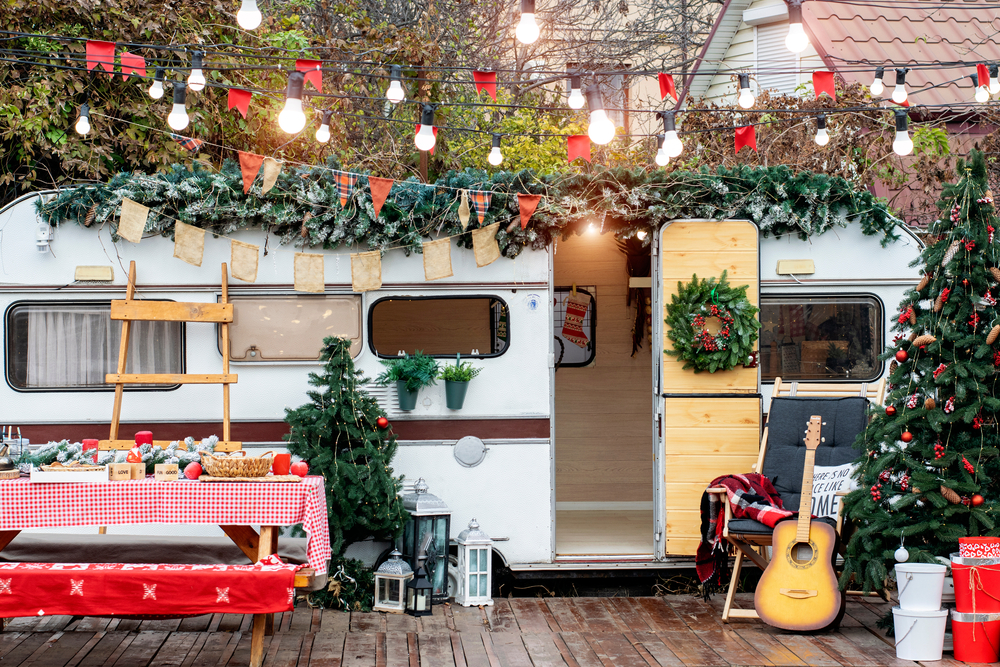 Fun Christmas Activities for Preschoolers
Here are some more easy holiday crafts and Christmas ornaments for your kids to make this year.
4. Paper Plate Wreaths
Here's a holiday classic that'll help you use up all those paper plates you bought for your RV winter holiday feast!
All you need are plain white paper plates, nontoxic paint, pom poms, and ribbon for decoration. Mom or Dad can cut out the center of the plate and let the kids go nuts doing the rest. Then, hang them on your RV door or give them away as adorable presents… which will also serve as precious keepsakes for years to come.
5. Recycled Paper Bag Stockings
While this one's a little bit more advanced and will require some simple yarn "sewing" from Mom or Dad, we love that it's an opportunity to teach kids about the importance of recycling. Plus, these stockings can actually be used, so long as whatever goodies they're stuffed with are lightweight!
Using leftover paper bags, yarn, nontoxic paint, and a potato — yes, you read that right — Yuliya over at BloesemGiving shows us how these adorable DIY holiday crafts are done. Have an adult do the cutting and sewing of the stocking, and then let your kids add the flair. You could easily use other solid fruits and vegetables for the painting, or glue on fun decorations or buttons.
Christmas Crafts for Preschoolers to Give as Gifts
You've already got a ton of recipients on your to-buy-for list — so when your child comes to you with hers, it's no fun to add an extra purchase to each name in her honor.
Fortunately, there are plenty of cute crafts your child can make to be given as gifts… ones the recipients will actually love and use for years to come! Here are a couple of our favorites.
6. Glittery Clothespin Wine Charms
If your kids have an aunt who loves to host parties or an uncle who's got an enviable cellar, these wine charms make the perfect present — and they're easy to put together with just a little bit of adult involvement!
All you need are clothespins, paint, glue, and glitter — and craft varnish if you really want the finished product to shine. (Mom or dad can do that part.)
Click here to see Jackie and her Happy Hooligans show us how it's done.
7. Mini Clay Bowls
Who doesn't need a spare space to stash their keys or change? And won't it be even better when, every time they do, they think of their favorite little camper?
Some white air-dry clay and a few craft supplies make these keepsakes possible. Red Ted Art has a variety of air-dry clay projects kids can create!
Fun Winter Holiday Activities
We hope these holiday ideas and activities for kids help make your winter RV trip a fun, happy, and tantrum-free one.
Merry Christmas and Happy Holidays!
This post may contain affiliate links.