Travel Inspiration
Last updated on November 16th, 2022. Originally published on January 28th, 2017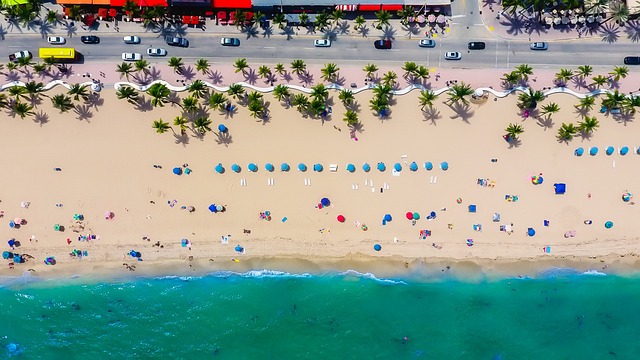 Remember when you were still excited about winter?
When you're sweating out a hot July, the promise of a fresh snowfall, hot cocoa (or toddies), and a chance to finally trot out your favorite sweater can sound pretty darn intoxicating.
But fast forward to the second week of January, and you might feel like you've seen quite enough snow for a while, thanks very much.
7 Warm RV Destinations to Escape to This Winter
If you're ready to pack up and head somewhere summery, check it out: We found seven warm winter RV destinations that'll get you sweating in the best possible way.
1. Clearwater, Florida
Want nothing more than good food, tons of sunshine and access to a glorious stretch of sand?
Head to Clearwater, the seaside city between bustling Tampa and trendy St. Petersburg, Florida. You'll enjoy fresh-as-it-gets grouper at Frenchie's and watch the sunset over the beach voted best in America.
Should you grow bored of idyllic sea views and fresh seafood, it's a quick drive to either town. (Splurge meal not to be missed: Bern's, whose fresh-cut beef is topped only by one of the most impressive wine lists in the U.S., not to mention a dedicated dessert room.)
Clearwater Travel Resort offers reasonable rates for its more than 100 full-hookup sites and features the perfectly-Floridian pastime of shuffleboard right beside the heated pool. If you venture off campus, try your hand at sport fishing, kayaking, or stand-up paddleboard — or scream your head off on some of Florida's best roller coasters at Busch Gardens.
2. Fiesta Key, Florida
There's more to the keys than just Key West.
But if you do make your way this far south, you may as well road trip the rest of the way down and get your obligatory "Mile Marker 0" sticker. It's a beautiful enough ride that you won't mind turning around and driving right back.
The Fiesta Key RV Resort and Marina offers 28 acres of ocean views and fully-functional hookups, and it's central enough that you can take a day trip to Miami, explore the Everglades or head further south. You're also right next door to Long Key State Park, where you can hike, swim, snorkel, and bird-watch.
And that's not to mention the fishing — and the subsequent fresh-fish-eating, which is an absolute must.
3. Orlando, Florida
What can we say? A list of winter getaways is incomplete without a reference to Florida's vacation capital. And although it's not the least expensive option in town, Disney's on-site campground, Fort Wilderness, is nice enough that mom and dad will have as much fun as the kids.
You don't need to venture far from camp for outdoorsy activities like archery or horseback riding, and shuttle and ferry services connect you directly to the parks. Once you're done with a full day of magic, head home to relax poolside and grill up dinner — or belly up to the buffet at Trail's End. Best of all? You can see the Magic Kingdom fireworks from your backyard, so skip the crowd on Main Street, USA.
4. Twentynine Palms, California
You didn't think all our warm-weather suggestions would be in Florida, did you?
If this city's strange name sounds familiar, you might be remembering the 1947 tune about a bold young lady who called it home. But although it's small and far more remote than other popular southern California destinations, Twentynine Palms has a lot to offer. It's a gateway city for legendary Joshua Tree National Park, whose twisted namesake flora and star-studded night sky are stunners. It's also just an hour from Palm Springs, of summer film festival fame, a mecca of recreational activities from horseback riding to golf.
Plus it's deliciously warm and dry in the wintertime, although it will cool off at night. (It's in a desert, after all!)
The Twentynine Palms RV Resort offers 168 full-hookup RV sites as well as a sauna, fitness room and pool. And according to its website, hardly a day goes by during winter when there isn't something fun going on in the Clubhouse, from ice cream socials to live music.
5. Tucson, Arizona
Tucson is a surprisingly vibrant warm-weather hub for snowbirds, bringing something to the table for the whole family. Have some of the country's best tacos, explore its beautiful mountains or head to Saguaro National Park to marvel at just how big cacti really get. (Hint: the author once had her photo taken beside one. You can't see where the cactus ends.)
The 55+ RV community Far Horizons was a top-rated Good Sam park in 2015 and features a mini golf course as well as a pool and sauna. And the nearby Prince of Tucson RV park offers up to 50 amps on every one of its 176 sites, some of which are 80-foot pull-thrus.
6. White Sands, New Mexico
Although it's not at the top of everyone's dream list of road trip stops, New Mexico is a hidden gem, and White Sands shouldn't be missed. (Neither, by the way, should Carlsbad Caverns, well worth the three-hour drive to the east.)
After exploring the Missile Range Museum, grab the kids and head into the White Sands National Monument, where you can sled down the huge dunes of rare gypsum sand that give the site its name. The local KOA at Alamogordo has nearly perfect ratings, and you can finish the day with a friendly game at its horseshoe pits.
7. Austin, Texas
Want to bring some music to your getaway?
Once overshadowed by bigger-name Texan destinations like Houston or San Antonio, Austin's been having a moment for quite a while now, and for good reason. If it's song and dance you're after, the city's got you covered with its legendary fleet of venues and bars. (Psst: they go far beyond the popular set on 6th Street.)
When it's time to make up for your bad behavior with a wholesome Sunday morning, stock up on greens for your smoothie at the downtown Whole Foods market — it's the flagship store, after all. Follow up breakfast with a run around Town Lake, or head further afield to the Lost Maples State Natural Area.
Although it's small enough not to have a dedicated website, Pecan Grove RV Park is right downtown and highly rated. If man's best friend is along for the ride, check out Austin Lone Star RV resort, which features a fenced-in pet run as well as a heated pool.
Bonus: La Peñita de Jaltemba
Got a passport handy? Does a quiet beach town sound like just the thing to counterbalance your winter blues?

The tiny seaside village of La Peñita de Jaltemba, or simply "La Peñita" for short, is home to only 20,000 lucky residents, who get to enjoy its hilltop ocean vistas and fresh tropical fruit year-round. If you cross the river to the south, you'll find yourself in the popular resort area of Rincón de Guayabitos — but after meandering the quiet, shop-lined streets of this local community, we imagine you'll want to stay in town.

La Peñita RV Park boasts over 100 serviced RV sites, most of which, thanks to the park's terraced hilltop location, have stunning views of the ocean. The park also hosts a wide array of activities, including Zumba, ping pong, pickleball, "fun golf" (I guess it's good to specify?), and poker.

You know — just in case you get sick of simply sitting and soaking in the gorgeous landscape, piña colada in hand.

Bon voyage!

[similar_ai_related]