RV Owners
August 26th, 2020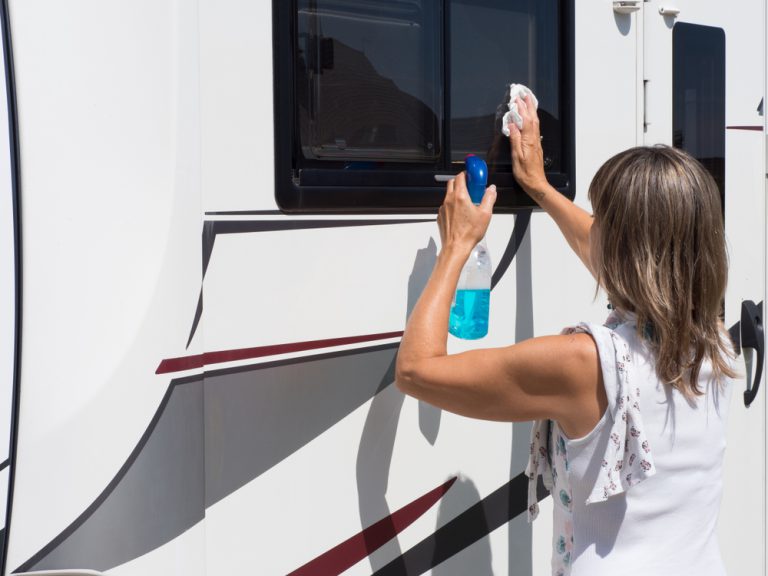 Naturally, you think of cleaning out your RV when you get home from a trip – unpacking clothes, vacuuming up crumbs, stripping the sheets off the bed. But are you also cleaning up before you hit the road, too?
Giving your rig a good pre-trip cleaning is helpful in several ways. It serves as a time to take inventory of what you need to pack for the trip, as well as spotting any repairs that need made. Overall, pre-trip cleaning is a way to start fresh and reduce stress! Today, we'll walk you through some easy steps to make the start of your next adventure a breeze.
Interior RV Cleaning
You likely (hopefully!) did this when you got home from your last trip, but it's a good idea to give the inside of your RV a quick clean before you hit the road. Dust and bugs (usually dead, RIP) can still accumulate, after all!
Open the windows to air out while you're cleaning
Wipe down the fridge, stovetop, microwave, and kitchen counters
Clean bathroom mirror, sink, shower, and toilet
Dust steering wheel, dashboard, and control panels
Vacuum floors, couches, seats, and beds
While you're cleaning, take inventory of anything you normally keep in your RV to clean or restock:
Toiletries – shampoo, conditioner, body wash, toothpaste, toilet paper
Handsoap in kitchen and bathroom
Dishes, serving items, cutlery
Pots and pans
Paper towels or cleaning cloths
Linens – blankets, bedsheets, bath towels, hand towels
Pillows and pillowcases
Exterior RV Cleaning
Again, you may have gotten the outside of your rig spotless upon your return home. But depending on how long it's been, there may be some exterior items to clean before you leave next!
Clean interior and exterior of the windshield and all mirrors
Sweep off debris from the roof
Brush off awning
Review storage compartments
There are also some exterior items you can check while you're cleaning:
Rugs or mats
Grill
Jacks
Outdoor chairs and other furniture
RV Cleaning Supplies
You probably already have all the cleaning supplies you need already stored in your RV! There's really nothing fancy you need to dust and freshen up. In fact, you could get by with a basic all-purpose cleaner and window spray! You can find more tips on cleaning supplies here.
Depending on the size of your RV, pre-trip cleaning will take you 30 minutes, tops! Trust us, it's worth it to spend this short amount of time getting your RV ready for your next trip!
For more tips on cleaning and maintaining your RV, check out these posts: