Travel Inspiration
July 6th, 2020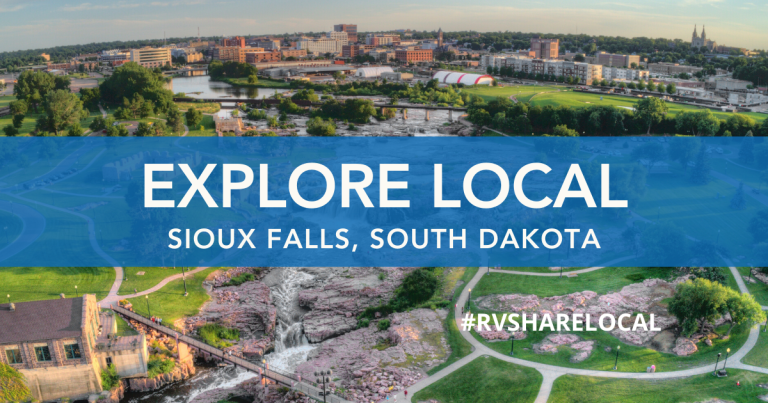 Sioux Falls is the most populous city within South Dakota, as well as one of the most beautiful. It is nestled between rolling hills and enjoys water views of the famous Big Sioux River. With its fascinating Native American history, more than 70 parks and greenways, and humid continental climate, visitors and locals alike love to get outside among nature and learn about the region's intriguing past.
Even those more hesitant to explore the great outdoors will find something to love within this city, whether it's the thriving arts and cultural scene, the ambient restaurants, or the ample attractions.
It doesn't matter if you've lived in the region for a decade, are a new transplant to the city, or are looking to visit the area in the near future – get ready to discover the best of Sioux Falls, South Dakota!
Why We Love to Travel
From meeting new people to experiencing new sights, sounds, and smells – is there anything more exciting or rejuvenating than a break from the day-to-day mundanity? Traveling is an excellent way to immerse yourself in a new culture, setting, or way-of-life, but the best part is this: you don't have to venture far from home to enjoy what this world has to offer.
Whether your journey takes you across your own city, to an unexplored part of your state, or even to the other side of the world, there's no doubt you will still learn a lot about your surroundings – and yourself – along the way.
Benefits of Traveling Locally
While the culture an hour away from your home might not be drastically different from what you're used to, you can still gain a deepened sense of appreciation for where you've laid your roots. Plus, traveling locally has a lot of benefits:
More cost-effective. Local travel is certainly a budget-friendly way to explore! Many activities and local parks are free or have a low cost of entry. For day trips, you can also pack your own meals to save.
Eco-friendly way to travel. Travel is hard on the environment, but putzing around your area is more sustainable than air travel.
Quick trips. Getting out locally means you can do it more often! Long weekend trips are a lot easier to take when the destination is a short drive away.
Easy to plan. Preparing your itinerary for a local getaway will likely save you some time and stress.
More convenient. Especially if you have little ones, sticking close to home may be much more convenient than far-off destinations. If you forget something, have an emergency, or need to cut the trip short, being close by definitely has its benefits.
Explore Local: Sioux Falls, South Dakota
Whether you've lived in Sioux Falls your whole life, are a recently new transplant to the city, or are planning on visiting the region sometime in the near future, Sioux Falls offers an exciting new experience in almost any direction you look.
Read on to start your Sioux Falls, South Dakota adventure!
*Note: Some of the suggestions may not be doable due to coronavirus closures, but keep this list handy for when things start opening back up more! Be sure to check individual pages for specific operation details.
State Parks in Sioux Falls
Remember how we mentioned Sioux Falls was a nature lover's heaven? There are so many state parks and national parks to discover within the area, all of which offer fun recreational activities such as camping, hiking, biking, fishing, and so much more. Ready to surround yourself with the picturesque beauty that this region has to offer? These are some of our top recommendations.
Falls Park
Located within the city itself is Falls Park, an extremely popular outdoor destination due to its stunning waterfalls, observation tower, picnic shelters, sculptures, and so much more. It's located on the shoreline of the Big Sioux River and is the site of a Farmer's Market every Saturday morning from May to October.
Big Sioux State Recreation Area
Also situated on the Big Sioux River is the Big Sioux State Recreation Area. Along with beautiful river views, stunning greenery, and nature for as far as the eye can see, this place also offers activities such as camping, hiking, biking, canoeing, archery, and disc golf, as well as snowmobiling in winter.
Good Earth State Park
Just 18 kilometers out of the city is the Good Earth State Park, which is home to a popular visitor center with interpretive displays, a classroom, small theater, and more. This place is an important cultural and historical site, plus it's one of the oldest sites of long-term human habitation in the United States. From 1300 – 1700 A.D. it served as an important gathering place for seasonal ceremonies and a significant trading center for many tribal peoples.
This state park is known as one of the most fascinating areas within the region, as it contains Split Rock Creek, scenic overlooks, and the 1.2 billion years old Sioux Quartzite rocks, which are up to 50 feet high. Because of this, it is heralded as one of the best rock-climbing destinations within the state. Other outdoor activities include hiking, picnicking, camping, fishing, canoeing, and more.
Devil's Gulch Park
Just a 30-minute drive out of the city will take you to Devil's Gulch Park, a famous historical site where infamous outlaw Jesse James successfully evaded an armed posse. You'll also get to admire unique rock formations and points of interest such as the Devil's Falls and the Devil's Stairway.
Best Hiking Trails
If you're still looking for more of a nature fix, then you'll be pleased to hear that there are also multiple hiking trails in and around the city. Whether you're after an easy stroll or a difficult and long trek, there's a hiking trail to suit everyone.
Big Sioux River Recreational Trail and Greenway
This 22-mile paved bike and walking trail circles the city and goes through many city parks, including Falls Park. It's the perfect way to experience all that Sioux Falls has to offer on foot.
Trail at the Outdoor Campus
Just a 10-minute drive from the city center will bring you to the Outdoor Campus which, along with an aquarium, museum, and nature center, also contains two miles of walking trails.
Beaver Creek Nature Area
Just 25 minutes out of the city is the Beaver Creek Nature Area, which has 1.5 miles of trails, including those with high points that offer spectacular views of the dense forest beneath you. A not-to-be-missed part of the trail is where you cross a rustic swinging bridge.
Best Restaurants in Sioux Falls
With over 700 restaurants in Sioux Falls, it's safe to say that there's something for everyone. No matter what cuisine, theme, or style of dining you're after, you're bound to find it in this beautiful city.
Carnaval Brazilian Grill
The menu at Carnaval Brazilian Grill includes everything from small plates, salads, and sandwiches, to burgers, seafood and meat entrees, wood-fired pizza, children's options, and so much more. This place is known for being the state's only authentic, Brazilian style steakhouse, so it's certainly worth the visit.
Phillips Avenue Diner
This retro Americana diner is the real deal – people flock here from not only within the city but from all over the state and country! With raving reviews, all-day breakfast, piled-high meals, and those nostalgic classics you can't help but love, Phillips Avenue Diner is not to be missed.
Sanaa's Gourmet
It's Mediterranean food as you know it, but with the flexibility of vegetarian, vegan, and gluten-free meals so no one has to miss out. Located in the East Market arts hub, this local favorite also offers a 10 course buffet every Friday night and Saturday lunch, where you can sample a whole range of Sanaa's Gourmet delicacies.
Phnom Penh Restaurant
If you've never tried a fusion of Cambodian and Chinese food before, now is the time to do so! Forget fancy dining, this casual little restaurant might look unassuming, but locals and visitors to the region really do sing its praises. We hear the pork buns from Phnom Penh are something very special!
Sickies Garage
How does a selection of 50 burgers and 50 brews sound to you? Heralded as the best burger and shake joint in the area, Sickies Garage is also known for its outstanding customer service and awesome décor, such as an old Harley motorcycle hanging from the ceiling. It's the perfect place for both kids and adults!
Fun things to do in Sioux Falls
Wondering what's next in your Sioux Falls adventure? When it comes to the region's attractions and activities, you're only just getting started. Here are some of the most fun things on offer in and around the city!
For kids and families
If you're in need of a kid-friendly or family-based activity, you're in luck. Sioux Falls has a wide range of fun attractions to suit all ages, including kids, teens, and adults!
Butterfly House & Aquarium
Discover animal and plant life from every corner of the globe as you kick back, relax, and enjoy this lush rainforest in the center of the city. There's a 3,600 square foot butterfly house, which is the only insectarium in both North and South Dakota, as well as a 20,000 plus gallons tropical aquarium. The Butterfly House & Aquarium also runs educational classes and events throughout the year.
Great Plains Zoo & Delbridge Museum of Natural History
The Great Plains Zoo is home to more than 1,000 animals from 137 species, including animals from 43 Species Survival Plans. Kids will love seeing exotic animals up-close, as well as feeding farm animals, while the on-site Museum of Natural History also offers an educational, yet fun look at the history of the fauna of the world.
On the cheap
Looking for some fun things to do in and around the city which won't break the budget? Here are our favorite activities to enjoy in Sioux Falls on the cheap.
Ride the bike trail corridor
There's a much-loved bike trail corridor that encircles the city and connects many of Sioux Falls' parks. For a fun, active, and affordable day out, why not ride the trail and experience the sights, smells, and sounds of the region from your bike? If you don't own a bike, you can easily rent one from the local provider.
Museum of Visual Materials
At the Museum of Visual Materials, they offer children's activities, crafts nights, classes, and camps, exhibits, gallery space, and event facility rentals. Their mission is to be a place for people to learn, play, create, and celebrate while contributing to a positive and thriving community. The best part? Kids activities are free, while adult classes carry a small fee.
At night
Whether it's date night or you simply find yourself wandering around the city long after the sun has gone down – here are our top activities to enjoy in Sioux Falls during the darker hours.
Sioux Falls Stadium
At over 51 years old, the Sioux Falls Stadium is one of the oldest ballparks in the American Association, but with a capacity to seat 4,462 fans, spectators can catch every second of the action! Go out for a bite to eat, then come here to catch an evening game of baseball.
Levitt at the Falls
Located in Falls Park West, Levitt at the Falls is an outdoor amphitheater that features 50 free concerts every summer. Simply bring or rent some lawn chairs, treat yourself to the food trucks and on-site beverages, and enjoy some seriously good tunes.
Free things to do in Sioux Falls
If you fancy a free activity within the city, or just want to make the most out of your time spent in Sioux Falls, then you're in luck. Here are some of our top recommendations for fun things to do in the region – all of which won't even cost you a cent!
Old Courthouse Museum
While also being a popular wedding and event venue, the Old Courthouse Museum is housed in a beautifully restored 1800s quartzite building and has three floors of regional history exhibits. The museum store also includes unique and affordable Dakota-made gifts that the whole family can enjoy.
Sculpture Walk
Started in 2004, SculptureWalk is the largest and most recognized annual exhibit of public art sculptures in the country, all taking place right here in Sioux Falls! You'll find the SculptureWalk Visitor Center located inside the Washington Pavilion and it features a large-scale map of the sculpture route, brochures, video, artwork, and more.
Spas in Sioux Falls
Need a little time to yourself to unwind? Whether you're looking to treat yourself to a massage, sauna, facial, manicure, or so much more, these top spas within Sioux Falls are your place to be!
Spa 2000
With nearly 7,000 square feet of exceptional day spa services, don't miss out on the opportunity to pamper yourself at Sioux Falls' largest and most exclusive day spa. Services at Spa 2000 include body glow treatments, body wraps, hydrotherapy, massage, facial, and more.
Escape Float Spa
From float sessions and infrared saunas, to CryoTherapy, NovoThor Light Beds, and more – Escape Float Bar is like a spa from the future! Located in the very heart of the city, this place has helped thousands of customers heal faster, achieve a better night's sleep, ease their anxiety, and so much more.
Best Gyms and Yoga Studios
If rejuvenation for you is less about deep relaxation and more about sweating it out, then you're in luck. Sioux Falls is also home to some of the highest-rated gyms and yoga studios within the region.
Kosha Yoga Studio
Kosha Yoga Studio is located in south-eastern Sioux Falls and its mission is to offer the yoga community, from beginners to veterans, the most inviting space to learn and grow in their practice. The studio explains: "From the physical layer, we practice asana (postures) and use Pranayam (breath) to unlock awareness of our Atman or Self."
Avera McKinnon Fitness Center
The Avera McKinnon Fitness Center has been in operation since 1997 and has become a mainstay in the local health and fitness industry. They offer everything you need for your fitness goals in one place, including group exercise classes, personal training, fitness assessments, medically integrated programs, and activities for a variety of ages and skill levels.
Day Trips Near Sioux Falls
Looking to fulfill your wanderlust by heading outside of the region for a day? You could spend years within Sioux Falls without barely scratching the surface of all there is to do in this city, but consider these days trip next time you fancy a new adventure.
Rapid City
If you're looking to escape for the weekend, a 5-hour drive outside of Sioux Falls will take you to Rapid City, one of the most popular regions within the state. Of course, it's most famous for being the gateway to the Mount Rushmore National Memorial, but other must-see attractions include Bear Country USA, the world's largest reptile collection at Reptile Gardens, Badlands National Park, and more.
The World's Only Corn Palace
If you're wanting somewhere a little closer just to escape to for the day, then the World's Only Corn Palace is just over an hour's drive from Sioux Falls. This world-famous, quirky attraction is what the city of Mitchell is most famous for, as around 500,000 tourists come from around the nation each year to see the uniquely designed corn murals.
As a final reminder, some of these activities may need to wait until businesses fully reopen from coronavirus closures. However, there is still much to see and experience in Sioux Falls that you can enjoy today! What are your favorite spots in Sioux Falls? Send them our way to [email protected] or by tagging us on Instagram @rvshare and using the hashtag #rvsharelocal.