Travel Inspiration
November 2nd, 2021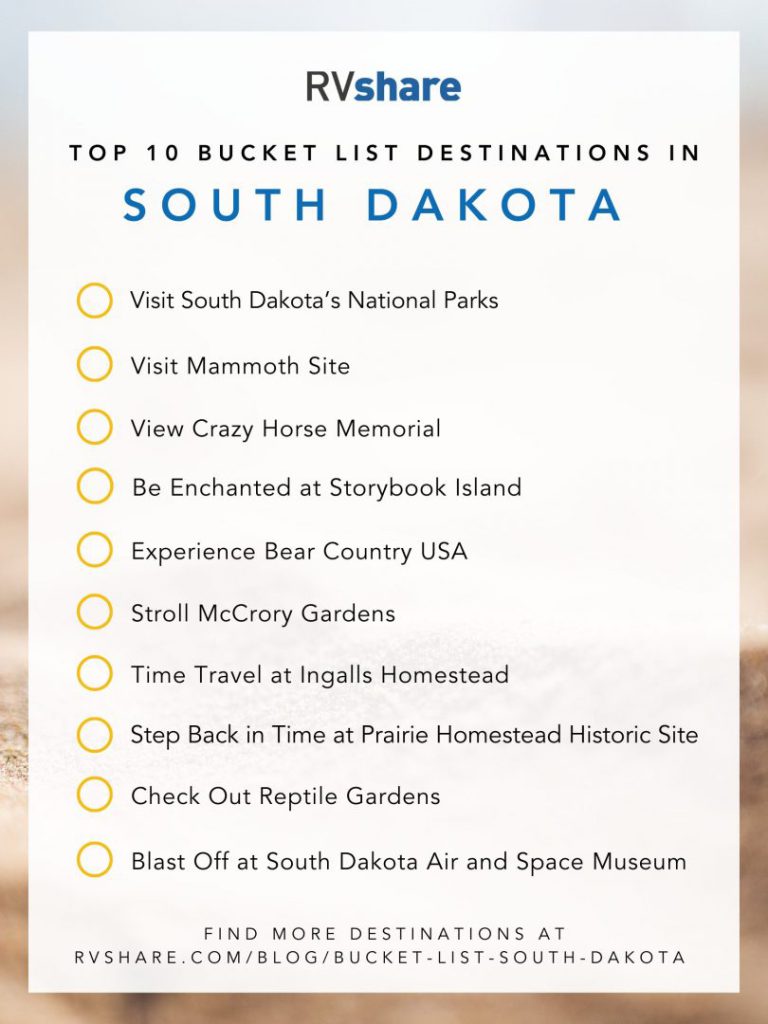 Have you ever been to South Dakota? If not, it's high time you visited. We're guessing you'll be surprised just how much you enjoy this amazing state. That said, we do recommend making a South Dakota bucket list before you visit.
You see, South Dakota is chock-full of incredible things to see and do. This can make it super overwhelming to choose things to do in the moment. Having a South Dakota bucket list before you go will help you plan and make sure you see and do the things that are most important to you.
Not sure how to begin making a travel bucket list? In this article, we have shared our South Dakota bucket list, which is full of bucket list ideas to choose from. We're sure this travel list will inspire you to make a list of your own.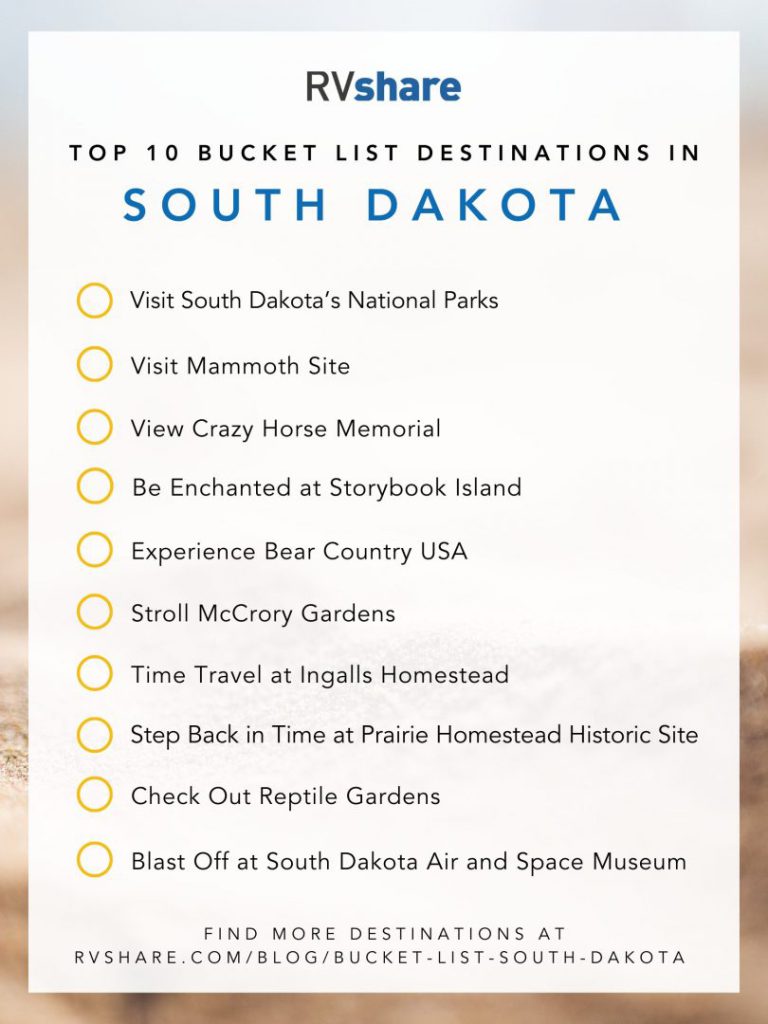 What is a Bucket List?
Of course, you need to know what a bucket list is in order to make one of your own. Basically, this list is a collection of places to visit and things to do before you die. It might include experiences to have, foods to eat, and even people to meet.
Some people keep a simple bucket list with only a few items on it in their heads, while others keep a long bucket list that includes everything they want to do before they pass away. However, our suggestion is to keep individual lists for every place you wish to travel someday.
The South Dakota bucket list below will help you start making your travel bucket lists so you're prepared wherever you roam. Let's dive in.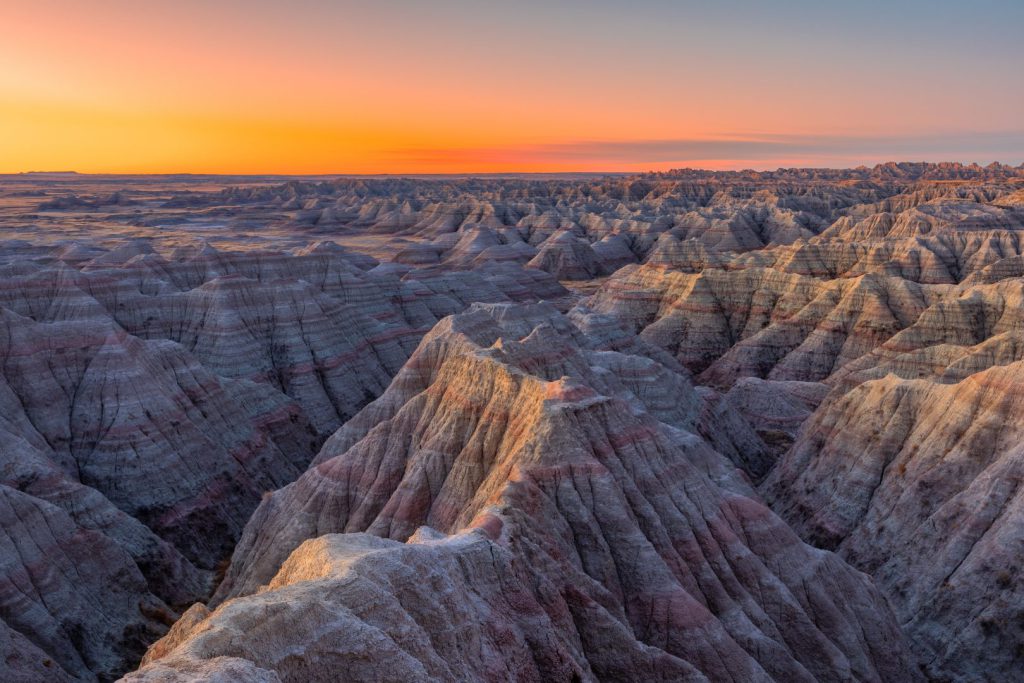 — Bucket List Vacations: South Dakota's National Parks —
We always check out the national parks sites in an area when creating a travel bucket list. This is because NPS sites are always worth visiting, and many of them are some of the best attractions in the country.
Looking to add some NPS sites to your South Dakota bucket list? The options below are definitely worth adding.
#1. Badlands National Park
The Badlands of South Dakota are striking to see. They have a rugged and otherworldly beauty that draws visitors from around the world. Badlands National Park is home to one of the richest fossil beds in the world, and fossils of both ancient horses and ancient rhinos have been found here. Additionally, a huge amount of wildlife calls this park home, and wildlife sightings are a daily occurrence.
#2. Jewel Cave National Monument
Did you know South Dakota is home to the third largest cave in the world? Jewel Cave features over 208 miles of mapped and surveyed passages, and the fragile formations and glimpses of brilliant color found within are seriously beautiful. This is a little known NPS site that we think everyone should explore.
#3. Lewis and Clark National Historic Trail
Most of us know the story of the Lewis and Clark expedition. However, not many people have the opportunity to walk along the path the expedition followed. Visit the Lewis and Clark National Historic Trail to walk in the footsteps of these historic explorers and learn more about their expedition.
#4. Minuteman Missile National Historic Site
During the Cold War, a huge number of nuclear missiles were placed in the Great Plains and kept on constant alert. These missiles sat hidden in plain sight for years, and hundreds of them still remain to this day. They hold the power to destroy all of civilization, but are meant to maintain peace and prevent war. Visit the Minuteman Missile National Historic Site to learn more.
#5. Missouri National Recreational River
The Missouri River is an iconic river, and the Missouri National Recreational River NPS site is the perfect place to view this gorgeous body of water. The park holds a 100-mile stretch of the Missouri and gives guests the chance to get outdoors and explore the river and the land surrounding it.
#6. Mount Rushmore National Memorial
Almost all Americans have seen photos of Mount Rushmore, but nothing compares to seeing this incredible sculpture in person. Gaze upon the faces of George Washington, Thomas Jefferson, Theodore Roosevelt, and Abraham Lincoln—all carved into the side of a mountain—and learn about the incredible history behind this work of art at Mount Rushmore National Memorial.
#7. Wind Cave National Park
Another amazing South Dakota cave can be found in Wind Cave National Park. Wind Cave is one of the country's oldest caves, and it is one of the longest and most complex caves in the world. It sits hidden below the rolling grasslands of the park, just waiting to be explored by visitors such as yourself.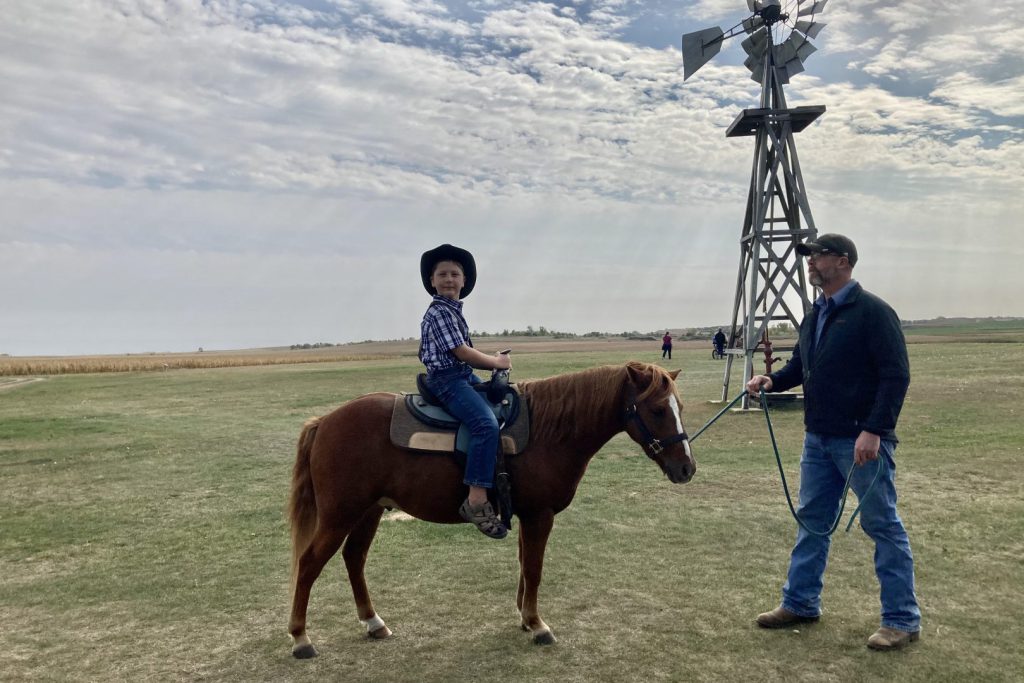 — More South Dakota Bucket List Experiences —
Yes, the NPS sites in South Dakota are fabulous. That said, they are far from the only things to see and do in the state. In fact, there are an enormous number of amazing things to check out while you're there.
Our absolute favorite South Dakota bucket list ideas are below.
#8. Visit Mammoth Site
A museum and ongoing paleontological dig site, Mammoth Site is the perfect place to learn about paleontology. See the fossil remains of a wooly mammoth, and learn about how they were found and retrieved. You'll also learn about the huge number of other fossils found at the site and see several of these awesome finds for yourself.
#9. View Crazy Horse Memorial
Crazy Horse was a war leader of the Oglala Lakota people. He is best known for his role in the Battle of Little Bighorn in 1876, but he also did many other amazing things in his lifetime. Because of these accomplishments, the man was chosen as the face of a memorial built into the side of Thunderhead Mountain to honor the Indians of North America. See this memorial and visit the museum to learn more about this awesome work of art.
#10. Be Enchanted at Storybook Island
An adorable little theme park, Storybook Island has a mission to inspire imagination in young children. The attraction does not charge an admission fee, and features a variety of fun storybook-themed sets, statues, and playhouses. The park is also home to a handful of rides, including a gorgeous carousel and a cute miniature railroad.
#11. Experience Bear Country USA
Want to come face to face with some of North America's most awesome creatures? At Bear Country USA, you can do just that from the safety of your car. Drive through a 3-mile trail as you view buffalo, bears, reindeer, and even arctic wolves. The park also features a walk-through area where playful bear cubs can be viewed.
#12. Stroll McCrory Gardens
It's always fun to find beautiful gardens on your travels. If you're looking for a lovely garden in South Dakota, McCrory Gardens is the place for you. This attraction is located on the campus of South Dakota State University and is run and maintained by the horticultural department at the university. The gardens feature 25 acres of formal gardens and a 45-acre arboretum, meaning there is plenty to see.
#13. Time Travel at Ingalls Homestead
Ever wanted to step back in time and experience what it might be like to live in the late 1800s? At Ingalls Homestead, guests can do just that. Here, you can see the place where Laura Ingalls (of "Little House on the Prairie" fame) and her family lived for many years. Wash laundry like Ma would have, learn to make rope, ride horses, ride a covered wagon to the school house, and more. This is the ultimate immersive history lesson!
#14. Step Back in Time at Prairie Homestead Historic Site
Another excellent place to learn about the way people once lived on the prairie, Prairie Homestead Historic Site features a house built using sod in 1909. Visitors are invited to take a self-guided tour of this amazing historic home. Be sure to check out the barn, outhouse, and chicken coop while you're there, and don't forget to visit the onsite museum.
#15. Check Out Reptile Gardens
Located in Rapid City, Reptile Gardens is the largest reptile zoo in the world, and is a unique attraction that is worth seeing. This amazing garden is chock-full of crocodiles, alligators, lizards, snakes, and much more. The indoor jungle is especially cool, and the replica of the largest tortoise fossil ever found is mind-blowing. Of course, the shows are a must-see while you're there!
#16. Blast Off at South Dakota Air and Space Museum
A free attraction located near Rapid City, the South Dakota Air and Space Museum is the perfect place to see some cool planes and learn something new. The museum plays host to over 30 planes as well as interactive displays and interesting information on the history of aviation.
#17. See History at 1880 Town
Yet another wonderful place to time travel, 1880 Town is an open-air museum that features a collection of more than 30 historic buildings. These include a blacksmith shop, a saloon, a schoolhouse, a jail, a post office, and more. Additionally, the grounds feature a museum about world champion rodeo cowboy Casey Tibbs, as well as a main building that holds dozens of props from the film Dances With Wolves.
#18. Learn at Mitchell Prehistoric Indian Village
So far, we've covered a few different options for learning about life on the prairie for the pioneers of the 1800s. That said, it's also important to learn about the history of the local Native American tribes. The Mitchell Prehistoric Indian Village is the ideal place to do just that. This is a working archeological dig site where the only reliably dated remains of the Woodland Mississippian cultures from 1,100 years ago have been found. Visitors can watch the dig process and learn about these amazing people and how they lived.
#19. Explore Petrified Wood Park
Petrified wood is a seriously cool thing that isn't found in many places. The Petrified Wood Park was built entirely out of petrified wood and is very creative and interesting. Be sure to check out both of the museums to see dinosaur footprints, fossilized bird tracks, fossilized snakes, and much more.
#20. Wander Through Akta Lakota Museum and Cultural Center
Another fantastic place to learn about area Native American culture, the Akta Lakota Museum and Cultural Center is a museum that educates visitors on the lives of Northern Plains Indians. To do this, the museum uses art, movies, exhibits, and displays to present information in an engaging and memorable way.
#21. Have Fun at Great Plains Zoo & Delbridge Museum of Natural History
Everyone loves a zoo day, and a day at the Great Plains Zoo and Delbridge Museum of Natural History is no exception. This might not be the biggest zoo around, but it is well kept and happens to be home to a good number of interesting animals. The petting zoo is perfect for little ones, and both the camel ride and carousel offer especially exciting experiences.
#22. Gather Information at National Music Museum
If you like music, the National Music Museum is the attraction for you. The museum has a collection of around 15,000 instruments from around the world. These include five Stradivarius stringed instruments, 17th- and 18th-century Dutch woodwinds, 17th- and 18th-century German wind instruments, and more. Additionally, you'll see Johnny Cash's guitar, a few instruments belonging to Bob Dylan, and the second largest harmonica collection on earth.
#23. Connect With Animals at Butterfly House & Marine Cove
Want to learn about butterflies? What about ocean life? At Butterfly House and Marine Cove, you can learn about both through well-thought-out and fascinating exhibits. See more than 800 species of butterflies in a 3,600-square-foot indoor tropical garden. After that, head over to Marine Cove to see hundreds of sea creatures and pet some stingrays and sharks.
#24. Discover Adams Museum
Set in a gorgeous historic home, the Adams Museum features three floors of exhibits that pay tribute to the Lakota peoples who had their land stolen by gold miners, while educating visitors on the history behind this gold mining. See Potato Creek Johnny's gold nugget, check out a sketch of Wild Bill Hickok, and learn about Wild Bill, Calamity Jane, Deadwood Dick, and more.
#25. Try Skiing at Terry Peak Ski Area
Most people don't think about skiing when they think of South Dakota. Nevertheless, this is a pastime many locals enjoy during the cold winter months. If you want to try your hand at skiing during your South Dakota visit, we recommend heading to Terry Peak Ski Area where you can rent gear, take lessons, and try 30 different runs.
#26. Take Photos at Dinosaur Park
A fun and kitschy attraction, Dinosaur Park doesn't charge an admission fee and is 100% worth taking the time to see. It features five dinosaur sculptures that were created in the 1930s using black iron pipe, wire mesh, concrete, and paint. They are a representation of what people thought dinosaurs might have looked like at the time, and are tons of fun to check out and take photos of.
#27. And Snap a Shot at Corn Palace
Another spot that is totally fun to check out and snap photos of? The Corn Palace, a building completely covered in mosaics made using corn and other grains. The original Corn Palace was built in 1892 to show off South Dakota's fine soil and what it could produce. This building didn't last forever though, and the current building was created in 1921. It's now used for events, but free guided tours are available during the summer months.
#28. Get Your Thrills at Rushmore Adventure Park
Looking for thrills? We recommend a visit to Rushmore Adventure Park. Here, you can ride a variety of awesome roller coasters and other rides. When you're finished riding, be sure to go on the Rushmore Cave tour to see beautiful limestone caves that feature tons of gorgeous formations.
#29. Take in the Sights on Black Hills Central Railroad
The oldest continuously operated tourist train out there, the Black Hills Central Railroad provides the perfect opportunity to see the beauty of western South Dakota. This ride aboard an 1880s train is 20 miles long and lasts a full two hours thanks to the steep climbs and sharp curves along the line. The journey takes you through forests, meadows, and canyons, and wildlife is often seen along the way.
Clearly, South Dakota is a great place to vacation. That said, trying to do it all can be challenging if you're moving all of your stuff from one hotel to another. This is why we recommend a South Dakota RV rental.
Staying in an RV to check off all the items on your South Dakota bucket list gives you the freedom to move around easily and comfortably. This makes it much more possible to check off every item on your list without much stress.
Ready to start planning your South Dakota bucket list adventure? Why not start by booking one of our many awesome South Dakota RV rentals?