The Top 10 Waterfalls in Idaho
Waterfalls
September 28th, 2021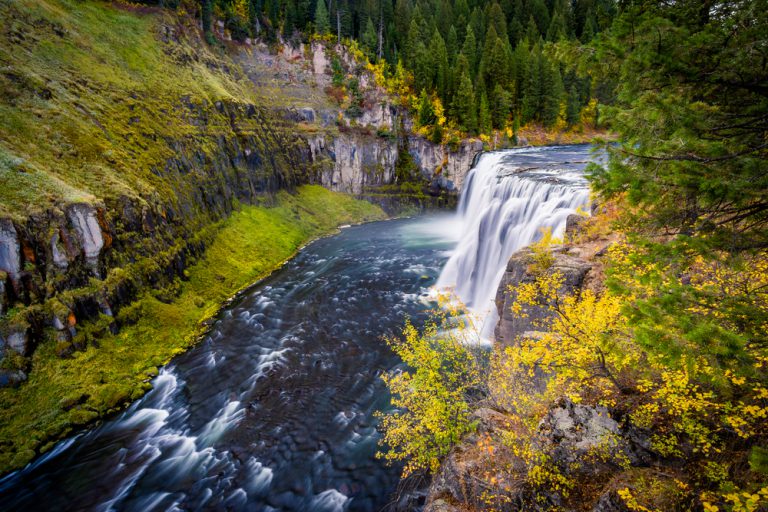 Idaho is the kind of state that has so many waterfalls to offer, the difficult part is discerning which ones to put on your must-see list — and which ones to put on the second string. While in an ideal world, you'd have time to see all of the fantastic falls Idaho has to offer, these 10 cascades should not be missed by any means.
The Top 10 Waterfalls in Idaho
1. Moyie Falls
2. Shadow Falls
3. Upper Mesa Falls
4. Lower Mesa Falls
5. Jump Creek Falls
6. Upper Salmon Falls
7. Lower Salmon Falls
8. Thousand Springs State Park – Ritter Island
9. Perrine Coulee Falls
10. Shoshone Falls
Visiting Waterfalls in Idaho
Here are the best waterfalls in Idaho — and the details you need to get to them!
1. Moyie Falls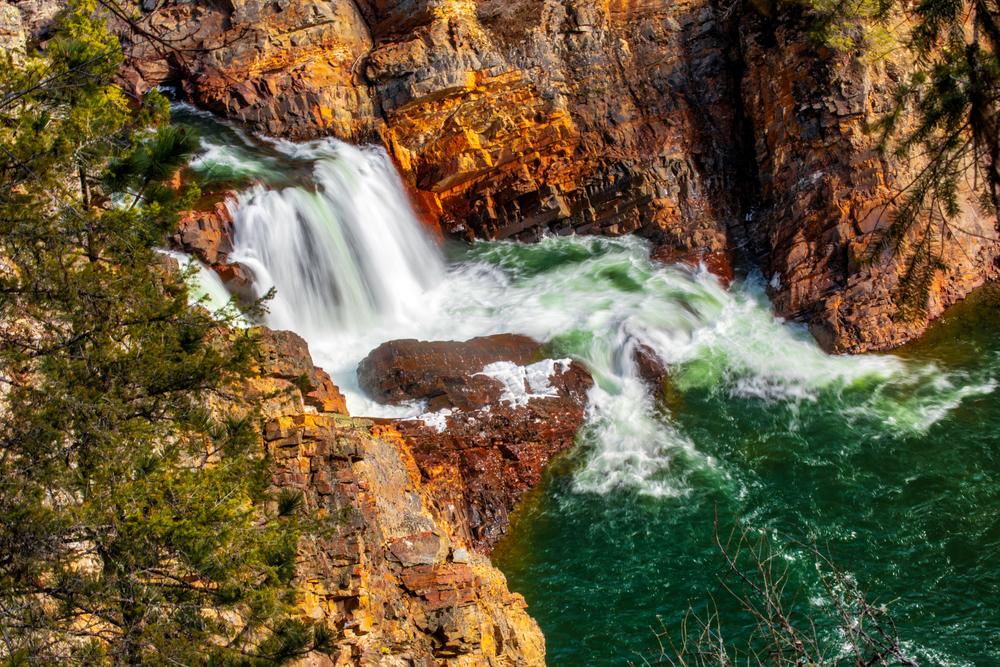 Tucked far north into the Idaho panhandle, close to the place where the state runs into Canada, Moyie Falls is fairly far off the beaten path for those passing through southern Idaho along I-84 — but it's well worth the detour, even if you don't stop at any of the incredible hot springs this part of the state boasts. Tumbling more than 100 feet from the rock ledge above, with separate sections of shorter waterfalls, this impressive waterfall has the additional bonus of being not very difficult to access at all; visitors merely park and walk right up to a spectacular viewpoint. What time of year you visit does matter, though it's an impressive sight no matter what: for the most furious rushing waters, head this direction in spring.
Things to do near Moyie Falls: A small town by the name of Moyie Springs has blossomed around the falls themselves, and it's all only a few minutes away from the quaint and scenic north Idaho city of Bonners Ferry. There are, of course, some great RVshare rentals in the area, as well as other, vaster wildernesses like the Kootenai National Wildlife Refuge.
2. Shadow Falls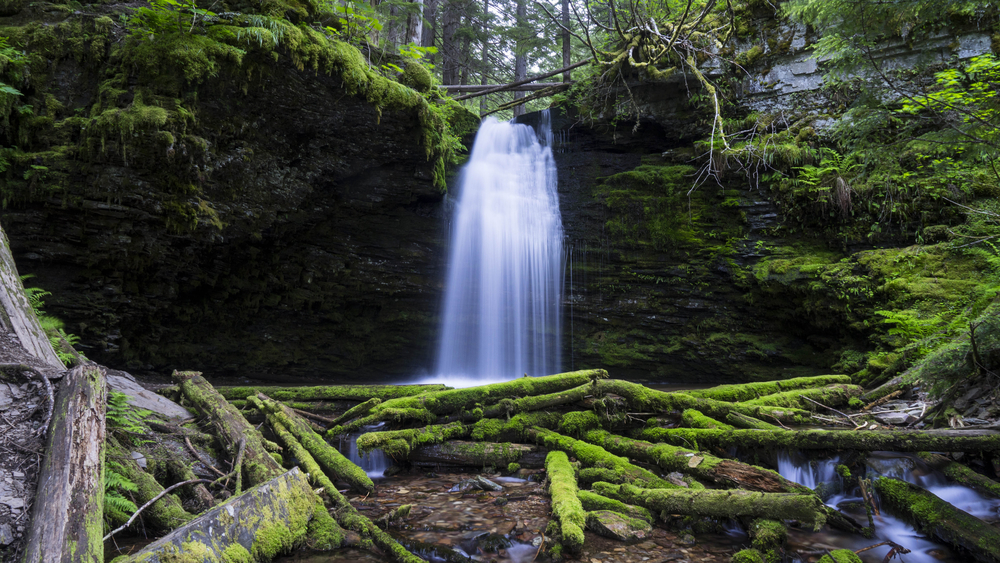 Another fall set deep into the lush forests of the Idaho panhandle, Shadow Falls stands a mere 25 feet tall, but creates a much bigger presence, somehow; the clear mountain pool it tumbles into is picturesque and inviting, and it's all situated in the dense, gorgeous scenery of this part of the state, which cuts close to the Montana border. This is another fall that doesn't require a long, arduous hike to get to; in fact, the 0.7-mile trek ties this fall to yet another, Fern Falls, that's well worth seeing. The arduous part, instead, is en route to the trailhead; because you're in the deep forest on roads that aren't regularly maintained, it's a good idea to bring a four-wheel drive vehicle.
Things to do near Shadow Falls: Nestled deep in the heart (get it?) of the Coeur d'Alene National Forest, this hike is about a two-hour drive from the city of the same name — a doable day trip, but one you'll definitely want to pack snacks for. Coeur d'Alene itself has plenty of urban adventures to offer, as well as some excellent RVshare rentals and campgrounds. Good thing, too, since there's so much in this area to explore!
3. Upper Mesa Falls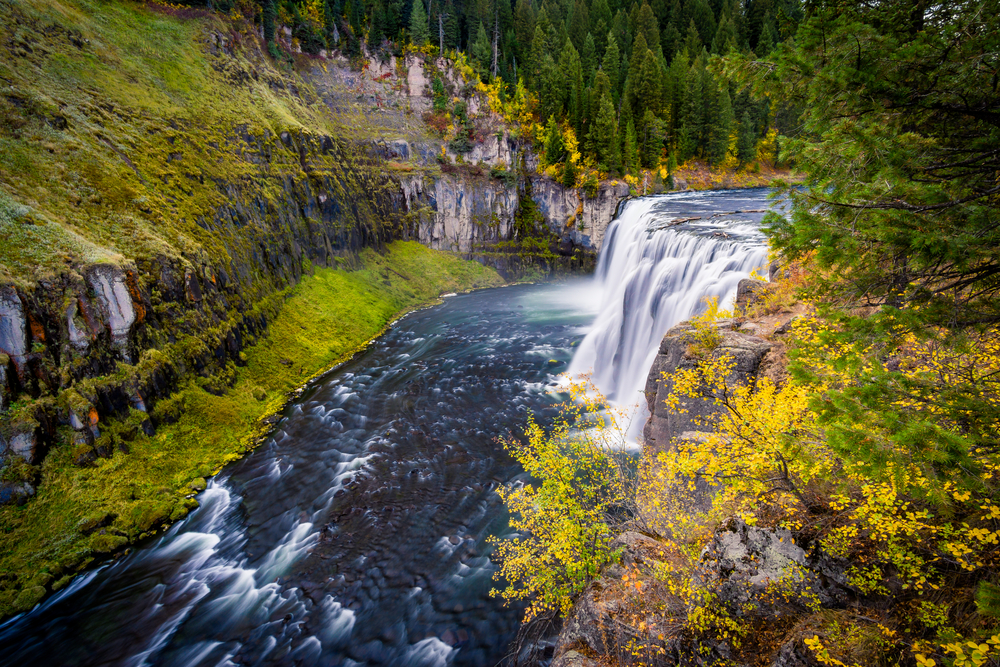 Not every Idaho waterfall is so beloved it has its very own Visitor Center and complex developed around it — but Mesa Falls is. Divided into Upper and Lower sections, this iconic waterfall along Henrys Fork of the Snake River is certainly an Idaho must-see by any estimation. Upper Mesa Falls is a great first place to start: tumbling more than 10 stories into the river below, visitors can see this powerful natural feat from a convenient viewing platform, all just steps away from the main parking area. The aforementioned Visitor Center offers plenty of guidance from helpful park officials as well as interpretive signage.
Things to do near Upper Mesa Falls: Located in the extreme eastern reaches of Idaho, just over the border from the sprawling and stunning Yellowstone National Park, Mesa Falls is fairly far off the beaten path — which is part of the point. For vacation resources, eateries, and more, check out one of the small cities in the area like Island Park or Ashton, or drive a little more than an hour to get to Idaho Falls. Here are some local RVshare rentals!
4. Lower Mesa Falls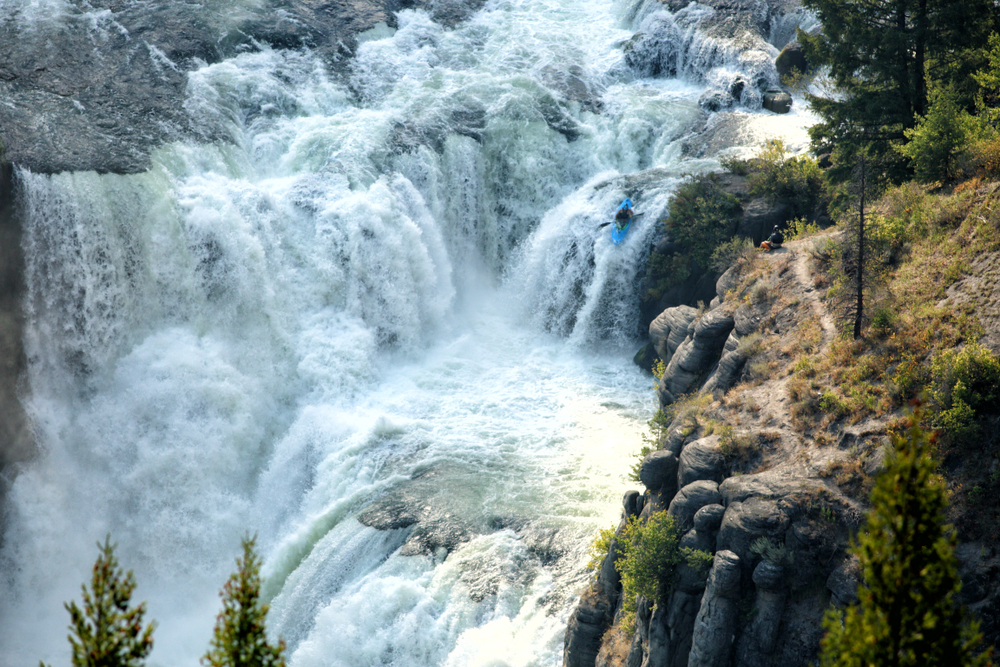 Just a mite further south than its Upper counterpart, Lower Mesa Falls is yet another stunning and powerful cascade, accessible by a variety of hiking trails for explorers at a number of different skill and fitness levels. For example, if you're in fairly decent shape and game to take on a hike that'll last the better part of the day, this hike stretches a little more than 10 miles and sees over 1,200 feet of elevation gain, putting you up close and personal with the falls for your effort. Slightly smaller than the Upper falls, Lower Mesa Falls stands about 65 feet tall — but you'll certainly be in awe of both its size and power if you make the journey.
Things to do near Lower Mesa Falls: Again, all this natural beauty feels very far out of the way, but it's actually only an hour or so from Idaho Falls, a major population center. Here are the best RVshare rentals in that area!
5. Jump Creek Falls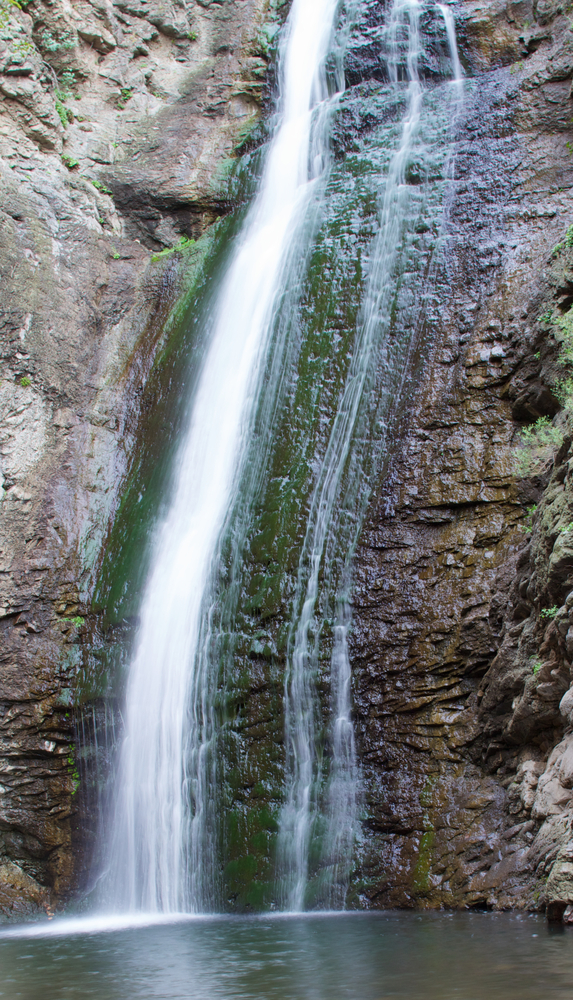 Only about an hour west of Boise, Jump Creek Falls is a serene yet powerful cascade that tumbles some 60 feet into the pool below, and is a common day trip for those living in Boise and Nampa. Long and thin, these waterfalls don't turn up the pool below too much, which makes it a great option for those looking for a place to cool off from the hot summer sun — and even better, the hike in to see the falls is really more of a gentle stroll at a little more than a half mile round trip and less than a hundred feet of elevation gain. The trail is dog-friendly, too, so feel free to bring Fido!
Things to do near Jump Creek Falls: Both Boise and Nampa are large, modernized cities with plenty to see, do, and explore — all within great proximity to incredible natural spaces. Plus, there are some great RVshare rentals and campgrounds in the Boise area to consider.
6. Upper Salmon Falls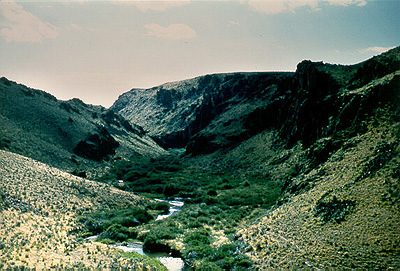 True to its name, the Snake River does snake through a wide swath of Idaho — and just west of Twin Falls, you'll find both Upper and Lower Salmon Falls. Starting with Upper Salmon Falls, which cascades off a dam and is visible right off Upper Salmon Falls Road outside of the Hagerman Wildlife Management Area, you'll find a beautiful reservoir waterfall whose view is both easily accessible and hard to beat.
Things to do near Upper Salmon Falls: One of the best things about Salmon Falls — all of them — is that they're less than an hour from downtown Twin Falls, but still a little bit further off the beaten path than, say, Shoshone Falls (which we'll tackle in more detail later). And, of course, Twin Falls itself has a world of adventure opportunities to explore; here are some local RVshare rentals and nearby campgrounds to explore and stay in.
7. Lower Salmon Falls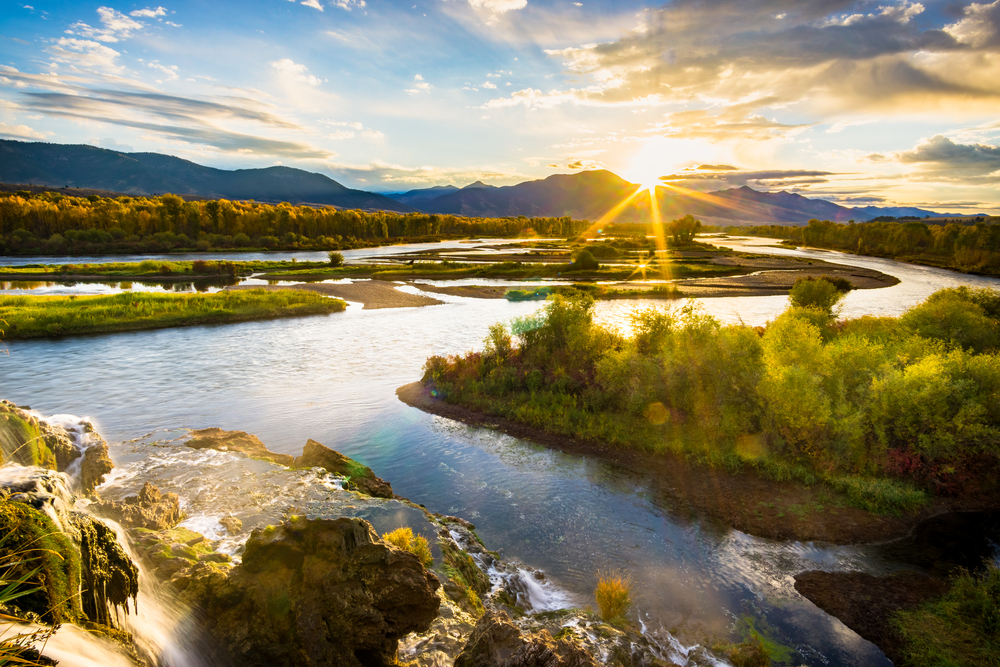 A bit further along the snaky Snake River, Lower Salmon Falls presents visitors with a beautiful view that's easy to get to and also developed with its very own preserved park. Along with walking trails, riverfront views, and great fishing opportunities, there's also a nearby boat ramp, which makes it even easier to fish, swim, and enjoy both the scenery and the sunshine.
Things to do near Lower Salmon Falls: Although it's considerably further north than its Upper Falls counterpart, Lower Salmon Falls is still only about 45 minutes from Twin Falls, and just down the street from the city of Hagerman. The Billingsley Creek Wildlife Management Area is also right nearby; here are some Twin-Falls area RVshare rentals and campgrounds to choose from.
8. Thousand Springs State Park – Ritter Island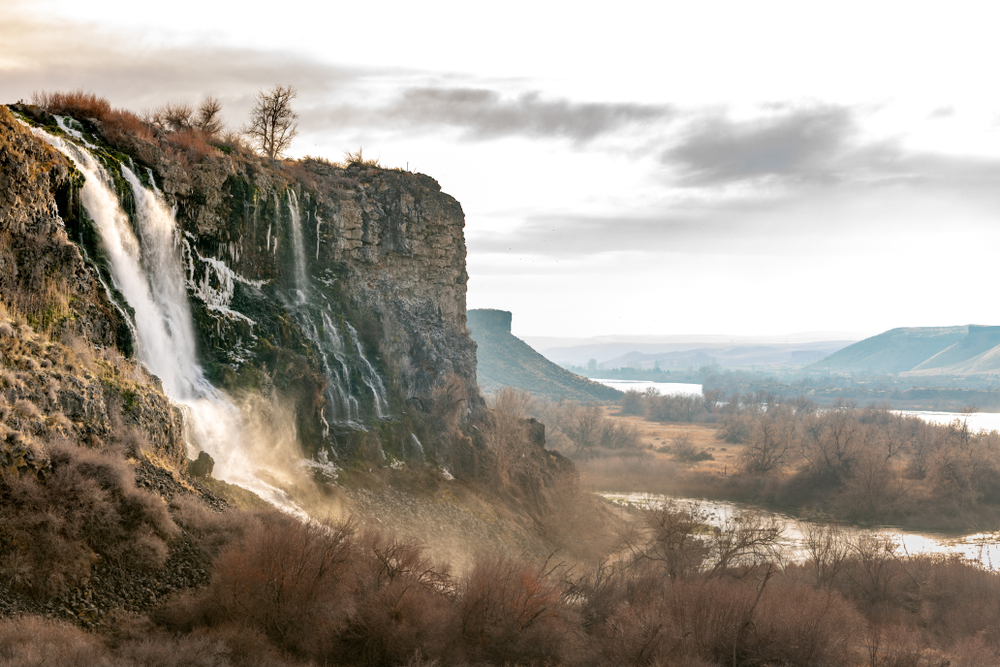 Yet another beautiful feature along the Snake River, Thousand Springs State Park's Ritter Island is truly a can't-miss destination. Broken off from the mainland in the river itself, this rocky island is streaming with gorgeous waterfalls, which actually travel underground all the way from Craters of the Moon National Monument, where it falls through the porous fields of lava rock. Although the gorgeous waterfall here may be the centerpiece, it's far from the only reason to visit Ritter Island, which is a great place to boat, picnic, hike, and is also home to the yearly Thousand Springs Festival event, which draws over 1000 live musicians, artists, and food vendors — not to count the many people coming to enjoy it all.
Things to do near Thousand Springs State Park – Ritter Island: Although rugged and remote feeling, Ritter Island is less than an hour away from Twin Falls, not to mention other area waterfalls and natural attractions. As always, we've got the best peer-to-peer RV rentals in the area, and we've also gathered the deets on the best local campgrounds to stay in.
9. Perrine Coulee Falls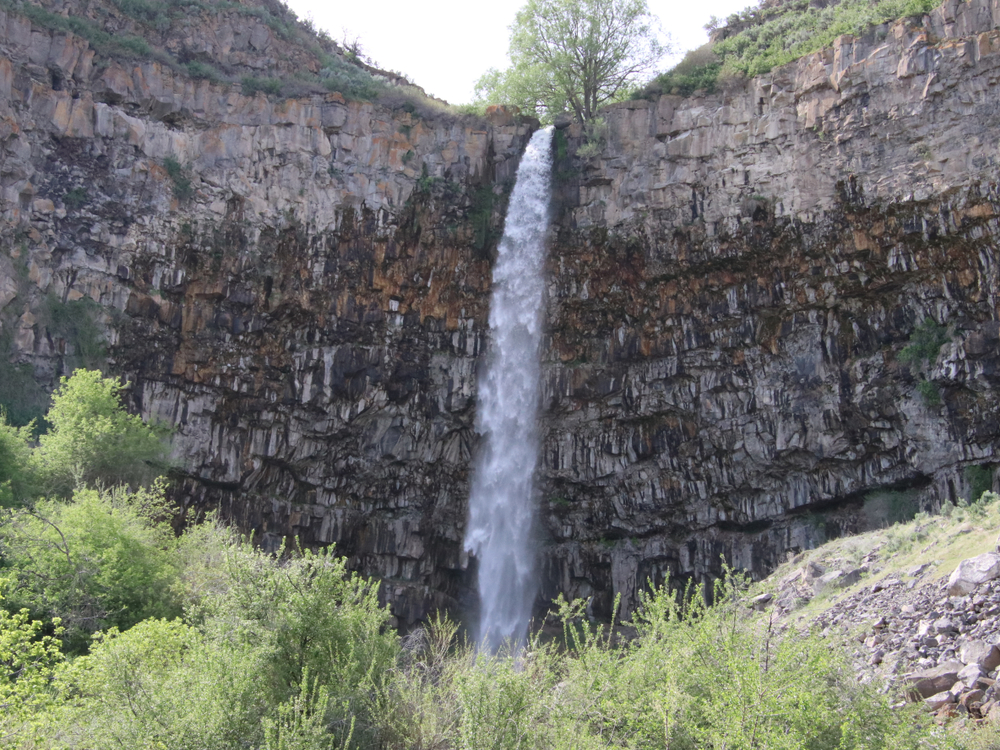 Moving now into the heart of Twin Falls, which is known for having waterfalls right within its limits, Perrine Coulee Falls is easily one of the most stunning in the state, and, of course, one of the easiest to get to, as far as drive time from a major city. Standing an impressive 200 feet tall and cascading in a strong flow down the textured rock wall behind it, this waterfall reliably flows year round — and indeed, it's a beautiful place to visit in fall when the leaves are changing. Although fairly long, it's possible to take the Snake River Canyon Trail, from which the waterfall is best viewed, in sections, and there's also a shorter two-mile trail to the foot of the falls that takes off from Centennial Waterfront Park. Bonus: a spot not far from here is where Evil Knievel made an attempt at jumping the Snake River! Although he failed, years later, Eddie Braun was able to complete the fool-hardy feat successfully.
Things to do near Perrine Coulee Falls: The best part about this one-of-a-kind waterfall? It's just ten minutes from downtown Twin Falls, and is in fact directly adjacent with not one, but two golf courses. Here are some excellent RVshare rentals in Twin Falls to consider, as well as area RV parks to check out.
10. Shoshone Falls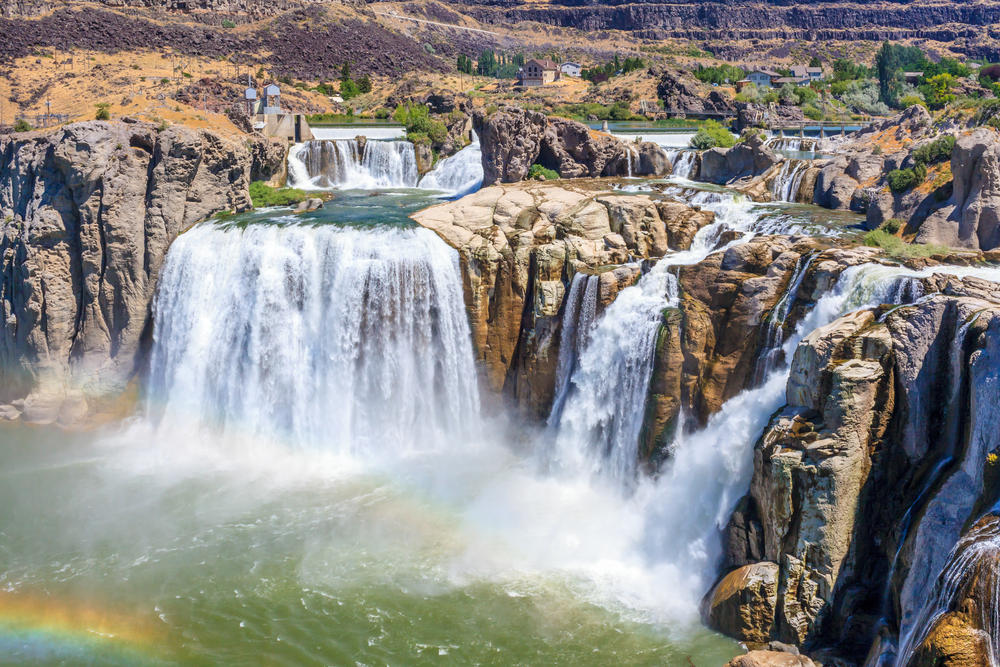 Maybe the most famous Idaho waterfall on this list — and certainly impressive enough to have gained that reputation — Shoshone Falls lies just north of Twin Falls along the Snake River, where it's preserved and protected by Shoshone Falls Park. Standing over 200 feet tall and cascading over a broad stretch of carved stone, this waterfall is sometimes known as the Niagara of the West, and once you visit, you'll probably agree with that moniker. Viewing platforms have been constructed to make the falls easy to check out for a wide variety of visitors, and the park also offers walking trails, restrooms, picnic areas, and more. Do be sure to visit these falls in spring for the best view, however; come autumn, they regularly run almost dry thanks to the long, hot summers.
Things to do near Shoshone Falls: Another gorgeous Idaho waterfall within a very easy driving distance of Twin Falls, this cascade is easy to tack onto an Idaho Falls day trip itinerary, or even to quickly duck into on your way through town along I-84. Here are some area RVshare rentals and campgrounds not to miss!
Planning an RV Trip to Idaho
As stunning and numerous as its waterfalls may be, these cascades are not the only reason to visit Idaho — far from it. And an RV trip is a great way to string together a long and comfortable trip through the Gem State, which, we believe, certainly earns its reputation as a hidden gem.
Ready to get started on your trip? We've got the best peer-to-peer RV rentals in the state available, as well as guides to the best Idaho state parks and the top 10 campgrounds across its many miles. Additionally, we've written guides to Idaho's major population centers in case you're looking for some urban adventures to balance out all that gorgeous backwoods.
Enjoy your trip!