Travel Inspiration
July 2nd, 2020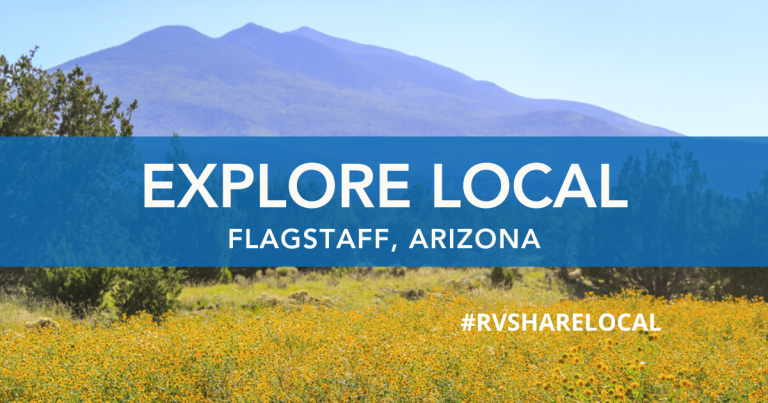 Flagstaff, Arizona is so much more than the gateway town for the Grand Canyon. With a population of more than 70,000, it's a good-sized city in the middle of a stunning, wide-open desert; it's home to a university as well as a wide array of tourist attractions, shops, eateries, museums and more.
Maybe you've already called this area home for decades, but have neglected the opportunity to explore Flagstaff. Or maybe you're planning on making your arrival sometime soon and want to be prepared to experience all this place has to offer.
No matter what brings you to the location, there are so many amazing things to see, do, and eat in Flagstaff, and we don't want you to miss out on any of them. That's why we put together this explore local guide to ensure that you don't!
Why We Love to Travel
From meeting new people to experiencing new sights, sounds, and smells – is there anything more exciting or rejuvenating than a break from the day-to-day mundanity? Traveling is an excellent way to immerse yourself in a new culture, setting, or way-of-life, but the best part is this: you don't have to venture far from home to enjoy what this world has to offer.
Whether your journey takes you across your own city, to an unexplored part of your state, or even to the other side of the world, there's no doubt you will still learn a lot about your surroundings – and yourself – along the way.
Benefits of Traveling Locally
While the culture an hour away from your home might not be drastically different from what you're used to, you can still gain a deepened sense of appreciation for where you've laid your roots. Plus, traveling locally has a lot of benefits:
More cost-effective. Local travel is certainly a budget-friendly way to explore! Many activities and local parks are free or have a low cost of entry. For day trips, you can also pack your own meals to save.
Eco-friendly way to travel. Travel is hard on the environment, but putzing around your area is more sustainable than air travel.
Quick trips. Getting out locally means you can do it more often! Long weekend trips are a lot easier to take when the destination is a short drive away.
Easy to plan. Preparing your itinerary for a local getaway will likely save you some time and stress.
More convenient. Especially if you have little ones, sticking close to home may be much more convenient than far-off destinations. If you forget something, have an emergency, or need to cut the trip short, being close by definitely has its benefits.
Explore Local: Flagstaff, Arizona
Tucked into the north-central section of Arizona, Flagstaff is an amazing home base from which to launch all sorts of adventures. The surrounding landscape is characterized by sprawling sands, looming red rock mountains, epic canyons, and ponderosa pine forests. Although many initially think of saguaro cacti and sweltering heat, the northern Arizona high desert is a wholly different experience… and one that's well worth exploring for both natives and visitors alike.
Whether wandering the streets of the city itself and experiencing some authentic local flavor or taking to the highway to enjoy the scenery and recreational opportunities in the surrounding areas, here are our favorite things to do in Flagstaff, Arizona.
State Parks in Flagstaff
Although the town itself is alive with civilization — art, culture, great food, shopping and more — there's also a great variety of wilderness spaces to explore in the immediate Flagstaff vicinity. Here are some of the coolest state and national parks near Flagstaff, AZ.
Dead Horse Ranch State Park
Dead Horse Ranch State Park is a great place to get away for a weekend or even just for an afternoon. Offering spacious campsites, rental cabins, and well-designed day-use areas on a sprawling, stunning natural backdrop, this is a great place to go hiking, biking, horseback riding — or just to set up your hammock and kick back.
Fort Verde State Historic Park
Fort Verde State Historic Park preserves and displays the Apache Wars-era namesake fort as it appeared in the 1880s. This location was a base for General Crook's U.S. Army scouts and soldiers at that time and is one of the best-preserved examples of such a fort in the entire country.
Red Rock State Park
Red Rock State Park is one of the newest and most popular additions to Arizona's slate of outdoor recreational zones. Encompassing 286 acres and including stunning and unique geological formations, this park is a great opportunity for hiking, birding, wildlife viewing, and more.
Walnut Canyon National Monument
Walnut Canyon National Monument proves that the Grand Canyon isn't the only great hole in the ground to see while you're in northern Arizona. At a depth of 350 feet, Walnut Canyon is definitely on a different scale than its big sister but is also home to history, mystery, and adventure.
Wupatiki National Monument
Wupatki National Monument gives visitors the chance to experience a legacy — one whose origins stretch far further back than any living human's memory. This seemingly desolate landscape was once home to native peoples, and you can still see the remains of their lives on the backdrop of red rock and wide-open sky.
Petrified Forest National Park
Petrified Forest National Park is home to a forest the likes of which you've probably never seen before: miles of colorful petrified wood, strewn across a surreal desert landscape. Visitors can also discover the ruins of Puerco Pueblo and ancient petroglyphs, making this park a true time travel experience.
Grand Canyon National Park
Grand Canyon National Park is, in all reality, probably one of the main reasons many people go to Flagstaff — or the state of Arizona at all! — in the first place. Carving a 10-mile scar across more than 270 miles of desert landscape, the Grand Canyon really is one of those sights you absolutely must see before you die, and it's only an hour or so from Flagstaff.
Best Hiking Trails
Whether or not you make your way to one of the various state or national parks, there are a ton of great opportunities to get out there and see the world on foot. Here are some of the best hiking trails in and around Flagstaff.
Humphrey's Peak
Tucked into the nearby Kachina Peaks Wilderness and rising 12,633 feet above sea level, Humphrey's Peak is definitely not an adventure for the weak of heart. It is, however, the highest point in the entire state of Arizona, so if you're at all the competitive type, it's one you might want to put on your to-do list. Prepare for more than 10 miles of hiking round trip and over 3,300 feet of elevation gain!
Fatmans Loop Trail
By comparison to Humphrey's Peak, Fatmans Loop Trail is a breeze: wend your way about 2.5 miles through the Kachina Peaks Wilderness and see less than 600 feet of elevation gain in the process. You'll still be rewarded for your moderate efforts, however; this hike is well-known for its beautiful wildflowers and views.
Elden Lookout Trail
Elden Lookout Trail is a heavily-trafficked out-and-back trek of a little bit more than 6 miles round trip. Given its 2,300-foot elevation gain, it's definitely a workout — but one whose attendant views and abundant flora will leave you forgetting that you're sweating.
Inner Basin Trail
A moderate walk that takes most adventurers less than two hours, Inner Basin Trail is tucked into the Coconino National Forest, and measures a little more than three miles round trip. Along the way, you'll experience about 800 feet of elevation gain along a gently undulating path, making this a truly moderate-level excursion.
Sandys Canyon Trail
Measuring three miles round trip and with very little elevation change, Sandys Canyon Trail is the perfect place for beginning hikers to start getting their sea — er, sand? — legs under them. Enjoy canyon views and wildflowers while you stroll along this popular trail, which is located in the Coconino National Forest only a few miles outside of Flagstaff.
Best Restaurants in Flagstaff
All that adventuring is sure to work up a sweat — and an appetite. Luckily, there are plenty of great eats to be had in Flagstaff, Arizona. Here are some of the best restaurants in town.
Fat Olives
There's little in this life a good pizza can't make right, and Fat Olives offers one of the best Italian restaurant experiences in Flagstaff. Although the authentic thin-crust, wood-fired pizza is the star of the show, this place also dishes up other classic favorites like lasagna, spaghetti bolognese, and fresh, crunchy salads.
Macy's European Coffeehouse & Bakery
If you're looking for the perfect place to grab breakfast before heading off on the day's adventures, we can't recommend Macy's European Coffeehouse & Bakery highly enough. With a bustling, vibrant interior atmosphere and a wide range of delicious hot breakfast options and pastries, this is the perfect place to grab a quick bite to go or to sit, relax, and start your day off slowly.
Karma Sushi Bar & Grill
Flagstaff may be landlocked, but that doesn't mean you can't find some fresh and delicious sushi in town! Karma Sushi Bar & Grill offers a pages-long menu of all sorts of sushi, from sashimi to maki to hand rolls, as well as other Japanese favorites like ramen and teriyaki.
Red Curry Vegan Kitchen
Looking for the best Asian restaurants in Flagstaff — and also interested in figuring out where to find the best vegetarian and vegan fare? If you're an earth-conscious eater, Red Curry Vegan Kitchen is the perfect place to experience one-of-a-kind dining. This joint offers a full range of plant-based options delicious enough that even the meat-eaters in your group will be satisfied.
MartAnnes Burrito Palace
Can you really say you've been to Arizona at all if you haven't eaten some incredible Mexican food? After all, you're this close to the border. Although trying to find the very best Mexican restaurant in Flagstaff is a bit of an endeavor (there are so many to choose from!), MartAnnes Burrito Palace is a beloved local institution for a reason. A down-home eatery nestled right onto Route 66, this is a must-visit for anyone seeking a delicious, spicy meal.
Fun Things to Do in Flagstaff
You've eaten. You've adventured in the out-of-doors. What else is there to here?
So glad you asked. Here are some of the top things to do in Flagstaff this weekend or beyond, no matter who you're bringing along or what kind of adventure you're after.
For Kids and Families
Bringing the whole family along for the adventure? Here are some fun things to do in Flagstaff with kids.
Flagstaff Aquaplex
Given the fact that Flagstaff is landlocked, there aren't a whole lot of opportunities to get wet. A trip to the Flagstaff Aquaplex fixes that problem — and is the perfect chance for mom and dad to get some exercise while the little ones splish-splash around for fun!
At Night
We've covered lots of things to do in Flagstaff during the day… but what about after night falls? Here are some of the best things to do in northern Arizona once it's dark out.
Lowell Observatory
One of the coolest things about the desert is its stunning night skies — and if you really want to get up close and personal with outer space, the Lowell Observatory offers a great opportunity. Along with telescope viewing, you and your family can also enjoy guided tours and talks by local scientists and astronomers, and explore hands-on exhibits to help you discover and learn even more. (This is definitely also one of our favorite things for couples to do in Flagstaff!)
Harkins Theaters Flagstaff
There's nothing like a movie night — and Harkins Theaters offers you the opportunity to do it right. A modern cinema offering both blockbusters and indie films, this is a great place to get cozy with your sweetheart and some popcorn.
Cheap and Free Things to Do in Flagstaff
Yes, you can get familiar with Flagstaff without taking out a second mortgage! Here are some of the best cheap things to do in Flagstaff — and by cheap, we do sometimes mean totally, 100% free.
Old Town Shops
Flagstaff is many things, but it's also definitely a tourist town — which means there are lots of cutesy shops and boutiques to meander. Old Town Shops is one collective of locally-owned businesses, and while you may certainly be tempted to make a purchase, window shopping is absolutely free!
Willow Bend Environmental Education Center
A great way to get the kids interested in the great outdoors — or to renew your own passion for mother nature — Willow Bend Environmental Education Center offers interpretive trails, guided tours, and community programs at low prices, and sometimes totally free!
Flagstaff Community Market
A good farmers market is an excellent way to while away a weekend afternoon. The Flagstaff Community Market boasts a wide range of vendors offering up fresh, local produce, hot foods, arts and crafts, and more — and the organizers also host a flea market for even more outdoor shopping adventures!
Spas in Flagstaff
Everyone needs some R&R from time to time. Here are some of the best day spas in Flagstaff to help you look and feel your very best.
Spatique Day Spa
Whether you're in need of a massage, facial, or a good ol' manicure-pedicure, Spatique Day Spa offers the services you need at prices that won't make you balk. Cash, checks, and all major credit cards accepted.
Flagstaff Holistic Spa and Wellness Center
Beauty and wellness are about more than specific treatments — it's a full-body, and honestly full-soul, experience. The kind and professional staff of Flagstaff Holistic Spa and Wellness Center know that, and they're here to offer you the variety of treatments you need to ensure you feel as good on the inside as you look on the outside.
Flagstaff Face & Body
A spa that takes it one step further by also offering certain medical services and procedures, Flagstaff Face & Body is a comfortable, professional environment in which to receive a wide range of beautifying treatment. They also offer inclusive spa packages to ensure you get all your needs met for the best price possible.
Best Gyms & Yoga Studios
Fitness is about more than what your body looks like — it's about what you feel like. Here are some of the best places to get sweaty and strong in Flagstaff.
Flagstaff Athletic Club
A straightforward and inclusive gym environment, Flagstaff Athletic Club has everything you need to reach your fitness goals. From a full range of free weights and machines to group fitness classes and a lap pool, however you want to get there, you can get there at this facility!
Yoga Revolution Flagstaff
Yoga is so much more than just holding funny-looking positions. It's a way of moving through the world. At Yoga Revolution Flagstaff, the warm and welcoming staff is here to help you discover how this ancient practice can bring more grounding and strength to your modern-day life in a wide range of applications.
Tranzend
Some of us just need a little bit more encouragement than we can work up on our own in a large, anonymous fitness facility. If that describes you, Tranzend might just transcend the way you feel about fitness as a whole. This unique studio offers a wide range of classes on a body-bumping musical background. Let the energy move you!
Day Trips in Flagstaff
While there's certainly no shortage of things to do in Flagstaff itself, the town is also central for a wide range of fun day trips that are well worth your time and gas money. Here are some of our favorite places to explore within a stone's throw of Flagstaff.
Winslow
Any Eagles fan will recognize this town's name — and yes, you have the opportunity to stand on a corner in Winslow, Arizona for yourself. (There's even a park erected on the corner of Kinsley and East 2nd for that express purpose!)
Meteor Crater
Yes, northern Arizona is famous for a wide variety of holes in the ground — but Meteor Crater is a totally different experience than the Grand Canyon. The result of an impact from a meteor that careened towards earth about 50,000 years ago, Meteor Crater is one of the best-preserved examples of its type on the planet, stretching almost a mile wide and 550 feet deep. You truly have to see it to believe it. Do be aware that this natural landmark is privately owned and thus, entry is ticketed; you do, however, also get access to an interactive museum full of fun and educational exhibits for the price.
Sedona
Widely regarded as one of the very best hiking destinations in the world, Sedona is a mere hour's drive from Flagstaff and will offer a fresh set of incredible outdoor scenery and perspective. Aside from hitting the trails, be sure to leave time to meander the town's many shops and galleries, and perhaps even schedule yourself some pampering at one of its spas!
Flagstaff is truly a one-of-a-kind place to live and vacation alike, so enjoy your time in the Arizona sun!
Some of these activities may need to wait until businesses fully reopen from coronavirus closures. However, there is still much to see and experience in Flagstaff that you can enjoy today! What are your favorite spots in Flagstaff? Send them our way to [email protected] or by tagging us on Instagram @rvshare and using the hashtag #rvsharelocal.