Top 6 Boondocking Locations in Arizona
Travel Inspiration
Last updated on June 23rd, 2022. Originally published on June 22nd, 2020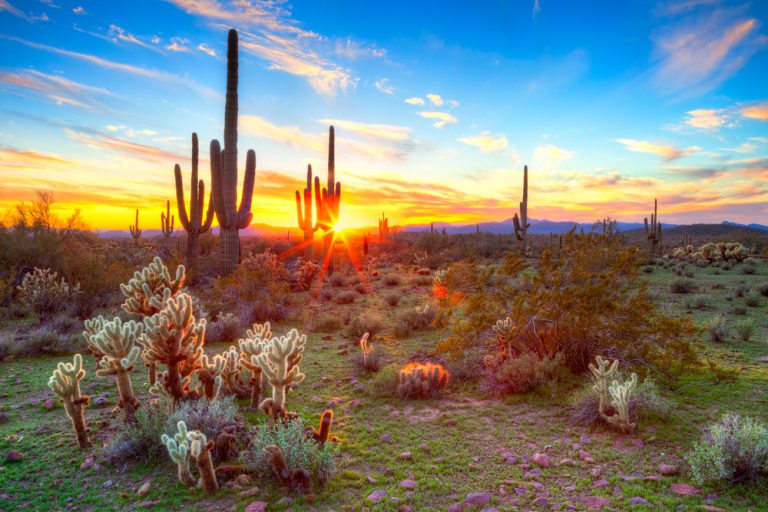 Article Written by Evan Storch, Lower48InTow.com
When most think of Arizona, they picture Phoenix and the dry desert landscape that surrounds it. While the Sonoran Desert does encompass a huge portion of Arizona, that doesn't mean that the whole state is a gigantic desert wasteland! Arizona's high country is vastly different from the lower desert regions. The fresh scent of pine fills the air and the temperatures are much cooler than the triple-digit summers that Phoenix experiences. There's even snow in the winter!
Did we mention that Arizona is home to several lakes? Huge reservoirs dot the landscape of Arizona to help supply water to the urban metropolis of Phoenix and Tucson. Lakes like Lake Powell and Lake Havasu are popular "beach" and boating destinations. With this comes great fishing as well. Remote lakes like Alamo Lake offer a place to "cool off" after riding "side-by-sides" through the desert all day.
I've been fortunate enough to be able to call Arizona home for the last eight years. Since my wife and I started RVing a couple of years ago, we've been able to take in this vast array of places to visit throughout the state. The best part is Arizona has so much public land that boondocking is possible all over the state and all year!
What is Boondocking?
Boondocking is a form of camping that is "off-the-grid" – just you and Mother Nature! This means camping without electricity, water, or sewer hookups. It could also mean you have the luxury of camping without a neighbor in sight, and with some absolutely gorgeous scenery right out your window. Lastly, choosing boondock RVing means you will likely camp for free, something we can all appreciate. Find our Top 10 boondocking tips here.
Arizona is at the very top with available places for boondocking. Read on for the best boondocking locations throughout the Grand Canyon State!
Mogollon Rim
The Mogollon Rim is a one of a kind feature in the Arizona landscape. "The Rim," as it is commonly dubbed, rises almost 2,000ft above the land below it, checking in at just over 7,000ft in elevation! The Rim offers significant relief from the summer heat in the valleys below. Its landscape is dotted with ponderosa pines and of course tons of RVs from all over Arizona and other regions of the U.S. The Mogollon Rim is situated mostly within the Apache-Sitgreaves National Forest, so boondocking is permitted on all public lands unless it is posted as prohibited.
The Mogollon Rim is so large that potential boondocking locations can be found just about anywhere. Many that head to the Rim tend to congregate around a few of the major forest service roads. The "300 Road" or Forest Service Road 300 is a popular location, as is Forest Service Road 171. These are both right at the top of the Rim along AZ-260. There are also several boondocking locations that can be had along Young-Heber Road heading south from AZ-260. If you don't feel like climbing up to the top of the Rim to camp, you can always find great boondocking on Fire Control Road by Tonto Village.
During our last trip to the Mogollon Rim, we took our side-by-side and explored some other areas to find an even more enjoyable boondocking experience. Luckily, we stumbled across several large flat areas open for boondocking along Forest Service Roads 170 and 237, both of which are north of AZ-260. There weren't a ton of people back in these areas as they take you further away from the main roads. This is where we're headed for our next Mogollon Rim boondocking adventure!
Safford/Mount Graham
Safford is situated about three hours east of Phoenix in Graham County. The city is home to the stunning Mount Graham, which reaches well over 10,000ft. The neat thing about Mount Graham is that you can drive all the way to the top! The only problem is that you can't take any larger rigs up the mountain. Most camping areas on the mountain are only large enough to fit trailers up to 16ft long, and you wouldn't want to drive a large motorhome or trailer through the numerous switchbacks.
Don't let this get you down though! You can still enjoy great boondocking in the areas just below the mountain. These areas are controlled by the Coronado National Forest and Bureau of Land Management, so boondocking is most certainly allowed! We ventured out to Mount Graham back in April. There is an abundance of places to set up camp along AZ-266. If you want a more "deserty" feel, you can camp on the east side of US-191 off of Tanque Rd.
Florence Box Canyon
Box canyons dot the western terrain, but Box Canyon near Florence is one of a kind. The canyon offers great OHV trails and an opportunity to do a bit of exploring. Box Canyon is home to several old mines that are relics of Arizona's great mining history. Though many of the shafts are closed up, there are a few that remain open and can be potentially explored (at your own risk). Box Canyon is also home to the Florence Coke Ovens. Unfortunately, they are on private property and destructive behavior from some off-roaders forced the owner to close up access to the coke ovens.
Most boondocking at Box Canyon can be found along Cottonwood Canyon Rd going east from AZ-79. The land is controlled by the State of Arizona and you must obtain an Arizona State Trust Land permit to camp there. There is an abundance of level sites along Cottonwood Canyon Rd to boondock and with larger rigs too! Just beware of changing weather conditions as heavy rains can create flash floods that will make travel in and out a bit harry!
Las Cienegas National Conservation Area
Tucked away up in the hills about an hour southeast of Tucson is the Las Cienegas National Conservation Area. This area is a huge grassland that is home to free-ranging cattle and the Empire Ranch. Because of its higher elevations, Las Cienegas NCA offers more enjoyable temperatures than the surrounding desert low lands. It's also very windy at times!
Las Cienegas NCA has several areas that are open for boondockers to setup camp. Just beware – the wind can make campfires extremely dangerous especially during times of increased fire danger. Also of interest is the free-roaming cattle which tend to encroach upon your campsite. We had a standoff with a cow that was upset that we were in the middle of the field she was grazing in!
Sedona
The beautiful red rocks of Sedona make for a picturesque boondocking experience! Sedona falls within the Coconino National Forest, so boondocking is permitted in most places. By far one of the most popular places to boondock in Sedona is along Forest Service Road 525. This road overlooks the town and offers amazing views of red rock country!
Quartzsite
Located in the western reaches of the state (almost into California) is Quartzsite. We have not boondocked at this location just yet, but friends of ours have and like it very much. Quartzsite is home to wide open desert to boondock in and several old mining operations can be found if you have a side-by-side to explore in. Drive through Quartzsite in the winter and you will see a sea of RVs dotting the desert around the town!