Travel Inspiration
May 18th, 2021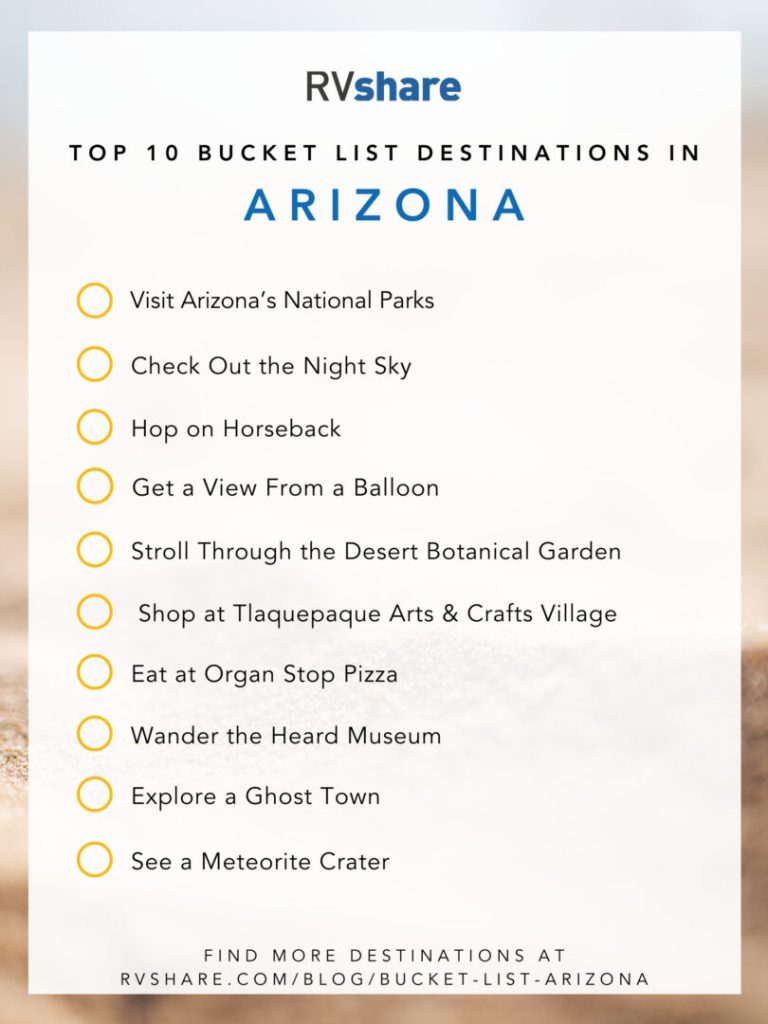 Arizona is easily one of our favorite states, especially when traveling in an RV. This beautiful state has tons of amazing things to see and do. In fact, there are so many things to do in the Grand Canyon State that the problem often isn't finding something to do, but deciding what would be best to do. Enter the Arizona bucket list.
That's right, to solve this problem, we highly recommend creating an Arizona travel bucket list. This will give you something to refer back to throughout your adventure, and the experiences that remain on the list when your trip is finished can help build your next Arizona RV vacation. 
What is a Bucket List?
Wondering what on earth a bucket list is? The term bucket is in reference to "kicking the bucket," and a bucket list is a list of all the things you want to see and do before you leave this life. It's a fun way to keep track of all the amazing experiences you have throughout your life and ensure you keep experiencing life to the fullest until you can't anymore. 
A bucket list might include places to visit, foods to try, things you want to do, or people you want to see. If you travel often, we recommend keeping bucket lists for various locations so you can always refer back to your list when you visit a place again. 
In this article we are going to provide you with some bucket list ideas and help you build your Arizona travel list. 
Bucket List Vacations: Arizona's Best National Parks
This first section focuses on Arizona's national parks and monuments. This state has a large number of fantastic NPS sites, but a handful of them stand out above the rest and deserve a place on your Arizona bucket list. 
#1. Grand Canyon National Park
The Grand Canyon is one of those places that makes it onto an enormous number of bucket lists. The incredible views, beautiful hikes, and spectacular sunrises and sunsets are to die for, and camping in the national park makes the whole experience even better. 
#2. Petrified Forest National Park
The Petrified Forest might not be as well known as the Grand Canyon, but it is still well worth visiting. As the name suggests, this amazing park features a number of fossilized trees which are lovely yet haunting to see against the arid landscape beyond. 
#3. Saguaro National Park
Want to see something incredibly rare? Head to Saguaro National Park where you can check out the saguaro cacti, which are a type of cactus that only grows in the southwestern United States. This park is home to a huge number of these plants, and the tallest of their kind can be found here. 
#4. Montezuma Castle National Monument
Montezuma Castle is our favorite of the numerous national monuments found in Arizona and definitely deserves a place on any Arizona bucket list. As you might have guessed, the park houses Montezuma Castle, one of the largest and best preserved of the ancient cliff dwellings. While visitors are no longer allowed to walk into the dwelling, there is a fantastic viewing area available. 
More Bucket List Destinations
Of course, there's much more to see in Arizona than just the national parks. Read on to learn about all the amazing bucket list options you have throughout the rest of the Copper state. 
#5. Check Out the Night Sky 
The southwest has some of the best night skies we've ever had the pleasure of viewing, making Arizona the perfect spot for stargazing. That said, those who want to take their casual stargazing to the next level should head to the Lowell Observatory where they can view the stars and planets through powerful telescopes, attend lectures, and check out a super cool museum. 
#6. Hop on Horseback 
Nothing says southwest quite like horseback riding, and many visitors find it necessary to go on a horseback ride in order to feel as though they've fully experienced the area. For this, we recommend Fort McDowell Adventures. This adventure tour company is located in Fort McDowell. Real cowboys take guests on a guided tour of the desert and a cattle driving experience. 
#7. Get a View from a Balloon
Some of the best views of Arizona are from above. Red Rock Balloon Adventures allows visitors to see those views by taking them up in hot air balloons. Going on a hot air balloon ride is an absolutely amazing experience that everyone should have at least once, and Arizona is the perfect place for it. 
#8. Stroll Through the Desert Botanical Garden
The Desert Botanical Garden in Phoenix is an absolutely beautiful place that showcases all of the gorgeous plants that call the desert home. Because it focuses on the flora of the desert, it's a pretty unique place and one that garden-lovers simply must see. 
#9. Go Shopping Outdoors
Looking to do some fun shopping? Tlaquepaque Arts & Crafts Village in Sedona is the perfect place to do just that. This adorable marketplace is designed after a Mexican village and features fine art galleries, yummy restaurants, and more. 
#10. Enjoy Pipes and Pizza
Pizza is the perfect vacation food, and we highly recommend getting some while exploring Arizona. If you can, grab a slice at Organ Stop Pizza. This unusual pizza parlor is home to the largest Wurlitzer pipe organ in the world, and a musician is almost always onsite, playing the instrument for all to hear.
#11. Learn Something New at the Heard Museum
We're always on the lookout for interesting museums, and the Heard Museum is an excellent find. This Phoenix museum has a goal of educating visitors on the heritage of Native American people and features a large variety of art representing area tribes. 
#12. Explore a Ghost Town
Arizona is famous for its ghost towns, and visiting one is a must-do while in the area. Goldfield Ghost Town is one option, and we love it. This old mining town features a number of historic buildings and historic reenactments that help guests get a feel for what life might have been like for settlers of this town. 
#13. See a Meteorite Crater
Barringer Meteorite Crater is an awe-inspiring site that proves just how powerful our universe can be. The mile-wide crater was created approximately 50,000 years ago when a meteor struck the planet. It's located in Winslow, and visitors are invited to stand right at the edge of the massive crater. 
#14. Dig into Mexican Food
No visit to Arizona is complete without some Mexican food. Our pick for the best place to get your Mexican fix? Barrio Cafe in Phoenix. This fantastic food stop features delicious Mexican fare you'll be talking about long after your trip is complete. 
#15. Walk Across the London Bridge
Did you know that Arizona is home to a London Bridge? Located in Lake Havasu City, this bridge was originally constructed across the River Thames in the 1830s. In the 1960s, the bridge was purchased by Robert P. McCulloch and moved to its present location. 
#16. Grab a Souvenir at Hubbell Trading Post
The oldest trading post in the United States, the Hubbell Trading Post has been up and running since 1876! Here you can see demonstrations of Navajo rug-making before actually purchasing one of the gorgeous rugs. Of course, other types of souvenirs are also available. 
#17. Have a Summer Solstice to Remember 
Each year during the summer solstice, Burton Barr Library in Phoenix puts on a beautiful show for visitors. You see, the gorgeous architecture of this building was built in just such a way that the solstice sun creates beautiful designs and shadows throughout the space. Hundreds of visitors flock to see the spectacle, and special presentations and musical performances complete the experience. 
#18. Explore the Musical Instrument Museum
Speaking of music, musical individuals should make time to see the Musical Instrument Museum. This is the world's only global instrument museum and it features an enormous variety of unique and unusual instruments from around the world. See instruments from 200 different countries and hear them being played during performances and presentations throughout the year. 
#19. Step Back in Time in Tombstone
Like Goldfield Ghost Town, Tombstone is another great blast from the past. Visit this infamous city and walk the same streets as the well-known Wyatt Earp and "Doc" Holliday. Learn about the historical events that took place there, and imagine what it might have been like to live in such a town. 
#20. Float Along the Colorado River
The Colorado River is a gorgeous sight to see, especially as it shines against the backdrop of the Arizona desert. A float trip down this lovely river is the perfect way to immerse yourself in the beauty of the state. Fortunately, there are plenty of float trip options, including trips that pass by gorgeous views and amazing historical sights. 
#21. Explore Lava River Cave
Looking to escape the Arizona heat? Spend some time exploring Lava River Cave. This cave is quite chilly, making it an excellent escape from the summer sunshine, and it offers a unique learning opportunity to boot. 
#22. Attend the World's Oldest Rodeo
Most people aren't surprised to learn that Arizona is home to the world's oldest rodeo. This rodeo is aptly named World's Oldest Rodeo, and it hosts a variety of events including barrel racing, team roping, and more. We highly recommend catching this amazing show while in the area. 
#23. Take In the View at Monument Valley Navajo Tribal Park
Located at the border of Arizona and Utah, Monument Valley is an iconic park that features stunning rock formations. The sights found here are absolutely majestic, and one can easily spend an entire day driving through the park and snapping photos of the fantastic views.
#24. Cool Off with Ice Cream
Cave exploration is one way to cool off, but the less adventurous among us might simply prefer a treat from Novel Ice Cream. This ice cream shop is well loved by locals and visitors alike, and it features traditional cones and cups of ice cream—but what you really want are the ice-cream-stuffed donuts. 
Clearly, there are plenty of awesome places to see and things to do in Arizona. Of course, you will need a place to stay during your visit, and as we mentioned before, we think this is the ideal state for an RV trip. Why not rent an RV and experience RVing in Arizona for yourself?