Top Campgrounds
Last updated on June 23rd, 2022. Originally published on May 31st, 2021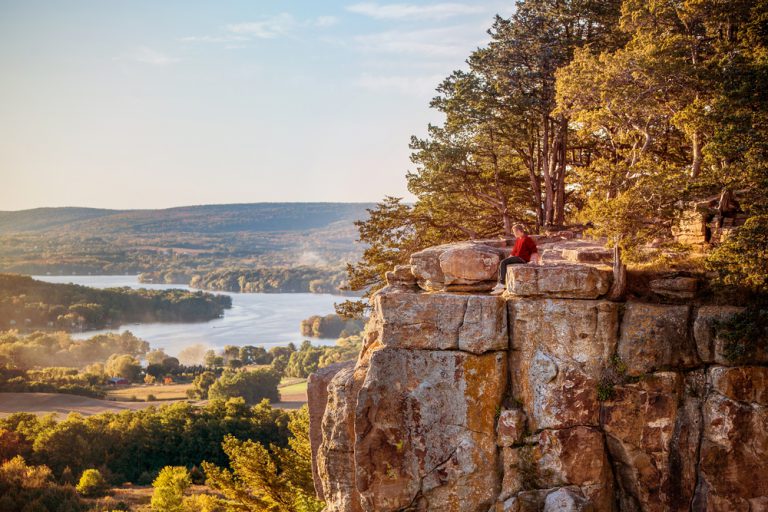 There are many terrific answers to where to boondock in Wisconsin. You can divide the state into five regions and find great free camping opportunities in all of them. Wisconsin's hilly Western Uplands is a great place to go on a water adventure because many streams and creeks bisect the area. The Eastern Ridges and Lowlands, near Green Bay and Milwaukee, is a fantastic place to go on a shopping adventure or catch a game. Meanwhile, the V-shaped Central Plains near Eau Claire is the perfect place for a hike through the hardwood forests. The highest elevations are found in the Northern Highlands, but this can also be a great place to go on a fishing expedition. Finally, the Lake Superior Lowland region near Superior can be a fantastic place to explore history. Regardless of where you decide to roam, you can find great free camping in Wisconsin. 
Boondocking Sites in Wisconsin
Blackjack Springs Wilderness Area
The Blackjack Springs Wilderness Area in the Chequamegon-Nicolet National Forest northeast of Eagle River is a fantastic place to go fishing, hiking, and hunting. You can often see deer, bear, fisher, ruffed grouse, and various species of songbirds. 
Headwaters Wilderness
Boondock in Wisconsin in the Headwaters Wilderness southeast of Eagle River in the Chequamegon-Nicolet National Forest. Some of the oldest and largest trees in the state are in this wilderness. This area is near the Eagle River and Three Lakes Chain of lakes, which form the largest freshwater chain of lakes globally. Expect to catch your limit of walleye and muskies. 
Porcupine Lake Wilderness
You will love boondocking in Wisconsin under the oak, maple, hemlock, and white pine trees in the Porcupine Lake Wilderness. This area in the Chequamegon-Nicolet National Forest near Drummond is an excellent place to go fishing for trout, bass, panfish, and northern pike. The North Country National Scenic Trail runs across this area, offering a fantastic opportunity to see deer, bears, foxes, coyotes, and loons. 
Rainbow Lake Wilderness
The Rainbow Lake Wilderness in Chequamegon-Nicolet National Forest is a fantastic place to see narrow gauge railroad lines used by the logging industry in the past. The North Country National Scenic Trail and the Anderson Grade Trail both run through this wilderness near Drummond. There are also several lakes where you will want to go fishing. Most of the lakes can be reached from the North Country Trail. 
Potato River Falls Campground
There are five campsites at Potato Falls in the Iron County Forest, and you can take a short nearby trail to see two waterfalls. You can easily reach this campground near Gurney as it is located about two miles down a well-maintained gravel road off U.S. Highway 169. 
Chippewa County Forest
Except for designated campgrounds and areas with no camping signs, you can camp for up to 14 days anywhere in Chippewa County Forest. This area near Chippewa Falls is a great place to go hiking through old-growth forests. 
Foster Falls Campground
You can camp right by the Foster Falls at this campground at the end of Sullivan Fire Lane near Saxon. This campground is about three miles off a paved road, making it easily accessible. It is also very near Potato Falls, so you can easily see both waterfalls during your stay in the area. The Potato River is a secluded place to go fishing.
Bruce Village Park
Camp under the aspen trees on the side of Bruce Village Park in Bruce. This city park offers excellent sports facilities. There is a bathroom and water is available. There are no hookups.
Where to Boondock in Washington
There are many fantastic options where you can boondock in Wisconsin. Chequamegon–Nicolet National Forest offers many great free campsites. Most do not have access to any services. Additionally, you can find free camping in Wisconsin in many of the 16 county forests. The Boundary Waters offer many great choices for boondocking in Wisconsin, but many are only accessible from a canoe or kayak. If you are hiking the Ice Age Trail, you will find at least 20 dispersed camping areas set up for one-night stays. You can also find lean-to-type shelters along the North County Trail. Some city parks also allow you to camp in them.
Free Camping in Wisconsin
When preparing for your boondocking trip in Wisconsin, consider the weather. Recognize that the weather can change quickly. The northern part of the state can get up to 100 inches of snow during the winter months, and this amount of snowfall may leave roads impassable.
Never overestimate your skill level. Many free campsites are in remote areas where you may need hiking skills to reach them. It is better to choose an easily reached dispersed campground if you doubt your abilities.
Always let someone know your itinerary. Satellite phones often work in areas where cellphone coverage is spotty. Letting someone know your location allows authorities to reach you sooner if you become overdue. If possible, call someone before you leave the last town to let people know that you arrived at that point in your journey safely.
There are many terrific reasons to go boondocking in Wisconsin. The scenery is incredible in many different locations. There are fantastic opportunities to go hiking and wildlife viewing. The stars can be seen better in remote areas.
Before you head out on your trip, check out our blog for all you need to know about boondocking. Find helpful tips so that you will have an even better adventure when you boondock in Wisconsin.
The best way to go boondocking in Wisconsin is in an RV. If you do not have one, rent one on RVshare.com.