Top Campgrounds
Last updated on June 23rd, 2022. Originally published on June 9th, 2021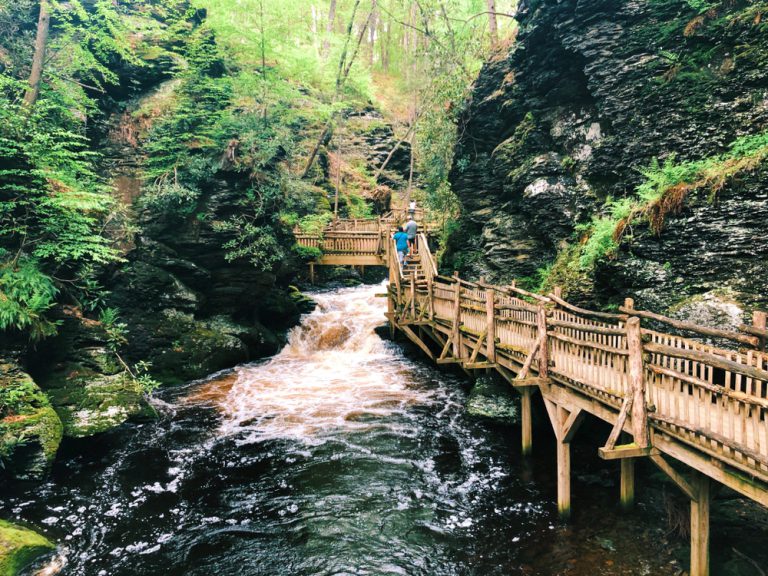 Pennsylvania is a fun state to explore while boondocking. Great conservation efforts are being made in the Southeast region of the state, especially along the Delaware River Valley near Philadelphia. This region also contains many small towns full of Dutch heritage, providing some great opportunities to learn about new cultures during your trip. Northeast Pennsylvania, including the Pocono and Endless Mountains, offers miles of hiking trails. This region also includes many historic coal mining towns. The central part of the state is home to the Susquehanna River, with great kayaking and fishing spots. In south-central Pennsylvania and dominating northwest Pennsylvania is the Allegheny National Forest. Each region offers fantastic options for free camping in Pennsylvania. 
Boondocking Sites in Pennsylvania
Sproul State Forest
You can find plenty of spots for boondocking at Sproul State Forest. This forest in north-central Pennsylvania offers a double-loop trail that is 50 miles long through the Alleghany Plateau and a separate 90-mile trail connecting to the Susquehannock Trail System. Seasonally, this state forest is a great place to go black bear, whitetail deer, and wild turkey hunting. There are over 100 miles of fishable streams and creeks at this state forest near Renovo, where you do not need a permit to stay one night at a campsite. 
Clarion River Campsites
There are 17 sites along the Clarion River and nine sites along Millstone Creek where you can go boondocking in Pennsylvania. Each of the Clarion River Campsites numbered sites comes with a fire ring. A nearby canoe launch makes it easy to launch your vessel. Vault toilets are available at these sites within Alleghany National Forest and near Cook Forest. 
Hickory Creek Wilderness
Hickory Creek Wilderness near Warren is a great place to go fishing on East Hickory Creek and Middle Hickory Creek. There is a beautiful trail that follows the creek, and it starts off State Route 2002. There are no facilities at this location. 
Buchanan State Forest
There are over 157 miles of hiking trails in Buchanan State Forest near Hewitt. Going boondocking in the south-central part of the state gives you easy access to the Mid State and Tuscarora trails. There are several creeks to go fishing in, and the state stocks some of them with trout. You can camp anywhere in this state forest for free, but you will need to get a permit if there are more than 10 people in your group. 
Loyalstock State Forest
Loyalstock State Forest is an excellent place to go boondocking in Pennsylvania. You can camp in this state forest for one night and move to a new location in the woods. There are no hookups, but RV spaces are available. Old Logger's Trail is a beautiful 27-mile trail through this state forest, and it offers the chance to see several waterfalls. Many shorter hikes are also available. Sandy Bottom Access Area on the southern part of Loyalstock Creek is an excellent place for a family canoeing adventure. 
Tioga State Forest
Tioga State Forest is home to the canyon known as Pennsylvania's Grand Canyon, and it is a beautiful place to go hiking. Additionally, the River Creek Canyon runs from this state forest near Wellsboro to Tadaghton State Forest. Further, you can go deer, turkey, grouse, and black bear hunting during various times of the year. Camping at this state forest, including along the Pine Creek Gorge, is free, but you will need a permit if you stay more than one night. 
Bald Eagle State Forest
While you will need to get a permit, you can boondock in a motorized camper or RV for up to seven days for free at Bald Eagle State Park near Laurelton. This forest has over 150 miles of trails for horseback riding, hiking, and mountain biking. You can also go fishing in this forest's 14 streams. Seasonally, deer, turkey, grouse, squirrel, rabbit, and black bear hunting is available. Once the snow starts falling, there are over 300 miles of trails for snowmobiling. 
Where to Boondock in Pennsylvania
The vast majority of free camping sites in Pennsylvania are found in the state forests. You can also find free camping in Pennsylvania in the Alleghany National Forest.
Free Camping in Pennsylvania
When preparing for your boondocking trip in Pennsylvania, consider the weather because it can change very quickly, especially around the Pittsburg area, where tornados can form rapidly in May, June, and July. Therefore, you should have a plan that includes heading to a strong building if the weather looks threatening. Some areas in Pennsylvania, especially around Endless Mountain, get a lot of snow. Watch or listen to the weather forecast to know you can get into and out of the area where you are boondocking.
While there are terrific free camping spots, you may need other types of permits depending on your planned activities. Contact the Pennsylvania Game Commission for information about hunting seasons and licenses. If you plan to go fishing, you may need a Pennsylvania Fish and Boat Commission permit.
The wide variety of activities in the state and national forests in Pennsylvania make them great places to camp. People who spend time in nature are usually happier than others. Often, when boondocking in Pennsylvania, there will be very few other people around, which makes it an ideal place to get some good rest for the mind and body.
Before you head out on your trip, check out our blog for all you need to know about boondocking. Find helpful tips so that you will have an even better adventure when you boondock in Pennsylvania.
The best way to go boondocking in Pennsylvania is in an RV. If you do not have one, rent one with RVshare.com.